Hovercraft Rides
Experience level
Popularity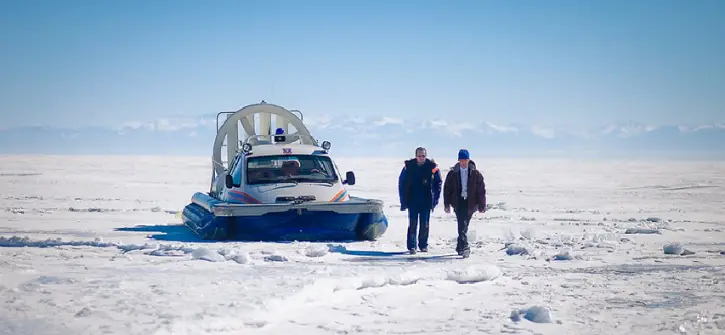 Get your James Bond on in a high speed hovercraft adventure 
Seriously, how cool are hovercrafts?  They're not just used to perform crazy stunts in James Bond movies – in Siberia, they're a real form of transport, and we give you the chance to test out one of these mean machines for yourself! The Hivus is a Russian-built hovercraft, or amphibious boat, equally at home in water or on ice and deep snow. Start with a leisurely cruises around Lake Baikal then kick things up a notch as you fly over the surface at up to 70km h. In winter, the hovercraft is the only way to visit the remote, frozen shores of Baikal, and adrenaline junkies will get a real kick out of the 90kmph speeds the Hivus can hit on snow!
How long do the hovercraft rides go for?

Can I include a hovercraft ride as an optional extra on my tour?

What do I need to bring with me?
TOURS WHICH INCLUDE
THIS EXPERIENCE
Feel as though you have stepped into a fantasy novel as you experience a magical adventure, one that you will never forget.
7 days / 6 nights
|
March
|
Lake Baikal
My Custom Tour
Add experiences here to create your own customised tour.