When you think of travelling to Russia, pictures of extravagant palaces and cathedrals, The Moscow Kremlin, Red Square and The State Hermitage Museum probably come to mind. While these famous landmarks are undeniably a must-see for anyone interested in Russia, the largest country in the world has so much more to offer.
Beyond the huge cities of Moscow and St. Petersburg, a primal world with giant lava-spitting volcanoes, wild brown bears, pristine mountain ranges and unmatched flora and fauna reveals itself. The peninsula of Kamchatka in Russia's mythical far east is a vast, dramatic landscape where fire and ice meet. It is a land of contrasts where volcanic vents smoke next to glaciers and snowdrifts pile metres high next to the boiling waters of the geysers. Following the collapse of the Soviet Union in 1991, Westerners and other outsiders were permitted for the first time in over half a century to visit Kamchatka. Thirty years later, it still remains one of the most unspoiled global treasures in the world due to extremely limited accessibility and infrastructure.
Intrepid travellers who have taken the plunge to re-discover this lost world were delightfully awestruck by her untouched and untainted beauty and returned with a unique treasure trove of memories that last a lifetime. For those with adventurous souls, there is no more rewarding feeling than getting off the beaten track and being among the first few to explore an exciting, untapped personal paradise. If you prefer exploring more than the road most travelled, here are 9 exciting reasons to visit Kamchatka.  
1. Hike an Active Volcano
From active boiling hot springs to smouldering craters and geysers, Kamchatka was born of fire. Part of the Pacific Ring of Fire, the peninsula has the highest density of volcanoes and associated volcanic phenomena in the world, containing 160 volcanoes, 29 of which are still active today. The area is included in the UNESCO World Heritage site, and it's easy to see why. Millions of years of volcanic activity have carved Kamchatka into a place of strangely prehistoric, undulating landscapes. For hiking enthusiasts and those seeking a physical, adventurous expedition, almost every volcano insight can be hiked when you visit Kamchatka.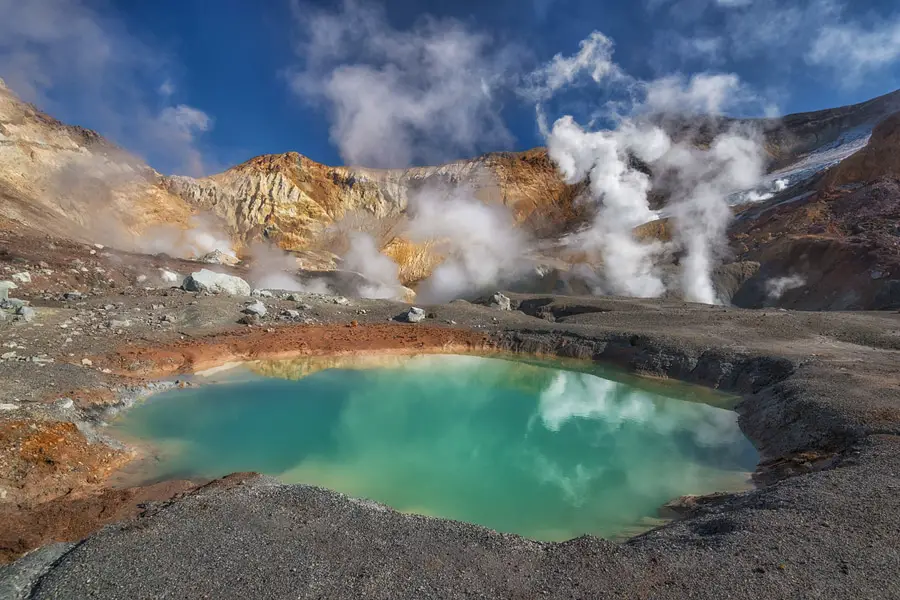 Located in the south of the peninsula, Mutnovsky is one of the most active volcanoes of Kamchatka. The volcano consists of four craters and is deemed one of the world's most outstanding thermal fields. During a trek, you will see numerous hissing fumarolic fields displaying a variety of modern gas hydrothermal activity with magnificent structures of bright yellow sulphur crystals. As you reach its 2,323m summit, you'll be greeted by a colourful contrast of black lakes, blue glaciers, red mud pools and River Vulkannaya, which flows down the crater of this volcano forming a spectacular 80-metre high waterfall. North of Mutnovsky is Mount Gorely, another extremely active volcano formed by a chain of 11 summit craters, with striking turquoise lakes and slag cones with lava torrents.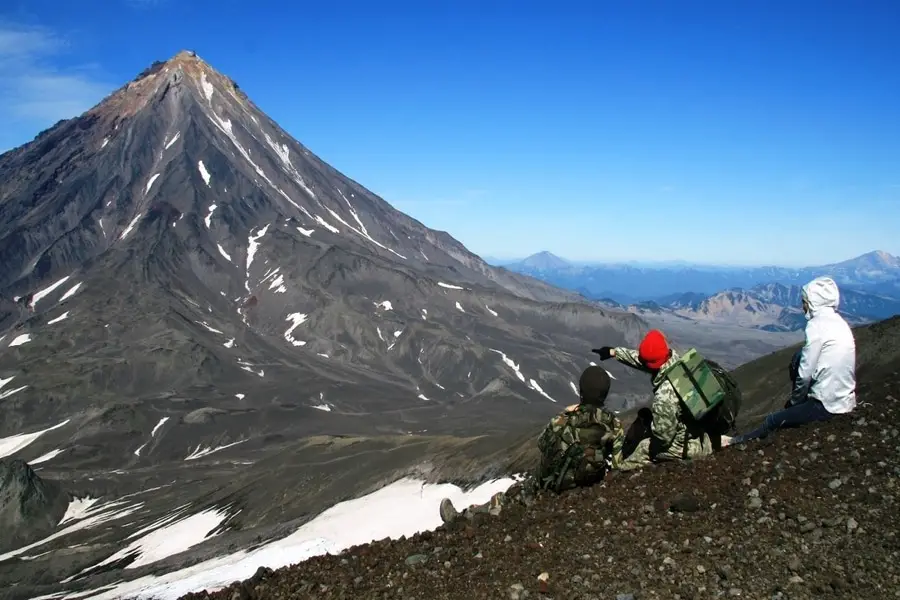 Towering over Kamchatka's capital of Petropavlovsk-Kamchatsky, Avachinsky is considered one of the most beautiful volcanoes in Kamchatka. With its perfectly conical shape, the climb to the top is relatively straightforward and can be achieved in a day. At its 2741m summit, you'll see a picturesque panorama over Avachinsky Bay and neighbouring volcano chains. Although small eruptions can occur unpredictably, if you are prepared to brave the tempestuous surroundings, you'll be rewarded with a view like nothing else on earth.
2. Come Face-to-face with a Brown Bear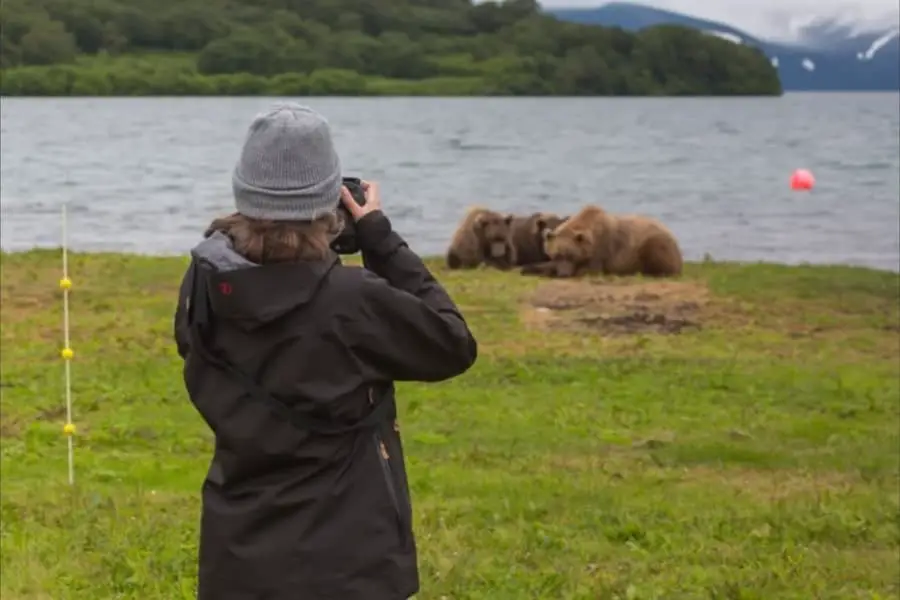 Kamchatka is a pristine and largely uninhabited area, where a myriad of teeming wildlife thrive. Perhaps the most iconic symbol of Kamchatka's untamed nature is the Kamchatka Brown Bears. An ancestor of the Alaskan Kodiak bears, they are among the largest bears in the world weighing up to 700kg. Across the whole peninsula, there are around 20,000 bears; the densest population of brown bears on the planet. In fact, when you visit Kamchatka you're more likely to run into a bear than a tourist!
At the onset of summer, from June through September, these furry residents emerge from hibernation and congregate along the riverbeds and coastline to mate, feed on salmon and raise their young. Lake Kurilskoye, or Lake Kuril, is a crater lake at the southern tip of Kamchatka and home to the largest spawning ground of red salmon. During spawning seasons, hundreds of brown bears gather at the lake for a feeding frenzy. These friendly giants are not shy of people and show no signs of aggression as they have adapted to co-exist alongside humans over the years. Therefore, Lake Kuril during summer is one of the only few places on earth where humans can observe hunting brown bears at close proximity in their natural habitat.
3. Fly to the Valley of Geysers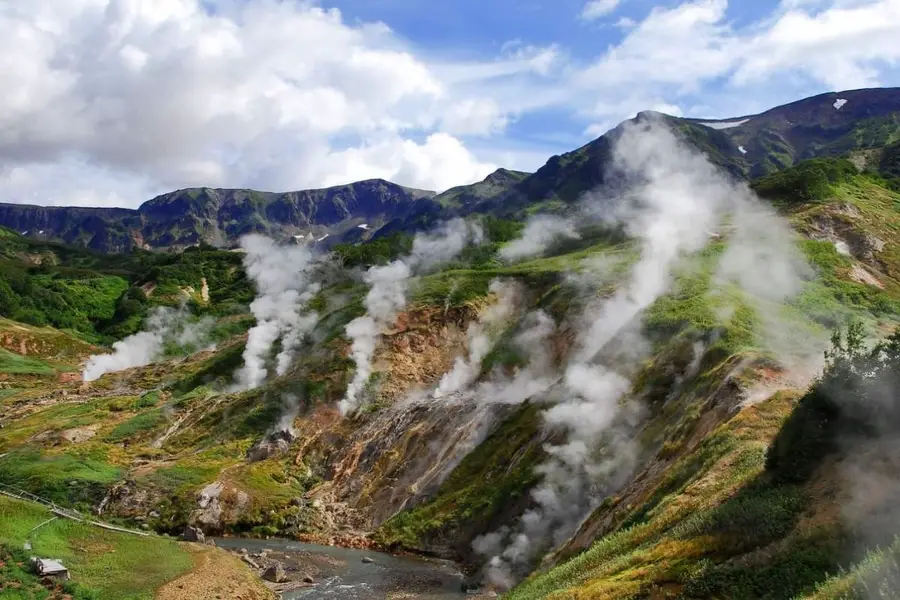 Situated in the heart of the Kronotsky State Biosphere Reserve, the Valley of Geysers is the second largest geyser field in the world, and the only one in Eurasia. Discovered only in 1941, the valley consists of a cluster of around 90 geysers, fumaroles and hot springs. Hidden deep in the mountains by nature, this tiny 8 square kilometre land is one of the few places in the world where geysers occur naturally. In fact, the valley is so concealed and difficult to reach it can only be accessed by helicopter. Upon arriving, you'll be greeted by a symphony of powerful spouting geysers that periodically expel huge volumes of hot water in spectacular skyward jets reaching up to 40 meters. At least 20 such geysers erupt on a stretch of the Geysernaya River Basin in the Valley of Geysers, along with dozens of smaller gushing vents and hundreds of hot springs. The wreaths of steam, fountains of boiling water and brilliant colours of slopes painted by red clay and profuse greenery of grasses and trees create an enchanting, hypnotic spectacle.
4. Soak up in Natural Hot Springs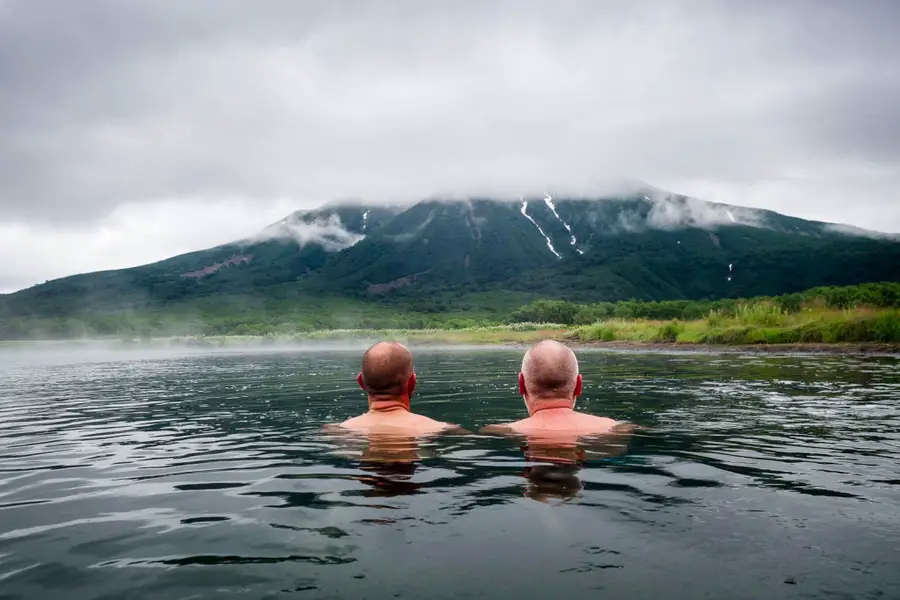 When you visit Kamchatka you'll find hundreds of natural, active boiling geothermal hot springs scattered across the peninsula. Many are accessible, while others more challenging to reach. A relaxing hot spring bath is a treasured pastime for locals and visitors, especially during winter. There is no better way to relax after a full day of strenuous hiking than soaking in a natural, mineral bath known to have numerous healing and health benefits such as improving circulation and metabolism, nourishing the skin, and reducing stress. All while being surrounded by a picturesque skyline of volcanoes that you have just conquered.
Located in the south of Paratunka, the Khodutka River hot springs are the largest collection of hot springs in Kamchatka. Nestled in a forested valley, the hot springs make up a whole hot lake, with water temperatures in the various spring pools ranging from 40 and 60
. Other popular hot springs in Kamchatka are Dachniye, Malkinskye, Verkhne-Paratunskie, Vilyuchinskie and Nalychevo. Regardless which one you choose to go, you'll feel at one with mother nature like no other experience as you embrace it's magical, healing powers.
5. Indulge in exciting Winter Activities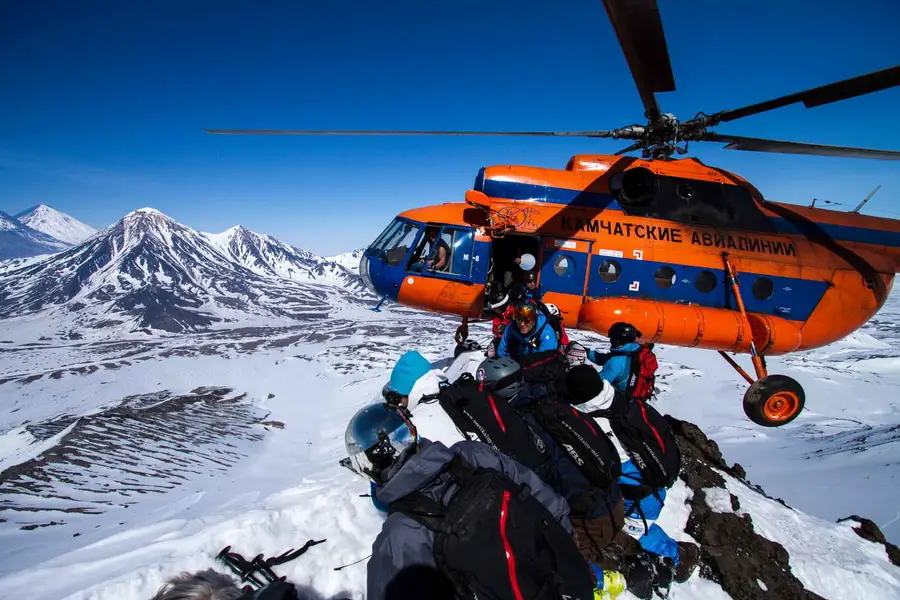 Kamchatka has two things in abundance – snow and open space. Unspoiled by commercial tourism, it is the ultimate playground to indulge in an array of exciting winter activities such as skiing, snowboarding, snowmobiling and dog-sledding. For adrenaline seekers, Kamchatka is the ultimate winter wonderland for ski enthusiasts. As you ski down the pristine slopes from an active volcano peak, you're acquainted by a majestic panorama of untamed terrain, deep blue sky overhead, white powder-soft snow stretching as far as the eye can see with no signs of civilisation. Experienced riders can take it up another level by flying straight to the soaring ridges of the highest volcanoes in a helicopter. Some of the most spectacular descents include Viluchinsky, Avachinsky, Mutnosky and Gorely.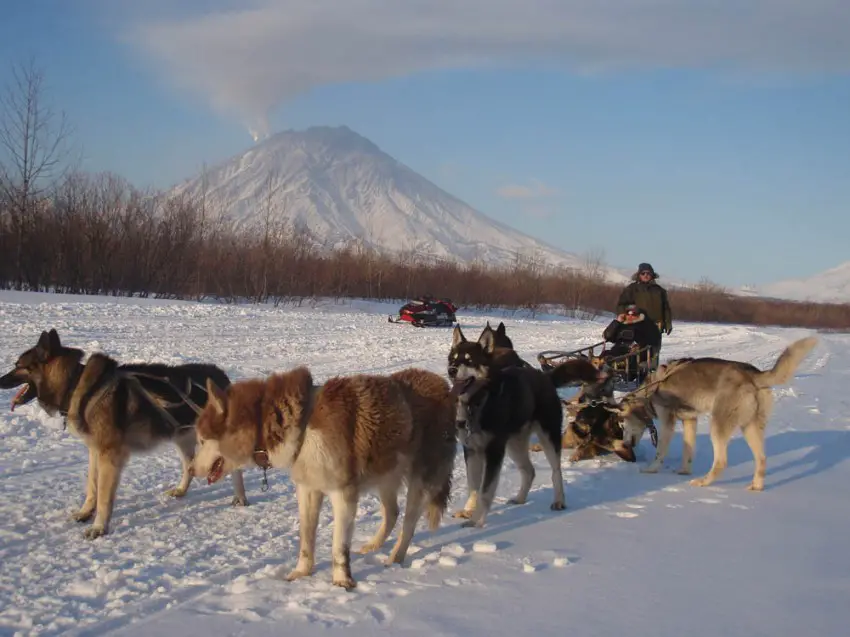 For those who prefer less adrenaline activities, you can embark on a leisurely-paced snowmobile safari to visit Kamchatka's most stunning viewpoints such as Three Brothers Rock and Camel Mount. For a more traditional experience, you can learn the art of 'mushing', or dog sledding, with a troop of energetic Siberian Huskies. If you feel comfortable, you'll have the chance to take over the wheel and manage the dogs. Not only will you get a feel for the unique cultural life of the Kamchatkans, but also a real winter wilderness adventure in one of the final frontiers of winter sports travel.
6. Explore Kamchatka's Coastline by Kayak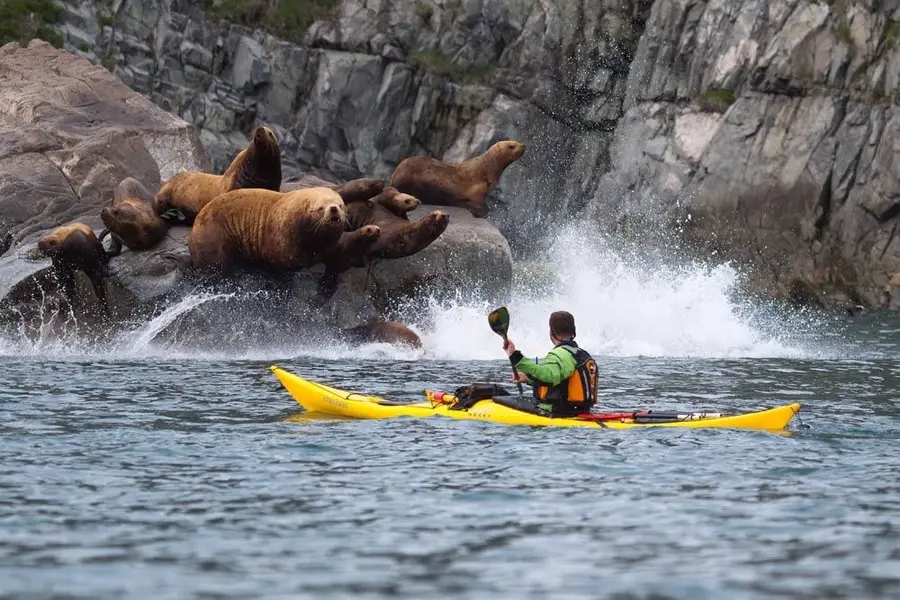 Kamchatka is washed by the Pacific Ocean and the Bering Sea to the east and the Sea of Okhotsk to the west. One of the best ways to explore the rugged coastline is by kayaking. Paddling along the tranquil coastline of the peninsula, you'll discover secluded bays, islets, caves and inland lakes that are normally not accessible. On the water, you'll find yourself face to face with a plethora of fascinating, diverse marine wildlife; sea lions, seals, sea otters, walruses and killer whales. Brown bears are often spotted ambling along the beaches of the peninsula's uninhabited bays. In the air, you may spot the majestic steller's sea eagles, puffins and even the critically endangered spoon-billed sandpiper.
Tracing the peninsula's shoreline south from the calm water of Avachy Bay, one of the world's largest bays, you'll paddle beneath the shadows of snow-capped volcanoes, soaring cliffs and coastal forests. As you approach Starichkov Island Nature Reserve, you'll be greeted by one of the Pacific's largest seabird colonies, including cormorants, gulls, guillemots and puffins. Although the trip may be physically challenging for some, the spectacular landscapes, heart-stopping wildlife encounters and sheer remoteness of Kamchatka are sure to leave you with wonderful, unique memories that last a lifetime.
7. Mingle with the local Nomadic tribes of Esso Village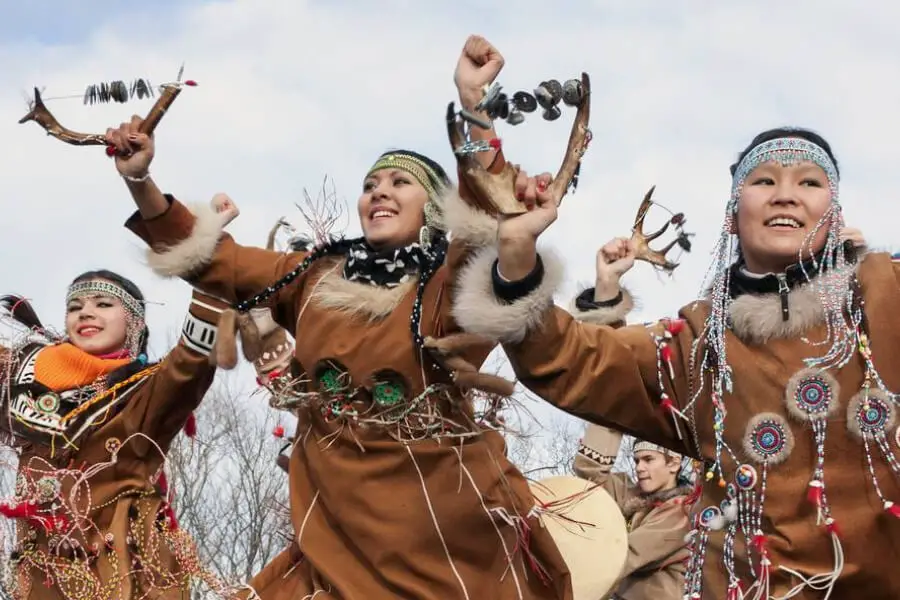 Despite the challenging, inhospitable environment of Kamchatka, people have inhabited the land for centuries. The Koryaks, the largest population of native people, occupy the west coast of Kamchatka. Koryak, which literally translates to "people of the reindeer", describes their nomadic way of life. Many retain their traditional lifestyle of reindeer herding and harvesting to provide all of their necessities; food, clothes and shelter. Every summer, the Koryak and Even tribes set up their camps near the village of Esso in central Kamchatka, where they graze their reindeer herds in the tundra. You'll be granted the extraordinary privilege to visit Kamchatka's native inhabitants and fully immerse in their nomadic way of life, spending a night camped out with the herders in their tents. If you're lucky, you will witness a colourful Koryak dance performance in traditional Siberian clothes, hear local legends and taste an authentic Koryak dish, oukha, a hot Siberian fish soup. This incredible opportunity will open your eyes, minds and hearts to the plight of one of the last surviving, true nomadic cultures on the planet.
8. Fish in Pure Uncharted Waters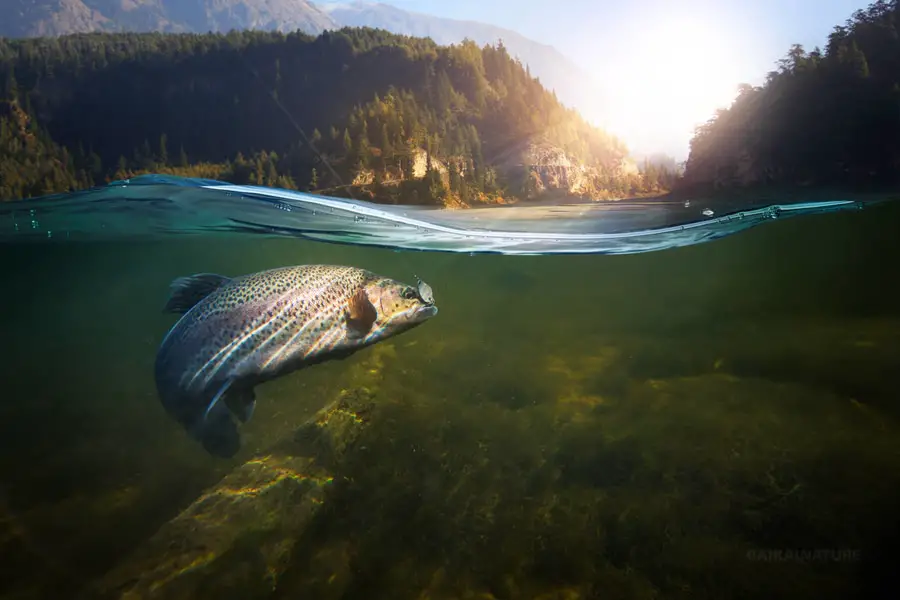 Hailed by many as the "Paradise for fishing", the Kamchatka claims one-third of the world's spawning spots. Its jagged coastlines are lapped by fish-rich waters, and its valleys are carved deep by over 12,000 pristine spring creeks and rivers, where most have never been fished. Across the peninsula, one can fish in 4 different types of bodies of water; the Pacific Ocean, the Okhotsk sea, countless lakes and rivers. For fishing enthusiasts, it's a utopia where almost all the species of wild salmon can be found; king salmon, red (sockeye) salmon, chum salmon, pink salmon, coho salmon and even Atlantic salmon. You can also find trouts and different species of char. Whilst fishing is possible almost on any river of Kamchatka, the most popular destinations are Opala river, Zhupanova river, Kol river, Vahil river, Raduga river and Yelovka river. With an abundance of fish swimming in crystal clear waters, magnificent primal volcanoes in the background, a bear plodding along the riverbank, this is the ultimate fishing experience like no other.
9. Surf the Black Beach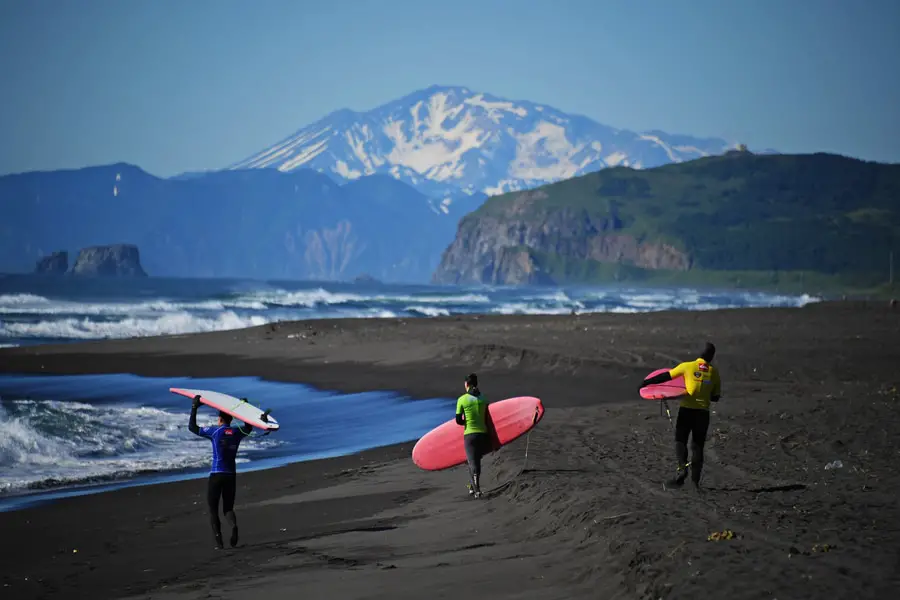 A remote peninsula in Russia's far east with chilly waters sounds like the last place on earth to emerge as a popular surf destination, but that's exactly what's happening at Khalaktyrsky beach. Only a 30-minute drive away from Petropavlovsk-Kamchatsky, it boasts a vast expanse of unusual jet-black volcanic sands. The waves here can reach an epic 5.5m. Although you can catch waves all year long, naturally the best time to surf is summer. As summer approaches, surf schools and equipment rental places open for business and Khalaktrysky transforms into a surf camp of tents and open fires. For surfing enthusiasts, whether you choose to visit Kamchatka during summer or winter, catching crystal clear waves on a beach covered in jet-black sand, and a stunning panorama of snow-capped volcanoes in the background is an incomparable experience.
Be more than a tourist
As remote destinations are becoming increasingly popular and accessible for adventure seekers and travel bluffs around the world seeking for unique travelling experiences, more off the beaten path destinations are quickly becoming spoiled and simply touristic. Fortunately, very few has had the privilege to visit Kamchatka due to its sheer remoteness and extremely limited accessibility. It remains a vast, untamed paradise where prehistoric volcanoes and giant bears rule the land. Only by being there can you appreciate the raw power and beauty of Mother Nature, and the importance of preserving these last precious, remaining tracts of untouched wilderness.