+61 412 587 785
info@56thparallel.com
Trekking volcanoes of Kamchatka from North to South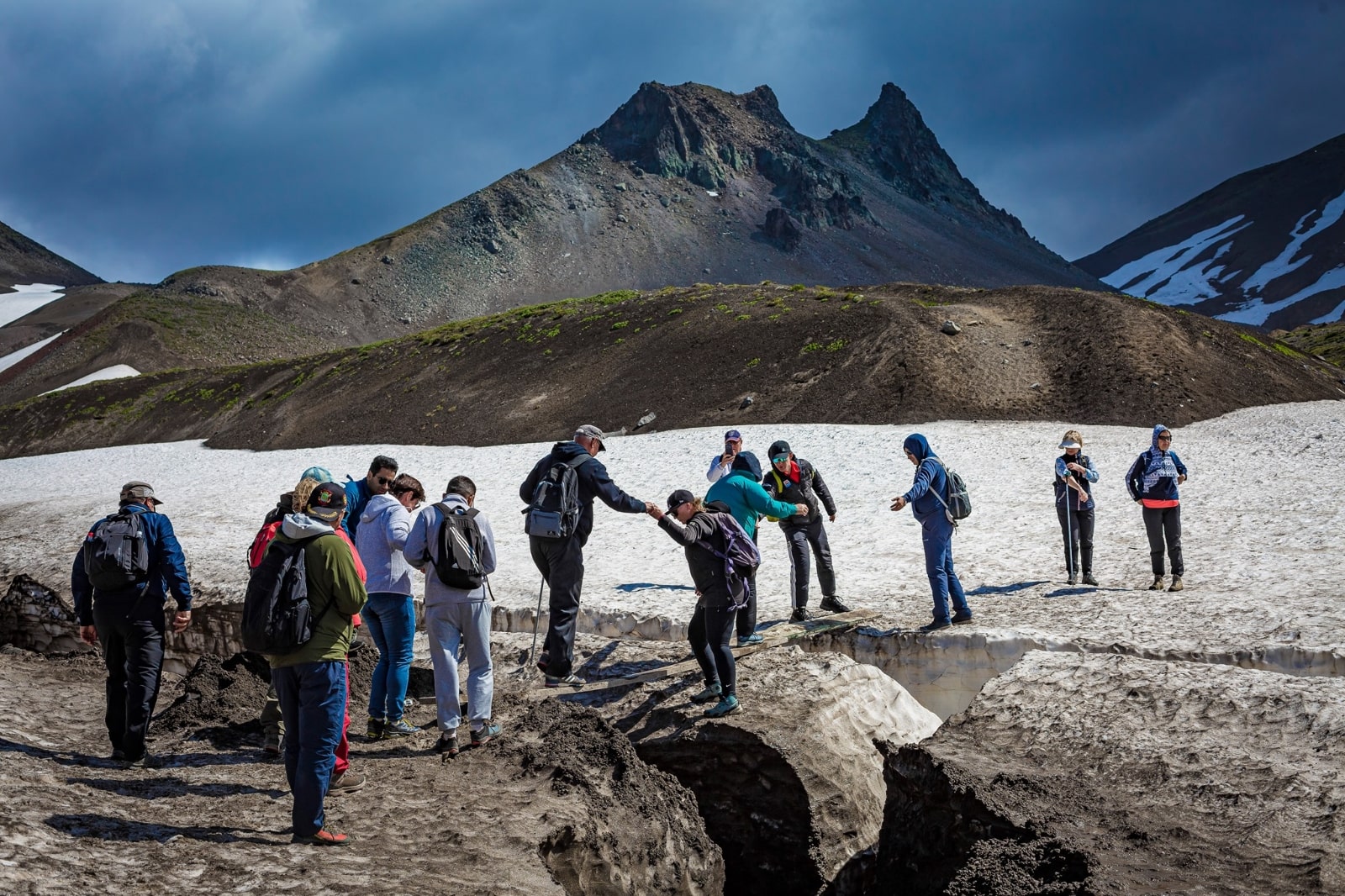 Trip Style Trekking, Camping
Time of year June - August
Day 1:
Welcome to Kamchatka
Meet and greet at the Petropavlovsk airport before a transfer to your hotel in the city. Rest in a hotel, and meet your team members on a group dinner in a restaurant.
Day 2:
City tour of Petropavlovsk
This day can be spent at your choice, either on a city tour of the Kamchatka's capital or opt-in* for one from the optional day excursions (download a detailed itinerary for more information).
Discover Petropavlovsk-Kamchatsky, the administrative, cultural and industrial centre of Kamchatka and home to around 180,000 people. A remote poor city with limited infrastructure, in a dramatic and beautiful setting; built on a series of high hills on the Pacific harbour of Avachinskaya Bay, surrounded by a chain of five towering volcanoes, two of which are still active. We will also visit the Ethnographic Museum, fish market, and enjoy a walk along the shore of the Avacha Bay, second-biggest natural harbour in the world.
Day 3:
Transfer to Klyuchevskoy Nature Park
Today begins with a full day journey to a typical Russian village of Kozyrevsk. Along the way, we pass the old Cossack village of Milkovo where we stop for lunch and a stroll around the village to get a feel for typical Russian rural life. From here we head further to the wilderness along the banks of the Kamchatka River, Kamchatka's largest river, which runs northward through the central valley of the peninsula.
On arrival at Kozyrevsk, we will stay for overnight in very basic wooden cabins (twin share only). Enjoy real Siberian sauna (banya) and a stunning night starry sky.
Day 4:
Tolbachik volcano
Travelling further (60km) from where we stayed overnight, we arrive at our first base camp located on a slope of the Tolbachik volcano plateau, where we will stay for the next 4 nights.
Klyuchevskoy Nature Park was registered into the UNESCO World Cultural and Natural Heritage List in 1999. It covers an area of 376,000 ha with Eurasia's most grand and active Klyuchevksaya group of volcanoes in its centre. It consists of 13 volcanoes, including 4 active ones and 9 extinct ones.
Day 5:
Tolbachik volcano: solid lava fields and Dead Forest
Today, we enjoy walking along solid lava flows from the 2012-2013 eruption and visiting some of the new craters. We also explore the Dead Forest – an area that was destroyed by an enormous eruption between 1975 and 1976.
Day 6-7:
Ascending Plosky Tolbachik volcano
Today we ascend Plosky Tolbachik (2,850m). Physically tasking and long ascending, about 15 kilometres there and back, across frozen lava flows and slag fields. A picturesque panorama of Klyuchevskaya group of volcanos opens from the top. You will be captivated and mesmerized by the lunar landscapes. No wonder, in this area the Soviet lunar vehicles were tested.
Day 7 is reserved in case of bad weather. As an alternative program, we may hike along solid lave fields to new lava caves and slag cones on this day.
Day 8:
Esso village
Be ready to jump to our 4/6wd truck as we are heading to Esso settlement in Central Kamchatka, home to the Evens, one of the four indigenous peoples of Kamchatka. Here we will check into the hotel, finally take a hot shower and relax in the thermal pool. Esso is a charming village of about 1,500 residents nestled in the Central Mt. Range and inside of the Bystrinsky Nature Park, the largest of the Volcanoes of Kamchatka's Nature Parks.
This village's spectacular setting and unique population of Russians and Kamchatka aboriginal people welcome visitors to a cozy accommodation, warmed by natural geothermal waters. Take a stroll around the village and visit the local museum to immerse in the local culture.
In the evening, you will be welcomed by locals and enjoy the traditional dance show.
Day 9:
Transfer to South of Kamchatka
Embark on a full day's drive to the Southern group of volcanoes. Along the way, we'll make another pit stop at Milkovo village. Today we overnight in the "Karymshinsky" hotel, where we will enjoy bathing in the hot springs pool.
Day 10:
Travelling to Mutnovsky volcano
Today, we travel to another volcano - Mutnovsky (2,939m). We drive for 180km with a stop at the Vilyuchinsky waterfall. After a short rest, we continue our drive. Once we reach our destination we set up a base camp and enjoy a short excursion in the vicinity of the camp.
Day 11:
Mutnovsky volcano trekking
Near Mutnovsky's summit is a nest of merged craters, among the most beautiful volcanic phenomenon in Kamchatka. We hike to the rim of the craters via a crack in the volcano's side. With a bit of courage, you can climb to the crest of the craters. Standing at the top, at the edge of a deep cavity, gazing down upon glittering glaciers, the torches of sulphur spewing fumaroles far below and the columns of vapour rising from the active funnel crater.
Day 12:
Gorely volcano trekking
After breakfast, we'll embark on another adventure. Today's destination is Mount Gorely (1,829m), one of the most active volcanoes in Kamchatka. From our campsite, the 4/6WD truck heads north around the edge of a large lake that lies in the unfilled eastern crescent of the Gorely caldera. From the lake flats, the walk up the huge shield volcano, we'll cross a mix of grassy tundra with dwarf willows and bare strips of basaltic lava and lava flow formations.
Our picnic lunch will be laid out on the shelf just below the top. The magnificent panoramic view in front of us looks out over a sudden, vertical descent into the active crater. Over 100m down, a hot acidic lake has active fumaroles around its margin and beneath the surface, thanks to Gorely's recent steam eruptions. Afterwards, we'll return to the campsite via the outward route. Dinner will be enjoyed back at the camp.
Day 13-14:
On the way to Avachinsky volcano
Today we jump into our truck again for another drive back to Verkhne-Paratunskiye thermal springs area, to Karymshinky hotel. On day 14 we continue our drive further, along the Sukhaya River to the Avacha Volcano plateau (80km). Here we set up a base camp between Avachinsky and Koryaksky Volcanoes (860m) or stay in cabins.
Day 15:
Avachinsky volcano ascending
Today we ascend Avachinsky Volcano. To reach the summit involves a climb of nearly 1,800 m. An easier option is to aim to reach the shoulder on the old crater rim, which offers a lovely stretch of scenic walking, and requires a climb of about 1,100 m. We have a bite on the edge of the crater of the volcano (filled to the brim with hardened black lava after an eruption in 1991) of the volcano while enjoying the magnificent panorama of the Pacific Ocean, Petropavlovsk, Zhupanovsky and Koryaksky Volcanoes, and Nalychyova Valley.
Day 16:
On the way back to Petropavlovsk
Today, we'll return to Petropavlovsk-Kamchatsky, where we enjoy our last dinner with traditional Russian food and toasting with the local vodka to celebrate our final day in Kamchatka.
* This day is reserve day, the itinerary may be slightly different.
Day 17:
Departure
After breakfast, you'll be transferred to the airport. Hotel check-out at 12pm, so please have it mind when planning your departure.
Included
Group airport arrival and departure transfers
All transportation on tour according to the itinerary
Hotels and tents accommodation (twin/double sharing)
All camping equipment, except sleeping bag (can be rented)
All meals during the tour
Local English-speaking guide, helper, chef, experienced drivers
Permits in Klyuchevskoy Nature Park
Russian visa support document (voucher)
Not included
Flights
Russian visa and visa fees. *Russian visa can be arranged by 56th Parallel for an additional cost (for Australian citizens only). Apply for concierge visa service here.
Optional excursions
Individual transfers
Alcohol
Dates & Prices
Dates
Availability
Price
Single sup.
Jun 22 - Jul 8, 2023


Guaranteed Departures

Available
US $3,640
US $520
Jul 10 - Jul 26, 2023


Guaranteed Departures

Available
US $3,640
US $520
Jul 27 - Aug 12, 2023


Guaranteed Departures

Available
US $3,640
US $520