This 17-day volcanoes trekking expedition in wildest Kamchatka, Russian Far East is geared towards the active and adventurous traveller. We'll climb several volcanoes during the trip, although all are easy to moderately strenuous hikes, with no special climbing gear involved. We'll travel by 4WD truck to the remote sights of Kamchatka, passing the most active volcanic zone of the peninsula. There should be several encounters with marmots, ground squirrels, foxes, and bird life, and if you are lucky enough, you will see the Brown Bears.
This guided Kamchatka volcano trekking tour involves a mix of mostly camping, some hotel nights, lots of off-road driving and trekking, with an average height of 1,200m above sea level.
Kamchatka Volcanoes Trekking Tour Highlights
Spend a night camped out in log cabins in Klyuchevskoy Nature Park, a World Heritage-listed natural preserve which contains 13 of Eurasia's most spectacular and active volcanoes at its centre. Enjoy a real Siberian sauna (banya) in the wilderness beneath a stunning night starry sky
Visit the eerily beautiful Dead Forest and solid lava fields beneath Tolbachik volcano. The result of an enormous eruption between 1975 and 1976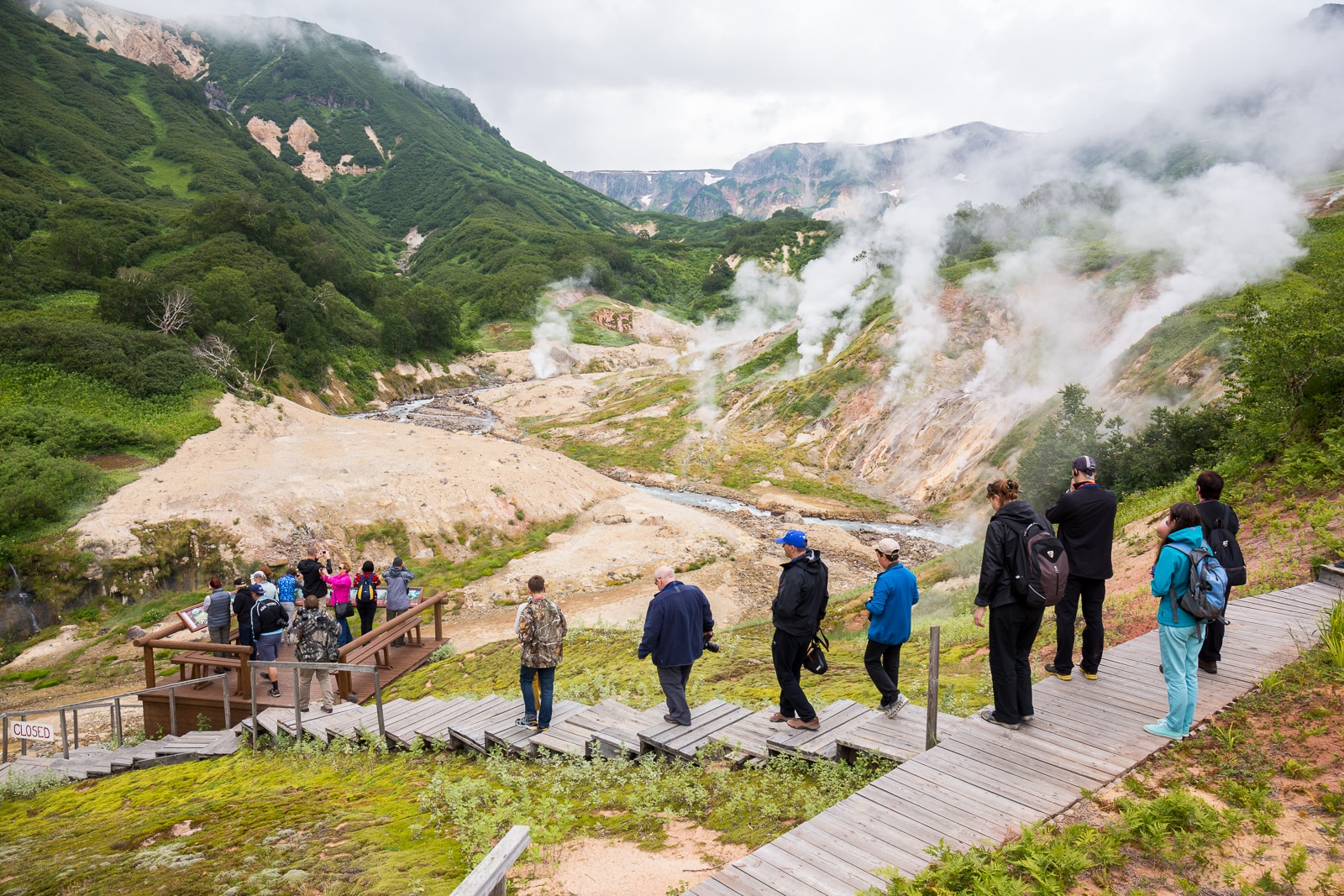 There are adventure travel destinations. And then there's Kamchatka. If you crave transformative travel experiences, communion with nature and wilderness that is still truly "wild", our Kamchatka tour will fulfil your frontier travel fantasies. The remoteness and sheer size of the Kamchatka Peninsula don't always make for a leisurely vacation, but Kamchatka Discovery with private transport makes seeing most of the Siberian spectacular sights possible over eight enthralling days.
To make the most of your time in the peninsula, our Kamchatka tour will take you by 4WD, on foot, and on board a boutique cruising yacht. Perhaps the most ideal way to travel Kamchatka's great distances is by helicopter. On one of our optional helicopter excursions, land next to Kurilskoye Lake to observe the famous brown bears, or take a fly-over across the Valley of Geysers for an incredible bird's eye view of the kind of bizarre and beautiful primitive landscapes that make Kamchatka so alluringly otherworldly.
Kamchatka Tour Highlights
Avachinskaya Bay cruise: Spend half a day tracing the twisting coastline from tranquil Avacha Bay out to Starichkov Island, a nature reserve renowned for its seabird population
Volcano trekking around Mount Vachkazhets: Discover the surprising beauty of the peninsula's volcanic landscapes on a circuit of the Vachkazhets volcano, an easy four-hour hike passing flower-filled meadows, waterfalls and panoramic mountain viewpoints