Cruise to Wrangel Island, an area 140km off the northeast coast of Siberia, separated from northern Alaska by the Chukchi Sea. For 10 frozen months of the year, this lonely wilderness is completely cut off from the outside world. Reaching Wrangel and braving its polar climate is not for the faint of heart. Only the most dedicated nature lovers make the journey – but the rewards are without parallel. There is simply no better destination than to meet the wild denizens of the Arctic up-close, virtually undisturbed by human interference, and in numbers that will simply astound you.
Wrangel Island Arctic Expedition Cruise HIGHLIGHTS:
Whale Bone Alley is the name given to a beach on Yttygran Island in the Bering Sea. Landing on the beach, you'll take in the haunting atmosphere of this ancient site, where gigantic whalebones appear to sprout out of the ground, stretching along the coast for nearly half a kilometre
Uelen, the most northeasterly village in Russia, home to a predominantly Chukchi population. The village is one of the foremost centres for Chukchi and Inuit art. On our visit, we'll be entertained by local folklore and a visit to the bone-carving workshops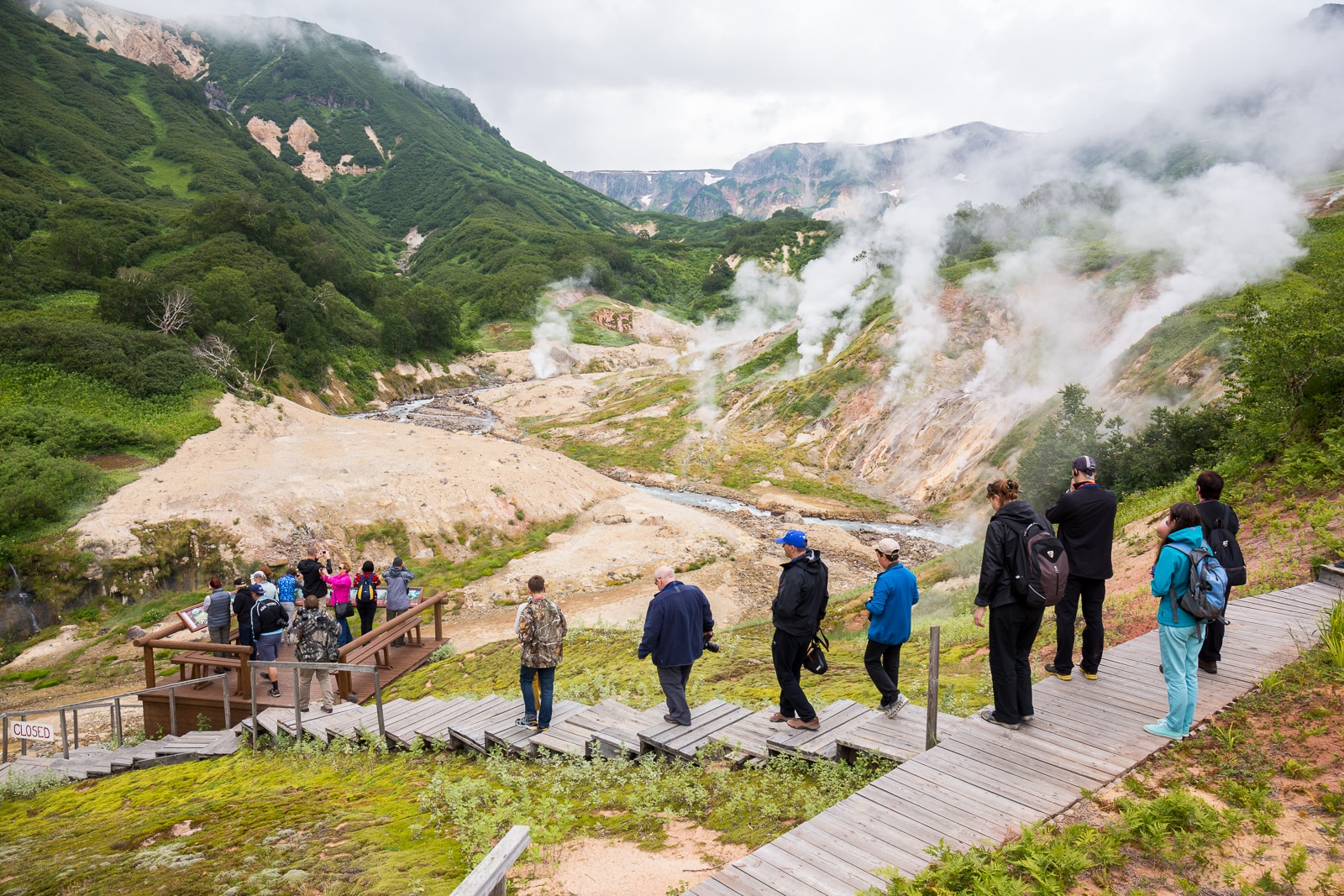 There are adventure travel destinations. And then there's Kamchatka. If you crave transformative travel experiences, communion with nature and wilderness that is still truly "wild", our Kamchatka tour will fulfil your frontier travel fantasies. The remoteness and sheer size of the Kamchatka Peninsula don't always make for a leisurely vacation, but Kamchatka Discovery with private transport makes seeing most of the Siberian spectacular sights possible over eight enthralling days.
To make the most of your time in the peninsula, our Kamchatka tour will take you by 4WD, on foot, and on board a boutique cruising yacht. Perhaps the most ideal way to travel Kamchatka's great distances is by helicopter. On one of our optional helicopter excursions, land next to Kurilskoye Lake to observe the famous brown bears, or take a fly-over across the Valley of Geysers for an incredible bird's eye view of the kind of bizarre and beautiful primitive landscapes that make Kamchatka so alluringly otherworldly.
Kamchatka Tour Highlights
Avachinskaya Bay cruise: Spend half a day tracing the twisting coastline from tranquil Avacha Bay out to Starichkov Island, a nature reserve renowned for its seabird population
Volcano trekking around Mount Vachkazhets: Discover the surprising beauty of the peninsula's volcanic landscapes on a circuit of the Vachkazhets volcano, an easy four-hour hike passing flower-filled meadows, waterfalls and panoramic mountain viewpoints