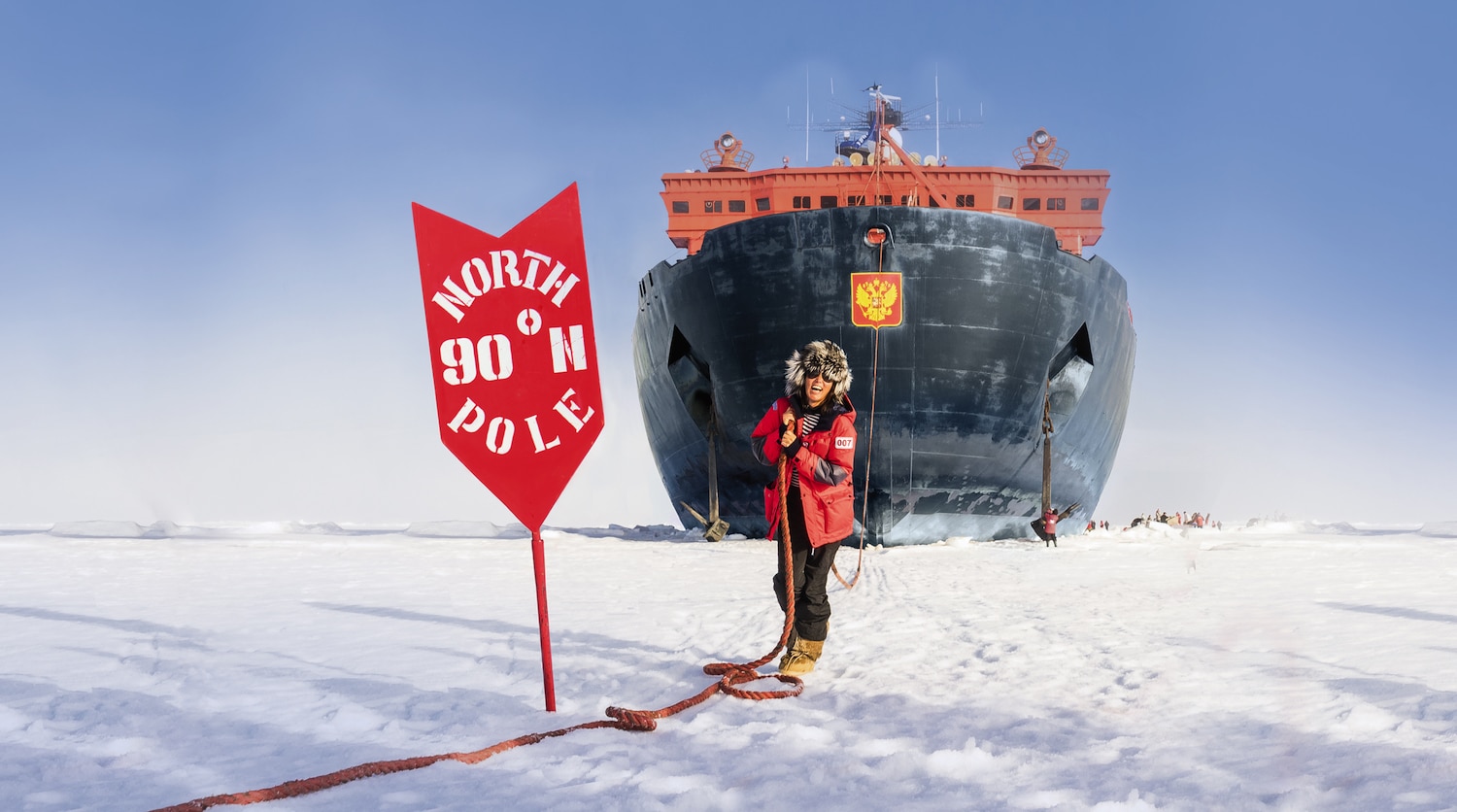 Get on board for the ultimate North Pole adventure. Nothing compares to experiencing the untamed grandeur of the Arctic quite like seeing its majestic landscapes unfold from the deck of a state-of-the-art nuclear icebreaker. Imagine endless expanses of ice under the polar midnight sun. Pristine waters teeming with marine life. Prowling polar bears in the tundra. This is Mother Nature at her breathtaking best.
From Murmansk, Russia, you'll embark the icebreaker 50 Years of Victory for a roundtrip voyage to the earth's geographic North Pole. Our mighty vessel will plough its way through the frozen Arctic Ocean on a cruise that literally circumnavigates the globe in a matter of days. In addition to the exhilaration of cruising to the very apex of the earth, passengers will have the extraordinary privilege to land, via helicopter, on the scarcely visited Russian Arctic archipelago of Franz Josef Land, a remote wilderness home to an incredible abundance of wildlife.
NORTH POLE CRUISE HIGHLIGHTS:
After 7 days of cruising from Murmansk, we'll arrive at the geographic North Pole, the place where all meridians meet and the only direction is south. To celebrate our successful mission to the top of the world, we'll ceremoniously drop anchor and disembark on a sturdy stretch of ice for the 'International Round Dance' – a once-in-a-lifetime opportunity to literally walk around the world!
Franz Josef Land: Weather permitting, we'll spend two days exploring this uninhabited archipelago, one most pristine Arctic habitats on earth. Made up  of192 islands, glaciers cover 85% of the land, carving out a spectacular terrain of steep valleys, caves and pinnacles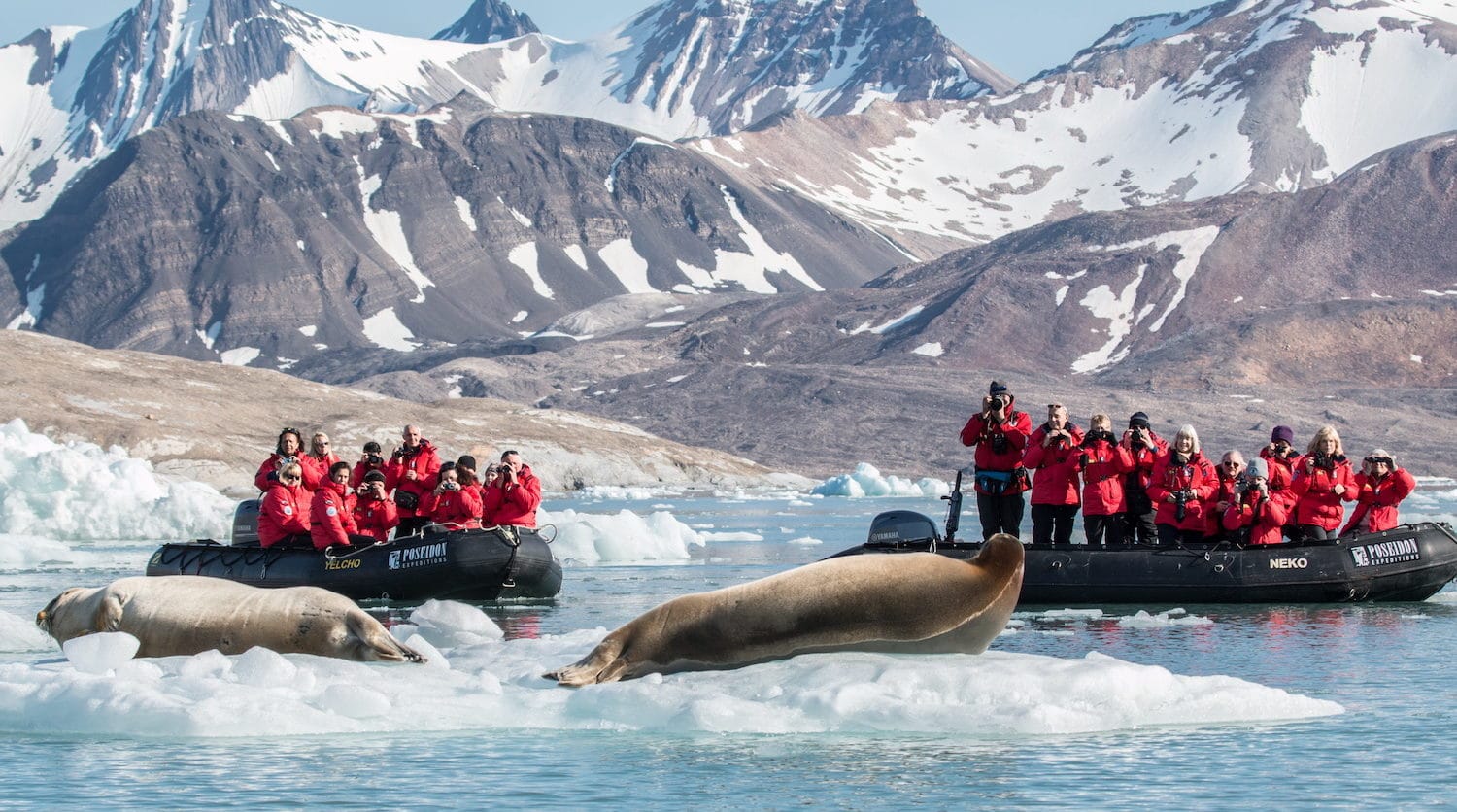 This extraordinary Franz Josef Land cruise is as unique and authentic as the place itself. Franz Josef Land, part of the Russian Arctic National Park, is a nature sanctuary. Starting in Longyearbyen in the Norwegian territory of Svalbard, the Sea Spirit cruise ship crosses the icy, wildlife-rich Barents Sea to the Russian High Arctic. This remote wilderness is home to a variety of wildlife, including polar bears. In the surrounding icy waters, it is possible to spot seals, walruses, and the elusive bowhead whale. The archipelago also hosts an abundance of nesting Arctic seabirds such as the rare ivory gull.
Franz Josef Land and Svalbard Cruise Trip Highlights:
Upon our arrival in Franz Josef Land, we'll spend a week exploring this uninhabited archipelago. We'll navigate the shallow waters of the isles by Zodiac and make as many on-shore landings as possible. Made up of 192 islands, glaciers cover 85% of the land, carving out a spectacular terrain of steep valleys, caves and pinnacles
Our mission during our time in Franz Josef Land is to observe (sometimes at an extremely close range) the iconic Arctic animal species that call the islands home, including polar bears, walruses, beluga whales and narwhals