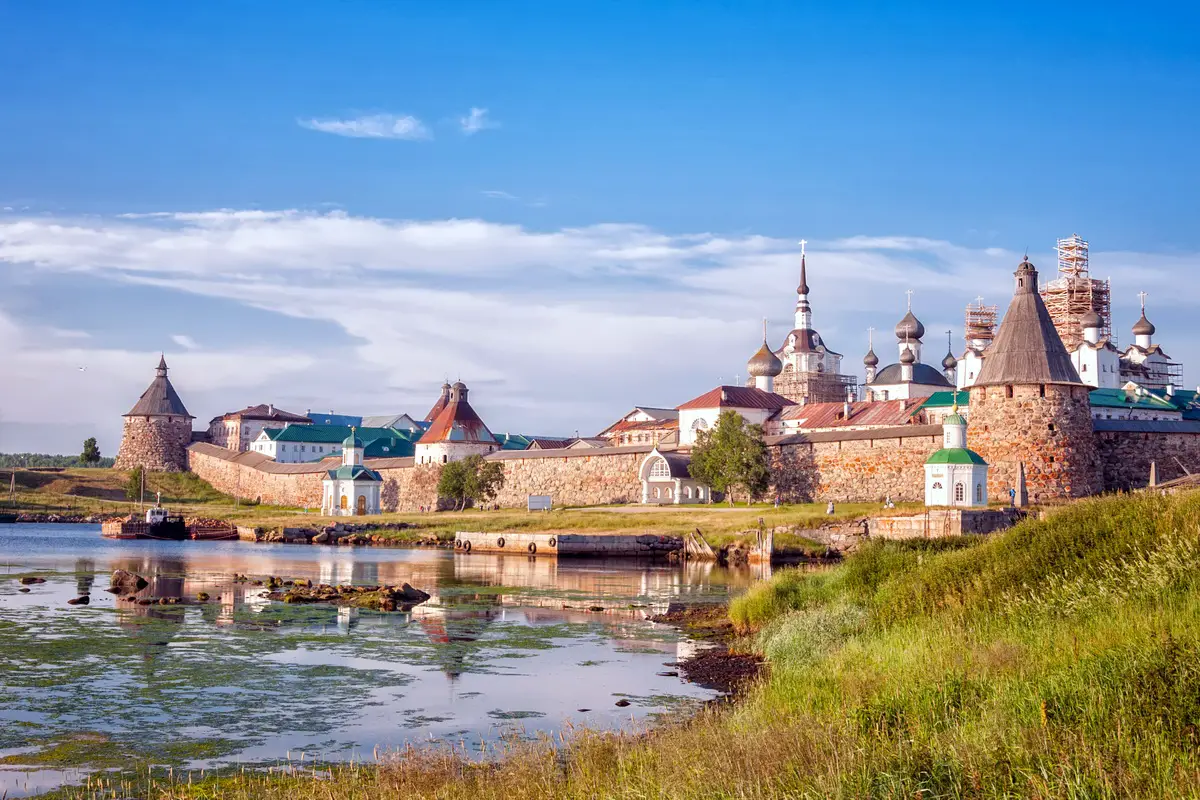 Karelia is situated to the north of St.Petersburg: it stretches along the border with Finland up to the Arctic Circle and is abundant with forests, lakes and rivers, including the Ladoga and the Onega – the two largest lakes in Europe. This singular place in the Russian North is truly a land of primordial nature. The Karelia tour will take you on scenic boat rides to some of the region's many lakes or rivers, trekking with huskies on trails in the beautiful pine forests and picking berries in the woods. Take your time. Wander around. Enjoy the scenery.
Gems of Karelia Trip Highlights
The Kizhi Open Air Museum of Wooden Architecture is one of the most unmissable greatest cultural attractions in Russia. The island contains some 83 relocated wooden buildings from the 17th to the 19th centuries, with the crown jewel being the elaborate 1714 Church of the Transfiguration
The Valaam Archipelago is a group of 50 islands in Lake Lagoda, the largest lake in Europe. The heart of Valaam is its magnificent monastery complex, which is somewhere between 1000 and 600 years old and was at the centre of the 16th-century power struggle between the Russians and Swedes
This short detour from either Moscow or St Petersburg gives you the chance to explore some of the most remarkable historical and natural landmarks of Karelia. Known as Russia's 'Land of Lakes', Karelia is a republic with its own unique culture, bordering Finland and the White Sea. Your tour begins in Petrozavodsk, the largest city in Karelia and the gateway to Kizhi Island, the most visually spectacular cultural site in Karelia. We'll reach Kizhi by rapid hydrofoil boat, giving us plenty of time to explore the World Heritage Listed Kizhi Pogost, a collection of 17th and 18th-century churches, elaborately and fantastically crafted entirely out of wood.
TRIP HIGHLIGHTS
The Kizhi Open Air Museum is a World Heritage site and one of the most unmissable greatest cultural attractions in Russia. The island contains some 83 relocated buildings from the 17th to the 19th centuries, each one elaborately crafted out of wood
The crown jewel of Khizi is the Transfiguration Church, an architectural masterpiece featuring a chorus of wooden domes, gables and ingenious decorations designed to keep water off the walls. Built without using a single nail, it has withstood the elements for over 150 years