This 17-day volcanoes trekking expedition in wildest Kamchatka, Russian Far East is geared towards the active and adventurous traveller. We'll climb several volcanoes during the trip, although all are easy to moderately strenuous hikes, with no special climbing gear involved. We'll travel by 4WD truck to the remote sights of Kamchatka, passing the most active volcanic zone of the peninsula. There should be several encounters with marmots, ground squirrels, foxes, and bird life, and if you are lucky enough, you will see the Brown Bears.
This guided Kamchatka volcano trekking tour involves a mix of mostly camping, some hotel nights, lots of off-road driving and trekking, with an average height of 1,200m above sea level.
Kamchatka Volcanoes Trekking Tour Highlights:
Spend a night camped out in log cabins in Klyuchevskoy Nature Park, a World Heritage-listed natural preserve which contains 13 of Eurasia's most spectacular and active volcanoes at its centre. Enjoy a real Siberian sauna (banya) in the wilderness beneath a stunning night starry sky
Visit the eerily beautiful Dead Forest and solid lava fields beneath Tolbachik volcano. The result of an enormous eruption between 1975 and 1976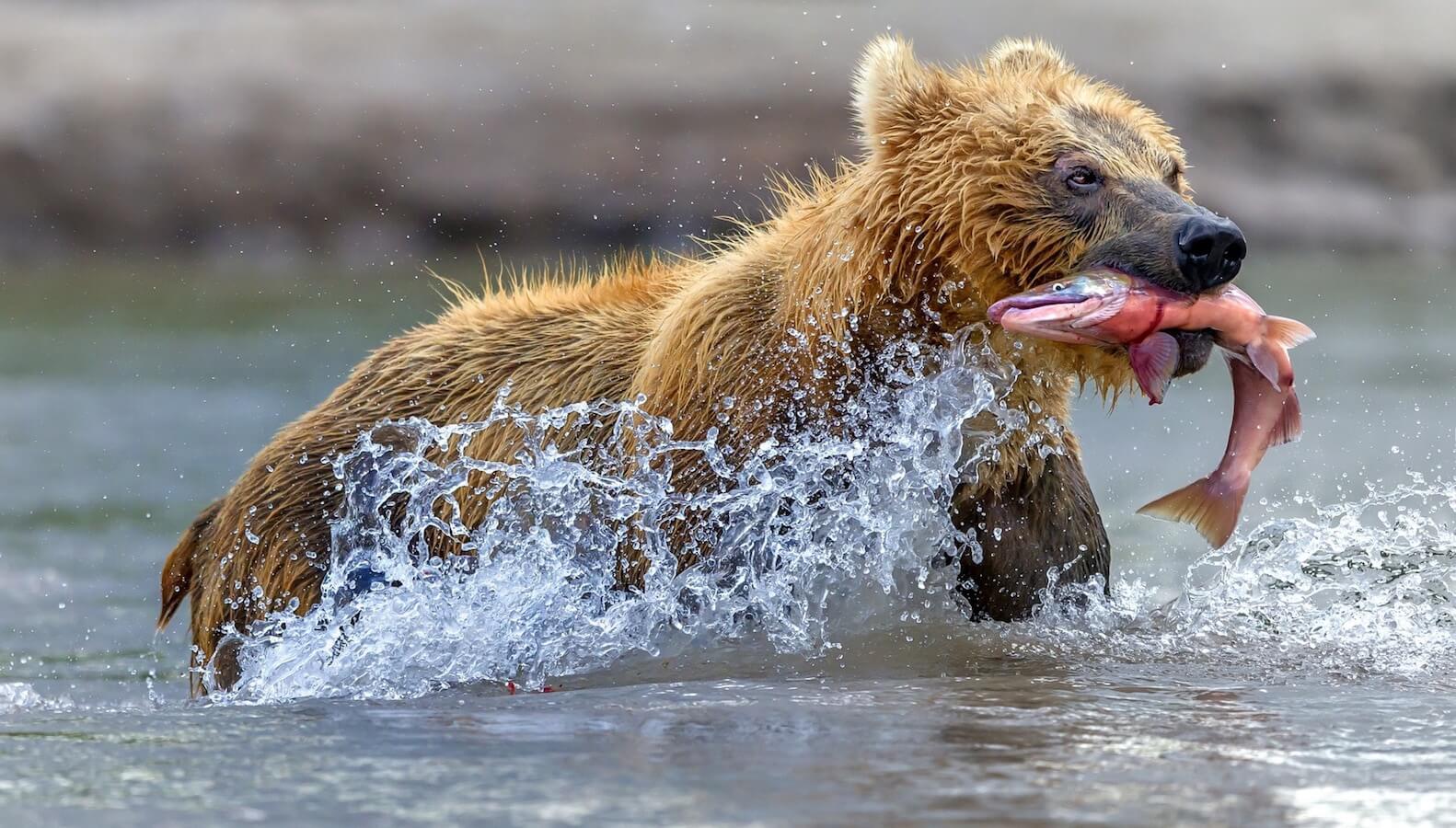 Perhaps the most potent symbols of Kamchatka's untamed nature are its towering volcanoes and the mighty Kamchatka Brown bears, the furry residents are the ancestor of the Alaskan Kodiak bears. These two iconic natural emblems are the main subjects of our Kamchatka bears and volcanoes tour, an adventure into the wilds of Russia's Far East that's equal parts thrilling and humbling. Including three nights staying in a cabin on Kuril Lake at the height of the bear's salmon hunting season, this Kamchatka wildlife watching tour will get you closer than you ever imagined to the animal inhabitants of the Kamchatka peninsula.
Kingdom of the Brown Bears in Kamchatka tour highlights:
Kuril Lake during the summer salmon run is one of only a few places where visitors can observe hunting brown bears in their natural habitat at close proximity. To get the best chances of adrenaline-pumping close encounters and amazing photos ops, we'll watch bears feed and frolick along the shore from a motorboat, as well as on-land from a special viewing platform overlooking prime fishing grounds.
Take off in a Russian Mi-8 helicopter for a breathtaking flight to the Khodutka River hot springs, nestled in a forested valley where we'll bathe, relax and camp for the evening. The largest collection of hot springs in Kamchatka, water temperatures in the various spring pools range from 40 and 60°C.