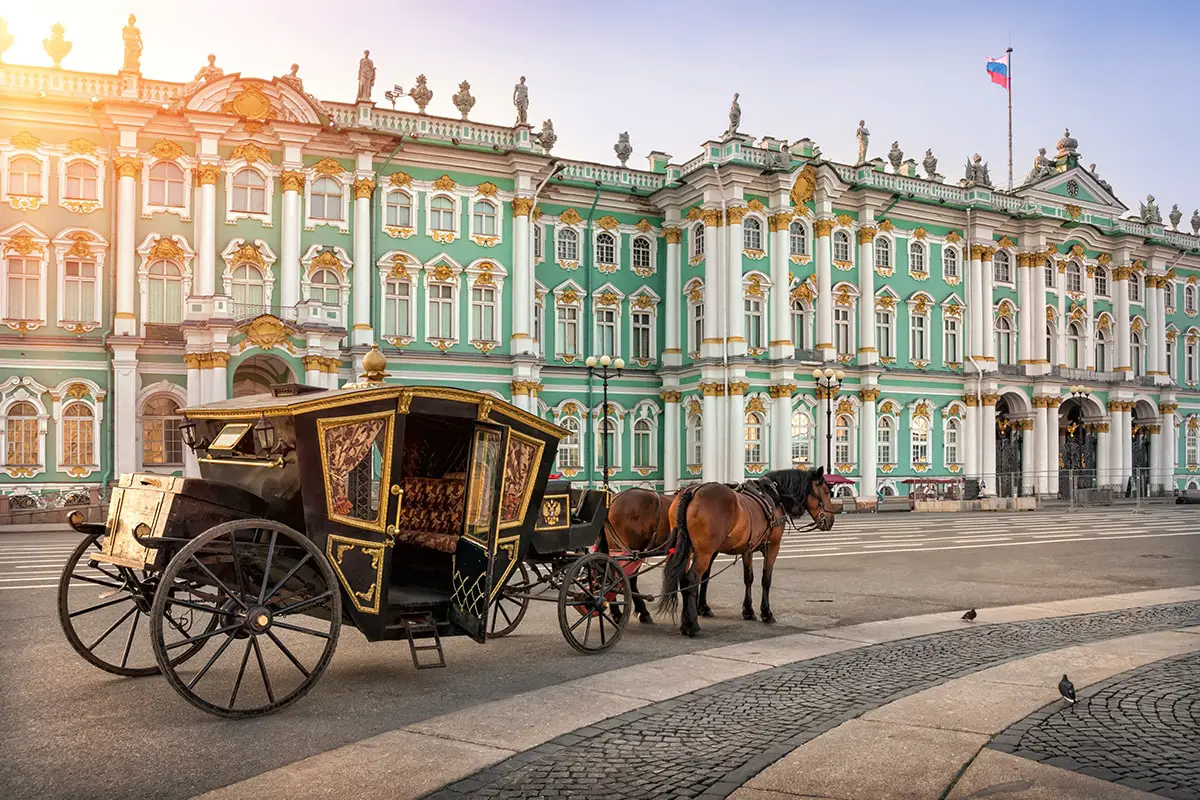 Russia's story is evolving at a rapid pace, and nowhere is this intermingling of the ancient and the avant-garde more apparent than in its two largest metropolises, Moscow and St Petersburg. This carefully crafted Moscow and St Petersburg Tour itinerary tells the tale of two cities – Moscow, the source of Eastern political, economic and spiritual influence, and St Petersburg – Russia's cultural epicentre and window to Western Europe. During this fabulous 9 day Moscow and St Petersburg tour, you'll stay in some of the country's most stylish, centrally located urban hotels. Discover Moscow and St Petersburg plus a portion of the historical Golden Ring route by plush private transport. Travel business class on the high speed Sapsan train between Moscow and St Petersburg and spoil yourself even more with a choice of optional activities including a sublime night out at the opera or ballet at the Bolshoi Theatre, a luxurious Moscow dinner cruise and an evening of classical music at one of St Petersburg's beautiful palaces turned concert halls.
Moscow and St Petersburg Tour Highlights
Enjoy a very special evening at White Rabbit, heralded as one of Restaurant Magazine's top restaurants in the world. White Rabbit combines a whimsical Alice in Wonderland theme with elegant service, creative takes on Russian cuisine and a domed glass roof providing breathtaking views of the city 
Immerse yourself in the atmosphere of one of the world's biggest metropolises on a guided walking tour of Moscow, including the Red Square, the Kremlin and St Basil's Cathedral 
Explore Moscow's famously elaborate Metro stations on the way to the Tretyakov State Gallery, the national treasury of Russian fine art and one of the greatest museums in the world
Explore the Treasures of St Petersburg. Before Moscow became the seat of Russian power, St Petersburg was the capital of the Russian Empire for 200 years. Inspired by London, Vienna and Paris, Peter the Great transformed a tract of swampland on the Lena River delta into what would become renowned as one of the world's most beautiful cities. This in-depth seven-day tour of St Petersburg will ensure you have plenty of time to relish all the most unmissable highlights of St Petersburg and its surroundings. St Petersburg, is, after all, one of the most visually compelling destinations in Russia, and its ornamental splendour was designed to be savoured.
Treasures Of St Petersburg – Trip Highlights 
St Petersburg Walking Tour: Admire spectacular urban architecture, old-world grandeur and a buzzing vibe on a guided walking tour of St Petersburg, including a stroll along the lively main drag, Nevsky Prospekt
Take a hydrofoil boat trip to the World Heritage listed Peterhof Palace and Park, known as the 'Russian Versailles'