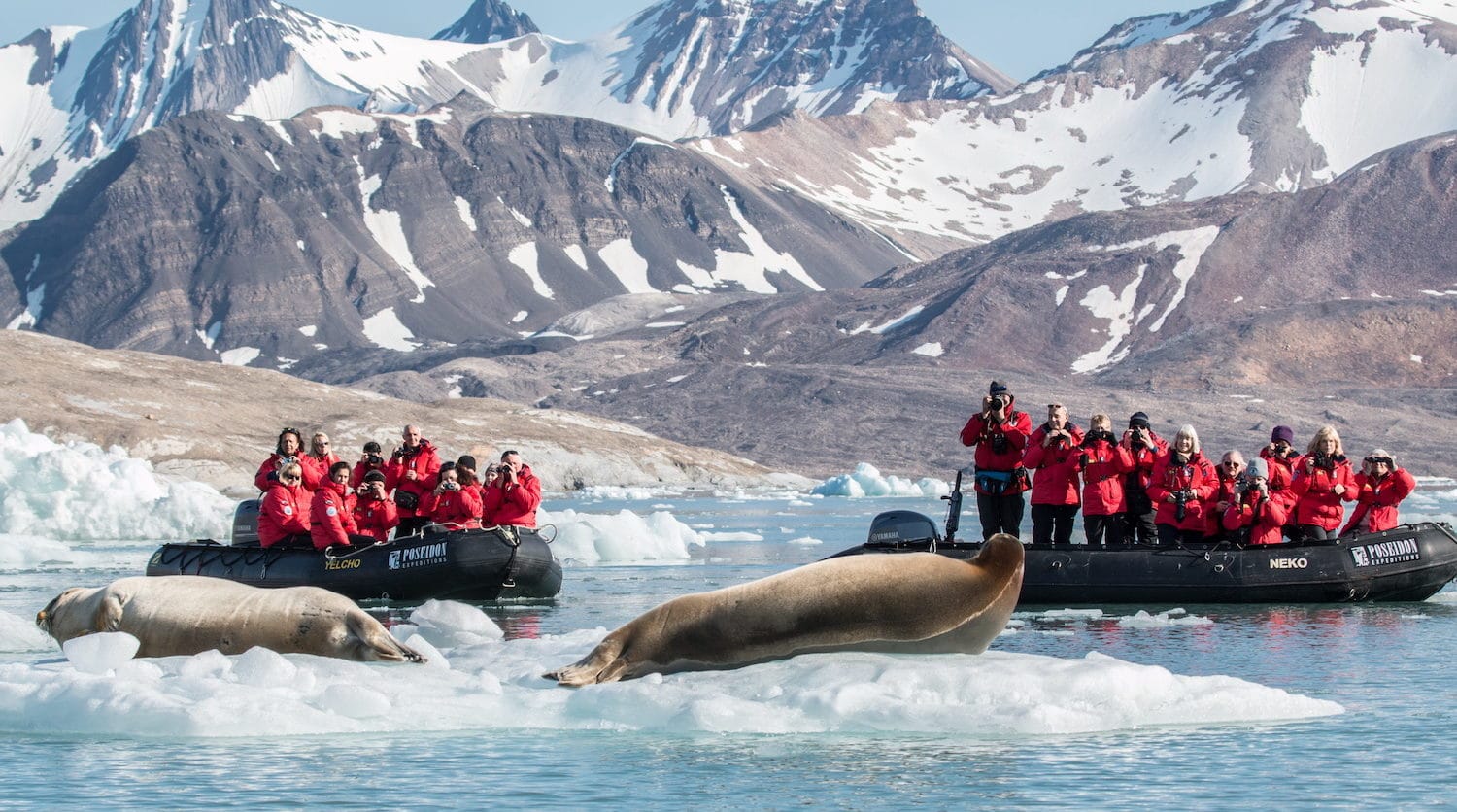 This extraordinary Franz Josef Land cruise is as unique and authentic as the place itself. Franz Josef Land, part of the Russian Arctic National Park, is a nature sanctuary. Starting in Longyearbyen in the Norwegian territory of Svalbard, the Sea Spirit cruise ship crosses the icy, wildlife-rich Barents Sea to the Russian High Arctic. This remote wilderness is home to a variety of wildlife, including polar bears. In the surrounding icy waters, it is possible to spot seals, walruses, and the elusive bowhead whale. The archipelago also hosts an abundance of nesting Arctic seabirds such as the rare ivory gull.
Franz Josef Land and Svalbard Cruise Trip Highlights:
Upon our arrival in Franz Josef Land, we'll spend a week exploring this uninhabited archipelago. We'll navigate the shallow waters of the isles by Zodiac and make as many on-shore landings as possible. Made up of 192 islands, glaciers cover 85% of the land, carving out a spectacular terrain of steep valleys, caves and pinnacles
Our mission during our time in Franz Josef Land is to observe (sometimes at an extremely close range) the iconic Arctic animal species that call the islands home, including polar bears, walruses, beluga whales and narwhals
Cruise to Wrangel Island, an area 140km off the northeast coast of Siberia, separated from northern Alaska by the Chukchi Sea. For 10 frozen months of the year, this lonely wilderness is completely cut off from the outside world. Reaching Wrangel and braving its polar climate is not for the faint of heart. Only the most dedicated nature lovers make the journey – but the rewards are without parallel. There is simply no better destination than to meet the wild denizens of the Arctic up-close, virtually undisturbed by human interference, and in numbers that will simply astound you.
Wrangel Island Arctic Expedition Cruise HIGHLIGHTS:
Whale Bone Alley is the name given to a beach on Yttygran Island in the Bering Sea. Landing on the beach, you'll take in the haunting atmosphere of this ancient site, where gigantic whalebones appear to sprout out of the ground, stretching along the coast for nearly half a kilometre
Uelen, the most northeasterly village in Russia, home to a predominantly Chukchi population. The village is one of the foremost centres for Chukchi and Inuit art. On our visit, we'll be entertained by local folklore and a visit to the bone-carving workshops