+61 412 587 785
[email protected]
Franz Josef Land and Svalbard Cruise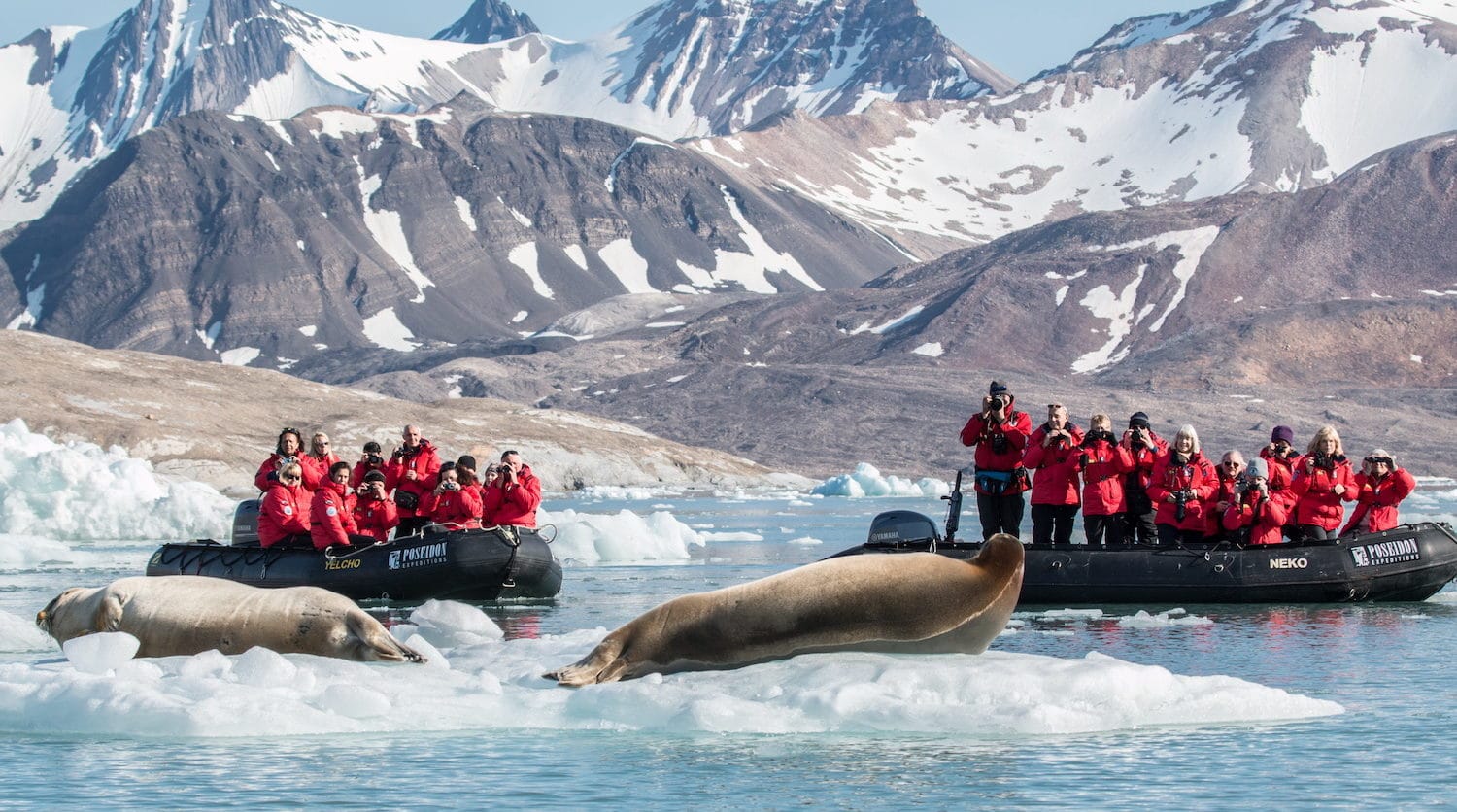 Trip Style Expedition Cruise
Time of year July - August
Day 1:
Longyearbyen, Svalbard
Welcome to Longyearbyen, the Arctic adventure capital of the Norwegian territory of Svalbard and starting point of our expedition. After arriving, you are free to explore this small but fascinating settlement. Be sure to see the excellent Svalbard Museum and enjoy the shops, cafes and restaurants in the town center.
Your hotel for the night has been arranged and is included in the price of the voyage.
Day 2:
Embarkation in Longyearbyen
In the afternoon we welcome you aboard the expedition ship Sea Spirit. Explore the ship and get comfortable in your home-away-from-home for the extraordinary adventure to come. The scenery as we sail through Isfjorden on our first evening is spectacular and there is already the possibility of marine mammal encounters.
Day 3-4:
Across the Barents Sea
From Isfjorden we proceed straight to Franz Josef Land across the Barents Sea. Presentations and workshops by our expert staff prepare us for what lies ahead. Along the way, we'll remain vigilant for sightings of ice-dependent marine mammals such as the elusive bowhead whale, various Arctic seal species, and the majestic polar bear.
Day 5-11:
Exploration of Franz Josef Land
This is expedition cruising at its most authentic. As such, our route and exploration opportunities in Franz Josef Land are heavily dependent on weather and sea ice. Our experienced captain and expedition leader decide our best route and continually adjust plans as opportunities warrant in this wild and remote corner of the Arctic.
Day 12-13:
Along the coasts of Svalbard
Following our week of exploration in Franz Josef Land, we cross back through the bountiful waters of the Barents Sea and then along the coastal islands of the Svalbard Archipelago. From panoramic open decks, enjoy Arctic landscapes and wildlife sightings. Bountiful inshore and offshore waters are home to walrus and a wide variety of whales.
Day 14:
Disembarkation in Longyearbyen, Svalbard
After breakfast, we say farewell in the town of Longyearbyen, where we started our expedition. We provide a transfer to the airport, or to the town center if you plan to spend more time here. As you look back on your wonderful experience, you may already be looking forward to your next incredible adventure to the ice!
Included
1 pre-voyage hotel night
Shipboard accommodation
All meals onboard throughout the voyage
Welcome and Farewell cocktails
Group transfers to the ship on the day of embarkation and disembarkation
Leadership throughout the voyage by the experienced Expedition Leader & Expedition Team
All scheduled landings/excursions (subject to weather and ice conditions)
Branded parka, rubber boots for shore landings for the time of the cruise
All port fees
Russian visa support document
Not included
Airfare
Russia visa and visa fees.*Russian visa can be arranged by 56th Parallel for an additional cost (for Australian citizens only). Apply for comprehensive visa service here.
Travel insurance
Emergency Evacuation Insurance to a minimum benefit of USD 200,000 (make sure your insurance covers it)
Soft drinks and alcoholic beverages other than those for special events and celebrations
Personal expenses such as laundry and telecommunication charges
Tips
Dates & Prices
Dates
Availability
Price
Single sup.
Jul 16 - Jul 29, 2023


Guaranteed Departures

Available
US $11,395
US $0
Jul 28 - Aug 10, 2023


Guaranteed Departures

Available
US $11,395
US $0
Aug 9 - Aug 23, 2023


Guaranteed Departures

Available
US $11,395
US $0