+61 412 587 785
[email protected]
Reindeer Herders Festival in Yamal 2023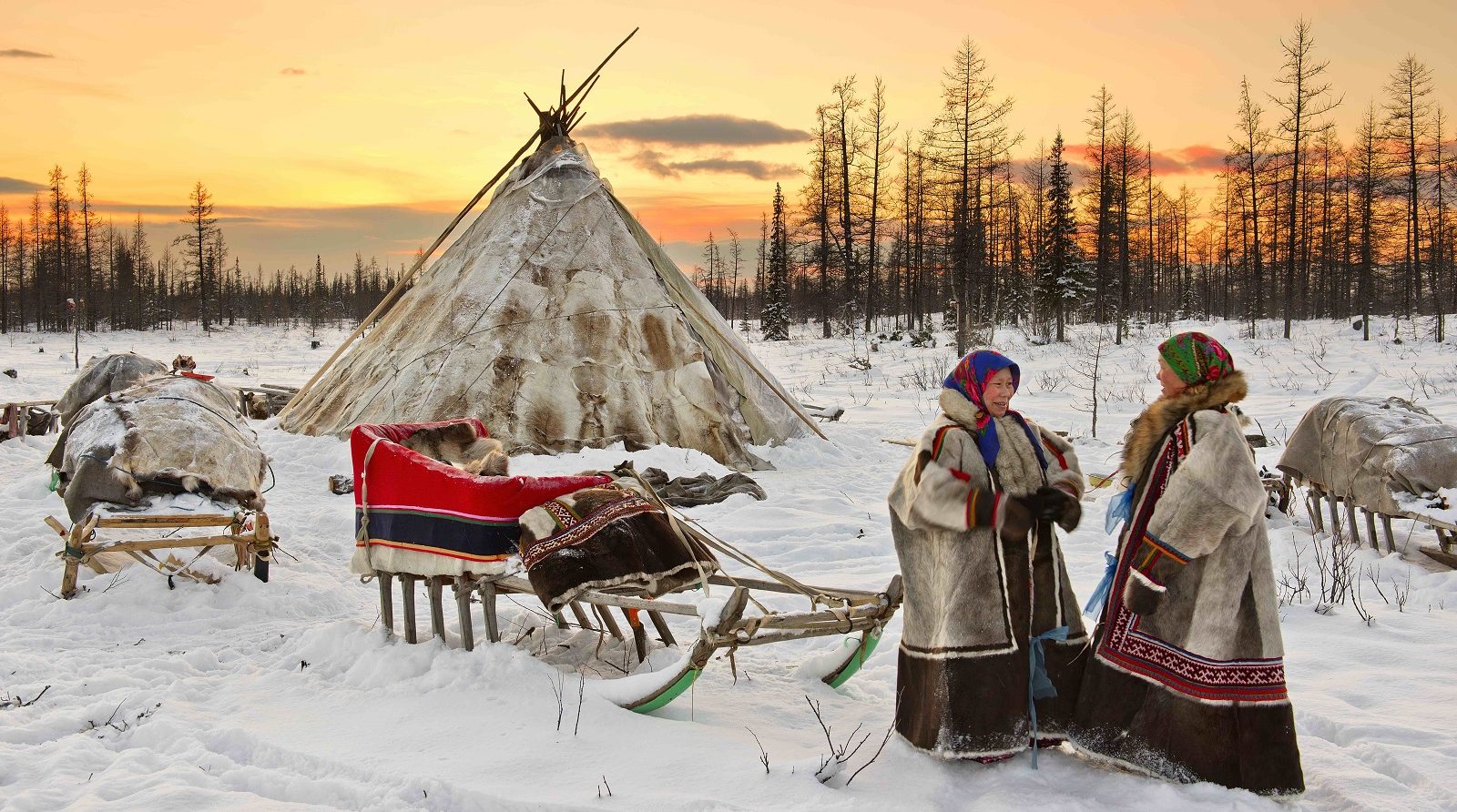 Trip Style Cultural Immersion
Time of year March - April
Day 1:
Salekhard
Welcome to the Russian Arctic! On arrival at Salekhard meet a guide and transfer to the hotel. With a population of around 43,000, Salekhard is the administrative centre of the Yamal-Nenets Autonomous Region, the only city in the world located right at the Polar Circle.
Day 2:
Transfer to the Nenets camp
After breakfast at the hotel, we board a car or minibus, which will take us for an hour drive to the small village, where we jump on the snowmobiles and sledges for travelling further north to the Nenets camp.
These days, over 50% of Yamal's Nenets are still nomadic, and most have relatives in small villages, who live sedentary lives and provide accommodation to nomadic relatives during rare visits. Unlike many nomadic tribes in Russia and the world-over, the Nenets are have largely retained their traditional way of life and are famed for having longest nomadic migration routes in the world.
They wear clothing made of reindeer fur, sewn using reindeer sinew as thread, and live in conical tents made of reindeer fur and known as "chums". In a single year, the Nenets may migrate up to 2,000km, transporting their chums and all their possessions on homemade, wooden sledges, accompanied by herds of reindeer up to 10,000 strong.
The Yamal Nenets speak a language completely unrelated to Russian and some families practice an animistic religion based on a deep reverence for nature, paying tribute to the spirits that inhabit the natural world through reindeer sacrifices and shamanistic rituals.
On arrival to Nenets camp ("stoybeesche"), meet our hosting family and enjoy dinner and friendly chat with a Nenet family in their teepee called "chum". If you are lucky enough this evening will spoil you with the magic show: look up for Aurora Borealis dancing in the starry sky.
Day 3-4:
Homestay with Nenets
For the next 2 days, you'll be living with the nomads, eating and sleeping in their chums (tepees). There will be no fixed itinerary for these days. Instead, this is a uniquely immersive experience, where guests observe and take part in the daily lives of the nomads. Assisted by the expert Nenets, your tasks could include herding reindeer and lassoing the animals using rawhide lassoes.
As one of the few sources of available food, reindeer are butchered at the camp as needed. The meat is divided up and eaten (usually raw) and the Nenets are also partial to drinking reindeer blood (partaking in this practice is optional!)
You'll also have the chance to involve yourself in the preparations for making a new campsite, sledding into the forest to cut trees for firewood, collecting ice or snow for water, helping to build new sledges, sewing fur clothing and other activities essential for survival.
It's not all work though. There will be plenty of time for relaxation and be socialising with your hosts and other members of the community. After saying farewell to our hosts on day 4, we make the return journey back to civilization. On our arrival in Salekhard, you will relax in a comfortable hotel in town.
Day 5:
Reindeer herders festival
Festival begins! Friends meet and visit each other, families show others new children born this year, men look for wives, or for husbands for their daughters. The main spectacle is the incredible variety of reindeer races, including the trot, sledding races and even reindeer skiing. There are also competitions for national sports, such as sled jumping, lasso throwing, axe throwing and tug of war.
Amid the vibrant atmosphere of the festival, you'll find stalls selling handicrafts made of bones, fur and beads, as well as favourite regional dishes made of reindeer meat and frozen steak. Based on the cultural and spiritual traditions of the northern indigenous peoples, all the activities that take place at the Reindeer Herders Festival are aimed at their support and preservation.
Day 6:
Departure
It's time to say goodbye to the Russian Arctic. You will be transferred to the airport for a flight back home.
Included
Group airport transfers
All transportation on tour according to the itinerary
3* hotel accommodation in Salekhard
Breakfasts in the hotel
All meals during stay with Nenets
Homestay with Nenets (teepees)
Professional local English-speaking tour leader
Experienced driver, local hosts
Activities and experiences according to the tour program
Arctic safety equipment
All permits required for the region
Russian visa support document (invitation letter)
Not included
Flights
Russian visa and visa fees. *Russian visa can be arranged by 56th Parallel for an additional cost (for Australian citizens only). Apply for a comprehensive visa service here.
Meals in Salekhard and on the way to Nenets
Alcohol
Dates & Prices
Dates
Availability
Price
Single sup.
21 Mar - 26 Mar, 2023 (Salekhard)


Guaranteed Departures

Available
US $2,570
US $170
26 Mar - 02 Apr, 2023 (Aksarka)


Private Tour

Available
US $2,790
US $170