+61 412 587 785
[email protected]
Classic Moscow – Art, History and Culture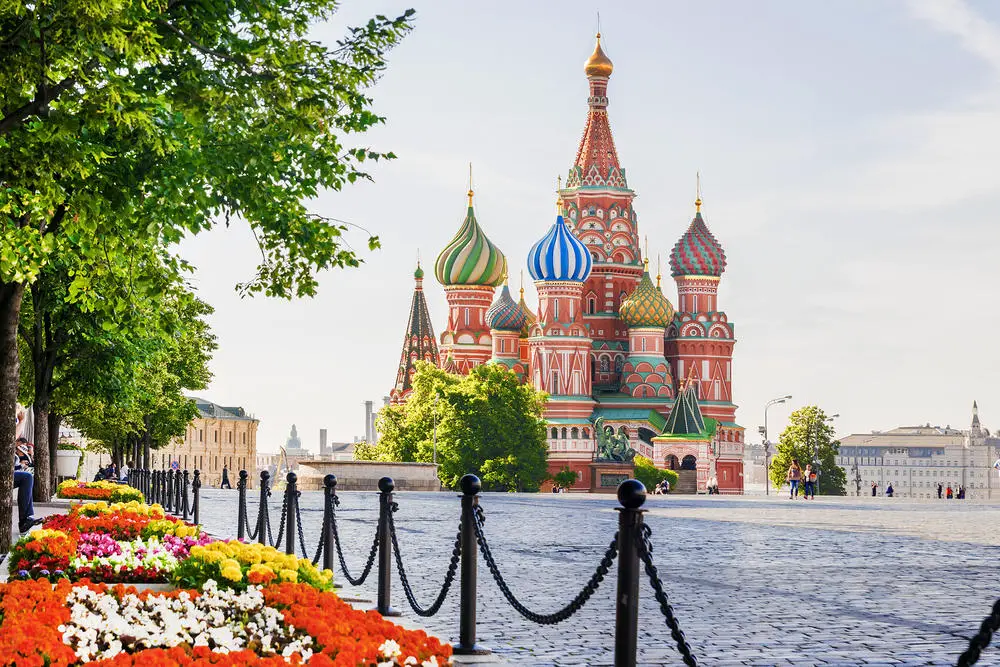 DAY 1:
Arrival to Moscow
Welcome to Moscow, the monumental capital of Mother Russia! You'll be met by your friendly driver at the airport and taken to your centrally located hotel. Rest up, or explore the local area on your own for the remainder of the day.
As an option* for this evening, enjoy a sumptuous dinner cruise, taking in the stunning sights and city lights of this mesmerising metropolis by night.
DAY 2:
Red Square, Kremlin and Armoury Chamber
Get a picture-perfect introduction to Moscow with a walking tour of the historical city centre. Our guided walk will include a stroll through the Red Square, where many great events in Russian history have taken place, the sublimely beautiful Saint Basils Cathedral – a postcard-perfect symbol of the nation.
Break for lunch before continuing on a tour of the Kremlin and Armoury Chamber, famous of its collection of tsarist fashion, with regalia such as jewel-encrusted crowns, orbs and sceptres as well as arms and armour, exotic gifts from the leaders of faraway lands, and an illustrious case of Imperial Faberge eggs.
Take your time to relax as we prepare something special as an option* for this evening. After dinner at your hotel, we head out for an unforgettable night at the opera or the Russian ballet at the iconic Bolshoi Theatre. The Bolshoi's resident opera and ballet troupes rate among the finest in the world and many consider this experience alone to be worth the trip to Moscow.
DAY 3:
Panoramic city tour
We explore Moscow further, giving you a sense of the city's sheer size, and an impression of how Moscow has changed throughout the ages. Visit the starkly contrasting Theatre Square to see the stunning Bolshoi Theatre. Stroll along Tverskaya Street, the city's main boulevard and home to the landmark Yeleseyevskiy Grocery Store, a former palace turned luxury providore.
We'll also explore Boulevard Ring, where Russian nobles built their exquisite 18th and 19th-century mansions, and Kutuzoyskiy Avenue with its Triumphal Arch. Pass by the legendary Gorky Park and the White House before a stop at the architecturally stunning Novodevichy Convent, and the observation platform at Sparrow Hill, for a bird's eye view over this staggering megalopolis.
Next, we continue with a tour of the Moscow Metro. Opened in 1935, this striking feat of engineering is one of the largest and oldest underground railway systems in the world. Its grand stations are remarkably beautiful and have become tourist attractions in their own right. Stop at old Arbat Street, a pedestrian street in the heart of Moscow overflowing with history and atmosphere. Have a bite at one of the famous Caucasian restaurants, shop for souvenirs, catch street performers as they charm passers-by and watch Moscow's local artists at work.
Our final sight for today is the 19th century Tretyakov State Gallery, the world's foremost depository of Russian fine art, containing over 130,000 exhibits, with work by Rublev, Kandinsky, Repin, and many others.
DAY 4:
Design your day
Your last full day in Moscow is free, so you may spend it enjoying the atmosphere of the Moscow's streets or hunting for last-minute souvenirs. There are also several optional* excursions on offer, some of them are:
- Tour of Sergiev Posad - one of the main cities of the Golden Ring of Russia
- Tour of Kolomenskoye Estate
- VDNKH park and Space Museum
Download the detailed itinerary for more information.
DAY 5:
Departure from Moscow
If you have some time before your flight back home or to the next destination, we invite you to visit Izmailovo Kremlin and Vernissage markets. If you are looking for something authentic, locally made, world-famous and at the same time functional, this is the place to go.
The Kremlin has already been famous for its unusual architecture and style performed in native Russian traditions for many years. Each building is unique and has its own name and history. Here you can visit various museums: the Russian Toys Museum, the Bread Museum, the Russian Fleet Museum and others.
This sprawling area, also known as Vernissage market, is packed with art, handmade crafts, antiques, Soviet paraphernalia and just about anything you might want for a souvenir. You'll find Moscow's biggest original range of matryoshki, palekh and khokhloma ware, as well as less traditional woodworking crafts.
*If there is not enough time before your flight, this excursion will be organised on the morning of day 4.
Say goodbye to this unforgettable city of contrasts, as your driver takes you to the airport.
Included
Group arrival and departure airport transfers
All transportation on tour, according to the itinerary (private driver, metro)
Centrally located 3*hotel (can be upgraded to 4 and 5* stars on request)
Breakfasts at the hotel
Local licensed English-speaking tour leader
All activities and sights indicated in the itinerary, except optional
Entry fees according to the itinerary (skip-the-lines policy)
Russian visa support document
Not included
Flights
Russian visa and visa fees. Russian visa can be arranged by 56th Parallel for an additional cost (for Australian citizens only). Apply for concierge visa service here.
Optional excursions