Home to almost over 12 million souls, Moscow is many things to many people, and everyone finds their own reasons to visit Moscow. There is an infinite number of reasons to visit Moscow and its attractions. To make it easier for travellers, we created a list of the crowd's top fifteen reasons and attractions everyone should visit when in Moscow.
1. Indulge in countless historical and modern artworks
Whether you are just dipping your toes into the art world or you know everything about arts, Moscow is a must-visit for every self-proclaimed or certified art connoisseur and historian. The city has numerous historical and contemporary museums and art galleries and they are essential in the list when you visit Moscow. Among the plethora of galleries and museums is The State Tretyakov Gallery holding the world's foremost collection of Russian fine art. Another is the Pushkin State Museum of Fine Arts which showcases artworks from the ancient times to this day such as the paintings of Rembrandt, Botticelli, Van Gogh, and Picasso. The Moscow Museum of Modern Art, on the other hand, displays artworks created in the 20th and 21st centuries.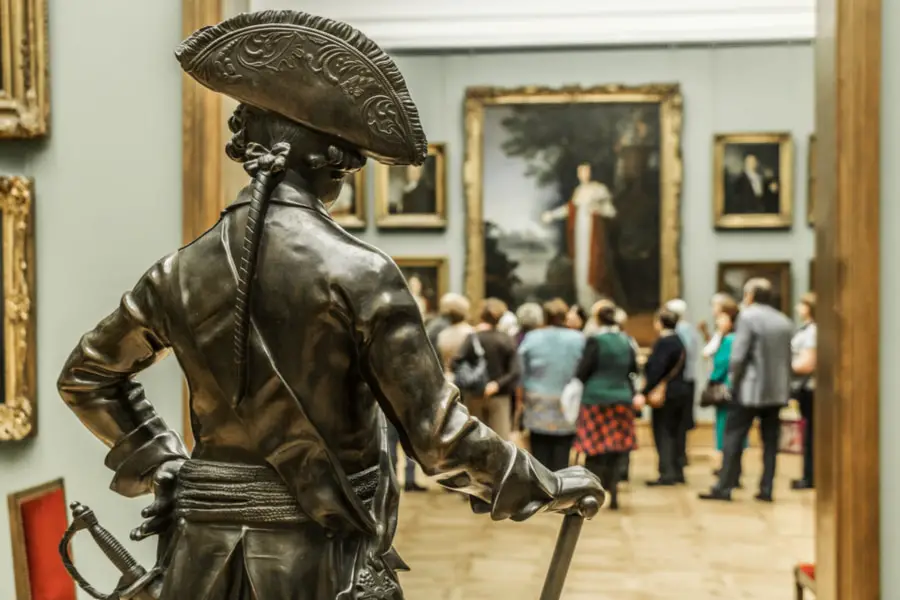 Moscow is not only home to famous historical paintings, the city also showcases modern, educational, and multimedia arts. The Moscow Planetarium is one of the biggest planetariums in the world. It is an interactive museum that educates everyone with their scientific resources. The openness of Russia to new forms of arts can be seen in the Multimedia Art Museum, Winzavod (Wine Factory), Garage Museum of Contemporary Art, and the Lumiere Brothers Photography Center. These art galleries unite all forms of media, arts, and modern culture.
For the love of art, moreover, they have converted former industrial areas to unique art spaces. ARTPLAY Center of Design and Flacon Design Factory are two of the known art spaces for local organisations and artists to express their creativity, host their own workshops, lectures, design festivals, concerts, performances, and exhibits. 
TIP: Open Museum Day in Moscow offers free day-time admission in most city museums every third Sunday of the month. Forty museums and art galleries are participating including the Pushkin State Museum of Fine Arts, Moscow Museum of Modern Art, Memorial Museum of Cosmonautics, and State Museum of Ceramics and Kuskovo Estate of the 18th Century.
If you're craving for more museum adventures, we have created a list of the best museum to visit in Moscow and St. Petersburg.
2. Step onto the mighty Red Square
Walk onto the uneven cobblestones alongside the throngs of bustling citizens and you'll see centuries of Russian (and world) history reflected in the architecture of Red Square. It is the epicentre of Russia. The country's major highways and Moscow's main streets all originate from the Red Square. However, it is not only the heart of Russian streets but is also the heart of Russian history and culture where most of the biggest Russian events and changes unfolded such as high-profile executions and military parades. The city square also served as the main marketplace and site for national public ceremonies and festive processions. Being considered as a sacred place, it is absolutely a must-see when you visit Moscow.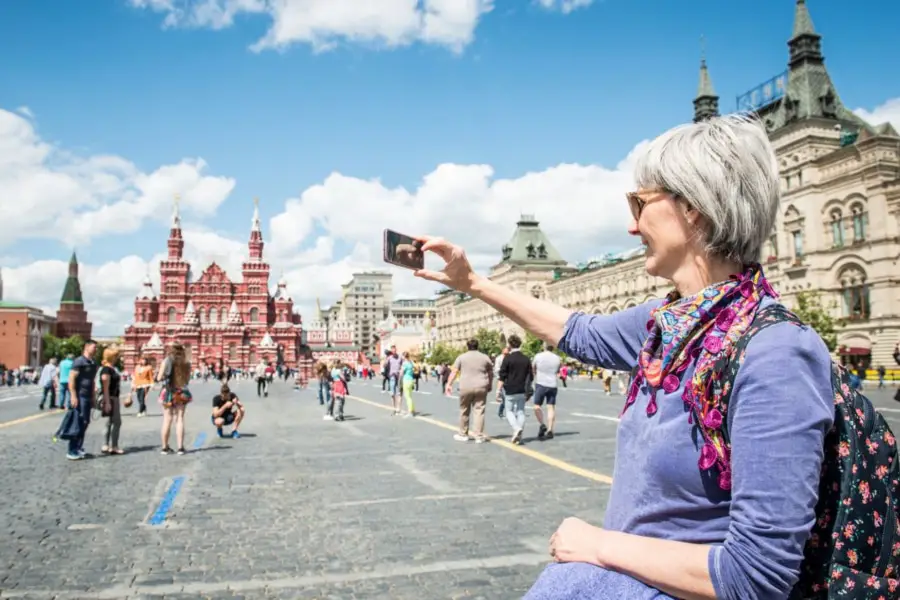 Official commemorations and parades today are still mostly held in the square. The surrounding buildings of the Red Square also add great significance to why you should include the beautiful square on your bucket list when you visit Moscow. Some of these famous attractions are iconic:
St. Basil's Cathedral
Lenin's Mausoleum
The Kremlin
Kazan Cathedral
The historical GUM Department Store
State Historical Museum
The Iberian Gate (also known as the Resurrection Gate and Chapel
3. Visit the Moscow Kremlin
The Kremlin, together with Red Square was recognised as a UNESCO World Heritage Site in 1990. UNESCO included this architectural ensemble not just because of its outstanding design but also because of its rich historical and political linkage. That is why you should not miss this when you visit Moscow. It is located on Borovitsky Hill just above the Moskva River, on the west side of the magnificent Red Square. It serves as the Russian President's residence and treasure houses such as the Armory Chamber Museum and the Russian Diamond Fund. Two Royal Cathedrals, the Secret Garden, and Ivan the Great Bell Tower are some of the attractions you can visit inside the Kremlin. Also, along the Kremlin wall is where you can see the gravestones of most Soviet leaders -including Stalin's.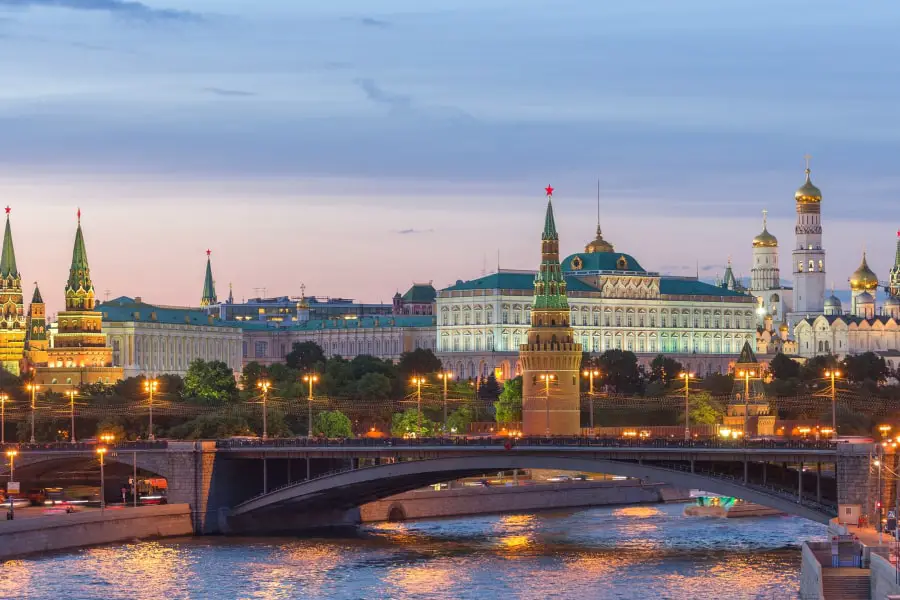 TIP: The Kremlin is open every day except on Thursdays and tickets for each establishment inside the Kremlin are sold separately. They also limit the number of daily visitors. May to September of every year is considered as the peak season.
4. Awaken your senses in the Bolshoi theatre
The Bolshoi Ballet Company is one of the most enduring symbols of Russia's esteemed cultural traditions, and Moscow's Bolshoi (Big) Theatre is the association's fittingly elegant headquarters. Moscow's oldest theatre has been painstakingly restored and renovated in recent years. It is a must-see day or night with their world-famous opera and ballet performances when you visit Moscow. Taking in an evening performance of a classic Russian ballet like Tchaikovsky's Nutcracker is one of the city's most captivating cultural experiences.
Aside from the Bolshoi Theatre, there are around 170 theatres in the city; each of which features unique performances. It is the sole reason why Moscow is coined as the "City of Theatres". No matter what genre, as long as it is in Moscow it will be surreal. No wonder the city attracts all theatregoers around the globe. To name a few, here are the must-visit theatres around the city: (1) Maly Theatre which showcases classic traditions of Russian Theatre, (2) Moscow Art Theatre combines classical and modern drama traditions, and (4) Theatre of Nations and (5) Gogol Centre further popularized modern arts such as post-drama and comedy production.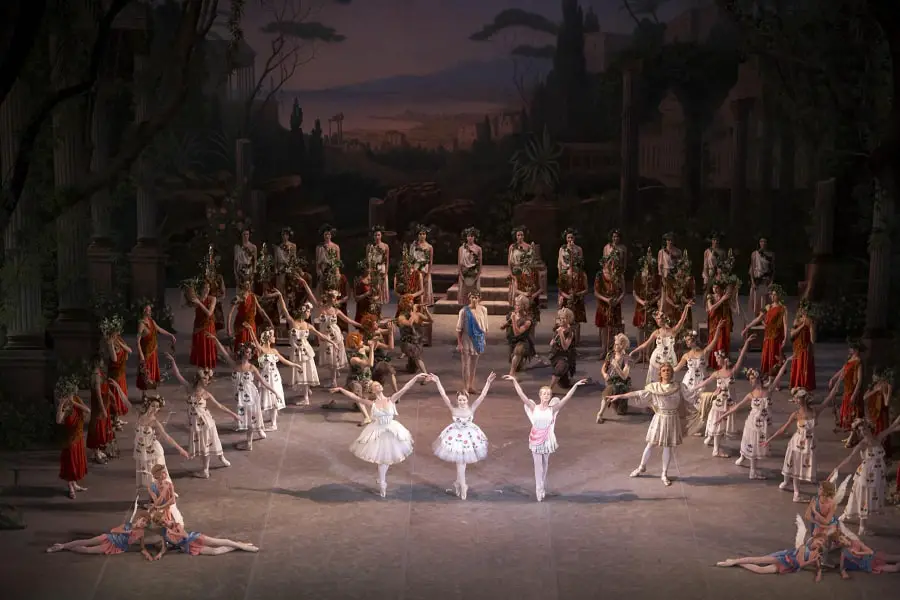 TIP: Most people have been planning to witness a performance (especially in Bolshoi Theatre) for years. Remember to check and purchase tickets ahead of time before getting excited to watch the spectacular performance. Also, wearing your best evening dress won't hurt.
5. Enjoy the ambiance of Moscow parks
While Moscow's attractions are usually known as a mixture of extravagant Tsarist architecture and stern Soviet buildings, much of Moscow is actually surprisingly green and the city's parks have grown into its pride and joy over the years. Take a break from walking around historical establishments and rest in these well-groomed green areas. These parks provide some of Moscow's best people-watching spots and offer various activities you can do with your group or with the locals from playing sports and board games on the pavement to simply enjoying the outdoor cafes.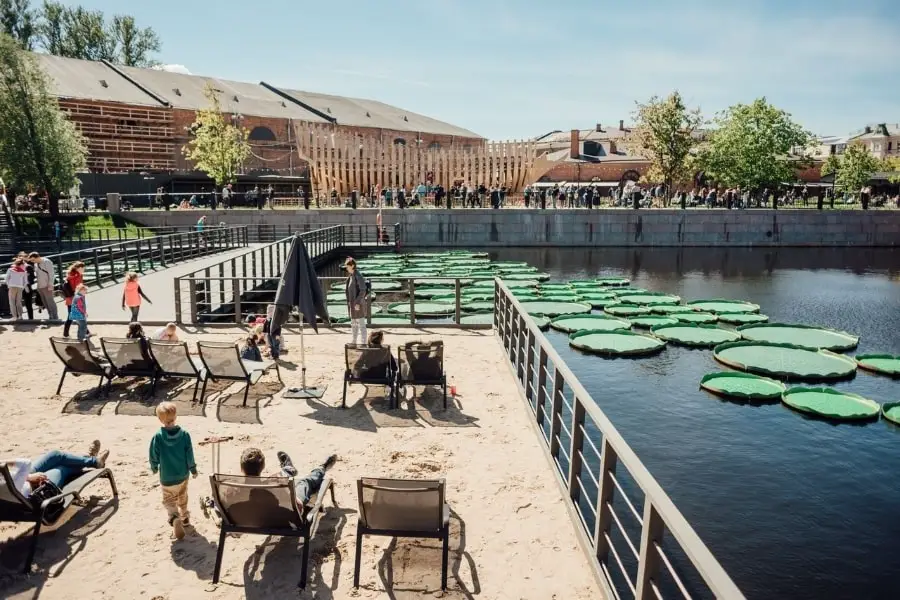 Slow down from the hectic pace of the city life by having a stop-over in the most popular green spaces when you visit Moscow. Gorky Park has its own telegraph and clinic, Park of Arts Museum often hosts music festivals, art fairs and exhibits, and lastly, Sokolniki Park and Izmailovsky Park have bike rentals and small amusement parks that are perfect for family day-outs.
6. Experience the magnificent Moscow Metro
Apart from being an extremely handy way to get around the city, Moscow's metro system is a striking feat of engineering. Opened in 1935, it is one of the largest and oldest underground railway systems in the world. Its grand stations are remarkably beautiful. With their grandiose architecture, intricate mosaics, and dramatic sculptures, it has turned many metro stations into picturesque tourist attractions. There are 12 lines and a total of 200 stations. Elektrozavodskaya, Arbatskaya, Kievskaya, Komsomolskaya, and Mayakovskaya are just a few of the magical stations that seems to be like an underground palace.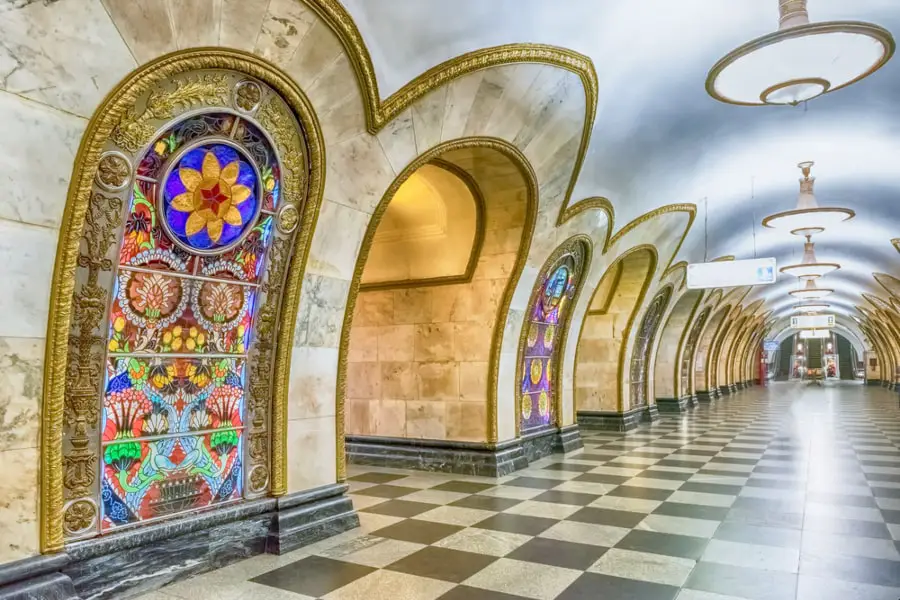 Visit Moscow grand stations during "dead hours" —11 am to 2 pm or after 10 pm in order get the most out of the spectacular metro stations. And for the sake of courtesy and respect, always give your seat to Babushkas or the beautiful Russian grannies on the train. Train tickets can be shared and you can buy them for 1, 2, 20, 40, and 60 trips. Unlimited Metro travel for 1, 3, and 7 full days are also available from 210 to 800 rubles. Alternatively, you can purchase a Troika Card which costs 50 rubles and allows you to travel on all public transportation in Moscow.
7. Be amazed by the beauty & grace of Moscow's churches
In Moscow, the majority of religion belongs to the Russian Orthodox Church which has 320 of total parishes in Moscow alone. Thus, it is not surprising that Orthodox churches and its unique architecture are one of the must-sees when you visit Moscow. Onion domes had long been known as the classic design of Orthodox churches in Russia. Below, we will mention some of the iconic churches you shouldn't miss seeing in the city.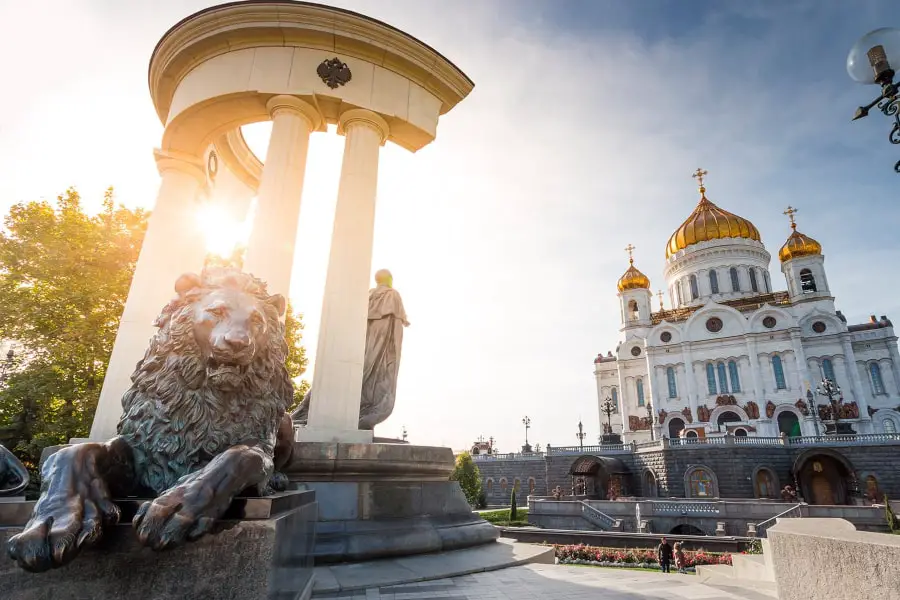 The Cathedral of Vasily the Blessed or St. Basil Cathedral is perhaps the most popular and most unusual church in the country. It is located at the Southern end of the Red Square. Built in 1555, it is originally called the Intercession Cathedral to commemorate Ivan the Terrible's victory over the Tatars. The bonfire-flame-shaped-cathedral has nine towers full of colours, shapes, and patterns. It was designed like a maze as a whole while each way leads to nine chapels with creatively decorated interiors. The magnificent cathedral is open every day except for the first Wednesday of every month.
With its golden onion domes, the Cathedral of Christ the Saviour is the largest cathedral of all Russian Orthodox Church and has the capacity of over a thousand devotees. However, there is another known cathedral with golden domes —the Cathedral of the Assumption. What makes this cathedral different is that its domes are not just gold, but they are also light-reflecting sitting inside the Kremlin. Lastly, we would like to feature a church with neo-gothic architecture –the Moscow Immaculate Conception Catholic Cathedral. It is the largest Catholic building in the country. To this day, masses and Catholic religious services are still being conducted in different languages in the cathedral.
8. Visit Moscow streets and the monumental architecture
The beautiful architecture of museums and churches, makes each city street a sight to behold. For sure you'll have a jaw-dropping moment at least once when you visit Moscow. The streets around the Red Square are a good start for you to stroll and have them as background for your OOTD photos.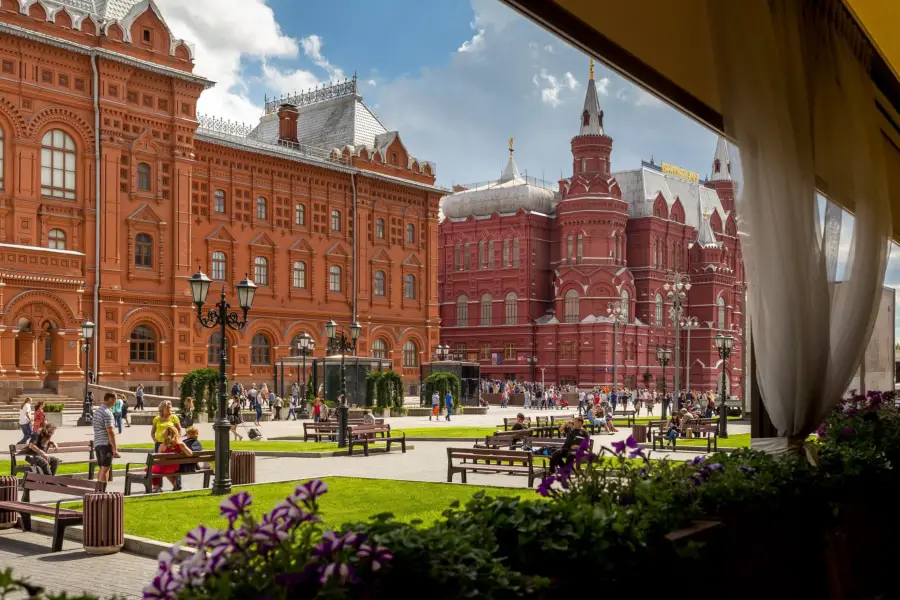 Tverskaya Street is known as Moscow's fashion street and main street. This street is also one of the most expensive streets in the world, basing from the commercial rental fees. Another fashion district, Kuznetsky Most (literally translates to Blacksmith's bridge)is where popular shops such as "Kuznetsky Most 20" – a famous concept store and "House of Foreign Books" (which is the best foreign-language bookshop) are located. Ulitsa Varvaka claims to be the oldest street and has the most churches in the city; it also shows the more medieval side of Moscow. If you are looking for high-end souvenirs, take a look at the shops on Arbat Street. Just do not forget to negotiate with the vendors and ask for discounts! Also, you get a chance to taste local vodkas as they offer free samples on the street.
9. Enjoy Moscow street food and fine dining restaurants
Moscow can surprise even the most demanding gourmands with the variety of foods, flavours and dining scenes the city has to offer. Russian cuisine is famous for exotic soups and rustic, hearty dishes like pelmeni (meat dumplings), pancakes with different fillings, and last but not the least, caviar. Sweets are also a big thing in the Russian kitchen and they are incomparable with other confectioneries that can be bought outside the country. "RotFront" soya bars, Chak-Chak Sticks and Kozinaki are just a few of the most popular sweet snacks in Moscow.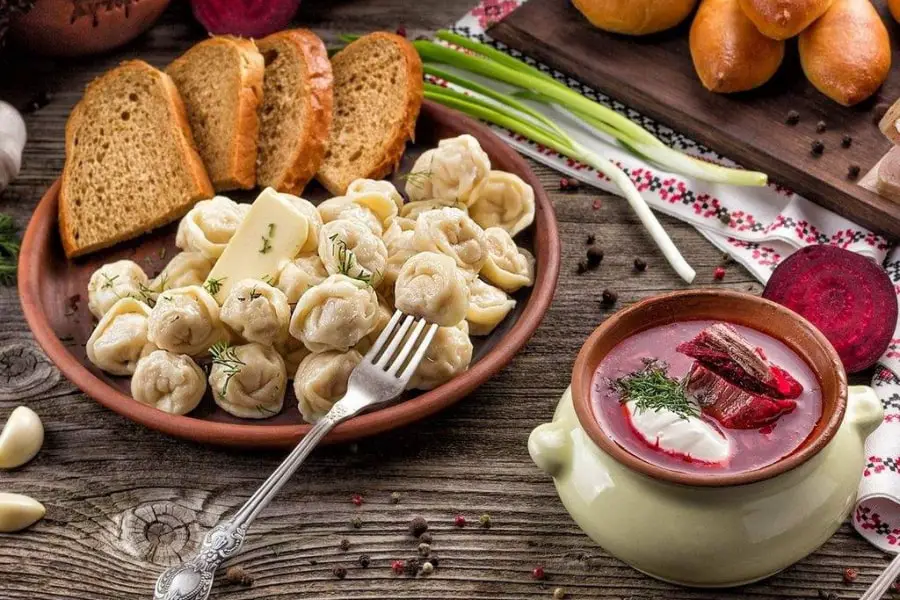 Great food is everywhere, 24 hours a day in the city. Yar, one of the oldest restaurants in Russia has been serving local Russian cuisines for nearly a century now in Moscow. Another restaurant, Praga, which opened 150 years ago is known for its European and Russian dishes in addition to their pastry shop on the ground floor. Cafe Pushkin, a three-storey restaurant is open 24 hours a day. Each floor has its own menu and theme: the Pharmacy, Library, and the Fireplace Room. The Library floor is said to have the best view of the Tverskoy Boulevard during breakfast. However, if you want to time travel, find the secret door of Mari Vanna and experience what it is like to live in a Soviet home 50 years ago. Watch old Soviet channels and look through old bookcases and photos while having traditional Russian stews and pies. And oh, do not forget to book for tables!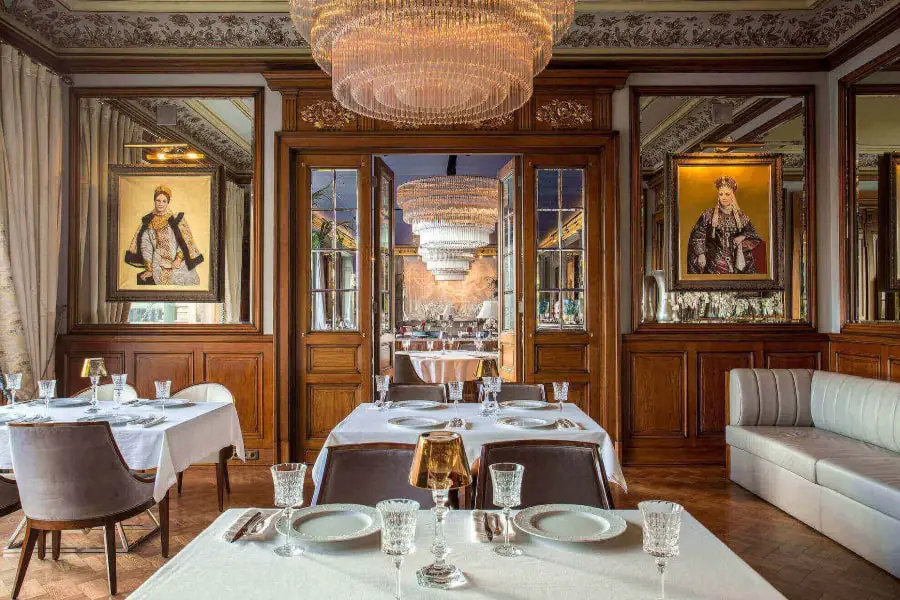 But there's so much more to Moscow's modern gastronomic landscape. From sophisticated new takes on old-school cooking to cosmopolitan eateries offering refined cuisine from around the world, Moscow is also boasting with street foods. Chebureki or cheburechnaya, as what some cafes call them, are fried triangle-shaped thin dough stuffed with minced meat and spices. On the other hand, Blini is a better option for those who have a sweet tooth. They are crepes that can be filled with, cheese, jam, honey, ham, condensed milk, or red caviar. Today, Blini are famously made and sold in Teremok — a popular fast-food chain. Another fast-food chain has popularised a Russian local snack: Kroshka-Kartoshka. Although the name translates to "tiny potato", they serve enormous baked potatoes with cheese, pickled mushrooms, butter, and other fillings. And lastly, pirozhki, which means pie seems to be the symbol of Russian street foods. Just look around the streets and try the four local snacks that we've mentioned and you'll realise that every food is stuffed and/or filled with something. Now it is your turn to stuff your belly with Moscow street food!
10. Shop till you drop in Moscow boutiques
Muscovites are mad-shoppers and once you see the brands and collectives in each shopping centre, you might become one of them. From the most glamorous high-end fashion brands, art and design pieces, to antiques and traditional handicrafts, the opportunities for a hardcore spree are endless. Make sure to drop by the two most famous shopping centres, GUM and TSUM when you visit Moscow. They are must-visits even if you are only there to admire (or baulk at) their stupendous swankiness.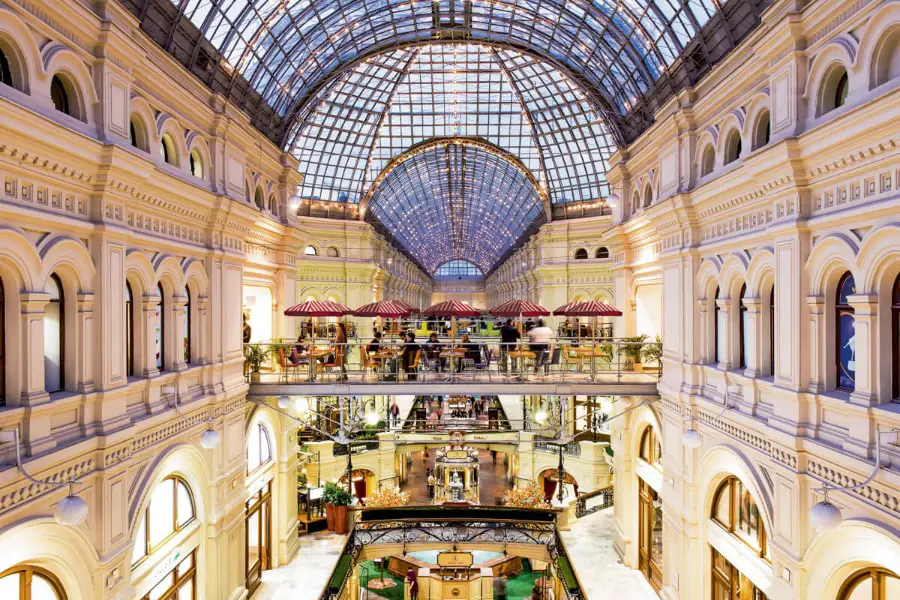 GUM is on the east side of Red Square. It is a former State Department Store. The building's architecture will instantly give you an extravagant feeling. However, along with its luxurious interior, comes the most luxurious brands and prices. It is open for twelve hours each day from 10 am to 10 pm. On the other hand, TSUM, a six-story historical gothic building is the largest high-end department store in Eastern Europe. There is a luxury supermarket which is open for twenty-four hours on the ground floor.
More affordable options are in the city's many bustling flea markets, or in beautiful old boutique stores. Tsvetnoy Central Market and Kuznetsky Most 20 are just two of the known markets in the city where both hot and hippy street brands can be found. Local creative contemporary designers and high-end creatives are also housed in both markets.
11. Earn bragging rights with the perfect Instagram snap
Up your Instagram and Facebook feed with these views and different angles of the city. Shamelessly share your food and shoes with the streets and floors you're walking into with your virtual friends. Or take a snap of the random streets of Moscow depicting their rich cultures. Also, do not forget the big picture! Which literally means photos of the whole city.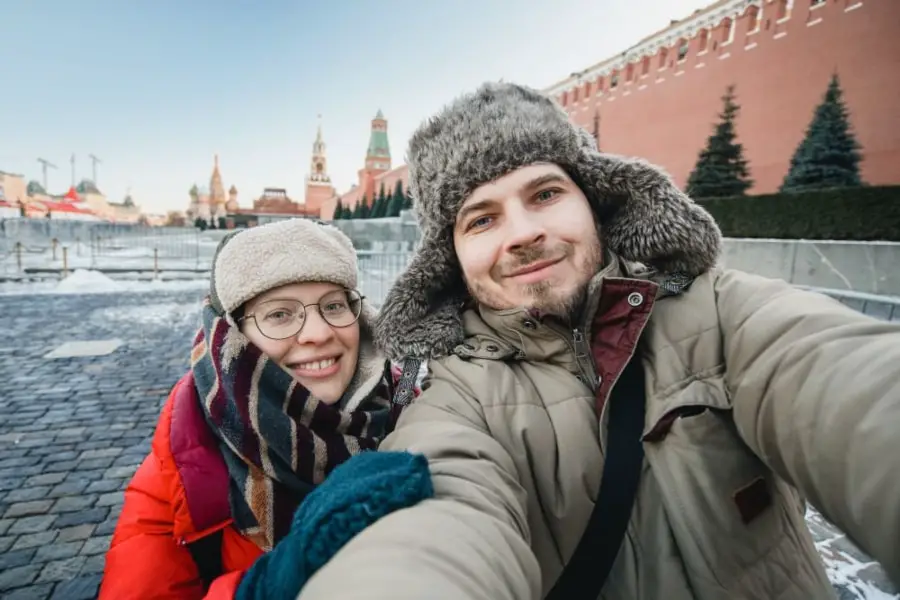 Did you really visit Moscow if you don't have any photo of the Red Square and Moscow Kremlin? Stand at the centre of Red Square and Kremlin, take the most iconic shot and show the world that you were actually in Moscow. We've listed three buildings that have the best top views of the city. The (1) Federation Tower which also has the highest restaurant in Moscow, (2) The Moscow State University has a panoramic view of the city inside The Museum of Geography on its top floor and (3) Cathedral of Christ's observation deck have the most breathtaking top views of the city.
The Ritz-Carlton Hotel, Garage Museum of Contemporary Art, GUM, ARTPlay, and Moscow Metro stations are just some of Moscow infrastructures perfect for your channel your inner artsy persona.  While walking around the Moscow CBD, do not forget to look up and take photos of the skyscrapers as far as your eyes and camera can reach. However, if you want to take a break from all the spectacular man-made architecture, take a stroll in Patriarch's Pond, where you can feel like a real Muscovite and nature-lover.
12. Moscow never sleeps
>Let it be known: Russians love to party! And Moscow is undoubtedly the party capital of Russia. The capital city has an incredible array of nightlife options and a scene for everyone. Whether you're keen to catch a live Russian rock band or slink into a smoky jazz club, Moscow is there for you. Go clubbing till the break of dawn or just lounge around with a beer and an endless array of fine local vodka. We have listed our top five bars and clubs to help you decide which one to go to. Go ahead and get your body moving along the music while drinking with Muscovites. In that way, you can actually experience Moscow.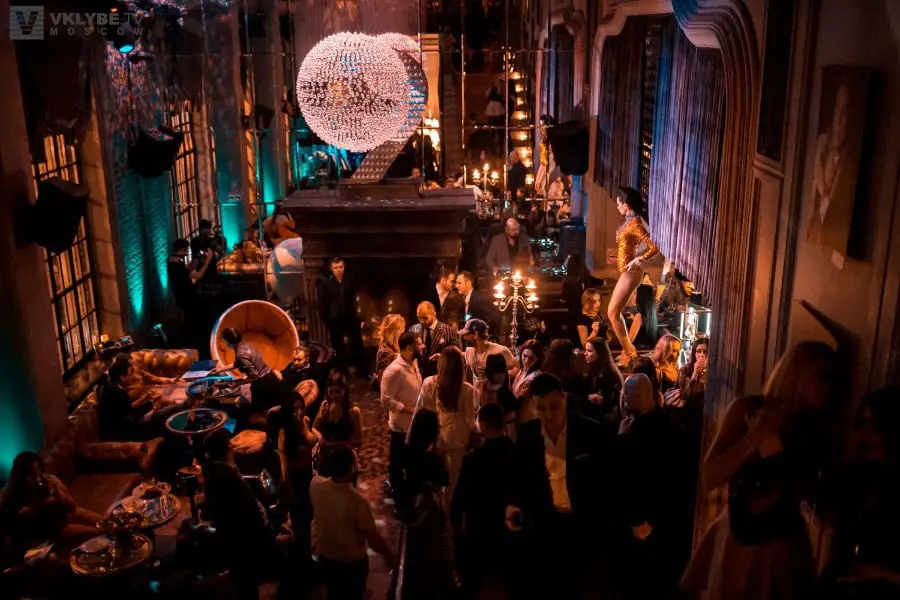 Propaganda, or Probka as what regulars call it, is opened in 1997 and has about the same age as the Moscow club culture. Aside from local drinks and world-class DJs, the club is also boasting with cheap sandwiches and steaks. On Thursdays, they hold dance parties and gay parties on Sundays. Nauka i Iskusstvo (Science and Art) is for you if music is the sole reason for your night out. The club is said to host the best electronic and hip parties. Noor Bar, nonetheless, is known for their classic cocktails which can be best enjoyed on Fridays and Saturdays while listening to their DJ sets. Just make sure to go there early to secure a spot. Another two famous nightclubs are located in Artplay: Pluton and Rodnya. Pluton promotes all kinds of music and art-performances while Rodnya is a rooftop club where you can enjoy dancing while waiting for the sun to rise in Summer. Squad 3/4 is one of the most bizarre nightclubs in Moscow. It is located at the basement of the former Central Baths building and often hosts bohemian raves.
13. Take a Moscow River Cruise
Cruising along the Moskva River is one of the best ways to see and visit Moscow. Ticket pricing of the cruise depends on the size of the boat; the bigger the boat, the more expensive and smoother its sailing will be. For 800 rubles, you can board the most famous tour boat in Moscow: the yellow Lay's boat. It plays loud Russian pop music as you sail the river. Bigger boats cost 1,100 to 2,000 rubles per person. These cruises on bigger boats often offer cozy lunch and dinner on top of the cruise itself.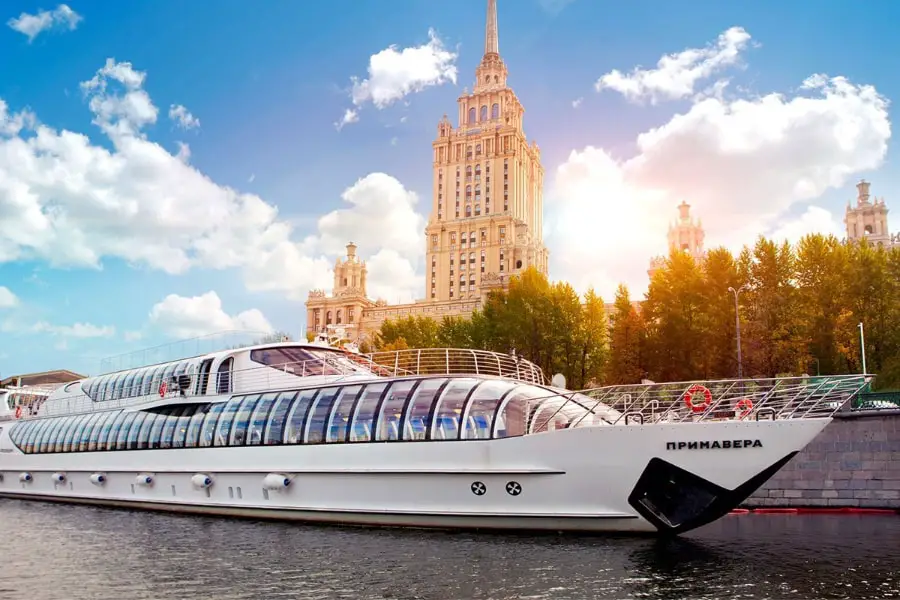 TIP: There are two main boarding piers: Hotel Ukraine and Park Kultury. If you want to save money, buy your tickets online and make sure to arrive earlier as it is hard to find the pier where your boat is at. However, if you do not mind spending more for tickets, you can purchase from street hawkers. They will personally guide you on where to find your boat and where to get off. Also, make sure to bring extra clothes even in the summer season.
14. White Christmas in Moscow
Visit Moscow and bring all your thick but light-weight clothes and experience Moscow's white winter. The average weather in December is around -10 to 0 degrees Celsius with an average of 17-30 days of snowfall. Witness snowfall on the Red Square which transforms into a Christmas market and the biggest ice skating rink in December. Celebrate with Muscovites during the Russian Winter Festival and watch live performances, eat street foods, and play games from mid-December to mid-January in Manezh Square.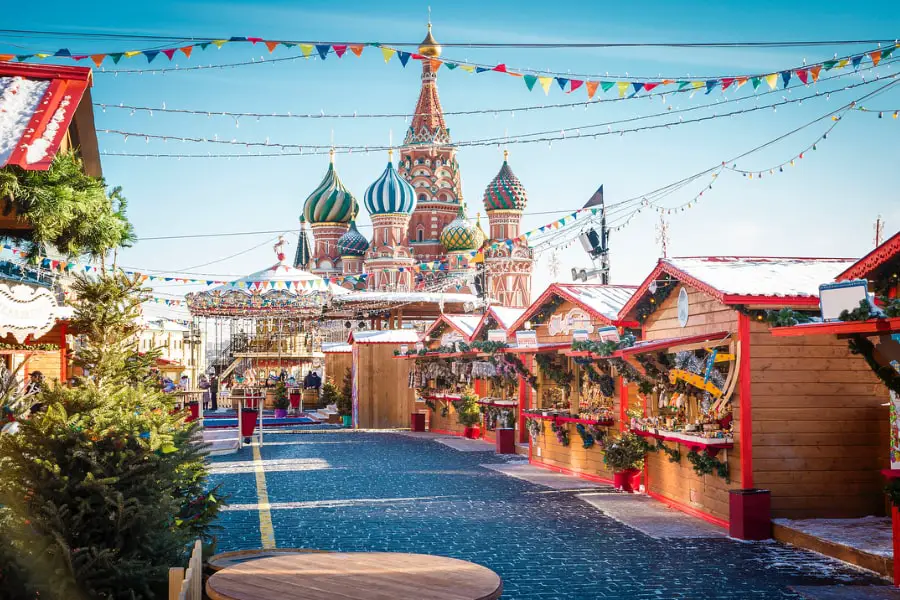 15. Explore the Medieval towns of Golden Ring
There is always more to see beyond the capital city of a country. And in Russia's case, outside Moscow is the ancient region called the Golden Ring. The region's name is derived from the golden onion-shaped domes of the churches around the towns and from the ring-like route in which 1967 art historian and journalist Yuri Bychkov travelled.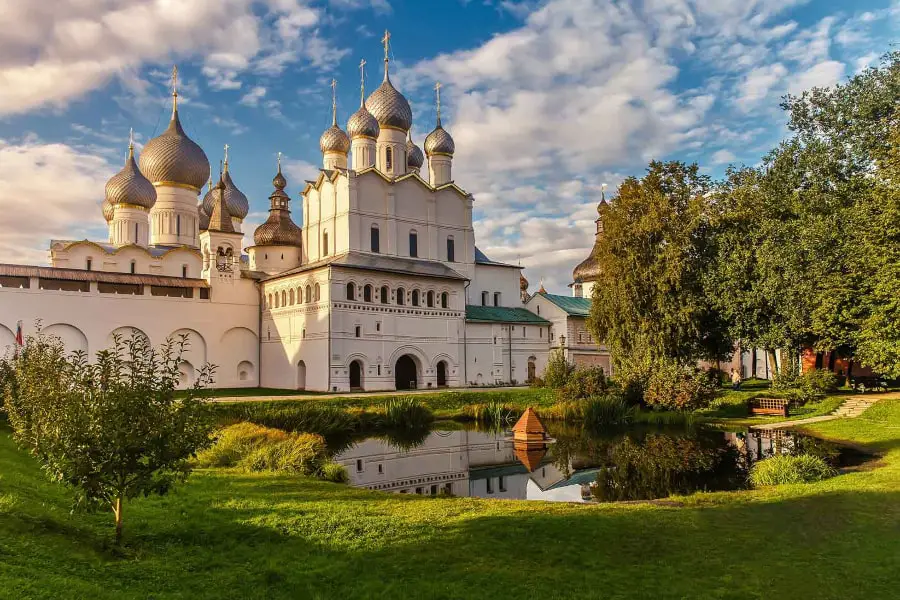 The Golden Ring is comprised of eight main cities:
Yaroslavl is where the Transfiguration Monastery (now a museum) and Ioann Vasiliyevich — a Soviet-themed hotel and restaurant.
Vladimir boasts its Golden Gate and the Cathedral of the Dormition of the Mother of God.
Suzdal is a thirty-minute drive from Vladimir, it has five monasteries, thirty churches, and a market square (Torgovaya Ploshchad) where you can local berries and honey.
Sergiev Posad is known to be the location of the Trinity Lavra of St Sergius — one of the largest monasteries in the world.
Pereselavl-Zalessky is where you can enjoy windsurfing and ride hot air balloons.
Rostov Velikiy or Rostov the Great is boasting its colourful churches and unchanged kremlin architecture.
Ivanovo is known for its huge textile industry, it is also known as the city of brides since there more women than men in the area.
Kostroma is where the town of Bui — a town of cultural heritage, and Trinity-Ipatiev Monastery can be explored.
Visit Moscow and experience and see in the Golden Ring afterwards. We have carefully crafted tours for every traveller like you.
Just as a cherry on top, here is an awesome video clip of this magnificent city, Moscow:
Related posts