+61 412 587 785
[email protected]
Kamchatka's Forgotten Coast – Expedition Cruise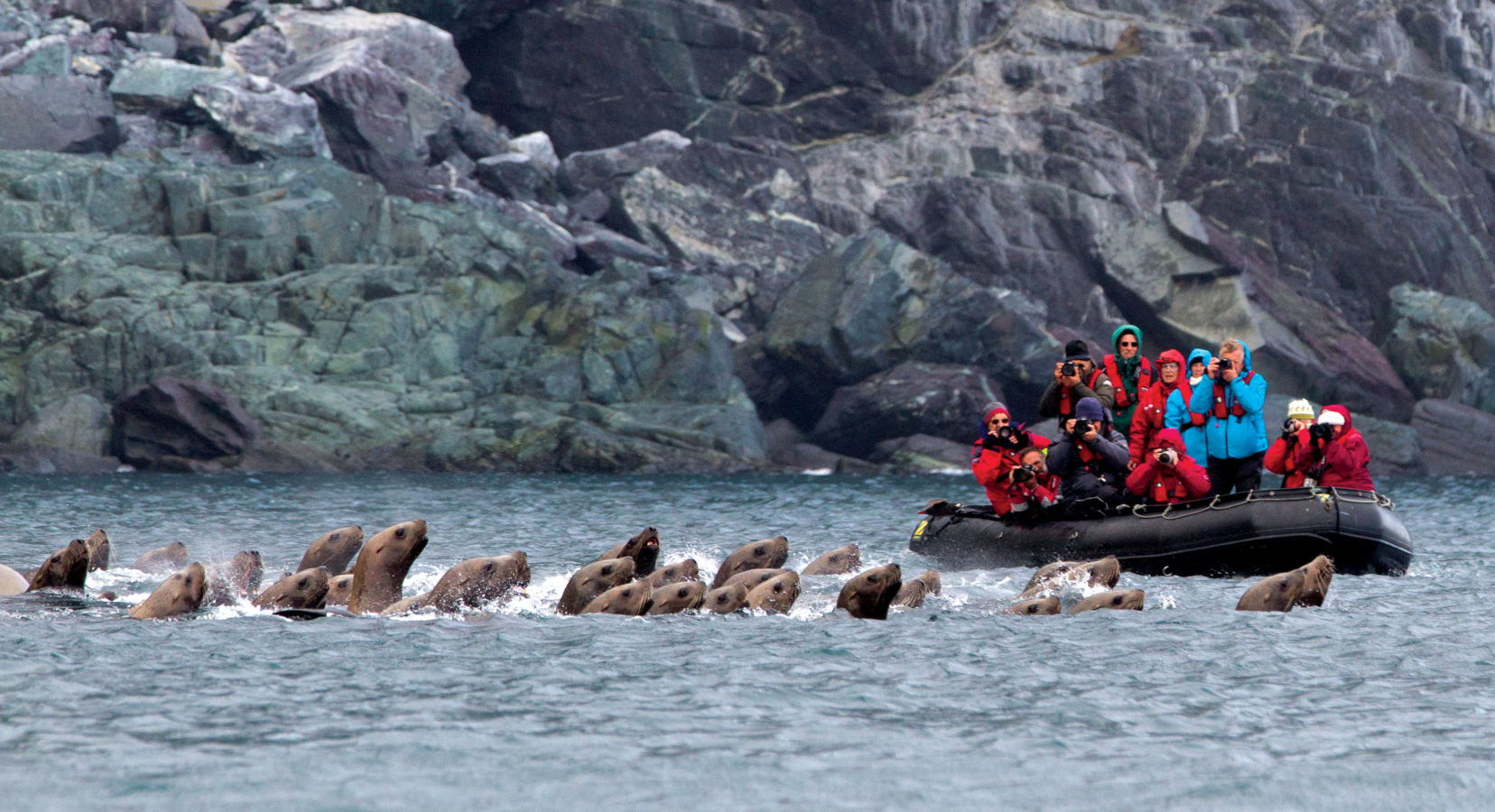 Trip Style Expedition Cruise
Day 1:
Petropavlovsk-Kamchatsky (Russia)
The Kamchatka cruise begins at the capital of the Kamchatka region, Petropavlovsk-Kamchatskiy, where you will promptly board the Heritage Adventurer. We encourage you to arrive a few days earlier so that you can take advantage of the rich natural and cultural attractions of the area such as the Valley of the Geysers.
Day 2 :
Zhupanova River
Begin the excitement by boarding your first Zodiac for a cruise on the Zhupanova River. Our object of desire will be the Steller's Sea Eagle which nests close to the river. There is also an opportunity to observe Largha seals stretched out on sandbars, and waterfowl and waders parading around them. As the river plays a pivotal role in the salmon industry, we hope to show you a local fishing camp.
By the afternoon we should be advancing towards the Commander Islands, ripe with opportunity to spot the Laysan Albatross, Mottled Petrel and the Fork-Tailed Storm- Petrel. As we navigate the Kamchatka Trench be on the lookout for majestic Blue Whales.
Day 3-4:
Commander Islands
Accidentally discovered in 1741 by Commander Vitus Bering, the Commander Islands are bursting at the seams with natural beauty and rare wildlife. On this Kamchatka cruise we will venture through the islands by a combination of zodiac missions and landings.
Stopping first at the Nikolskoye Village we will visit one of the only exhibits of the skeleton of the extinct Stella's Sea Cow. From here we will take zodiacs in search of the Red-face Cormorant, Red-legged Kittiwake, Horned Puffin, Parakeet, Pigeon Guillemot, Crested and Whiskered Auklets and Sea Otters.
Cruising the southern contours of Bering Island, we will navigate the waters in search of the Humpback, Northern Minke, Sperm, Orcas, and Baird's Beaked Whales. Weather permitting, we will land at one of many thrilling sites near Commander Bay and Medny Island where Vitus Bering's ship was wrecked.
Day 5:
Karaginsky Island
Karaginsky Island is one of the uninhabited islands on Kamchatka's east coast, making it a haven for wildlife because of its varied and untouched habitats.
Strategically landing in tundra and ponds, we will be in prime position to view a variety of waders including the Pacific Golden Plover, Red-necked Phalarope, Red-necked Stint and Bluethroat and Pallas' Reed Bunting.
Day 6:
Verkhoturova Island and Govena Peninsula
Taking a short but sharp trail to the cliff tops of Verkhoturova Island, we will observe the expanse of seabird colonies up close. From this position, we will also have sprawling views which will reveal Tufted Puffins, Brunnich's Guillemots, Black-legged Kittiwakes and Pelagic Cormorants. We may even be fortunate enough to see the Harlequin and Steeler's Eider Ducks here too, as well as Steller Sea Lions flopped lazily upon offshore rock outcrops.
The afternoon, the Kamchatka cruise will see us venturing over to Govena Peninsula, landing in zodiacs at the Koryaksky Reserve on the trail of the Kamchatka Brown Bear. Our landing depends on the location of the bears at this time, as they may be patrolling the shore.
Day 7-9:
Koryak and Chukotka coast
The Koryak and Chukotka Coast is home to a variety of rich wildlife which can be observed over the next few days wherein we will make multiple landings for photographs and up close encounters.
In the deep fiords, we expect to show you brown bears, mountain sheep, Kamchatka Marmots and red foxes. Moving across to lagoons and bays, there is a plethora of burgeoning birdlife and we can anticipate sightings of the Tundra Bean Goose, Great Knot, Gyrfalcon, Steller's Eider, Long-tailed Stint, Siberian Accentor and Asian Rosy Finch. We also expect to show you the Kittlitz's Murrelet.
One of the most exciting parts of our Kamchatka cruise is that, because this land is relatively untouched, there is a chance that we will discover new wildlife colonies as we go!
In a 2011 expedition, we discovered a previously unknown population of Spoon-billed Sandpiper, and in conjunction with Birdlife international and Birds Russia (who travel with us), we anticipate that we will return to these areas to monitor the colonies' progress. This is a rare opportunity for photography and birding in a location where only limited tourists have ever known.
Day 10:
Meinypil'gyno
This Kamchatka cruise will take you to the epicentre of breeding for the Spoon-billed Sandpiper, the Village of Meinypil-gyno. This shingle spit extends 40km across the coast and is the most important site for the monitoring and recording of this species.
On this occasion, we will be guests of the unique Spoon-billed Sandpiper Recovery Taskforce and will be guided to their nests. Like much of the surrounding area, this location is packed with wildlife and you can also expect to find the Emperor Goose, White-billed Diver, Pacific Diver and Sandhill Crane.
The lagoon also offers sightings of the Largha seal, beluga and grey whales and an abundance of gulls. This region also has a strong cultural presence with a small museum and entertaining amateur dance groups.
Day 11:
Preobrazheniya Bay
At Preobrazheniya Bay we look to Zodiac cruise its spectacular towering granite cliffs home to thousands of nesting birds including Black-legged Kittiwakes, Horned and Tufted Puffins, Common, Brünnich's and Pigeon Guillemonts, Glaucous and Vega Gulls, Parakeet and Crested Auklets, Northern Fulmars, White Wagtails, Shorttailed Shearwaters and Redthroated Pipit. We will also be looking for Resident Killer Whales/ Orca, known to frequent the coastline.
Day 12:
Yttygran Island & Penkingney Bay
Yttygran Island is home to the monumental ancient aboriginal site known as Whale Bone Alley, where whale bones stretch along the beach for nearly half a kilometre. There are many meat pits used for storage and other remains of a busy whaling camp that united several aboriginal villages at a time. In one location, immense Bowhead Whale jawbones and ribs are placed together in a stunning arch formation. Gray and Humpback Whales are frequently seen around the island. This afternoon we plan to visit Bukhta Penkingney. This long fiord, cut into the coastline by glaciers, is a popular spot for whale watching. Exploring this scenic location we will be looking for wildlife including brown bear.
Day 13:
Provideniya Bay
Today there will be an opportunity to explore this fascinating former Soviet military port and administrative centre. After clearing Russian Customs and Immigration in Provideniya we will set sail for Nome across the Bering Strait. One of the world's most nutrient-rich stretches of water, each spring the Bering Strait is the scene of one of the planet's largest wildlife migrations. Beluga, Bowhead and Gray Whales, walrus, Ringed Seals and numerous seabirds are all known to frequent the strait so there is plenty of opportunity for wildlife encounters. Join the expedition team for a recap and disembarkation briefing before enjoying a farewell dinner to celebrate our journey as we sail back across the International Date Line.
Day 14:
Nome (Alaska)
After breakfast and clearing US Immigration and Customs formalities it will be time to say our farewells. There will be a complimentary transfer to take you to the airport or a designated central location. Note: During our voyage, circumstances may make it necessary or desirable to deviate from the proposed itinerary. This can include poor weather and/or opportunities for making unplanned excursions. Your Expedition Leader will keep you fully informed.
Included
Group airport arrival and departure transfers
Accommodation onboard of the Heritage Adventurer
3 daily meals onboard
All expeditions and shore excursions with professional leaders
Guided shore excursions and zodiac boat tours
Onboard lectures
Russian visa support document (voucher)
Not included
Flights
Travel insurance
Russian visa and visa fees. Russian visa can be arranged by 56th Parallel for an additional cost (for Australian citizens only). Apply for concierge visa service here.
Individual transfers
Alcohol