+61 412 587 785
[email protected]
Kamchatka's Critters and Craters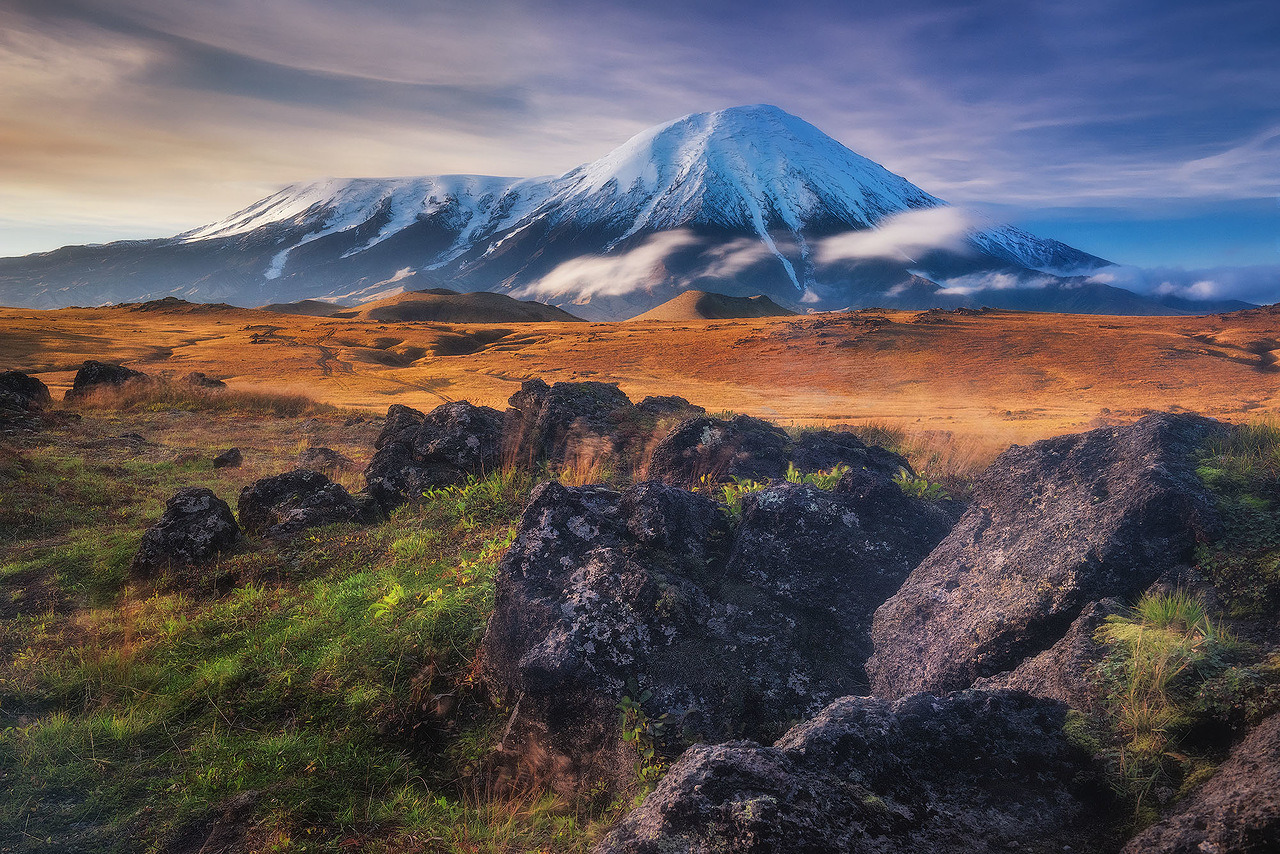 Trip Style Wildlife, Nature, Culture
Day 1:
Arrival to Kamchatka
Arrive in Petropavlovsk-Kamchatsky, the administrative, cultural and industrial centre of Kamchatka and home to around 180,000 people. It is a remote city with little infrastructure, in a dramatic and beautiful setting; built on a series of high hills on the Pacific harbour of Avachinskaya Bay, it's surrounded by a chain of five towering volcanoes, two of which are still active.
From the airport, you'll be transferred to your hotel in town, where you will take your time to relax and acclimatise. You'll be welcomed to Kamchatka this evening with a group dinner in a city restaurant.
Day 2:
Ksudach volcano by helicopter
This morning our journey kicks into high gear, with a morning flight by MI-8 helicopter to Kurilskoye (Kuril) Lake, deep in the heart of brown bear country! One hour into our flight we'll make a stopover at the Ksudach Volcano (if weather permits).
We'll take a walking excursion visiting the deep blue crater lake of Schtubelya, situated inside the volcano, and to a lovely waterfall where water cascades from the crater. Volcanic hot springs create a 'hot beach' on the lake's shore, where it's possible to take an invigorating swim.
Following your dip, our chopper flight continues the short distance to Kamchatka's famed Kuril Lake. Our home for the next two nights is in a very basic but cozy wooden lodge. A wraparound deck affords a gorgeous view of the lake and surrounding mountains. It's quite often possible to watch bears fishing along the lake's edge without even leaving the grounds of the lodge!
In the afternoon, you'll have time to enjoy excursions along the lake's pumice rock beach, where you'll be briefed about the next day's activities.
Days 3-4:
Kurilskoye Lake: brown bears watching
Kuril Lake is without a doubt one of the best places on earth to spot and photograph brown bears in their natural habitat, so the next two days are devoted to observing these mighty mammals as they hunt the salmon that gather here in their millions during the summer months.
We'll use a mix of a motorboat and walking excursions with experienced local wardens in order to maximise our chances of seeing bears up-close and observing different behaviours. The bear viewing platform (250m from our lodge) is located at the mouth of the many rivers that drain into the lake, providing awesome opportunities to take Nat Geo worthy photos of the bears fishing for migrating salmon. Our longer walking excursions will lead us to a lush summer meadow where the bears feed on wild berries and visit other spawning streams further from the lodge. Along these streams, you'll be able to see the spawning salmon in shallow water and many signs of a large number of birds in the area. There's a good chance of spotting bears fishing only metres away as you walk along the banks of the streams.
Day 5:
Flight over Mutnovsky volcano
In the morning we'll take a final stroll around Kurilskoye Lake and head up to the bear-viewing platform for a final opportunity to bag a prize-winning shot of the magnificent beasts in their element.
Our afternoon MI-8 helicopter flight will drop us off on the banks of the Khodutka River for a bath in the thermal hot water springs – the largest in Kamchatka. The water bubbles out on to a section of tundra located just under the Khodutka Volcano, forming a small stream. Further, from the source, the water slowly cools, so bathers are able to find a location where the temperature is just right for a warm, soothing swim. We board the MI-8 once more for a flight over the crater of Mutnovsky volcano plateau, before heading back to the city.
Day 6:
Valley of Geysers (optional)
Today the choice is yours to either enjoy a free day exploring Petropavlovsk at your leisure or join an optional* scenic helicopter flight to the World Heritage site of the Valley of the Geysers and the crater of the mighty Uzon volcano.
The Valley of Geysers is the only geyser field in Eurasia and the second-largest concentration of geysers in the world. This cluster of around 90 geysers, fumaroles and hot springs in this valley were only discovered in 1941. They lie above the marginal fractures of the oldest Uzon caldera and periodically expel hot water in spectacular jet streams.
Day 7:
On the way to Klychevskoy Nature Park
Today begins with a full day's journey to a typical Russian village of Milkovo. We'll cover a total distance of appx 300km on an unsealed road. Here we enjoy a hot lunch and take a short stroll around the village to get a feel for Russian rural life.
Heading further north of Milkovo, we reach our base camp located in the wilderness of mixed evergreen and deciduous forest along the banks of the Kamchatka River (Kamchatka's largest river which runs northward through the central valley of the peninsula).
Day 8:
Tolbachik volcano
Travelling further 60 km, from where we stayed overnight, we arrive at our first base camp located on a slope of Tolbachik volcano plateau. Tolbachik volcano is located in the Klyuchevskoy Nature Park, which was registered into the UNESCO World Cultural and Natural Heritage List in 1999. It covers an area of 376,000 ha with Eurasia's most grand and active Klyuchevksaya group of volcanoes in its centre. It consists of 13 volcanoes, including 4 active ones (Klyuchevskoy, Plosky Tolbachik, Besymyanny, Ushkovsky) and 9 extinct ones (Kamen, Krestovsky, Ostry Tolbachik, Ovalnaya Zimina, Ostraya Zimina, Bolshaya Udina, Malaya Udina, Sredny, and Gorny Zoub). Once the camp is set up, we can relax and enjoy the surrounding wilderness and wildlife.
Days 9-10:
Lava fields and dead forest
Stroll above Tolbachik's solid lava flows of 2012-2013 eruptions, where we can see lava formed into various shapes, many moon slag cones, and moon-like sceneries. We also visit the "Dead Forest" - an area that was destroyed by ash clouds in 1975.
Today we explore the "Dead Forest" – an area that was destroyed by an enormous eruption between 1975 and 1976. The territory around turned into a burnt desert, lakes and rivers disappeared, and the animals that had survived left the area for the best. Devoid of life, the ancient larch trees here are now eerie skeletons of their former selves, surrounded by a burnt desert landscape and set against the backdrop of the magnificent Tolbachik.
A one more day is spent in the area as a spare day in case of bad weather.
Day 11:
Esso village
Get ready to jump to our truck as we are heading to Esso settlement in Central Kamchatka (route will take up to 7h). Here we will check into the hotel, finally take a hot shower and relax in the thermal pool.
Esso is a charming village of about 1,500 residents nestled in the Central Mt. Range and inside of the Bystrinsky Nature Park, the largest of the Volcanoes of Kamchatka's Nature Parks. This village's spectacular setting and unique population of Russians and Kamchatka aboriginal people welcome visitors to a cozy accommodation, warmed by natural geothermal waters.
After some rest in the hotel, enjoy a traditional folk performance and immerse yourself in the Koryak and Even people culture and hospitality.
Days 12-13:
Reindeer herders
After breakfast at the hotel, explore Esso's surroundings or relax in the thermal pool. In the afternoon we will board a helicopter for a flight to the reindeer herders camp, where we will stay in tents for overnight. Here, we will visit their chums, the cone-shaped, portable tents they call home and experience a way of life that is now in danger of completely dying out.
In the morning of day 13, we will fly back to the village of Esso, where we will stay overnight.
Day 14:
Return to Petropavlovsk-Kamchatsky
Having spent a week in the wilderness, it's time for a brief return to civilization. We embark on a drive back to the city of Petropavlovsk. Along the way, we'll make another pit stop at Milkovo village. Retire for a well-earned rest at our hotel.
Day 15:
Avacha bay cruise (optional)
An *optional boat trip (6 hours) out into the bay is a very relaxing way of gaining an alternative view of the splendid setting of Petropavlovsk and its dramatic volcanoes.
Departing from a pier near the centre of town, the expanse of the hilly city soon falls into perspective. Further toward the middle of the bay, both Koryaksky and Avacha volcanoes come into view behind the city. When Avacha erupted in 1991, people living in Petropavlovsk could watch the red stream of lava coming down the slope towards the city, while hot ashes were shooting into the skies above the summit crater. Near the mouth of the bay, the Three Brothers are tall finger-like sea stacks, whose rock faces rise vertically out of the water. The cliffs around the bay house many colonies of seabirds in their natural habitats, and puffins are commonly seen among many other types of seabird. Hot lunch is aboard.
Day 16:
Departure
It's time to say goodbye to Kamchatka! Transfer to the airport for your departure back home.
Included
Group airport arrival and departure transfers
All transportation on tour according to the itinerary
Hotel, cabin and tents accommodation
All camping equipment, except sleeping bag (can be rented)
All meals during the tour
Local English-speaking guide, helper, chef, experienced drivers
Kuril Lake photography fees (no drones!)
Permits in Kluchevksy Nature Park and Kronotsky Reserve
Russian visa support document (voucher)
Not included
Flights
Russian visa and visa fees. *Russian visa can be arranged by 56th Parallel for an additional cost (for Australian citizens only). Apply for concierge visa service here.
Optional excursions
Individual transfers
Alcohol
Dates & Prices
Dates
Availability
Price
Single sup.
Jul 19 - Aug 5, 2023


Guaranteed Departures

Available
US $6,690
US $580
Aug 3 - Aug 18, 2023


Guaranteed Departures

Few places left
US $6,690
US $580
Aug 15 - Aug 30, 2023


Guaranteed Departures

Sold out

US $6,690
US $580
Aug 24 - Sep 10, 2023


Guaranteed Departures

Few places left
US $6,690
US $580