Making your way to the Russian Far East, sandwiched between the Sea of Okhotsk to the west and the Pacific Ocean to the east, you will find the 1,250-kilometre-long Kamchatka Peninsula. Filled with lush greenery, volcanic terrain, geysers, flowing rivers, and vastly rich flora and fauna, the peninsula is nothing short of a picturesque sight to see.
However, to truly experience the full scale of Kamchatka's natural beauty, you will need to take a trip to the magnificent Kuril Lake – a caldera and crater lake in the territory of South Kamchatka Federal reserve.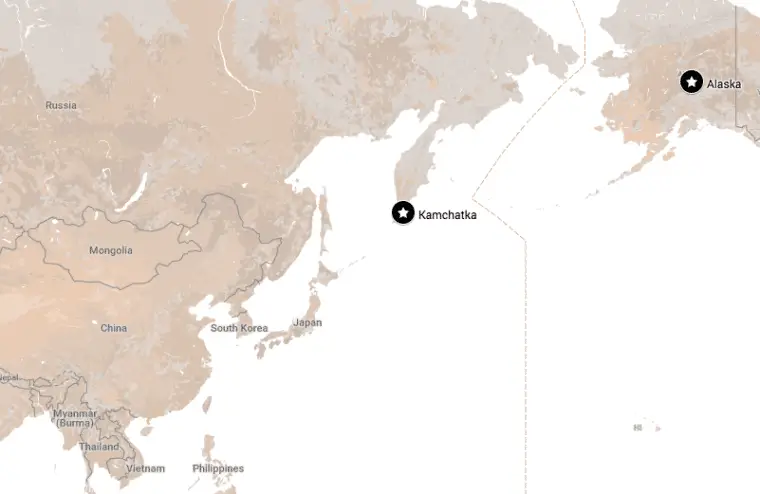 Origin of Kuril Lake
Kurilskoye (also known as Kuril or Kurile) Lake formed about 8,000 years ago as a result of a series of enormous volcanic explosions which shook southern Kamchatka. In place of the massive fault in the Earth's crust that developed during the eruption, a volcanic crater formed and gradually began to fill with water – thus the birth of Kuril Lake. The lake's landscape has since been subjected to dramatic changes due to a series of recurrent events: other surrounding volcanoes erupted and new ones formed, the water level rose and fell, resulting in changes to the lake's surface area.
The name of the lake originated from the name of an aboriginal tribe, the Kurils, that inhabited the neighbouring Kuril Islands.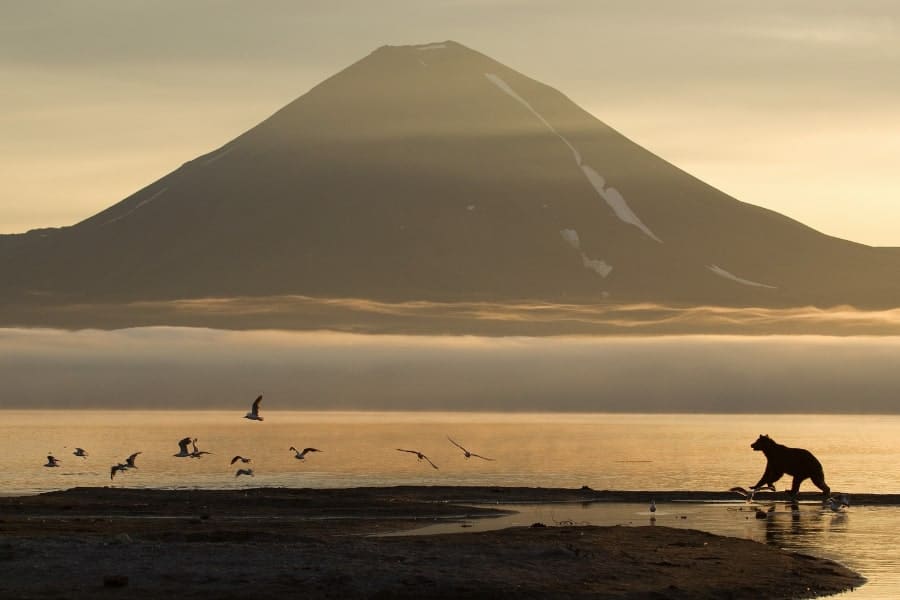 Today, Kuril Lake is the second largest freshwater reservoir in Kamchatka. It covers 77 square kilometers (second only to Kronotsky Lake with an area of 242 square kilometers) and holds 15 cubic kilometers of water. With an average depth is 195 meters, reaching 316 meters in its deepest parts, this relatively small lake in surface size is the second deepest of all lakes in Russia after Lake Baikal.
Islands and Volcanoes Near Kuril Lake
Located at one of Kamchatka's six UNESCO World Heritage Sites – Kronotsky Reserve, several volcanic islands can be seen dotted throughout Kuril Lake's glassy surface. This includes Chayachy Island, Nizkiy Island and Samang archipelago (lava domes reaching up to 300 meters high). The most picturesque island, Alaid's Heart, received its poetic name from a legend of the native inhabitants, the Itelmen.
Alaid, a gigantic volcano, as the legend goes, was once in the place of the Kuril Lake. He was so high that he overshadowed the nearby mountains, causing the neighboring mountains to be jealous and angry. They, in turn, started spreading rumours about him, saying that he eclipsed the sun and hampered the crescent moon to rise. The hills also accused him of giving shelter to the glaciers on his slopes. Fed up with the quarreling, Alaid decided to leave his native land and head for the Sea of Okhotsk. His path is now marked by a great river Ozernaya. However, before abandoning his beloved motherland, he pulled his stone heart out and left it in the center of Kuril Lake. This is the pink-coloured island we now call Alaid's Heart.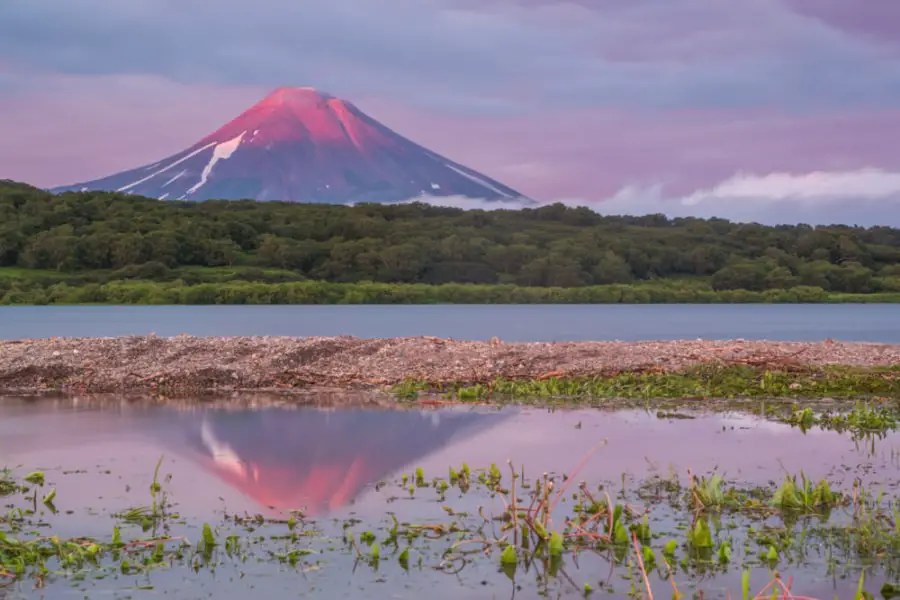 On the border of the northeastern shores of the reservoir, you will see the active Illyinsky Volcano (1,578 meters) of a perfect conic shape. The Kuril thermal hot springs can be found at the bottom of the lava slope of the volcano, in the East Warm bay at the east coast of the lake. Its springs with a temperature of water of 45ºc are mostly hidden between lava boulders, covered with cedar elfin wood and stone birch light forest. Ilyinsky's young lava flows also descend directly into the lake, creating several bays.
Another major local attraction is the massive exposed pumice-stone formations known as Kukhtiny Baty, located just 4 kilometers away from the lake. Associated with flash acid volcanism in the early Holocene, these unique cliffs reminded the native inhabitants of vertically stacked baty – the local carved boats, hence their name.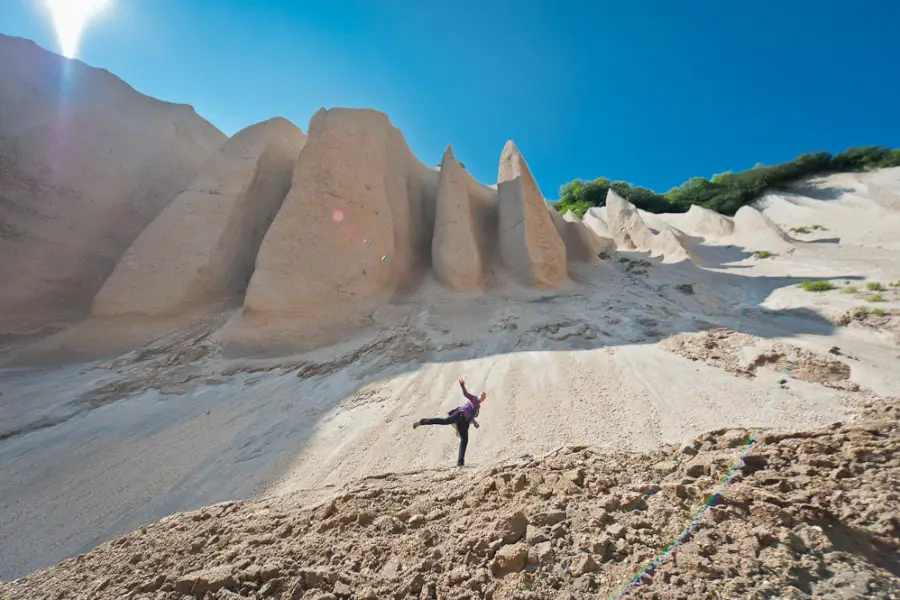 The western shore of the lake is bordered by the Wild Ridge (1080 meters) mountain range. When skies are clear, Kuril Lake transforms into a mirror that reflects its volcanoes, creating landscapes of unimaginable beauty.
Wildlife Around Kuril Lake
Sockeye (Red) Salmon
Kuril lake has a very unique ecosystem that was formed and is still preserved to this day due to the spawning of the largest herds of sockeye salmon, the Pacific salmon, in Eurasia. Just how many salmon make their way here each year? An estimated number of anywhere between 2 million and 6 million! Spawning season lasts for a long time – from June till March. The peak of the spawning season falls towards the end of summer, where you can observe the water literally turn red with schools of salmon. During this period, lots of small and big animals can be spotted along the lakeshore. Among these predators include the famous Kamchatka brown bears, foxes, river otters and sea eagles.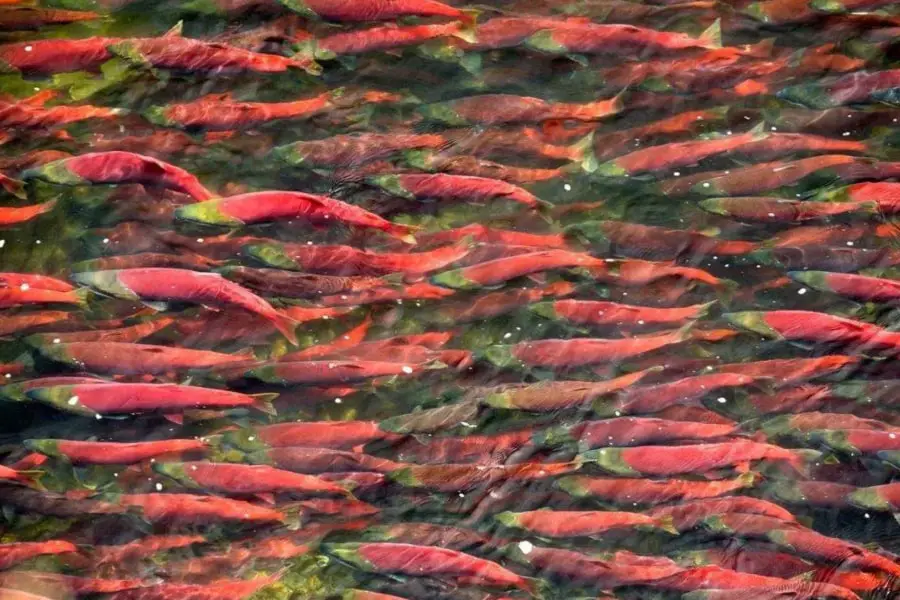 Kamchatka Brown Bears
This is the best place to spot and photograph Kamchatka brown bears in their natural habitat, as they gather in the hundreds during the summer months to enjoy a few tasty meals.Unlike other typical conditions where brown bears avoid each other, this phenomenon, in fact, brings them together as they sometimes work in groups to catch their fresh meals, all the while completely ignoring all other surroundings including you… if you so happen to be there. Given this, you are able to sometimes get anywhere within just a couple meters of up to twenty bears to photograph them while they go about their entertaining salmon hunting techniques.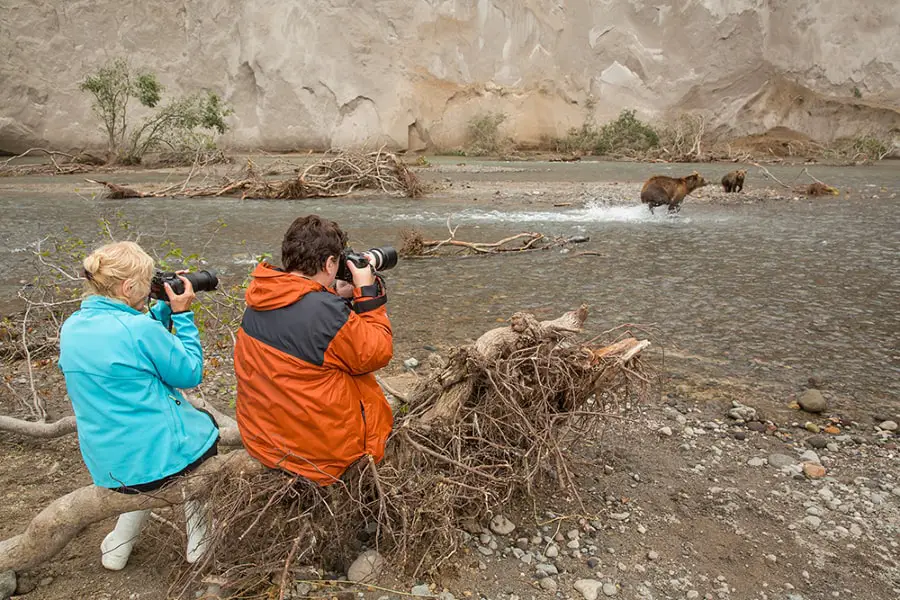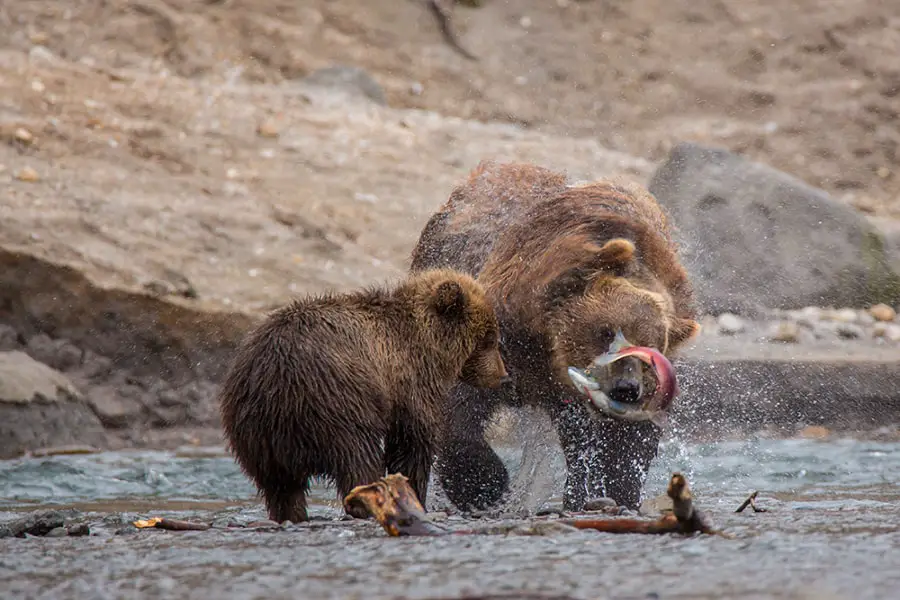 Birds
The bird population at Kuril Lake is incredibly diverse. Here you will find one of the largest colonies of Pacific gull inhabitants with more than 1,500 pairs on fresh water. In winter, birds of prey gather in large amounts: up to 700 Steller's sea eagles, 150 white-tailed eagles and dozens of golden eagles. Their greatest groups are observed on spawning area between Hakytsyn and Etamynki rivers and on Ozernaya River.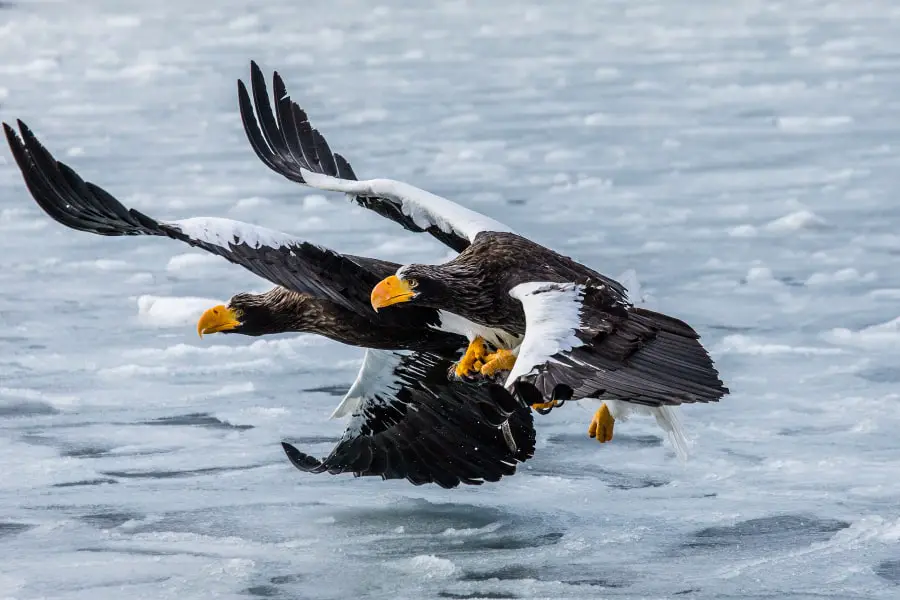 Several hundreds of whooper swans and up to 2,000 wild ducks can also be found in the lake's open waters during the winter season. Finally, the lake is a place where numerous passerines stop before they start migration via Lopatka Cape.
Best Time to Go
With various climate zones that are divided along coastal, alpine, and geothermal lines, the weather can vary from month to month with both Autumn and Summer being the most popular times of the year to visit. If your only reason for heading to Kuril Lake is seeing and photograph brown bears, then shoot for the end of summer (mid-July – the beginning of September), is the best time, as you surely will not be disappointed in what you end up finding. As a rule, about 200-250 Kamchatka brown bears come to the area of the lake in August.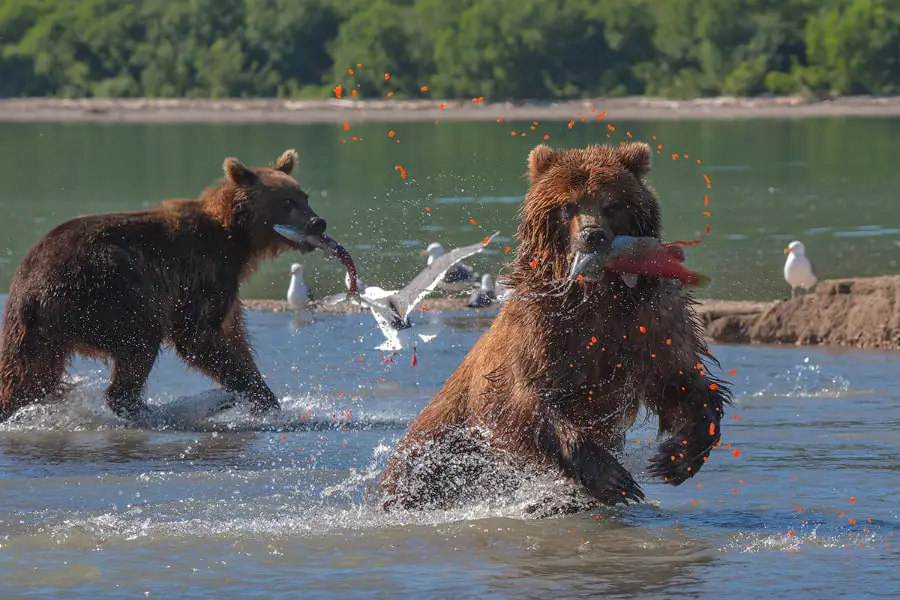 How to get to Kuril Lake
With wild rocky shores, impassable scrub, and a remoteness from the peninsula's capital, Kuril Lake can be quite hard to reach. There are no regular passenger ferries to anywhere in Kamchatka, so the only practical way for travellers to arrive is by air.
There are a couple of options to choose from that allow you to visit the lake and enjoy brown bears watching:
1. Day-tour with a combined group of travellers
The 5-hours tour has a fixed number of stops (Kuril lake, the caldera of Ksudach volcano, Khodutka hot springs) and includes meals and bathing in hot springs. Groups consist of 20-26 people and are accompanied by a qualified guide during the entire tour. Departures are available 3-4 times in a week during high season and carried out by Mi-8 helicopters. The tour price is RUB 44,000 / around USD 670 per person (2019 rates). The detailed itinerary of this 1-day tour you can find here.
2.  Multi-day stay on the lake
For travellers who desire to immerse themselves in the kingdom of the brown bears, the option of staying at the Kuril lake's base camp might be worth considering. This is possible by securing one of the package tours (from 10 to 16 days), which usually consist of 16 people and also include trekking different volcanoes and other activities.
No matter how many brown bears you end up seeing, or what type of tour you plan on joining, your time on Kuril lake and Kamchatka is guaranteed to be unforgettable. Capturing as many moments as possible along with a mindset of knowing what a unique and rare opportunity it is to be in the presence of such expansive beauty and glorious wildlife, will only help make your time there all the more special. So, get ready to experience a trip of a lifetime and one to look back on for years to come!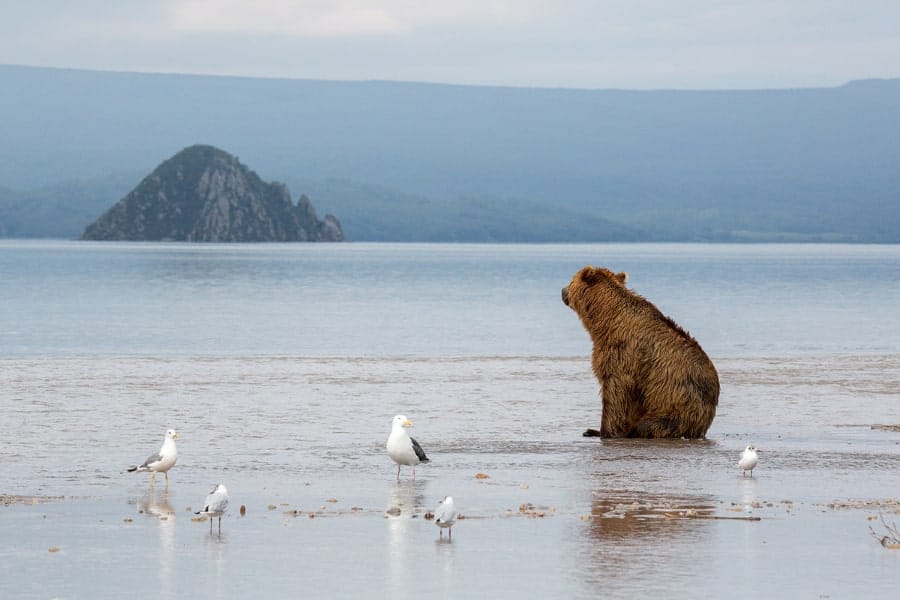 For inspiration, have a look at this short stunning video below; the trailer for an upcoming documentary "The Bears of Kamchatka: The beginning of life":
Teaser KAMCHATKA BEARS. THE BEGINNING OF LIFE (6+) Russia, 2018, color, 52 min from LESFILM on Vimeo.
To experience brown bears watching at Kurilskoye lake, have a look into the following adventures, departing every year:
Related posts