+61 412 587 785
[email protected]
Karelia & Kizhi Island in 3 Days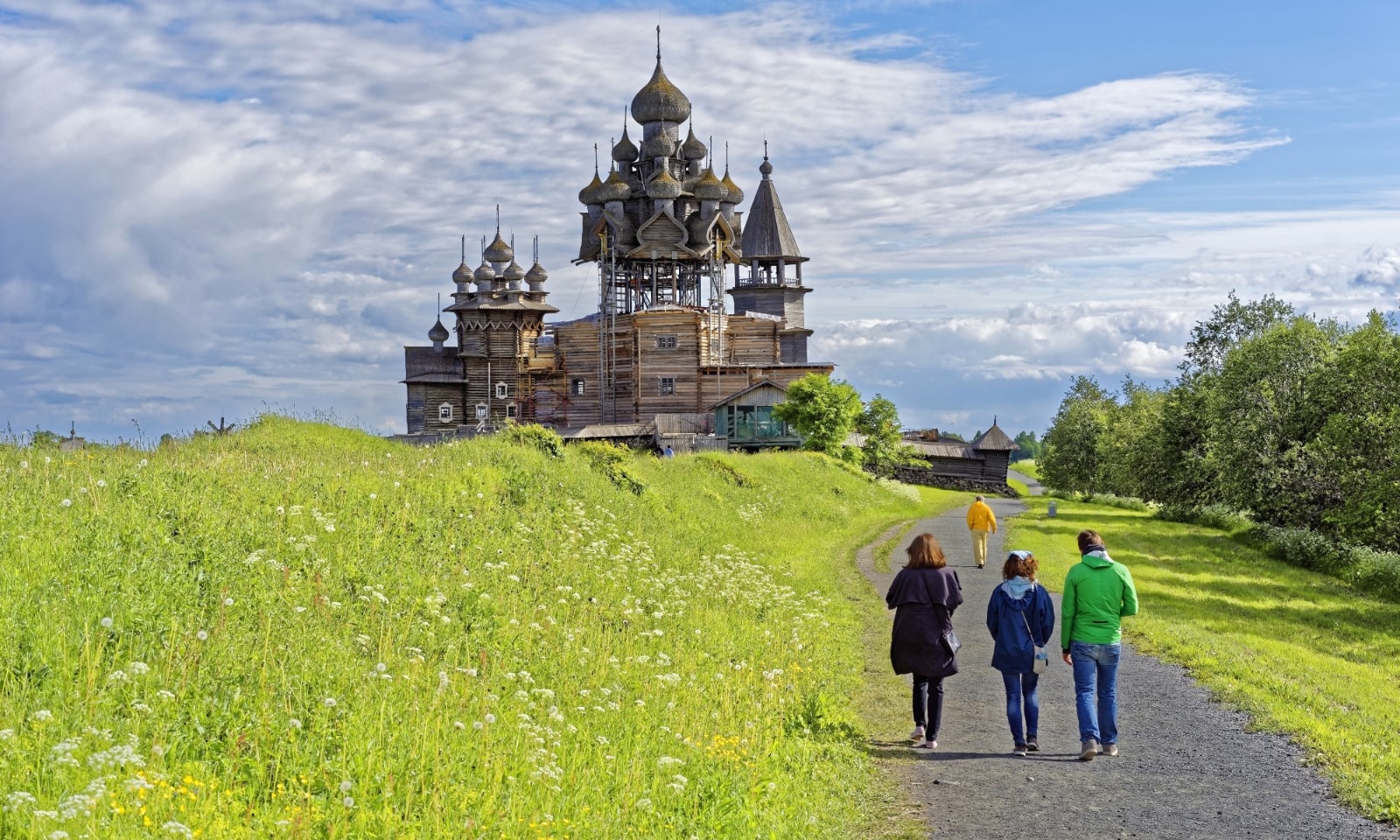 Trip Style Cultural, Sightseeing
Day 1:
Petrozavodsk and Kizhi island
On the first day, you'll be meeting your guide at the railway station in Karelia's capital, Petrozavodsk. After introductions, you'll head to a local restaurant in the city for a welcome breakfast.
Next, you'll enjoy a city tour of Petrozavodsk and an overview of the history and culture of Karelia. A laidback city of around 280,000 people, Petrozavodsk is set on a quiet bay in Lake Onega, with attractive neo-classical architecture and a distinctly European vibe.
We'll aim for a late morning departure for Kizhi Island on Lake Onega by hydrofoil. The trip takes around one and a half hours. You'll then spend several hours exploring Kizhi Pogost, aka the Kizhi Open Air Museum of Wooden Architecture, a UNESCO World Heritage site since 1990.
Considered one of the greatest cultural attractions in Russia, Kizhi consists of around 80 structures from the 17th to the 19th centuries, all of which have been crafted entirely out of wood. Among Kizhi's many treasures is the Transfiguration Church, an architectural masterpiece featuring five tiers of 22 intricately decorated wooden domes, built in 1714 without using a single nail. The building has withstood the elements for over 150 years.
You'll then be taken to another side of Kizhi Island, where you'll see some of the Kizhi Museum's restoration work in action, and learn some of the secrets of traditional Russian wooden architecture.
On the way back, we'll make a stop near the highest point of Kizhi to enjoy a panoramic view of these magnificent structures and their lakeside surrounds. After a late lunch, we'll take the hydrofoil back to Petrozavodsk where we'll spend the evening.
Day 2:
Ruskeala and Kinerma
One of the most striking sights in Karelia, Ruskeala was formerly a marble quarry, mined by the Swedes, Finns and Russians for around three centuries. Dynamite was used for extracting the marble, eventually creating a vast, steep-sided canyon, which became inundated with groundwater.
The 109-metre wide canyon now stretches for 456 metres and its sides are riddled with caves and grottoes. Tall pines sprout from the tops of the canyon walls and the groundwater has become a river of deep emerald green, creating a truly beautiful union of the natural and the man-made. The canyon can be traversed by boat, and some of the caves and mine shafts can be explored with a professional guide.
We'll make a short stop in an ancient Karelian village of Kinerma, which in 2016 was named the most beautiful village in Russia. We'll be met by a local resident for a personalised tour around the village, made up of late 19th century houses and a wooden chapel to the Virgin Mary erected in the 17th century. Afterwards, we'll be invited to lunch in a traditional Karelian house.
Day 3:
Kivach Nature Reserve
After breakfast, we transfer to Kivach State Nature Reserve, which was established in 1932, making it one of the oldest in Russia. Spanning roughly 11,000 hectares, the reserve is vital for protecting Karelia's primordial forest, a fragile ecosystem home to 197 species of birds, 48 mammals, 18 species of fish and 569 plants including the Karelian birch.
In the heart of the reserve is the Kivach waterfall, the second-highest plain waterfall in Europe. Flanked on either side by magnificent pine forest and dark basalt rocks, the roaring cascades are an inspiring showcase of nature's handiwork. In the afternoon we'll make our way back to Petrozavodsk for dinner in town.
If time remains, we may visit a husky farm and embark on a breathtaking hike with huskies along the forest (optional).
In the evening we'll transfer to Petrozavodsk for dinner, before transporting you to the train station in time for your onward journey.
Included
Train-station arrival and departure transfers
All transportation on tour according to the itinerary
3* hotel in Petrozavodsk
All meals
Local professional English-speaking guide
Experienced driver
All sites according to the itinerary
Russian visa support document
Not included
Train tickets
Visa and Visa fees. *Russian visa can be arranged by 56th Parallel for an additional cost (for Australian citizens only). Apply for comprehensive visa service here.
Optional excursions