+61 412 587 785
[email protected]
Gems of Karelia – Kizhi Island, Solovki and Valaam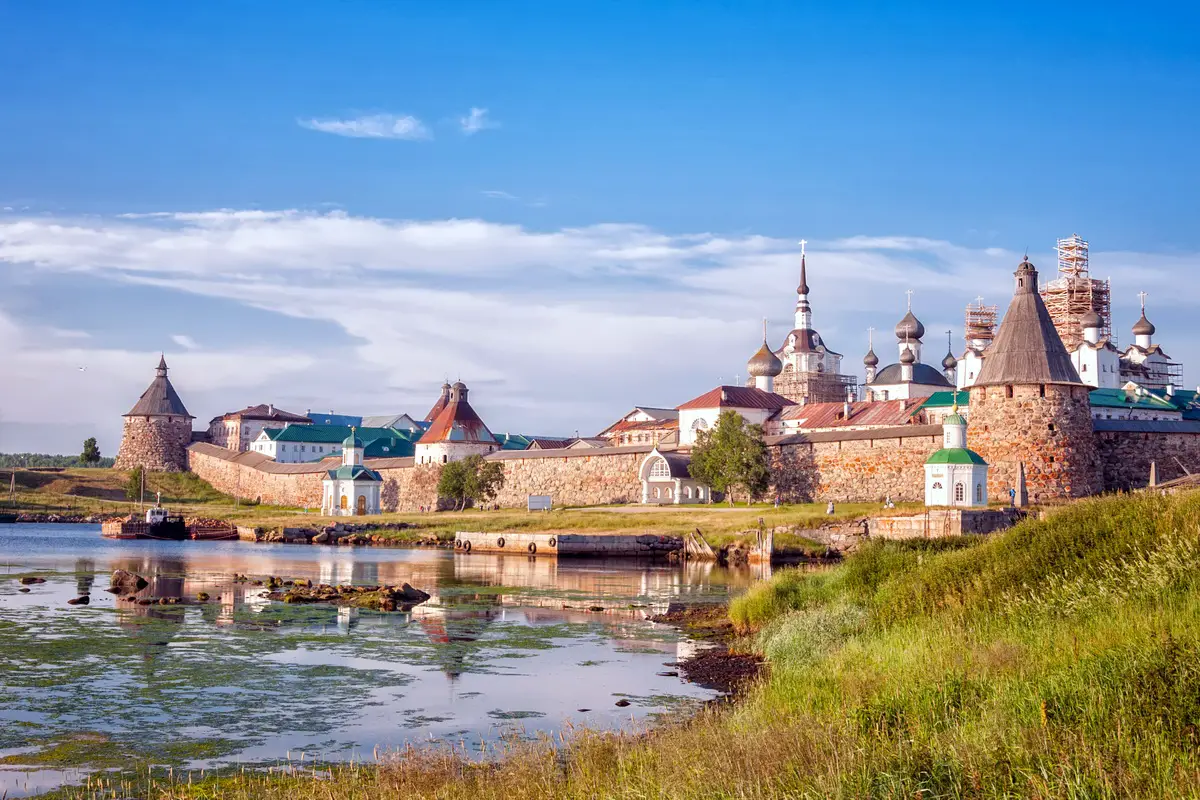 Trip Style Cultural, Sightseeing
Time of year June - September
Day 1:
Petrozavodsk and Kizhi Island
On the first day, you'll be meeting your guide at the railway station in Karelia's capital, Petrozavodsk. After introductions, you'll head to a local restaurant in the city for a welcome breakfast.
Next, you'll enjoy a city tour of Petrozavodsk and an overview of the history and culture of Karelia. A laidback city of around 280,000 people, Petrozavodsk is set on a quiet bay in Lake Onega, with attractive neo-classical architecture and a distinctly European vibe.
We'll aim for a late morning departure for Kizhi Island on Lake Onega by hydrofoil. The trip takes around 1.5 hours. You'll then spend several hours exploring Kizhi Pogost, aka the Kizhi Open Air Museum of Wooden Architecture, a UNESCO World Heritage site since 1990. Considered one of the greatest cultural attractions in Russia, Kizhi consists of around 80 structures from the 17th to the 19th centuries, all of which have been crafted entirely out of wood.
Among Kizhi's many treasures is the Transfiguration Church, an architectural masterpiece featuring five tiers of 22 intricately decorated wooden domes, built in 1714 without using a single nail. The building has withstood the elements for over 150 years. You'll then be taken to another side of Kizhi Island, where you'll see some of the Kizhi Museum's restoration work in action, and learn some of the secrets of traditional Russian wooden architecture.
On the way back, we'll make a stop near the highest point of Kizhi to enjoy a panoramic view of these magnificent structures and their lakeside surrounds. After a late lunch, we'll take the hydrofoil back to Petrozavodsk where we'll spend the evening.
Day 2:
Sortavala and Valaam
Today we depart early for the Valaam Archipelago, a group of 50 islands in the north of Lake Lagoda, the largest lake in Europe. From Petrozavodsk, we drive to Sortavala (250km) and from there make the 50-minute journey to the Valaam Monastery on Valaam Island by hydrofoil.
We'll spend the rest of the day exploring inside the walls of the Central Monastery Complex, dominated by the majestic Cathedral of the Transfiguration. Get acquainted with one of the most scared Orthodox sites in Russia and the site of numerous clashes between the Russians and Swedes in their struggle for power during the 16th century.
Visit a skete (monastic community) on the island and try simple monastic food in the monastery's refectory. Depart Valaam by hydrofoil to Sortavala and spend dinner and a night at a hotel in the lakeside town.
Day 3:
Ruskeala and Kinerma
After breakfast, we make our departure for the renowned Ruskeala Mountain Park. One of the most striking sights in Karelia, Ruskeala was formerly a marble quarry, mined by the Swedes, Finns and Russians for around three centuries.
Dynamite was used for extracting the marble, eventually creating a vast, steep-sided canyon, which became inundated with groundwater. The 109-metre wide canyon now stretches for 456 metres and its sides are riddled with caves and grottoes. Tall pines sprout from the tops of the canyon walls and the groundwater has become a river of deep emerald green, creating a truly beautiful union of the natural and the man-made.
The canyon can be traversed by boat and some of the caves and mine shafts can be explored with a professional guide. We'll make a shortstop in the ancient Karelian village of Kinerma, which in 2016 was named the most beautiful village in Russia. We'll be met by a local resident for a personalised tour around the village, made up of late 19th century houses and a wooden chapel to the Virgin Mary erected in the 17th century.
Afterwards, we'll be invited to lunch in a traditional Karelian house. Early evening, we'll transfer back to Petrozavodsk where we'll have dinner and spend the night.
Day 4:
Trekking with huskies and Elama cultural centre
This morning we drive 30km to the Karjara Park Husky Farm. Learn about this iconic Siberian working breed and get introduced to the individual dogs, who will take you on a soft trekking experience through the silent and beautiful Karelian forests. You will be instructed on handling your new fluffy friend. Once the dogs are harnessed up, they'll be ready to take you on a picturesque hike through one of the area's most scenic routes.
Afterwards, wind down from your adventure with a relaxing hot tea in a classic reindeer skin hut. Next, we make to the centre of Karelian culture, called Elämä. This centre is dedicated to preserving the everyday lifestyle of Karelian people, helping to revive and develop local crafts, music and cooking.
You will take lunch in the customary style for guests and get acquainted with local traditions, crafts and symbols, which people in Karelia used to bring about luck, love, well-being and good health. Try your hand at cooking traditional Karelian food and after, taste tea with herbs and Karelian pies. In the evening, return to the hotel accommodation in Petrozavodsk.
Day 5:
Kem, Kivach and White Sea petrogyphs
After breakfast, we transfer to Kem, 450km from Petrozavodsk. Here, we visit the Kivach State Nature Reserve. The Reserve was established in 1932, making it one of the oldest in Russia.
Spanning roughly 11,000 hectares, the reserve is vital for protecting Karelia's primordial forest, a fragile ecosystem home to 197 species of birds, 48 mammals, 18 species of fish and 569 plants including the Karelian birch. In the heart of the reserve is the Kivach waterfall, the second highest plain waterfall in Europe. Flanked on either side by magnificent pine forest and dark basalt rocks, the roaring cascades are an inspiring showcase of nature's handiwork.
Next, we make several hours rout north to discover the rarely seen White Sea Petroglyphs, located where the forest meets the coast. These rock paintings and carvings, considered among the most complex and expressive examples of rock art in northern Europe, date back to the New Stone Age (4th to 2nd century BC) and depict elaborate scenes of hunting, warfare, religious rituals and seafaring.
In the evening, transfer back to the town of Kem, around 108km from the main petroglyph sites.
Day 6:
Solovetsky and Zayatsky islands
After breakfast, we check out of our Kem hotel and depart for the Solovetsky Archipelago by slow boat. The trip takes around two hours, after which we'll check into our hotel on Solovetsky Island and begin our exploration.
The legendary Solovetsky Monastery was once one of the richest monasteries of Russia, with fortress walls so thick no enemy could overcome them. Dig deep into the amazing history of the 15th-century complex, which was once one of the largest Christian citadels in Northern Russia before being converted into a Soviet prison and labour camp.
From Solovetsky Island we boat over to nearby Big Zayatsky Island. Once home to a mysterious pagan cult, the stone labyrinths found on the island are rare and valuable archaeological monuments, although much of their purpose and meaning remains unknown.
You will have a chance to observe the prehistoric beauty of this small island, whose climate is so severe that it is covered mostly with a variety of moss species and low-lying shrubs. Return to Solovetsky Island by boat for dinner and a night's rest.
Day 7:
Departure from Petrozavodsk
Today after breakfast and check-out, we'll cruise over to Big Solovetsky Island to the climb its highest point, Sekirnaya Hill. Perched on the hilltop is one of the strictest skete (monastic communities) on the island, with a unique lighthouse church.
During Gulag times, the skete had a reputation as one of the cruellest of all the Soviet detention centres. Today it is a functioning skete again and a tranquil, meditative place offering fantastic panoramic views over the island.
Next, we'll visit the island's Botanical Garden, one of the most northerly botanic gardens in Russia and a living document of the various types of plants established by numerous settlers during the history of the Solovestsky Islands.
After lunch, we'll transfer to the pier and make the journey back to Kem by slow boat. After a final dinner in Kem, you'll be transferred to the railway station, where there are regular long distance train services back to St Petersburg.
Included
Group arrival and departure train station transfers
All transportation according to the itinerary
Accommodation on tour
Some meals (see detailed itinerary)
Local licensed English-speaking guide
Professional driver
All excursions and sites according to the itinerary
Russian visa support document
Not included
Russia visa and visa fees. *Russian visa can be arranged by 56th Parallel for an additional cost (for Australian citizens only). Apply for a comprehensive visa service here.
Optional excursions
Individual transfers not indicated in the itinerary