+61 412 587 785
[email protected]
Lake Baikal Ice Adventure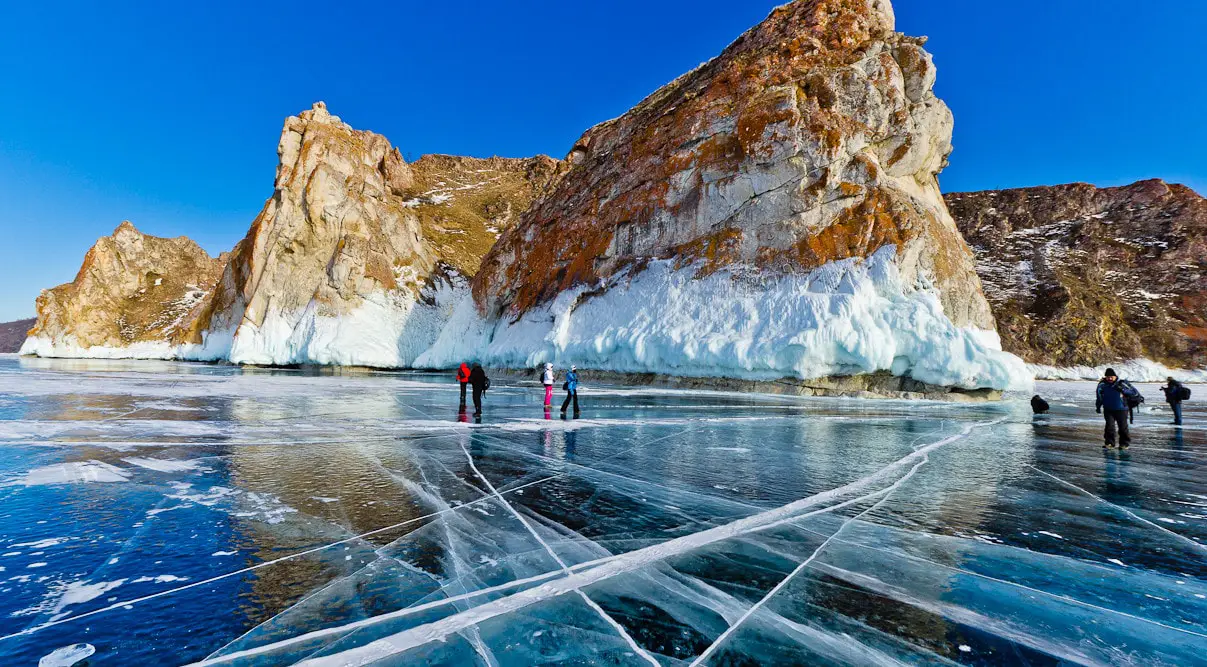 Trip Style Winter Adventure
Day 1:
Irkutsk
Welcome to Siberia!
You'll be met at Irkutsk airport for a transfer to your centrally located hotel. Sometime after lunchtime, we will embark on a city tour of Irkutsk and its main sights. Enjoy a welcoming dinner at the cosy restaurant.
Day 2:
Listvyanka village
Today is dedicated to Listvyanka village, where we explore its main sights. On the way to Listvyanka, we will visit the Taltsy open-air of wooden architecture, where we enjoy walking down the Siberian streets of 19 Century.
On arrival to Listvyanka, after a short rest at the hotel, we'll visit the observation point (720m) – Chersky Rock, a lift-chair will take you up from there. From the observation point, you will enjoy incredible views of the source of the Angara River and Lake Baikal. 
Next, we board snowmobiles for a drive along the frozen lake (if weather permits) or though Siberian Taiga forest. Today we also get the opportunity to try dog sledding with friendly Siberian huskies.
Day 3:
Transfer to Olkhon Island
For the next 4 days, you are going to travel by minivan on the frozen surface of the great Lake Baikal (*depending on the ice condition).
Your first destination is the legendary island of Olkhon. At 72 km long, Olkhon stands out among the three dozen islands of Baikal for its sheer size and the monumental grandeur of its landscapes. During the 5h drive to the island, we stop for lunch at the road cafe, where we taste traditional Buryat cuisine with a banquet of buuz-dumplings and Buryat tea. Next, we drive along the magnificent Tazheran Steppe, which once was home to the first indigenous Baikal peoples, whose petroglyphs are found at the tribal encampment sites.
Closer to the evening, we arrive at a cozy hotel in Khuzir village. After settling at the hotel, we enjoy a short stroll to the famous Shamanka Rock.
Day 4:
Explore Olkhon Island
Today, we explore Olkhon. Jump into our minivan and be ready to see the frozen beauty of the biggest island. In the spring, thanks to the thick layers of ice, you can freely walk right into the grottoes and admire the beauty of the ice shapes. During our stops on the ice, you will enjoy ice grottoes and caves with amazing ice formations and Lake Baikal views. These places are very famous for the glass-clear ice, so be prepared to make a lot of photos!
Day 5:
Ogoy Island
Get ready to be excited as today's transport is legendary hovercraft, similar to those James Bond was using in one of his adventures! 
Today,  we visit sacred Ogoy Island, which has never been inhabited by people and it is considered to be "a pure land", that is free of negative energy. More than ten years ago the Stupa of Enlightenment was established here. It is considered that Buddhist stupas are meant to dissolve negative interferences in the world, favour locality and benefit to people especially to those who visit them consciously. At the southern part of the Island, we stop for a photo of the iconic Dragon Rock, which you may saw previously on the internet.
In the evening we'll return to the hotel for a yummy dinner. Today we suggest trying a real Siberian Sauna  - "banya" to warm up after a long winter day.
Day 6:
Transfer back to Irkutsk
Today we say goodbye to Olkhon island and head back to Irkutsk. On the way, we stop at the Ust-Orda ethnic park, where we will enjoy traditional Buryat cuisine and immerse ourselves in their culture and traditions.
Upon arrival to Irkutsk, relax at your hotel, take a stroll ath citie's cosy streets, before heading to the restaurant to enjoy our last dinner together.
Day 7:
Departure
Time to say goodbye to the oldest and deepest lake on earth. After breakfast, transfer to the Irkutsk airport for your flight back home or to your next destination.
Included
Group airport transfers
All transportation on tour according to the itinerary (minivan, hovercraft)
Hotel accommodation in Irkutsk, Listvyanka village and Olkhon Island
Breakfasts in the hotels, some lunches during day excursions, some dinners
All experiences and activities indicated in the itinerary with local professional English-speaking guide
Russian visa support document (voucher/invitation letter)
Not included
Flights
Travel insurance
Russian visa and visa fees
Optional excursions
Individual transfers, not indicated in the itinerary
Alcohol