Ever dreamt of walking on water? An adventure to Lake Baikal will elevate you to the crystal-clear surface of the world's oldest and deepest lake. This enchanting blue pearl of Russia is surrounded by natural wonders that will surpass your wildest imagination.
Travellers are drawn to adventure Lake Baikal in the pursuit of their passion for nature, culture and unique experiences. The breath-taking atmosphere of Baikal is enough to make any trip to this Siberian gem truly unforgettable. A past 56th Parallel traveller, Marek Potoma, summarises Lake Baikal perfectly "You get it all – monumental vistas with shorelines, islands and rocks, and tiny little details sculpted in the ice under your feet. Loud cracks of the ice plates and absolute silence". Lose yourself in this enchanting natural-wonderland.
This article aims to help you turn a visit to Lake Baikal into the adventure of a lifetime, both in Summer and Winter seasons.
1. Turn frozen Lake Baikal into your playground
Lake Baikal is frozen solid between late February and April, transforming this remarkable natural wonder into a spectacular ice-covered playground for travellers to enjoy.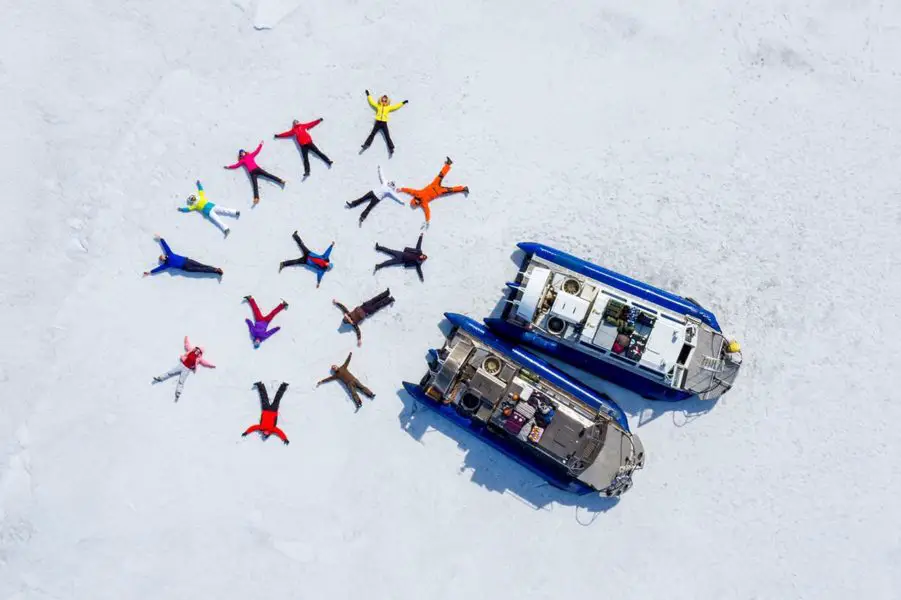 There are endless activities to keep you entertained such as ice skating, ice fishing and even a round of ice golf. To truly take advantage of the frozen surface, take a trip on a hovercraft or snowmobile as the golden sunsets over the shimmering lake. For travellers looking for something a little different, you must travel in Baikal style with a unique dog-sledging experience.
2. Immerse in Lake Baikal's unique landscapes, flora and fauna
Lake Baikal was declared a UNESCO World Heritage Site in 1996 and holds a fifth of the world's freshwater. The region is home to a vast array of flora and fauna. A trip to Baikal isn't complete without exploring the majestic ice caves of Olkhon Island or embarking on a hiking tour to the Valley of Volcanoes, the magnificent valley, stretches 800km across the Eastern Sayan Mountain Range. The incredible natural landscape of Baikal is filled with 1,500 different species and around 80% of these animals are unique to the region. The most famous animal of Lake Baikal is the Nerpa, also known as the Baikal seal, which can often be spotted sunbathing on the rocks along the coastline.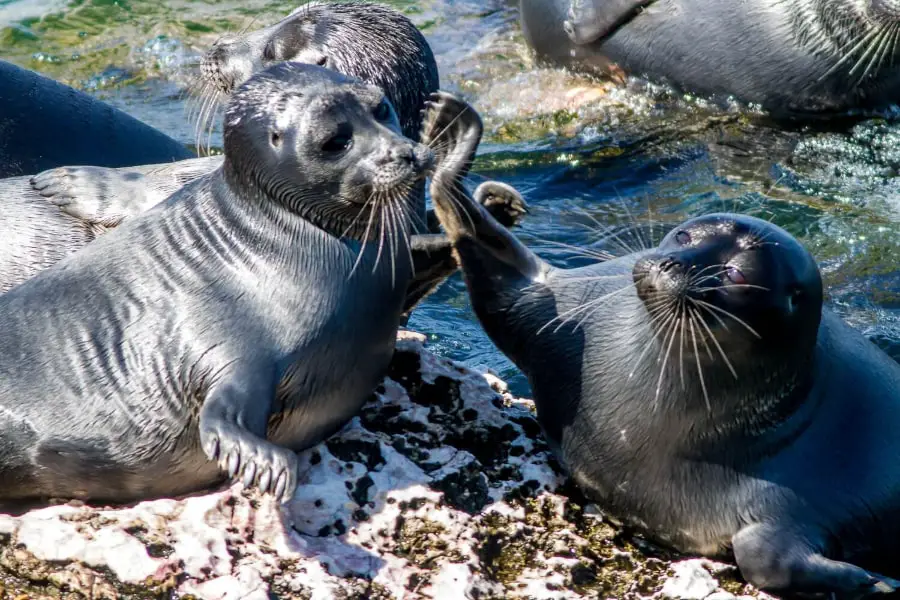 The incredible landscapes and creatures of Lake Baikal attract photographers from all over the world to take once-in-a-lifetime images. Aspiring photographers are encouraged to travel to the region with a guided tour, as they are led by experts. These professionals can assist travellers with the techniques to fully capture the immense beauty of Baikal.
3. Experience the regions majestic ancient rituals
Travellers are encouraged to embrace the raw spiritual energy of Lake Baikal, by honouring the beliefs of local indigenous communities. The Buryats culture involves a fusion of Buddhism and Shamanism.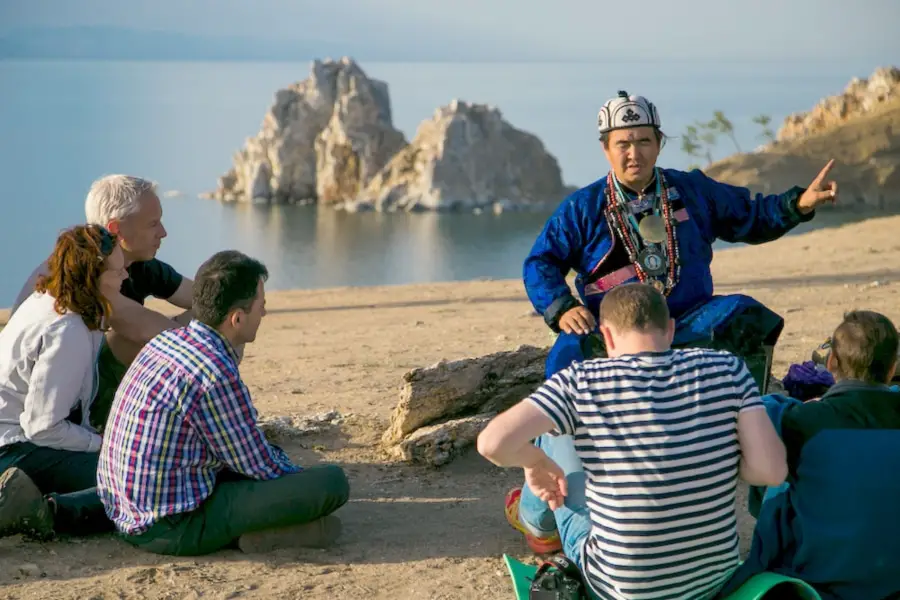 Their ancient healing rituals involve a variety of traditional dances and costumes. Lake Baikal is home to many sacred sites, such as the powerful and mysterious Shaman rock, which holds great significance in their culture. At this site, travellers make wishes and wrap ribbons on surrounding trees or poles. Over time, this has ignited the coastline with vibrant colours that enhance the incredible landscape. Even travellers who do not subscribe to the local beliefs have admitted that Lake Baikal has a powerful aura.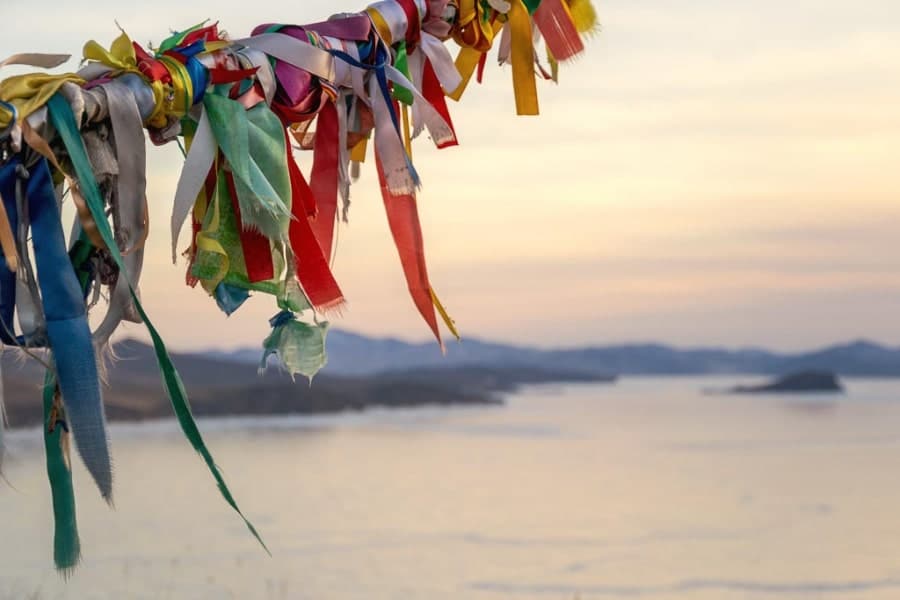 4. Explore traditional surrounding towns and villages
Discover the rich culture of Irkutsk, known as the gateway to Baikal. This is one of the most popular places in Lake Baikal and won in the 2013 TripAdvisor Traveller's choice awards.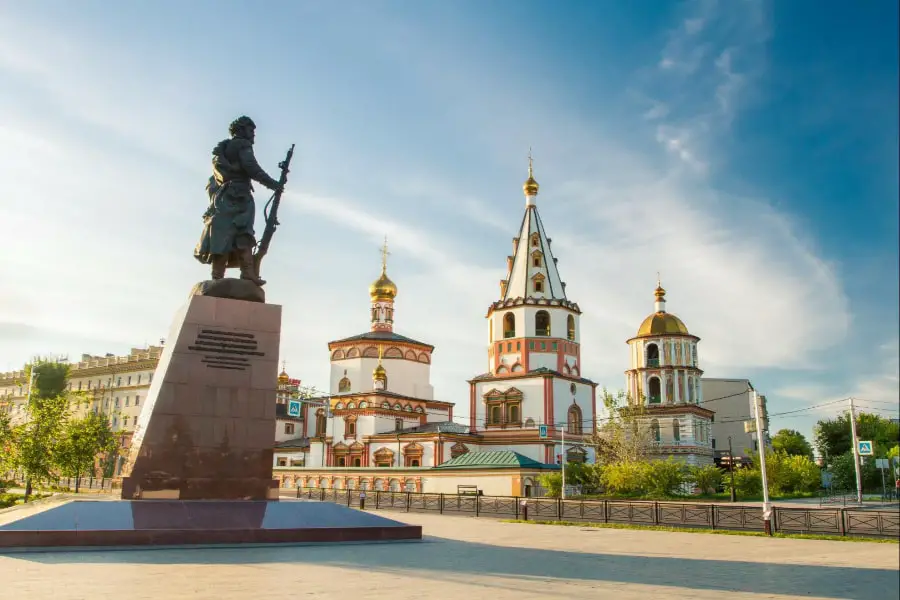 Irkutsk is filled with fascinating Russian architecture and is one of the most common stops on the Trans-Siberian Railway (Here's a complete guide to the Trans-Siberian Railway for new travellers). Another must-visit destination in Lake Baikal is the Listvyanka village. Step into Siberian life with a visit to the Taltsy Museum of Wooden Architecture and step boldly beyond your comfort zone in a traditional Russian banya (sauna). Both Irkutsk and Listvyanka provide a delightful variety of hotels and restaurants that cater to the tastes of any kind of traveller.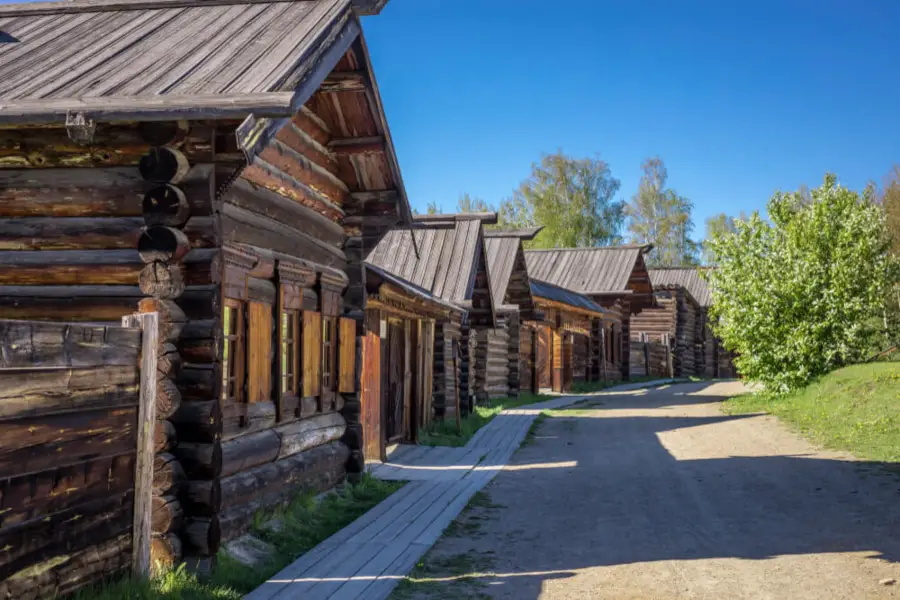 5. Taste the incredible local cuisine
You must try some of the signature dishes of Baikal including pozy, ukha and the fresh local fish from the lake.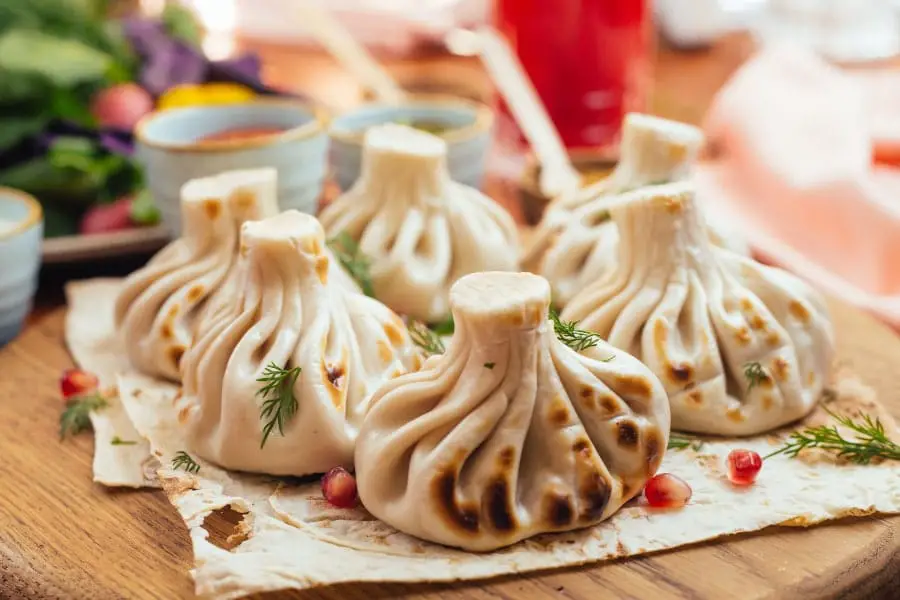 Pozy is a delicious meat dumpling that is part of the Buryat cuisine and perfect for cold weather. Ukha is a flavoursome fish soup that is prepared using fresh fish and boiled with the pure water from the lake. The most popular fish include omul and cisco that are perfect rewards after a long day of sight-seeing and activities. For a truly unforgettable Baikal experience, you can match these local tastes to the incredible Baikal scenery through a picnic on the frozen lake.
6. Relax on a Lake Baikal summer cruise
Despite the reputation as a winter wonderland, you can adventure Lake Baikal in summer for the perfect vacation as well. Embrace the incredible nature and culture with a cruise along the crystal-clear water and around the fabulous pristine bays.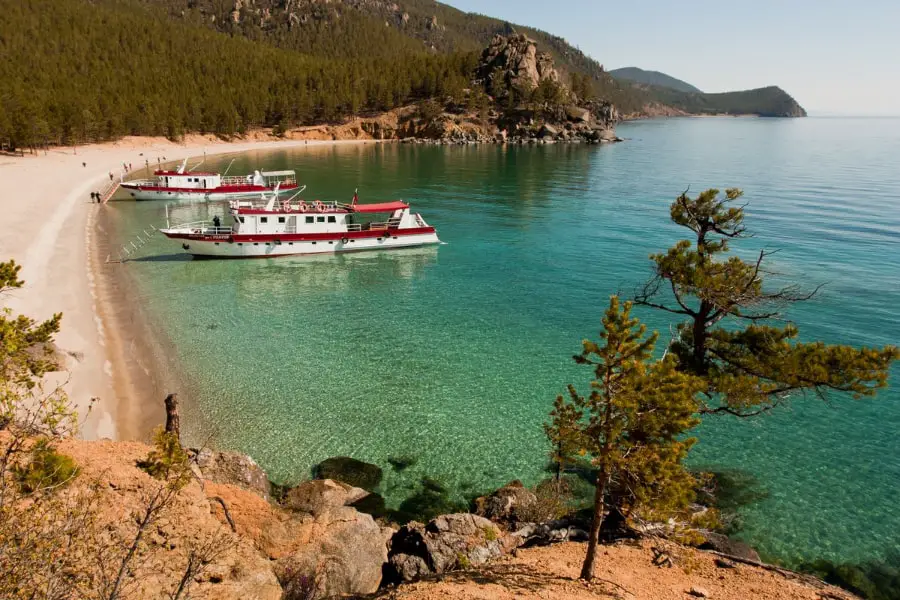 The most popular places to swim around Baikal include Olkhon Island and Sandy Bay. Cruises are also the perfect way to get up close to Baikal's curious sea creatures, especially the Nerpa seals.
7. Soak in healing hot springs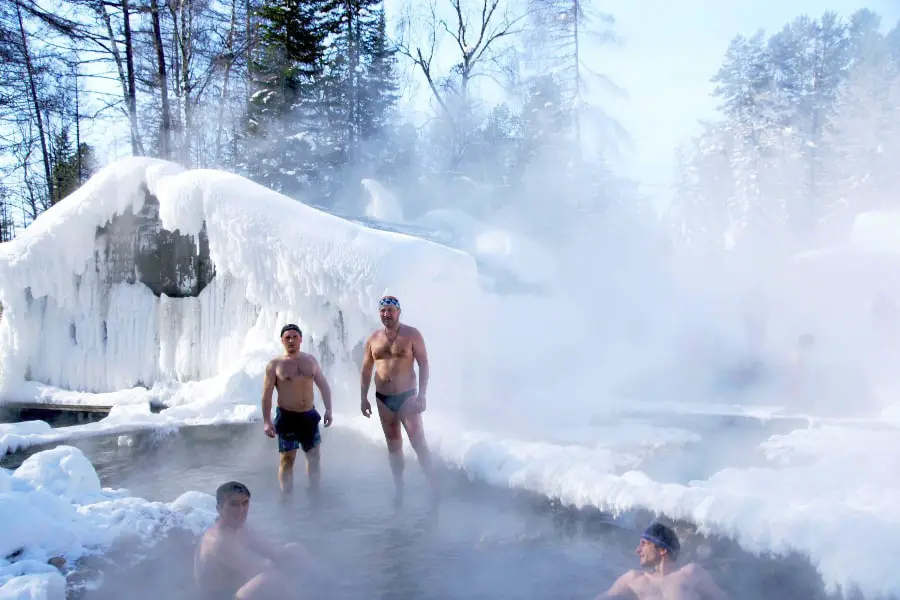 If a cruise isn't relaxing enough, you can unwind in Baikal's steaming natural springs, located the village of Arshan. These thermal pools contain minerals, which are praised for their medicinal benefits and rejuvenating qualities. A trip to the hot springs will have you feeling refreshed and ready to adventure Lake Baikal without holding back.
8. Journey along the Circum-Baikal Railway
With so much to discover in Siberia's blue pearl, it is difficult to cover everything in a short time. Embarking on a trip along on the Circum-Baikal Railway, also known as the 'gold belt' of Siberia, will take you on an adventure around Lake Baikal and through the great Siberian forests.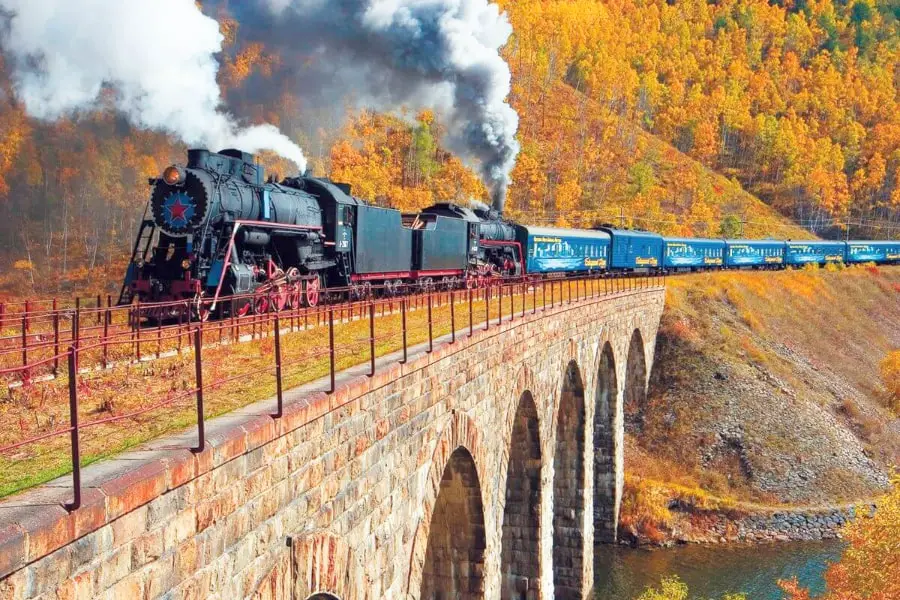 Beyond the incredible sights, this journey will expose you to traditional Russian architecture with a wide range of beautifully constructed bridges and tunnels that have become part of the landscape. This is the perfect day trip for travellers looking to adventure deeper into Baikal.
Over to you, how will you adventure Lake Baikal?
Lake Baikal offers a wide range of adventures suited to any kind of traveller. However, it isn't easy to see and experience everything that Baikal has to offer on a self-guided trip.
56th Parallel offers unique tour packages that encompass all seasons, interests and regions in Lake Baikal. Capture the beauty of the world's deepest and oldest lake for yourself through a wide variety of tours to adventure Lake Baikal. Make sure you check out our travel guides and expert tips to get more in-depth information about the region.
Related posts