Planning an Educational tour to Russia can be an extremely daunting task for many teachers. However, it is an incredibly rewarding experience when done properly, giving you and your students many opportunities for personal development and intellectual growth. 
In saying this, let's first dive into the benefits of embarking an educational tour to Russia. Then, we'll move into a step-by-step guide on how to plan one for your school!
So, Why Visit Russia?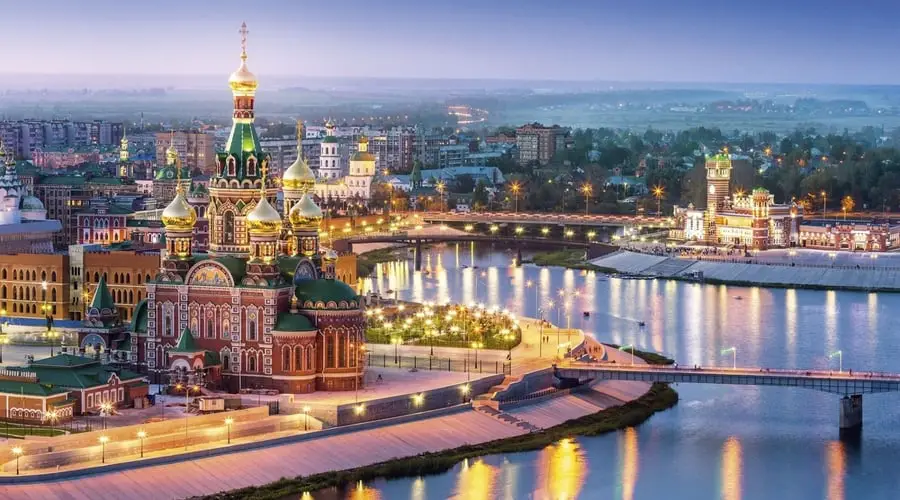 Travelling to Russia in particular has its many benefits – it is an incredibly unique destination for students studying all different kinds of subjects from history, languages, music and literature to performing arts. Few countries can rival Russia for its world-defining roles within history (from the age of empires, through to WWI and WWII, the Soviet Era and the Cold War). 
Similarly, Russia's contribution to classical music and opera, ballet, visual art, architecture, science and literature makes it a fascinating country to study these subjects, in the very place where some of the country's greatest cultural and historical milestones unfolded. 
56th Parallel's educational tours focus on Moscow and St Petersburg, with the option to add a tour of the historic Golden Ring cities departing from and returning to Moscow. 
These 'city overview' style tours will ensure your students get to experience all of the must-see landmarks and attractions of the cities, paired with education focused commentary from our expert Tour Guides, as well as hands-on experiences and entertaining activities to ensure your trip as enjoyable and memorable as possible. 
If you're looking to focus in-depth on a particular subject, 56th Parallel is more than happy to help you design a custom itinerary relevant to your students' needs. 
For subject-based educational tours to Russia, here's what we can offer: 
History
Russia's role during World War I & II 
Soviet-era monuments & Cold War achievements 
Tsar dynasty and Romanov Family – Russian Revolution 
Russia heritage tours & museum excursions  
Language
Russian language classes & workshops 
Cultural immersion programs 
Learning activities & sight-seeing excursions 
Conversational exchanges with Russian locals 
Performing Arts 
Russian ballet and traditional folk dance 
Opera performances and Russian composers 
Historical theatres and concert halls 
Musicals, cinemas and classical dramas/plays 
Orchestral performances and classical music 
Literature 
Russian literature tours & excursions 
Modern and classic Russian literature 
Museum exhibitions and private studios of Russian writers 
Bookstores and state libraries 
Visual Arts 
Russian art galleries, design studios and museums 
Contemporary and traditional Russian art/movements 
Educational art programs, projects, fairs and festivals 
Russian fashion showrooms and public events 
Science 
Russian science museums and planetariums
Soviet military museums & inventions 
Nature reserves, research institutes and programs 
Russian space stations and adventures 
Sport 
Russian sports stadiums, arenas and leisure centres 
Winter – Ice hockey, ski resorts, snowboarding, ice-skating 
Sporting events, activities and competitions 
Adventure tours and national park expeditions
Architecture 
Russian classical architecture – cathedrals & sites 
Soviet-style infrastructure – Constructivist & Stalinist 
Architecture spanning across different periods 
Key contemporary buildings and monuments 
Benefits of Taking an Educational Tour to Russia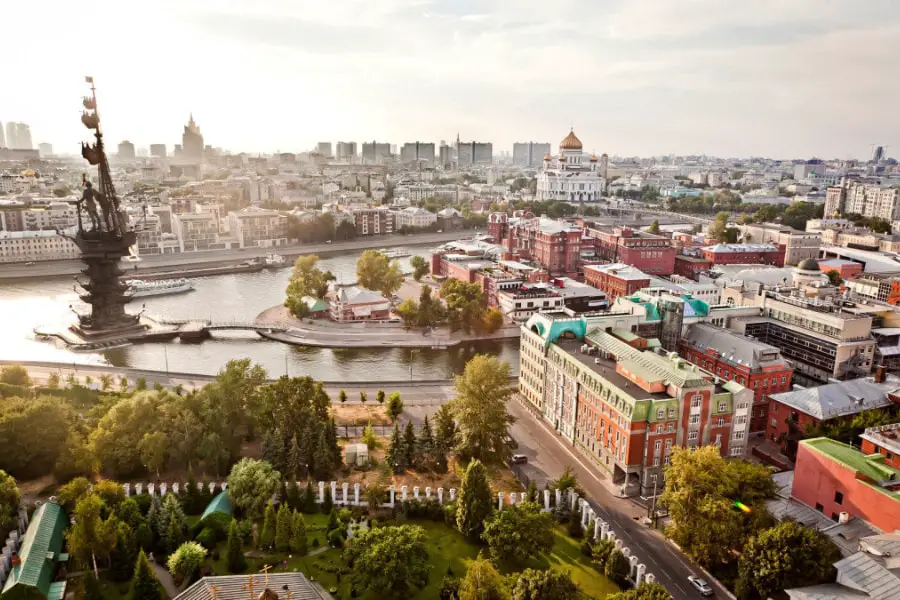 It's no secret that overseas educational trips can be life-changing for those involved, from enhanced one's interpersonal skills to gaining amazing cross-cultural insights. 
Educational tours to Russia will also make students have a greater appreciation for learning beyond the classroom and integrate a real-world experiential component to your school curriculum. 
Real world experience engages both the intellect and the senses, adding another layer of meaning on top of what has already been learned in the classroom. This in turn boosts motivation and helps students grasp difficult concepts and retain knowledge. 
Not only are overseas school trips fun, they expose students to different cultures and help grow confidence and resilience as they learn to adapt to social situations.
Improved Critical Thinking
Critical thinking is about active learning through reasoning. Studies show critical thinking is one of the most highly regarded traits among professional employers. Educational tours to Russia encourage critical thinking in a multitude of ways, including problem solving (e.g. navigating cultural differences, money, food and transportation), creativity, group and individual decision making and communication (both verbal and non-verbal). These are all relevant to the different subject areas of music, visual arts, literature, etc. 
Expanded Worldview
A person's worldview defines how they interact and interpret virtually everything around them. That worldview hopefully expands over time through an accumulation of life experiences. Travelling on an overseas school trip to Russia exposes students to different cultural perspectives, allowing them to gain a wider understanding of the world's diversity. This means a greater respect for Russia's historical contributions/achievements and a realisation on how we as humans are different in some ways, we are alike in so many others. 
Stronger Relationships
An educational tour to Russia is a powerful bonding experience. As a group, you'll go through the same good times and adventures together, as well as bond together to face the same challenges. It's not just the students whose friendships will be strengthened through travelling together. School trips are also a great way for teachers to get to know their students better, build rapport and benefit from better teacher-student relationships once you return home. This bond can manifest in the classroom, where the teacher's enthusiasm of Russian history/culture is also reflected in the students. 
Enhanced Confidence & Leadership Skills 
Travelling to another country can immensely build one's confidence. When embarking on a life-changing journey across Russia's capitals and venturing into new, exciting activities, students will be more inclined to take risks, step out of their comfort zones and acquire greater independence. This will undoubtedly translate into stronger leadership abilities as they learn how to engage in decision-making and problem-solving, especially in unfamiliar situations, such as Russian language workshops, historical tours and sporting activities. 
Unique Opportunities  
Educational tours to Russia not only provide an amazing alternative to learning outside the classroom, they also give unique opportunities for students in undertaking new experiences related to their subject/coursework. From building their language skills, learning about the Russian Tsar Dynasty and Soviet era, attending world-class opera theatres, to participating in fun Russian cultural festivities or sporting events, your students will be surrounded with enriching, unforgettable moments that can be cherished forever with peers/friends. 
Better Academic Performance 
There is nothing better than being genuinely engaged and motivated in the whole learning process. When a student takes an overseas school trip to Russia to learn about their relevant subject area, they will absorb information much more easily and be more receptive to their educational needs beyond the classroom. This is because educational tours add a fun and practical component to the students' curriculums, giving them real-world experiential learning. This will make them have a greater appreciation for Russia's history, culture and traditions. 
Career Benefits & Professional Development 
Leading an educational tour to Russia is not only super beneficial for the students, it is also a fantastic way to demonstrate leadership qualities and responsibility as a teacher/advisor. There is no doubt that your colleagues and future employers will be heavily impressed with your initiative to take the students' learning beyond a typical classroom setting. By skilfully applying the curriculum outside the school and integrating this into a new culture, there are great opportunities to create a memorable learning experience.
School Trip Planning Timeline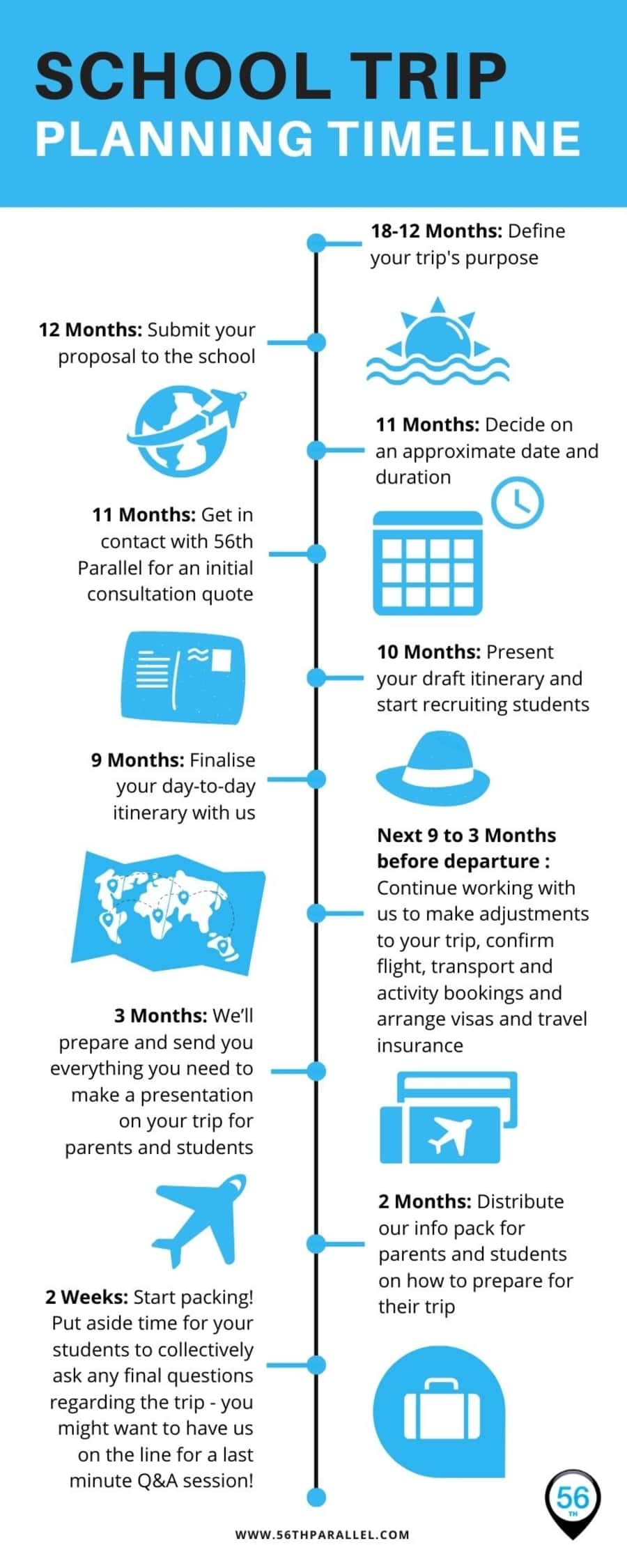 Educational Tour to Russia: The Plan
So you've done your research and decided to partner with a tour operator who'll ensure your trip runs as smoothly as possible once your students land at the airport. 
a) The Basics
Let's say you're planning a overseas school trip to Russia and you've chosen to tour with 56th Parallel. 
Our involvement in making sure your trip is a success begins the moment you decide to partner with us. 
Your Tour Coordinator is your point of contact who will work with you throughout the entire process from the initial planning stage through to designing and refining the perfect Russian itinerary and providing support during and after your stay in Russia.  
Once you've confirmed your booking for the educational tour, we'll send you a confirmation pack including an initial booking form requesting some basic information about your trip – nothing needs to be exact at this point, just your best estimate. 
Your Student Group
How many students do you estimate will join the tour? 
How many supervising teachers will be attending? 
What is the age range within your student group? 
Do any of them have any special dietary requirements? 
Are there any other special requirements that need addressing, e.g. mobility issues, learning styles?
Budget
Do you have a fixed limit on budget per student?
Will you require any substitute teachers? 
Will you set up a payment plan for parents, e.g. three instalments over six months?
The Experience
Would you like to choose from one of our pre-existing educational tours to Russia (amendments to accommodation, activities etc. can be made as needed) or work with us to create a completely customised tour to best suit your students' needs?
Do you have any specific requirements in regards to accommodation, e.g. cost, standard, location, room sharing arrangements?
Do you have any 'must sees' or 'dos' we should prioritise if possible (in case of any changes to the itinerary out of our control)
b) Dates & Duration
School Calendar
The date and duration of your trip needs to work around your school's calendar to avoid conflicting with exams, assessment periods or any other important events in the school year. For teachers who will attend the trip, you also need to determine how many days they can afford to take off.
As a guide, you can consider organising the travel departure during the Australian school holidays in between the four terms. If you can depart a few days before the beginning of the school holidays and return after the commencement of a new term, you can save more time and are likely to find cheaper, great-value flights. 
Cost and finances 
Setting an appropriate budget should take into account what your students' parents can realistically afford. 
Trip duration generally has the most significant effect on budget. Obviously, shorter educational trips are more affordable, but remember to take travel time into account as well. 
Since there are no direct flights from Australia to Russia, the typical travel time between Sydney or Melbourne and Moscow is around 24 hours. Meaning a 7 day itinerary actually requires being away for 9 days. 
We recommend a 7 day itinerary at minimum – anything shorter doesn't offer great value once you factor in airfares and additional days in transit.
Weather and Seasons in Russia 
The majority of our educational tours to Russia take place in the Moscow region and St. Petersburg. The peak travel season of June through to August is the warmest part of the year for both cities, so you can expect flight and accommodation costs to be high during this time. 
You may want to consider the cheaper, shoulder seasons of April and September. During these months, crowds are fewer and there are still plenty of mild, sunny days, and even at night. temperatures very rarely dip below zero. Conveniently, these months also fall within Australian school holiday periods. 
While Moscow and St Petersburg are spectacular in winter, it does get extremely cold. Students with little experience of sub-zero temperatures might take some time to adjust, so generally, winter isn't very well suited to education-focused trips. 
c) Designing Your Itinerary
Choosing and modifying an existing student tour 
56th Parallel offers a versatile range of amazing student tours in the Russian capitals of Moscow and St Petersburg. Our pre-existing educational tours are packed with incredible learning opportunities that cover history, visual arts, politics, architecture, literature, dance and music. 
Choosing your ideal tour to Russia involves some considerations such as school budget, staff support, students' learning objectives and parents' socioeconomic circumstances – this can lead to some compromises. For example, you might want to join with other faculty/subject teachers to create a cross-curricular tour, or choose a cheaper destination. 
Depending on subject-specific curriculums or independent school learning outcomes, our tour programs can be modified to suit your needs. This flexibility will give your students a magnificent travel experience which improves their engagement to the syllabus. These changes can include extra classes, workshops, activities, destinations, etc. 
Creating a customised itinerary 
We specialise in creating 100% customised tours for our clients, and the same goes for designing tailored trips that cater to specific subjects and areas of interest you and your students would like to focus on. 
We can organise tours to all destinations in Russia covered by 56th Parallel, not just Moscow and St Petersburg. If you'd like to design your own bespoke educational tour, we'll send you a custom trip planning form so you can indicate the "must see" sites you're already set on, as well as general areas of interest which will allow us to make further suggestions based on what's most important to you. 
Using this framework, we'll work with you to design a custom itinerary day-by-day, taking into account timeframes, costs and logistics. This way, we can ensure your itinerary that's befitting of your needs, as well as being practical, hassle-free and offering plenty of bang for your buck.  
Budgeting 
We understand how important cost is in terms of getting approval from your school and giving as many students as possible the chance to join the school trip of a lifetime. 
When submitting your proposal to the school, the budget can often be a sticking point. While we prepare an initial quote, if budget is a big concern, let us know and we can make recommendations on ways to keep costs to a minimum without detracting from the quality of your trip. For example, booking shared accommodation, economical transport options and finding the cheapest available flights for you. 
1. Submitting Your Proposal
Once you've hashed out a fantastic itinerary, we'll provide you with a quote per student (based on the itinerary as it currently stands, and the approximate number of students expected to attend).
We'll provide you with all the relevant resources to allow you to demonstrate the educational value and learning outcomes of your proposed trip to Russia.
In addition to an inspired presentation on the destination itself, you must ensure that your overseas school trip to Russia complies with all legal requirements (including health, safety and welfare) and additional school 56th Parallel will equip you with the essential documentation you'll need to ensure your trip gets the school's stamp of approval. These include:
56th Parallel safety policies and procedures 
Provisional risk assessment (carried out by you, with our assistance)
Liability statement
Safety and security certificate
Safety and emergency management plan 
Be thorough, be realistic and ensure you have all your bases covered. Essentially, your proposal should cover two are as in detail:
How your educational tour to Russia will benefit students and enhance curriculum-based learning outcomes
How your risk management plan and 56th Parallel's safety policies and 24-hour traveller support will ensure the safety of all students, both during day-to-day travel
Be enthusiastic but realistic, cover all your bases thoroughly, and you have a good chance of getting the go ahead. 
2. Promoting Your Educational Tour to Russia
We'll provide you with information packs and promotional materials, so everything's on hand to start getting students excited about your Russian adventure.  
The main reason overseas school trips fail to get off the ground is lack of numbers. You're asking parents to commit a significant sum towards this trip, so it's important that both students and parents understand the educational value of such a commitment. 
Here are the key reasons to promote your educational tour:
Give students a life-changing opportunity 
Boost participation in a particular curriculum/subject faculty area
Encourage stronger friendships and group bonding 
Minimise the tour costs for everyone involved 
Enhance inclusivity among students 
Promoting to Students
How to approach recruiting students for an overseas school trip to Russia depends a lot on their age and maturity. 
University students and those studying a specialised field within academia or the arts will, with the right information in their hands, instinctively understand the value of a relevant, well thought-out itinerary.  
Promoting to high school students, especially when they're wholly dependent on their parent's financial backing, will take a little more effort on your part. 
It is highly recommended that you create expressions of interest and invite students to attend. Then, you can promote the tour around school such as during assembly, newsletters, whiteboards and bulletins/pin-up wall areas. Get other teachers to share this information with their own students too. 
Announcing your trip and creating a buzz
We'll supply you with plenty of marketing material on Russia and Russian culture and the sights and activities within your itinerary. As well as info packs they can take home to their parents, we'll supply you with all media for preparing a slideshow or video to show students when you make your big announcement. 
The language used to advertise your trip to students is quite different to the way you communicate with parents. 
While students will certainly want to know how jetting off to Russia will benefit their studies, what most of them will most look forward to is getting out of the classroom and having a great time with friends. 
So, get your students excited, start creating a buzz in the classroom, on social media and other communication channels. If you can recruit a few "early adopters" they become advocates who encourage others to get on board. 
Promoting to Teachers
Announcing your trip 
As soon as you announce your educational tour to Russia, give students letters to take home outlining the most important details of the trip. Set a date for an information evening, strongly encouraging all parents to attend. 
Promote the event through your school's communication channels, particularly social media.
Presenting an information evening 
Hosting an information evening for parents and students is essential. As well as giving you the chance to show off a live presentation, these evenings provide an ideal forum for parents to ask questions and ensure they have all the details and assurance they need to make a decision.
As the lead supervising teacher, this is your chance to prove how responsible, well-informed and passionate you are about your students' education.
Parents will be quite focused on safety and supervision, as well as payment options offered by the school, so make sure you have suitable responses and take-home materials on hand. 
After your presentation 
Enthusiastic parents can become great advocates, so it's important to make them feel informed, empowered and positive. 
Make use of social media to keep the buzz going. This is also a great way for parents to ask questions and communicate any concerns with the team at 56th Parallel directly. 
Social media is also a great way for kids and parents to keep in touch during the trip, as students will no doubt be posting videos and selfies to show off to family and friends back home. 
Some schools may have their own websites, newsletters, educational portals (for emails) and apps (notifications), so make sure to use these marketing channels to your advantage to reach both students and parents. 
3. Educational Tour to Russia: Preparations and Pre-Departure Checklist
It is really important that you are adequately prepared prior to your departure to Russia. This means that all travel information should be confirmed with your tour coordinator so that they can properly organise the educational tour. Here's a pre-departure checklist of essential items and considerations. 
Travel Information 
Waivers & Visa application 
Travel Insurance 
Passport validity – check expiry dates 
Booking forms and documents 
Final itinerary 
Students' dietary requirements 
Room allocations and listing 
Teacher & guardians supervision availability 
Entrance tickets and passes 
Contingency funds 
Risk Assessment
Provision of risk assessment documents (by 56th Parallel)
Emergency contact numbers (including local) 
Safety and evacuation procedures 
Personal health and safety reports – special needs, disabilities, medical ailments, behavioural issues, allergies, students' ages 
Safety checklists for accommodation, transport and excursion suppliers 
Preparations
Other essential preparations include briefing both teachers and students on their responsibilities when travelling abroad. 
To ensure that everything runs smoothly, teachers should have a solid understanding of the school travel itinerary and destinations, the dietary and medical requirements of the students, safety/evacuation procedures and keeping the group on schedule. Knowing group management strategies and identifying potential risks/hazards during the journey is critical. 
For students (and parents), it is important that you schedule a pre-departure meeting to run through their own responsibilities during the educational tour. This can include: departure times and meeting points, luggage requirements, student code of conduct and curfew times, destination information and general travel tips. 
Finally, preparing the mindset of the students is highly recommended. Many of them are leaving home for the first time and travelling to a completely foreign environment. That's why familiarising your students with the Russian local customs, cultural differences and laws is a great way to prepare them in settling within the new country.
You can do this by highlighting amazing facts about the destination and providing relevant educational resources. Additionally, offering advice on how to deal with homesickness and discomfort can make them feel more reassured, along with introducing them to other group members to build camaraderie. 
4. During the Educational Tour to Russia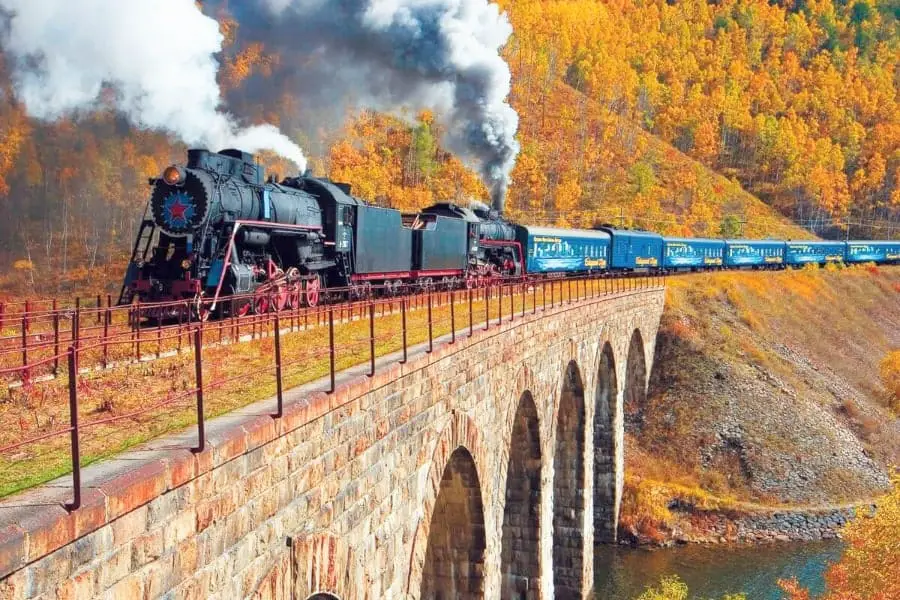 Guidelines – As the teacher/supervisor, it is crucial to establish rules and guidelines for your students during the educational tour. This can include group management strategies, toilet breaks, evacuation procedures and emergency contact preparations. By creating guidelines, you can avoid confusion when travelling as a group. 
Cultural Etiquette – In Russia, there are various aspects of cultural and social etiquette, such as specific ways of greeting others, dining/table manners and gift-giving. Before and during the school trip to Russia, is important to research these local customs and educate your students to build their cultural awareness and sensitivity. 
Social Media Promotion – Using your school's social media channels is a fantastic way to stay connected with families and friends back home. It also allows you to promote the overseas educational trip to other students, teachers and parents, which will inspire further learning opportunities.
24/7 Support by Tour Operator – From the moment you land within Russia to the final goodbye, 56th Parallel will be with you every step of the way. We will answer your questions throughout your entire trip, providing reliable support and frequent check-ups on your travel experience. We'll also be available 24 hours for emergency contact. 
Allocating free time for students/teachers – During short breaks or spare moments throughout the educational tour, you can allocate free time for students to try optional/extra activities such as exploring the surrounding site or visiting recommended restaurants and cafes in the area. This gives you time to relax and provides students with greater freedom during the trip.
Budget & Pocket Money – It is recommended that group members bring their own pocket money (in local currency) with them to purchase items such as beverages, snacks and souvenirs. Throughout the educational tour, they can use a banking system or budgeting app to prevent them from splurging all their money in the first few days. 
Contingency Funds – We advise that teachers/supervisors carry contingency money with them, such as float and credit cards, to cover any unforeseen events. This may involve staff cover and damage deposits. The amount of contingency funds for the educational tour could depend on your quote details such as accommodation, meals, etc. 
5. After the Educational Tour to Russia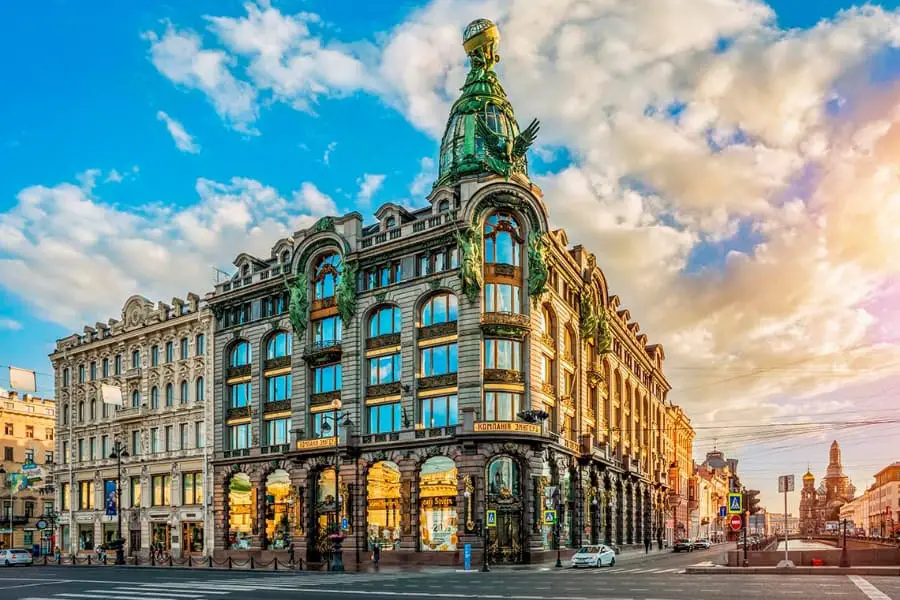 Debriefing – Once everyone has arrived back home, we recommend holding a group meeting so that the students can reflect on their personal experiences in Russia, discuss their travel insights and share any concerns. After the meeting, you can even hold more future monthly gatherings so that the students can continue bonding, learning together and catching up on their experiences. 
Integrating Into The Classroom – After the school trip to Russia is over, you can integrate the tour's experiential learning into the classroom to evaluate their cultural/historical understanding. You can do this by organising student reflection activities, pop quizzes, research projects, multimodal presentations, Kahoot games, group discussions, etc. More importantly, you can even use the educational tour as a way to introduce new programs at your school such as language immersion programs, overseas service and community engagement projects, sporting/visual arts programs and cultural study programs. 
Learning materials – Providing your students with detailed educational resources is crucial to develop their learning process. After the overseas school tour, students will have a highly enriched understanding of their subject/curriculum. You can build upon this momentum by providing helpful learning materials that are explicitly connected to the educational tour in Russia – this includes: worksheets and booklets for every destination, video tours, relevant websites and applications, online tutorials, etc.  
Providing Feedback – After the school trip to Russia, it would be great if you (and the other teachers/students) could give us feedback on your travel experiences and your overall impression of the educational tour. This will help us recognise any potential room for improvement so that your experiences will be even more seamless and enjoyable. Having more customer testimonials and reviews will also encourage more students and parents to consider undertaking the educational tour to Russia. This gives your school more beneficial opportunities to extend learning beyond the classroom. 
Share the Experience – Don't hesitate to share your travel experiences with your friends, family and colleagues. Your journey in Russia has the power to inspire other teachers to initiate their own overseas educational trips or further encourage more students in your school to embark on the tour. There is nothing more special and memorable than students learning new things by travelling abroad and gaining profound cross-cultural experiences.

You can also encourage the students to share their own experience for the school newsletter or website blog. You can also assign them to present their travel journey and highlights during assembly.  
Who We Are: 56th Parallel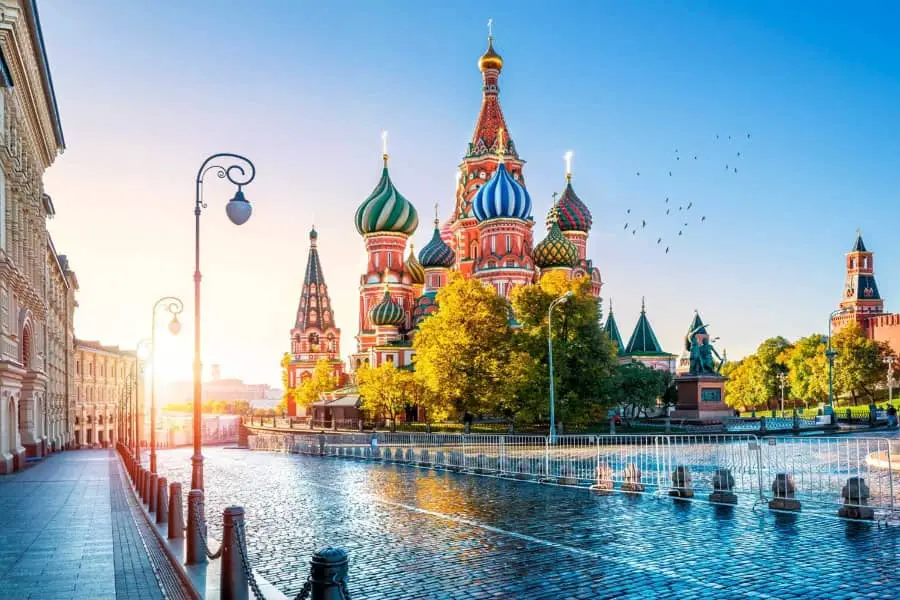 56th Parallel is an independent travel company with offices based in Sydney and Moscow. We specialise in just one country (although it could be argued that Russia is many countries in one!) and we've been running small group and private tours there since 2002. 
Our Background 
After years of exploring and falling in love with the country, we realised there were very few reliable, English language options available for travellers seeking high quality tours in Russia. 
As well as offering a unique selection of tour itineraries and custom trips, we set out to become destination experts and a world-class resource for detailed information regarding travel in Russia. Our founders have deep and longstanding relationships with Russia. We use our cultural understanding and our network of professional connections throughout the country to provide a seamless end-to-end travel service and a truly immersive, truly Russian experience.
How We Work
Organising an overseas school trip is a complex task. That's why 100% of the organisation and logistics are done by us. We work with you to find or design an itinerary to fit your curricular needs, time and budget, help arrange visas (for Australian passport holders only) and insurance and book all accommodation, transport and activities. We understand the importance of risk management and we're committed to the safety and wellbeing of your students, providing around-the-clock support through our Sydney office and on-the-ground staff. 
Who We Work With
We work with trusted, professional and enthusiastic Tour Leaders in Russia with in-depth insights into Russian history, art and culture. For education students wanting to focus on a particular subject, such as war history, literature, classical music or dance, our Tour Leaders work together with expert local guides with specialised knowledge in their field.
With our extensive knowledge and outstanding services, we are a fully licensed, bonded, insured and accredited travel provider. Our business is a member of AFTA, CATO, ATAS and ATTA. 
Educational Tours to Russia: What We Do
All-inclusive trips – We consider all dietary requirements, accommodation, provide a variety of reliable transport options and include all activities within our educational tours. However, domestic and international flights to Russia are not included in the tour price – instead, our team provides the best travel advice on travelling to and from Russia. The only exception for booking flights would be potentially large groups of students. 
Customised Itineraries – Our Russia educational tour itineraries are tailored according to your school's unique preferences, including the trip destination, travel style and seasonal factors. As a Russia travel specialist agency, our goal is to provide the most seamless and memorable travel experiences for you and your students. To make your trips perfect, we'll revise your itinerary as many times as necessary cost-free. 
Low Entry Fee – For our payment policy, the cost of the educational tour to Russia is split into two payments over an agreed schedule. We offer a low commitment fee of only 25% to make a confirmed booking and begin travel preparations. Teachers/guardians and students will be able to pay off the remaining 75% fee by 60 days prior to departure.
Teachers Travel Tree – Our payment policy allows flexibility as we allow one teacher to travel free per specific number of students. The teacher's travel costs are factored into the students' overall fees. *There needs to be a minimum number of students for this condition to apply. 
Travel Insurance – We are partnered with the affiliate travel insurance agency WorldNomads, which provides professional advice and flexible travel insurance designed to support your school in cases of emergency. It covers a range of expenses ranging from overseas medical issues, evacuation, baggage and adventure activities. 
Russian Visa Services – To prepare you for Russian visa application processes, we provide comprehensive guidance on the official invitation documents for your students and teachers. We also provide concierge visa services for school travellers who prefer to leave the entire application process to the experts from start to finish. 
Pre-departure Meetings – Prior to departure, we will provide information to students and parents on all the suitable learning objectives, itinerary destinations/activities, packing list, flights and contacts. We will also send relevant promotional materials for teachers who need to market the overseas educational trip to the student body.
Professional and Experienced Team –  Having over 18 years of experience in travelling and planning tours within Russia, our team are incredibly knowledgeable and reliable specialists who can make your travel experience even more worth it. Our educational travel guides/consultants will be with your students and teachers every step of the way, giving you amazing local expertise.
No Waiting In-line Policy – All of your students and teachers will enjoy free admission to all venues and excursions included in the program. You'll never have to wait in line for hours and hours to gain access. Every educational tour to Russia is accompanied by a professional guide who will not rush your experience, allowing you time to enjoy the beautiful scenery.
No Hidden Fees – The final price that we charge for your educational tour will be the exact price you will pay, which includes everything listed in the program. The only exceptions are optional activities you might choose to add while on tour. Of course, the final price for educational trips will vary depending on the school, departure date, number of students, travel style, activities, etc. 
Organising an educational tour to Russia isn't easy. But with 56th Parallel, we can help you in the entire planning process from start to finish!
More importantly, we can provide your students with the most immersive travel experiences to stimulate their academic engagement, build their confidence and develop appreciation for Russian culture. Don't hesitate – book with us now!