It's time to visit Altai in Russia, Siberia, if you're searching for an untouched, raw paradise of adventure and sublime natural beauty.
Three countries converge at the frontier of the Altai Republic: Mongolia, Kazakhstan and China, cradling the region in seven climatic zones and an amazing variety of landscapes. Most of Altai is a huge National Park, an enormous yet sparsely-populated area. This picturesque corner of Russia is home to over 7,000 lakes, snow-capped mountains – including Siberia's highest peak (Mt Belukha, 4,506m), shadowy forests, gurgling rivers, bears, wolves and even the ghost-like snow leopard.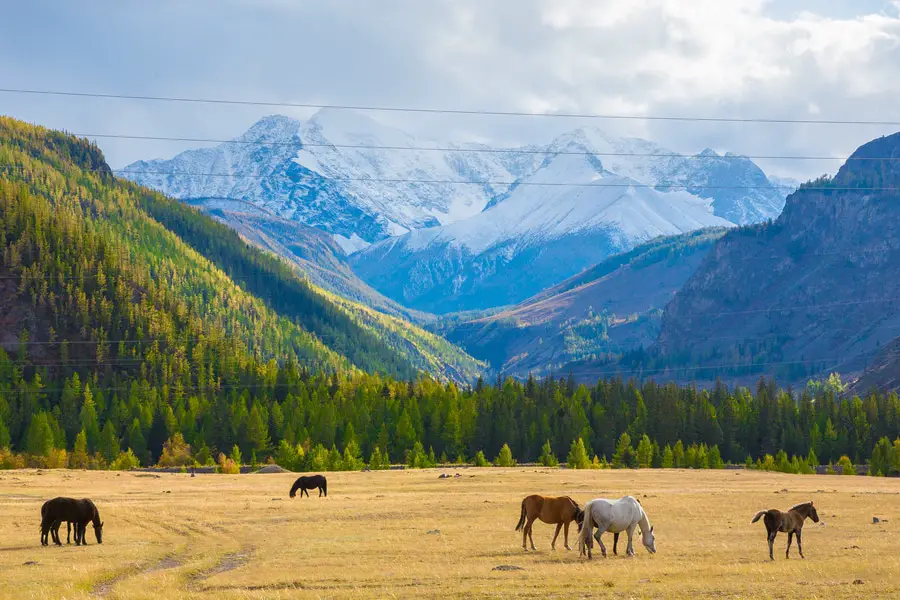 When visiting Altai, you'll witness how the unique topography unfolds into a mecca of adventure tourism where you can ski, raft, climb and hike through some of the most beautiful features of the natural landscape. Altai travel can also be quite relaxing, with charming highland villages, luxurious eco-resorts and mineral hot springs. Sit back and relax while you bath in mineral hot springs, climb the glaciers, hike the valleys or go for a leisurely ski with friends. Whatever your travel style, there is something for you on the list of 7 reasons you should visit Altai.
1. Visit Altai to hike Mountains and Glaciers
Also called "The Switzerland of Russia" or "open-air museum", Altai is the home to the UNESCO world heritage site – The Golden Mountains of Altai, which set the scene for some of the most spectacular hikes on the planet, with sweeping valley views, distant snow-capped mountains and lush alpine meadows. There are few places in the world where one can encounter so many landscape combinations in such a small area.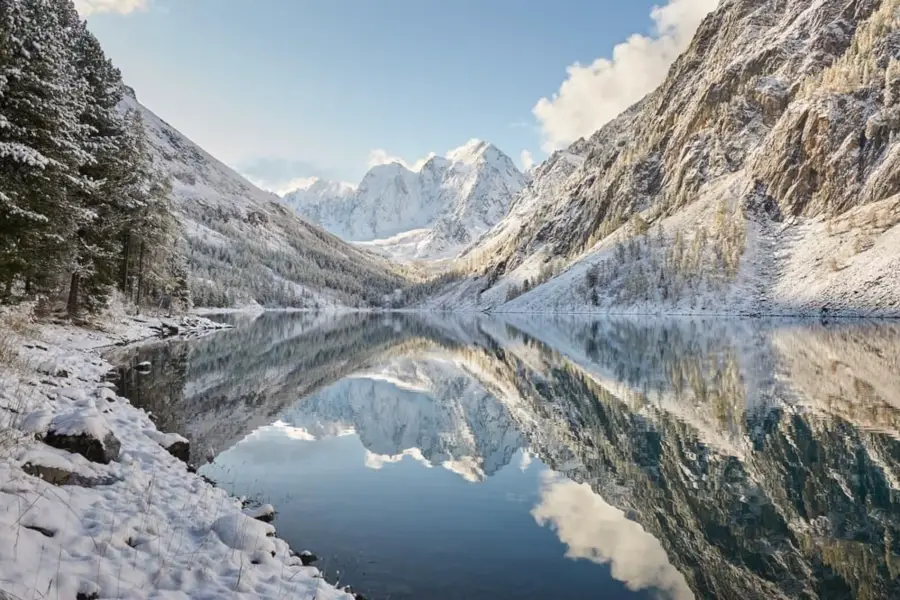 The real beauty of the Altai region is Mount Belukha, the highest peak of Siberia and Russia (4,506 m). It is actually 1,000 m higher than the surrounding mountain ridges, and it is one of the most popular attractions in the region among adherents of active tourism. Glaciers cover some 70 square km of its surface, as the mountain lies in a region of year-round snows. Those that have managed to reach Belukha's ice-covered crest quickly get a sense of the enigmatic and mystical force of the Altai Mountains.
2. Visit Altai to Explore its Endless Lakes and Rivers
There are over 60,000 kilometres worth of waterways in Altai, there are about 20,000 rivers and about 7,000 lakes, including the famous Lake Teletskoye. It's the largest and most beautiful lake in Altai, it's definitely one of the most popular tourist attractions here. About 70 rivers and 150 temporary streams flow into the lake, the largest of them, Chulyshman River, supplying more than half of the lake's water.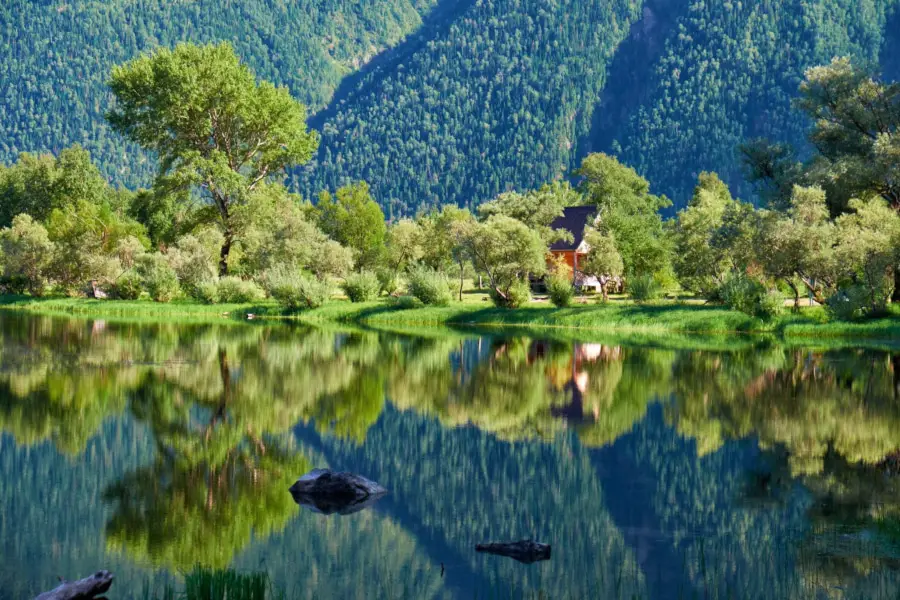 There are many other fantastic lakes popular among visitors, including Aya lake, Kucherlinskiye, Multinskiye, Shavalinskiye and Karakol Lakes, Manzherok and Darashkol Lakes. If fishing is your fancy, then there is also a plentiful supply of fish at the Ugul and Chulishman lakes, where you can fish until your heart is content. Common fish include trout, taimen, grayling, Peled, Perch and Pike.
3. Visit Altai to Enjoy White-Water Rafting
Altai rafting is a popular option for adventurers seeking to experience both the beautiful landscape and an adrenaline rush. Brave the currents through a complex system of waterways, giving rise to some outstanding rivers for rafting like the Katun, Charysh and Chuya. When you visit Altai, you'll be rafting in the steps of the Russian president, Vladimir Putin, who rafted the Charysh river in 2003.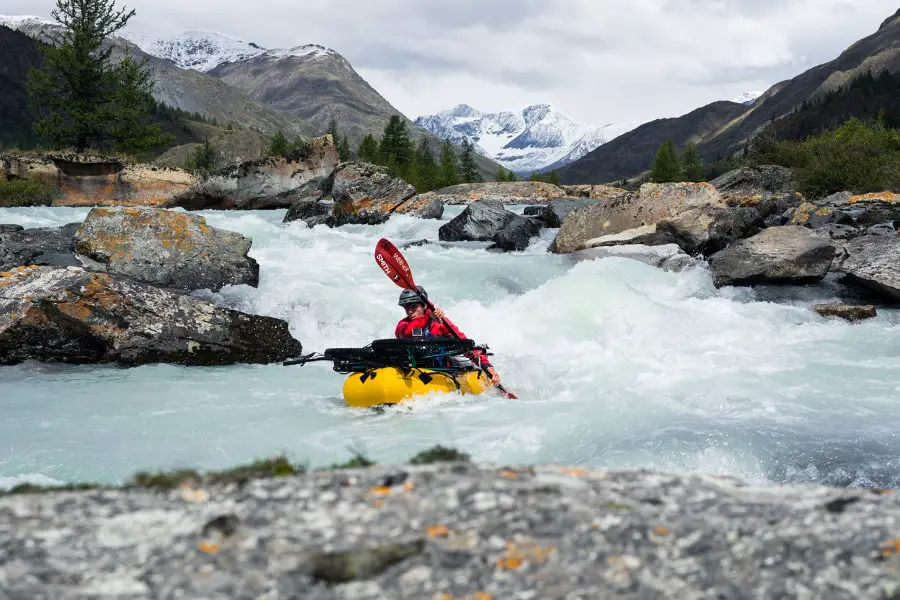 Extending from its source at the Mt Belukha Glacier, the Katun river carves a path through mountains, meadows and taiga, brining you an Altai white water rafting experience akin to the high water of the American Grand Canyon. The Katun River is one of the most favoured routes of rafting enthusiasts because of its breathtaking views and heart-stopping high water.
4. Visit Altai for Pristine Landscapes
The Altai republic spans 92,600 square kilometres, and it is a land where myths and legends are incarnated into reality. It's one of those rare corners on the Earth where Nature decided to show everything it was capable of. Broad and boundless views of steppes, luxuriant varieties of taiga thickets, modest charm of deserts, severe splendor of snowy peaks, laconic beauty of tundra – the diversity of landscapes here is so rich, it is as if you are turning over pages of a geographical atlas!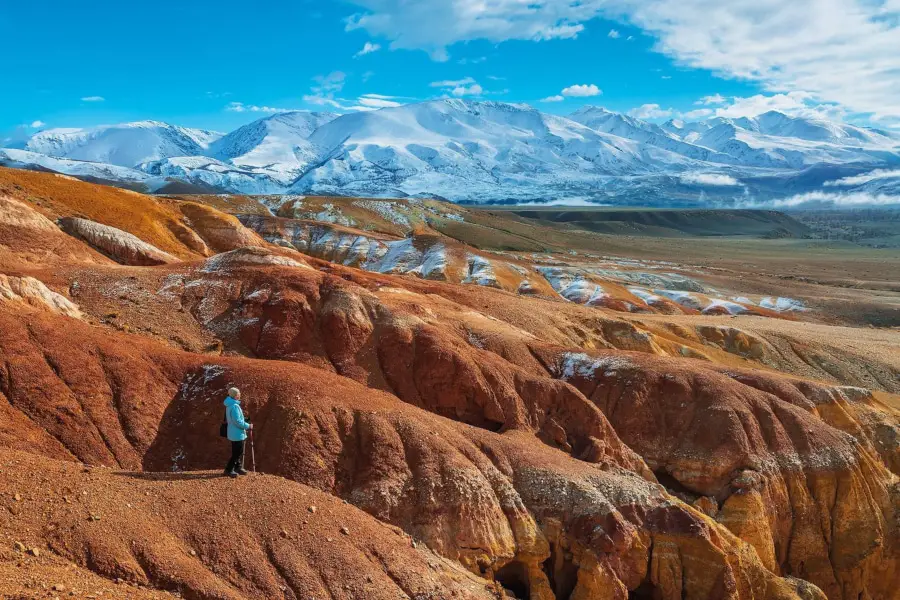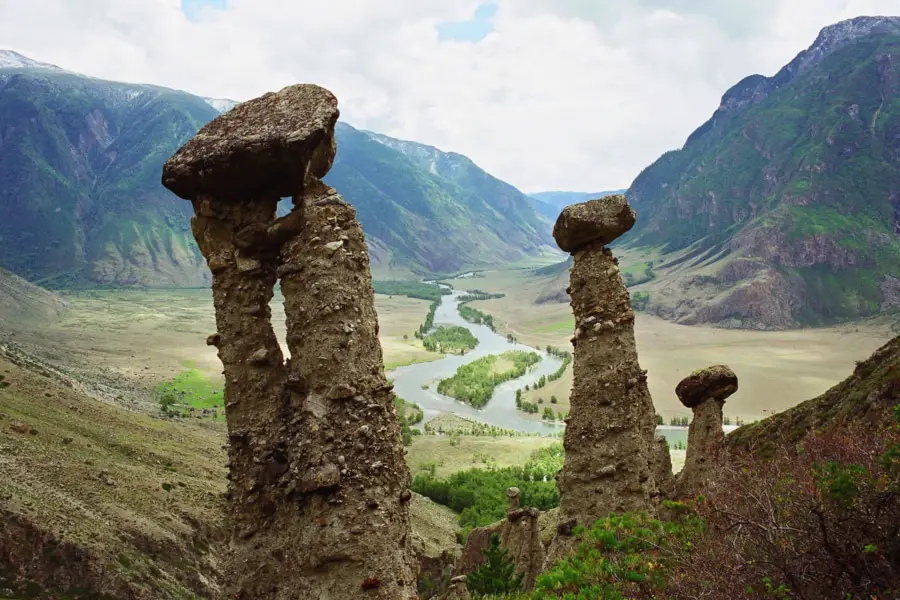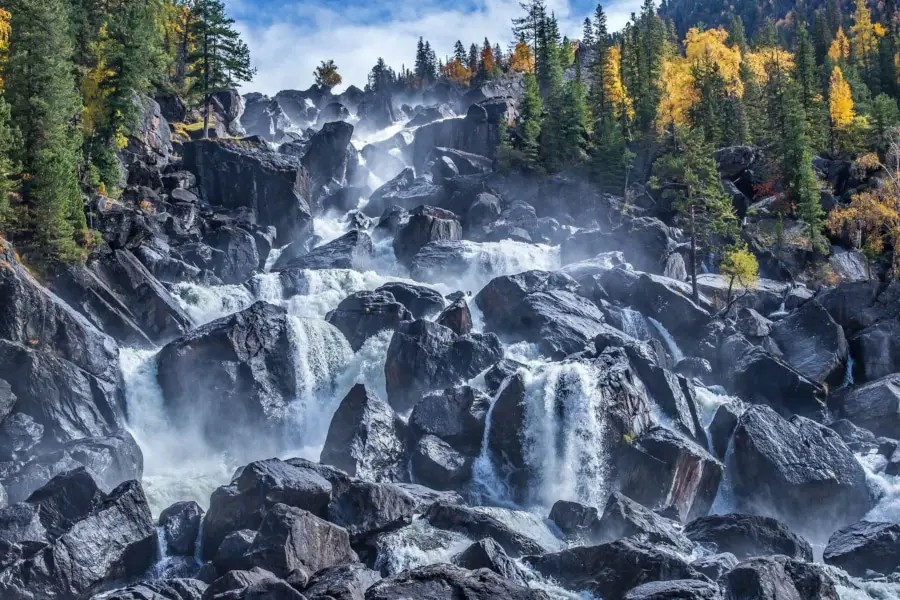 5. Take a Scenic Drive Along Chuisky Highway – Siberia's Silk Road
The Chuysky Trakt, which rambles on for about 1,000 km, starts in Novosibirsk (2,812 km from Moscow) and extends across Altai down to Russia's border with Mongolia. Until the very beginning of the 20th century the Chuysky Trakt remained a dangerous mountain path that merchants and traders could cross only on horseback. It was only in 1901 that construction began on an actual road.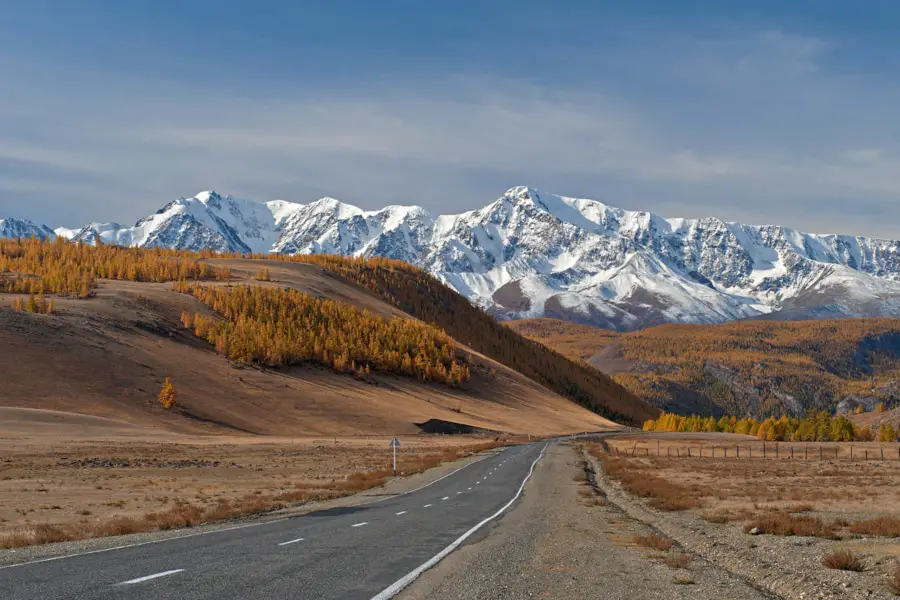 Nowadays, Chuisky Trakt (M-52 highway) is Altai's most famous road, and in 2014 was nominated by National Geographic as one of the top ten most beautiful roads worldwide. They consider it to be on par with the Dalton Highway in the U.S. and National Route 40 in Argentina. The road is wonderfully scenic, snaking through the unique climatic zones of the region and taking you through taiga, steppe, meadows and fields as you cruise through the Altai Republic.

6. Try Your Luck to Spot a Snow Leopard When Visiting Altai
There is a plethora of natural beauty and exotic wildlife sprawling the expanse of the Altai region, varies from big mammals to small birds (230 species) and fishes (20 species). It is home to some of the most beautiful animals on the planet including the eurasian lynx, corsac fox and the wolf. Staring into the peaks of crumbling shale and slate, you might be fortunate enough to spot the luxurious coat of a snow leopard, the 'ghost of the mountains', as he crouches in the shadow of boulder, eyeing the sleek contours of an ibex.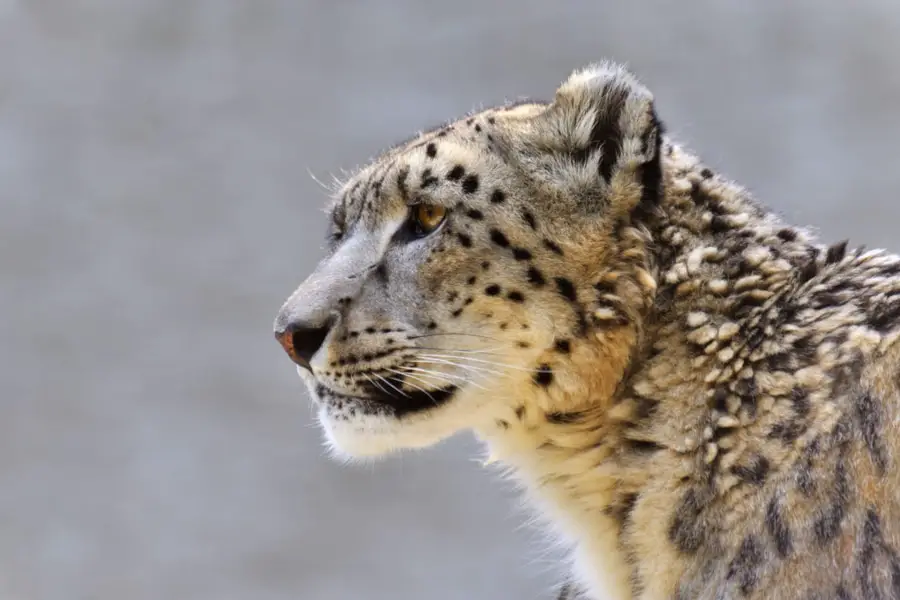 Camel and yak are a good Mongolian touch to the picture of the Russian Altai. Golden eagles soar high above the cliffs, casting shadows on the scene below with their 2,5m wing span as they scour the earth in search of foxes and other prey. Brown bears not only grace the terrain of Kamchatka, but their population extends as far east as Altai. Visit Altai to marvel at their hunting prowess, as they emerge from the depths of pine forests in search of hares and reindeer. Wildlife is also abundant in the mountains, and you should keep an eye out for the weasel, chipmunk and squirrel.
Some species of animals, which can still be found today in the Altai mountains, are disappearing. Among them the above-mentioned snow leopard and also the Siberian mountain goat.
7. Visit Altai to Immerse Yourself in a Unique Nomad Culture
Russia's Altai Republic is home to just over 205,000 people, comprising ethnic Russians (57%), and indigenous Altaians (31%), Kazakhs (6%), Telengits (1%), Tubalars and other groups. For the sake of comparison, the state of Indiana is the same size but has a population of 6.5 million.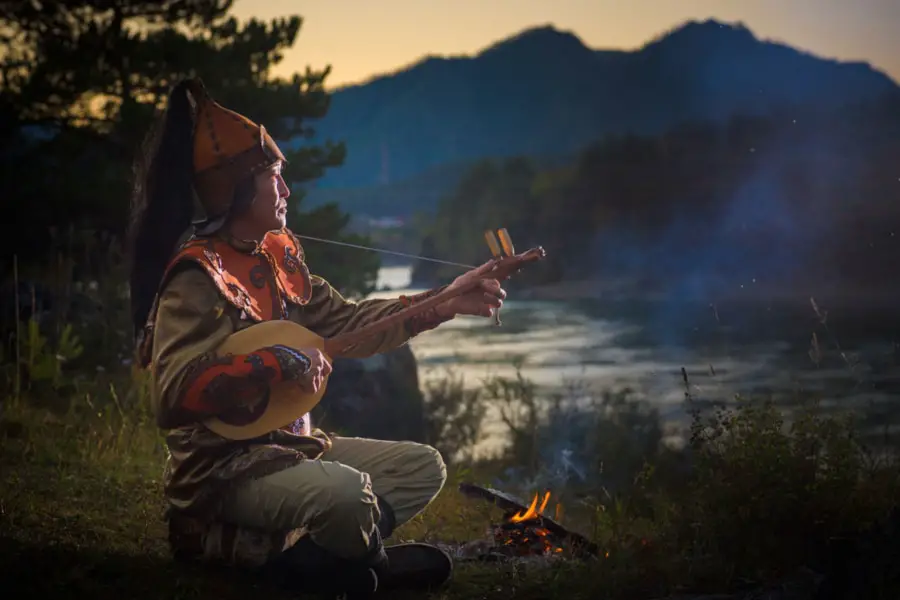 The indigenous inhabitants of Altai are a Turkic people, known as Altaians. They are alleged to be descended from the Paleo-Eskimo peoples, who reside in the Altai Republic about 1,5 million years ago. Many Altai people retain their native language and culture (including throat singing), as well as speaking Russian. There are also a variety of religions including Christianity, Islam, Buddhism and Tengrism. Many of the traditional peoples remain Shamanists – so your visit to Altai might include meeting an authentic Shaman – while others have converted to Russian Orthodoxy or Burkhanism.
The Altai Republic has long been regarded as an area of spiritual and occult significance, and Russian philosopher and painter Nikolai Rerikh (Nicholas Roerich) visited the region in the early 20th century in an attempt to locate the entrance to Shambala, the mythical enlightened land of Tibetan Buddhism.

8. Visit Altai for its Rich History and Archeology
Altai is home to a wealth of historical and archaeological artefacts, including the ancient rock carvings, petroglyphs and drawings that continue to fascinate archaeologists today. Experts have been studying the area for more than a century, with each expedition deep into the heart of the valleys and gorges uncovering more fingerprints of the past.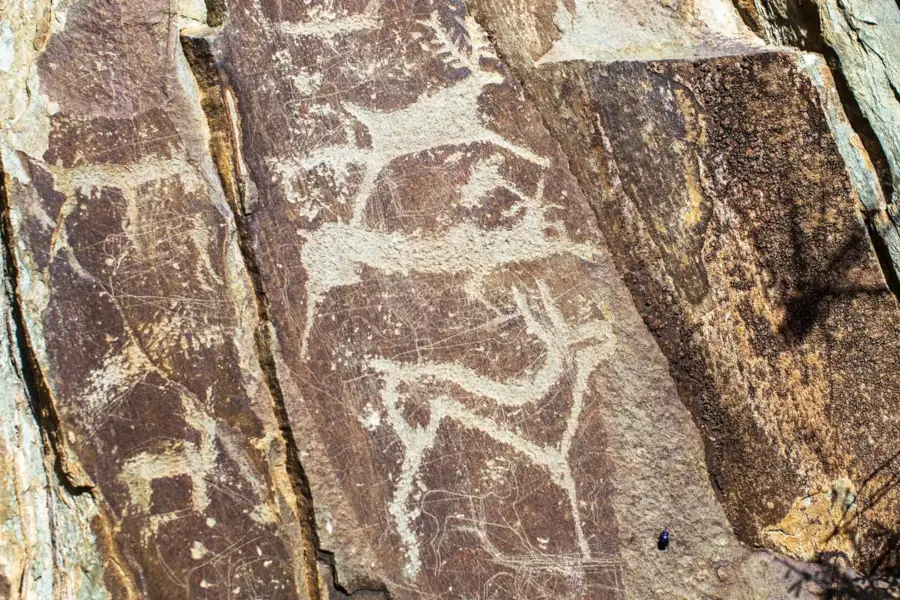 Strangely some parts of the Altai Mountains have no petroglyphs at all, while others are like alfresco picture galleries from millennia past. One such place is remote Saldyar, on the banks of the Katun River, a place separated from the outside world by the high jagged peaks of the Saldyarskiy pass.
---
As the centre of Eurasia, and one of the last untouched regions of natural beauty and wildlife in the world, Altai is host to major ecosystems which support a diversity of life. From pristine mountains and aquamarine lakes to the historically to exciting martian landscapes, Altai travel is one tremendous adventure waiting to happen. Now that you're better acquainted with the natural beauty and exciting experiences that await you, be sure to include it on your perfect trip to Russia!
See the beauty of Siberia's Altai below:
Related posts