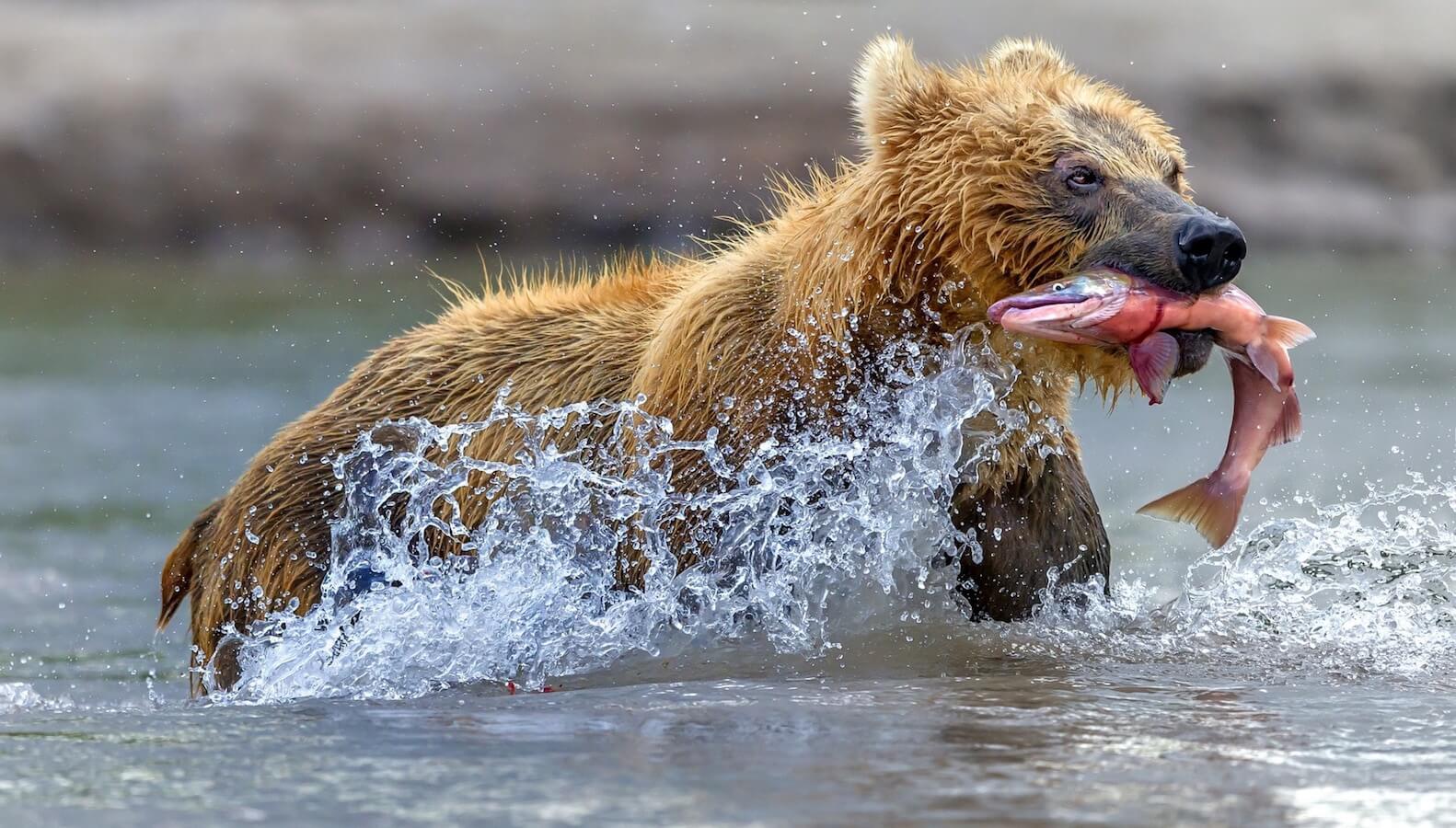 Perhaps the most potent symbols of Kamchatka's untamed nature are its towering volcanoes and the mighty Kamchatka Brown bears, the furry residents are the ancestor of the Alaskan Kodiak bears. These two iconic natural emblems are the main subjects of our Kamchatka bears and volcanoes tour, an adventure into the wilds of Russia's Far East that's equal parts thrilling and humbling. Including three nights staying in a cabin on Kuril Lake at the height of the bear's salmon hunting season, this Kamchatka wildlife watching tour will get you closer than you ever imagined to the animal inhabitants of the Kamchatka peninsula.
Kingdom of the Brown Bears in Kamchatka tour highlights:
Kuril Lake during the summer salmon run is one of only a few places where visitors can observe hunting brown bears in their natural habitat at close proximity. To get the best chances of adrenaline-pumping close encounters and amazing photos ops, we'll watch bears feed and frolick along the shore from a motorboat, as well as on-land from a special viewing platform overlooking prime fishing grounds.
Take off in a Russian Mi-8 helicopter for a breathtaking flight to the Khodutka River hot springs, nestled in a forested valley where we'll bathe, relax and camp for the evening. The largest collection of hot springs in Kamchatka, water temperatures in the various spring pools range from 40 and 60°C.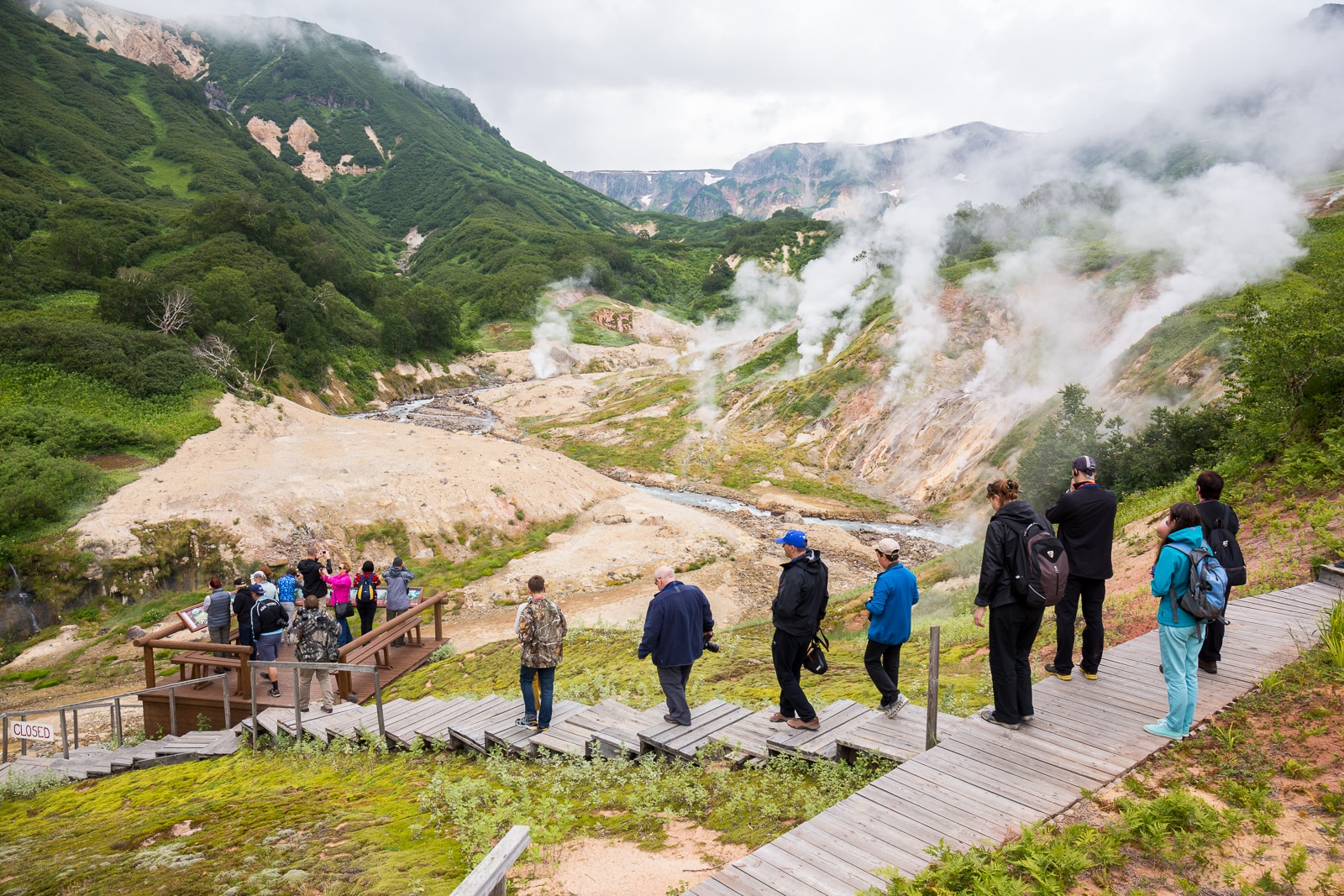 There are adventure travel destinations. And then there's Kamchatka. If you crave transformative travel experiences, communion with nature and wilderness that is still truly "wild", our Kamchatka tour will fulfil your frontier travel fantasies. The remoteness and sheer size of the Kamchatka Peninsula don't always make for a leisurely vacation, but Kamchatka Discovery with private transport makes seeing most of the Siberian spectacular sights possible over eight enthralling days.
To make the most of your time in the peninsula, our Kamchatka tour will take you by 4WD, on foot, and on board a boutique cruising yacht. Perhaps the most ideal way to travel Kamchatka's great distances is by helicopter. On one of our optional helicopter excursions, land next to Kurilskoye Lake to observe the famous brown bears, or take a fly-over across the Valley of Geysers for an incredible bird's eye view of the kind of bizarre and beautiful primitive landscapes that make Kamchatka so alluringly otherworldly.
Kamchatka Tour Highlights
Avachinskaya Bay cruise: Spend half a day tracing the twisting coastline from tranquil Avacha Bay out to Starichkov Island, a nature reserve renowned for its seabird population
Volcano trekking around Mount Vachkazhets: Discover the surprising beauty of the peninsula's volcanic landscapes on a circuit of the Vachkazhets volcano, an easy four-hour hike passing flower-filled meadows, waterfalls and panoramic mountain viewpoints