Looking to satisfy your tastebuds while exploring famous Moscow landmarks? we've got you covered! Being Russia's historical, megacity capital, Moscow is bursting at the seams with incredible buildings and landmarks that embody the country's rich history and culture.
Strolling the historic streets, you'll find yourself constantly in awe of the grand architecture awaiting you at every turn. All that sightseeing can really work you up an appetite, which is why we've compiled a list of the best restaurants, cafes and fast food joints near Moscow's most famous landmarks. You might have heard about the rich Russian food culture, so some of these places are where you can experience it!
While we've focused mainly on restaurants serving Russian cuisine (from fine dining through to budget snacks), there's a Moscow eatery out there to cater to almost every craving, so we've included a few international options for you as well.
Priyatnogo appetita. That's Russian for bon appétit!
Restaurants near State Historical Museum
Café Yulina Kukhnya
Cafe / Russian and European
Right next to the State Historical Museum is Café Yulina Kukhnya, a homey and friendly café owned by Russian actress and cooking show presenter Julia Vyotskaya. Here you can taste Julia's recipes which reflect her modern, home-style take on traditional Russian cuisine and global culinary trends, all made with local seasonal products.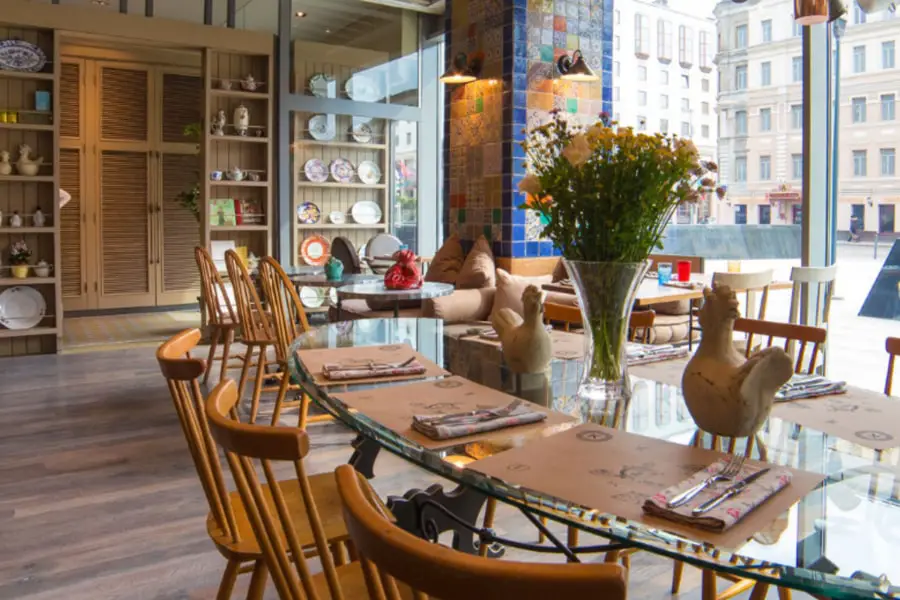 Emulating a rustic home kitchen, you'll see shelves and cabinets displaying plates, teapots, bottles of wines and Julia's recipe books against the walls with copper pots and hanging from the ceiling.
The menu features Russian family favourites such as beef Stroganoff in brioche with mashed potatoes, beef borsch with rye bread toast and Russian salad with salmon, spinach sauce and red caviar. You can also find dishes inspired by other countries such as a salad with minty bulgur and salted salmon, smoked chicken salad with tzatziki sauce, lasagne with chicken and mushrooms and many more.
Price Range: Mains approx. 550 – 1,300 RUB
Hours: Monday to Sunday 10:00am – 10:00pm 
Address: 69 Bolshaya Gruzinskaya St
Nearest Metro Station: Okhotny Ryad, Teatralnaya, Ploschad Revolutsii
Trip Advisor
Contact: +7 495 789 92 50
________________________
Brusnika
Cafe / Russian and European
A few minutes' walk from the State Historical Museum, you will find Brusnika, a fast service cafe where you can grab a quick bite to go, or sit down to a delicious, wallet-friendly meal. Named after the brusnika berry, which is found throughout Russian boreal forest, the interior design of the café is modern and stylish with a touch of forest inspired aesthetics. The sweet and sour brusnika berry is rich with nutrients and vitamins, reflecting the cafe's values of fresh, delicious and healthy eating.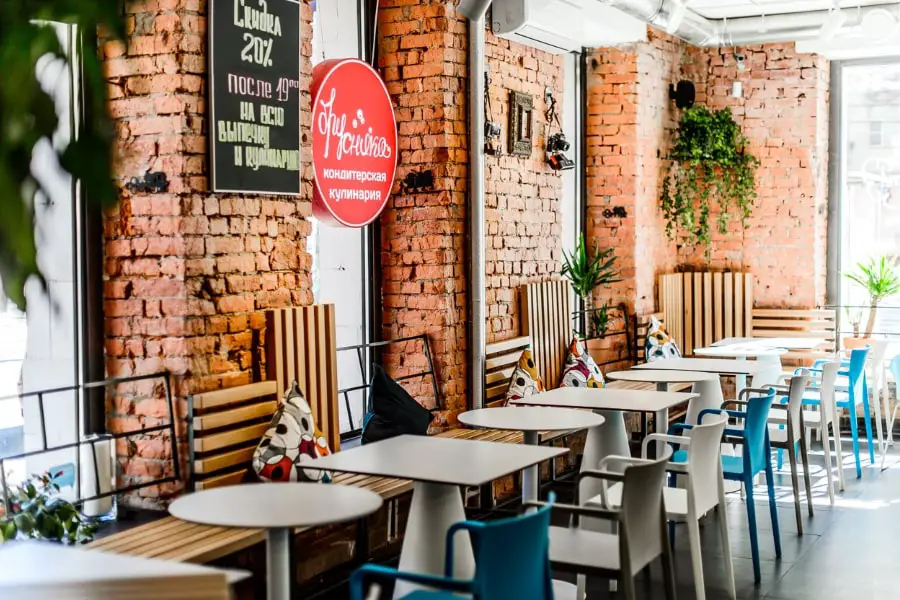 Brusnika is a Moscow take on the American fast food/diner format. It's quick, it's tasty and amazingly, it offers over 230 dishes, including authentic Russian cuisine as well as other traditional European food, which are freshly made every day. Their shelves are packed with take-home goods, from salads, hot dishes, side dishes, soups and sandwiches to cakes, biscuits, pies, pastries and bakeries.  
Price Range: 250 – 300 RUB
Hours: Sunday to Saturday 8:00am – 11:00 pm
Address: 1/12 Bolshoi Kislovskiy Ln
Nearest Metro Station: Arbatskaya or Aleksandrovsky Sad
Facebook
Contact: +7 495 626 22 31
________________________
Restaurants Near Kremlin Walls and Tower
Grand Café Dr. Zhivago
Café and fine dining restaurant  / Russian
Dr. Zhivago is just a block away from the Kremlin Walls and a short walk from the Red Square. Carrying the name of the iconic romance novel, the restaurant strives to create its own intriguing storyline by pushing the boundaries between old-style Russian cooking and contemporary reinvention.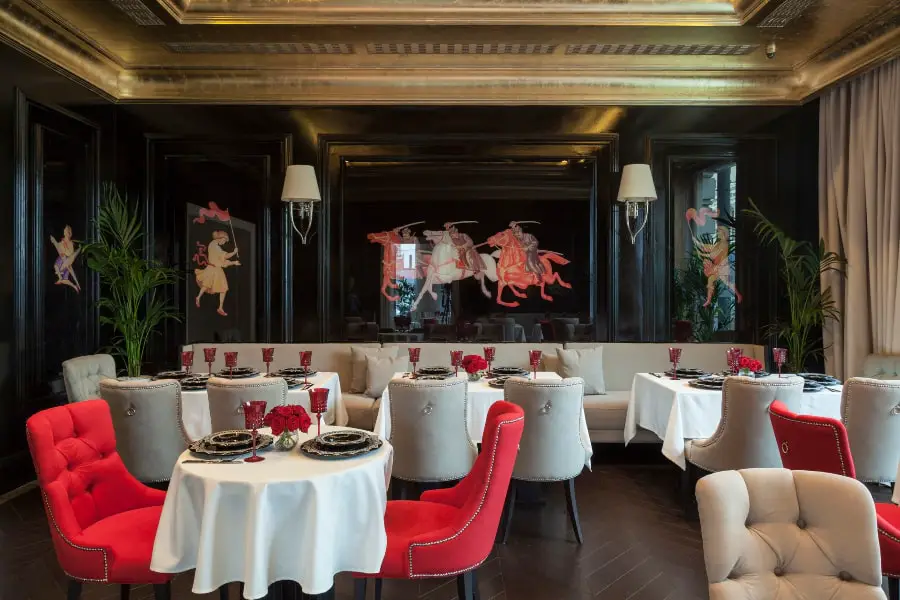 Inspired by the novel's imagery, the restaurant is overflowing with extravagant decor with a distinctly Soviet touch. The exquisite architectural details are illuminated by the natural light pouring from the floor-to-ceiling windows, facing towards the Kremlin walls. The bold and creative use of red and white accentuates every detail of the restaurant including the glassware, red chairs and beautiful hanging red light fixtures. The menu serves traditional Russian dishes with a modern twist including solynanka (Russian soup) with fish or meat, Moscow style borsch and beef stroganoff. They have an impressive vodka collection on display, as well as an exceptionally well stocked bar. If you're planning to order high end vodka and caviar, be prepared to spend a fair bit more than what our price guide below suggests!
Dr. Zhivago does have a dress code, singling out "sports clothes" and "beach clothes" as no-nos. The restaurant is an extremely busy during breakfast in the weekends so if you're planning to come here on a Friday, Saturday or Sunday morning make you place a reservation at least two weeks in advance.
Price Range: 1500 – 2500 RUB
Hours: Open 24 hours
Address: 15/1 Mokhovaya St
Nearest Metro Station: Okhotny Raid
Website: drzhivago.ru
Contact: +7 499 922 01 00
________________________
Korchma Taras Bulba
Restaurant / Russian and Ukrainian
Immerse yourself in an authentic Ukrainian dining experience at Kormcha Tara Bulba. Everything from the decor, the waiters wearing traditional Ukrainian outfits, the live folk music and the traditional Ukrainian food work together to create a warm and comforting atmosphere. The entrance is filled with beautiful flowers and walls draped with vines, making a perfect spot to snap a photo for Instagram. The floral theme follows into the dining room, with flowers painted along the walls alongside colourful artworks and paintings.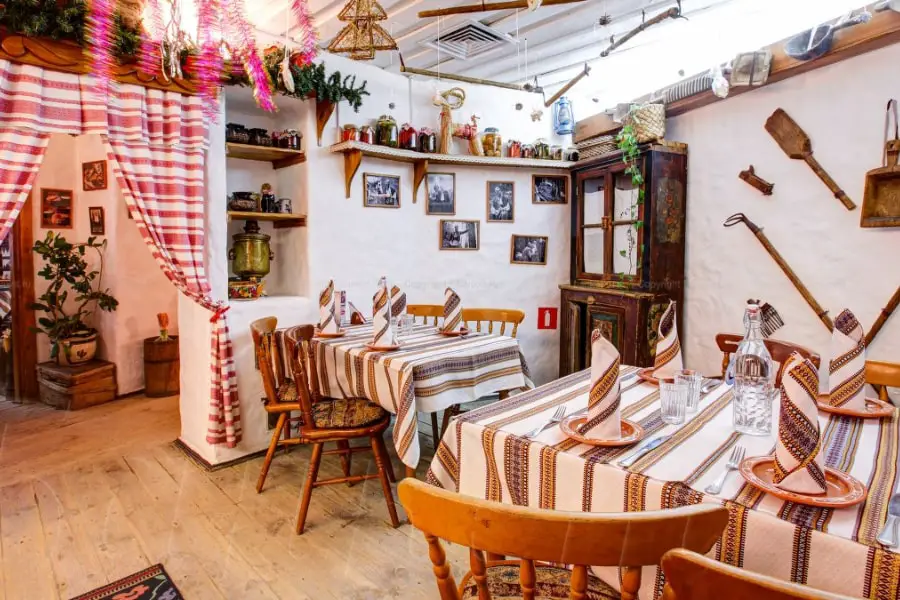 The menu offers a variety of traditional homestyle dishes. Try their okroshak with kvas, a cold summer soup made with fresh seasonal ingredients and Russian rye bread. If you're looking for something to warm and hearty, try their excellent chicken Kiev, made with chicken fillet coated in eggs and breadcrumbs with a garlic and parsley butter filling.
Price Range: 200 – 800 RUB per person
Hours: Monday to Sunday 9:00am – 12:00am
Address: 8 Mokhovaya St
Nearest Metro Station: Biblioteka Imeni Lenina
Website: tarasbulba.ru Facebook
Contact: +7 985 644 85 44
________________________
Restaurants Near Tretyakov Gallery
Restaurant Bratya Tretyakovy
Fine dining restaurant / Russian and European
After touring the Tretyakov Gallery, take yourself to Brataya Tretyakovy, a traditional Russian restaurant known for its modern interpretation of classic recipes. Located in the Tretyakov mansion, you can dine in three different halls.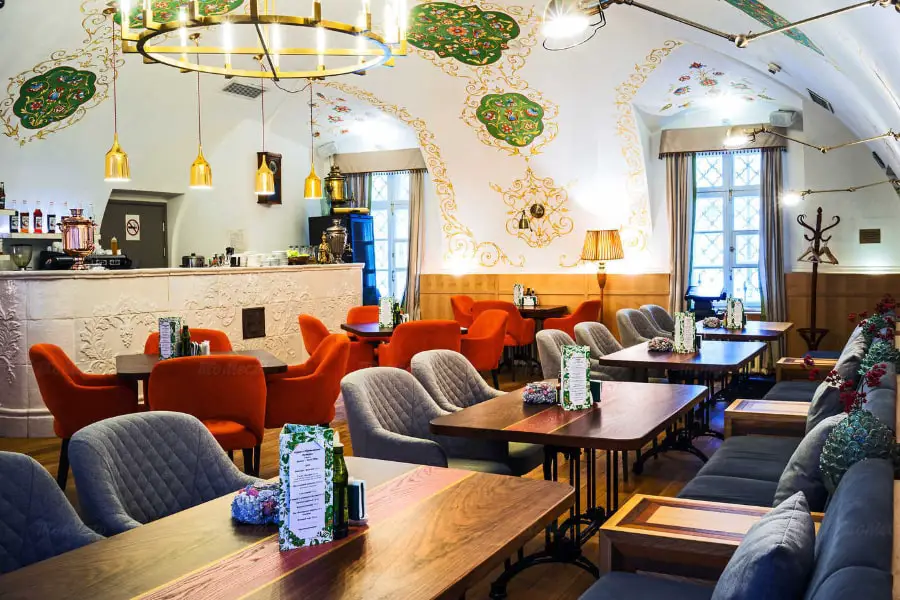 Each dining hall has its own aesthetic and unique atmosphere. In the brightly lit Grand Hall, you will find plush sofa seatings with the walls decorated with detailed Russian patterns and high vaulted ceilings. This theme flows through into the adjacent Small Hall where you first enter the restaurant. On the floor below is the Blue Banquet hall, styled as a noble estate, with a predominance of white, gold and blue making adding to its opulence and making it perfect as a luxurious, romantic dinner venue.   
The kitchen excels at superbly cooked dishes gleaned from traditional Russian recipes such as borsht with pampushkas, Russian pancakes with caviar and pelmeni and vareniki dumplings. The restaurant takes special pride in their patisserie, who perfect classic desserts such as tiramisu, crème brulee, blueberry cheesecake and many more.
Price Range: 1000 – 1500 RUB
Hours: Monday to Sunday 10:00am – 11:00pm
Address: 10 Lavrushinsky Ln
Nearest Metro Station: Tretyakovskaya
Website: tretyakovs.ru Facebook
Contact: +7 495 951 33 45
________________________
Vai Me!
Fast Food / Georgian
If you're looking for a place that offers quick, cost-effective and flavoursome meals and snacks near Tretyakov Gallery, check out Vai Me!, a Georgian cafe chain with a fast-casual dining style. It has a self-service format with buzzers to let you know when your food is ready, so you don't need to wait for your food at the checkout.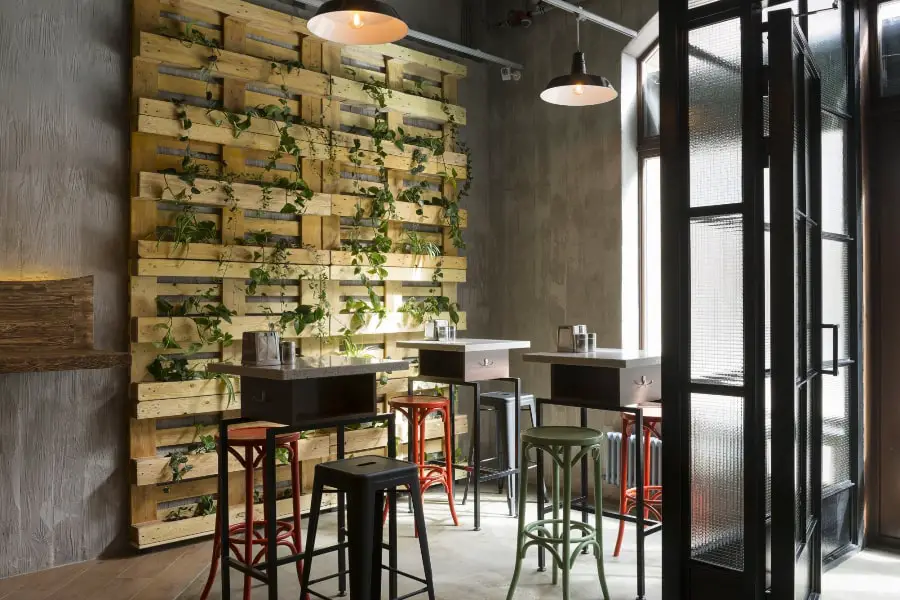 Despite the low prices, there are a variety of amazingly authentic Georgian dishes on offer. Muscovites love Georgian cuisine, and here they serve Moscow favourites like khinkali (Georgian dumplings), khachapuri (cheese-filled bread) and satsivi (chicken in walnut sauce).
Price Range: 150 – 300 RUB
Hours: Monday to Sunday 10:00am – 11:00pm
Address: 8 Pyatniskiy St, Section 1
Nearest Metro Station: Novokuznetskaya
Website: vaimecafe.com
Contact: +7 499 646 02 20
________________________
Restaurants Near St Basil's Cathedral
Stolovaya 57
Cafe / Russian and European
Just a two-minute walk from Russia's most iconic tourist site is this Soviet-style cafeteria. Here you can feel and taste the authentic Soviet nostalgia where, just like the old times, you take your tray and line up to choose whichever traditional Russian dish to try. While it's located in the midst of the luxury designer stores and boutiques of GUM, the prices here are more than compatible with the budget conscious.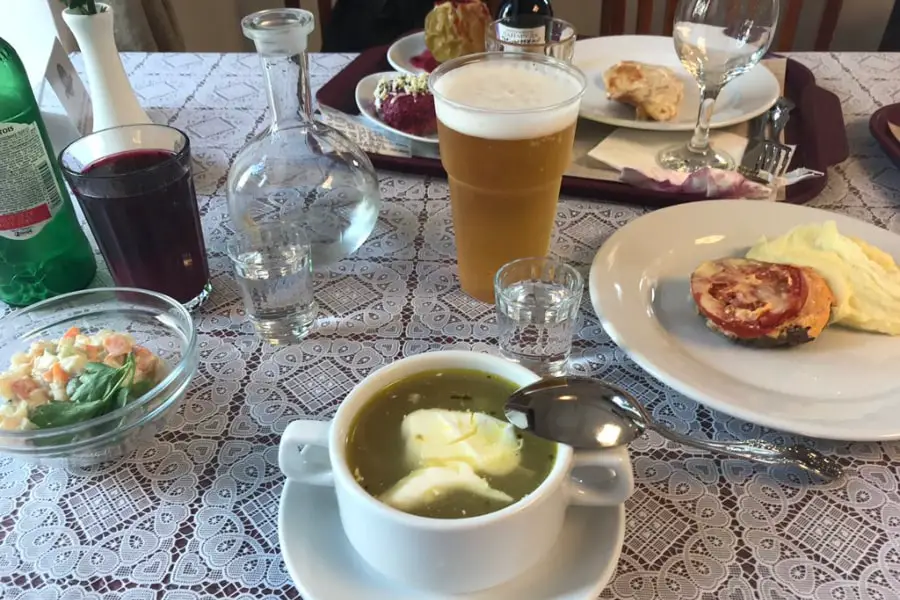 Try selyodka pod shuboy, which literally translates to "herring under a fur coat". It's a classic Russian dish which consists of layered potato, herring, carrots, beets and a generous amount of mayonnaise and grated egg. They also serve meat cutlets, beef stroganoff and Oliver salad, among other Russian favourites.
While queue may seem long and intimidating during peak hours, swift service ensures the line moves quickly.
Price Range: 200 – 500 RUB per person
Hours: Monday to Sunday 10:00am – 10:00pm
Address: GUM store, Red Square
Nearest Metro Station: Ploschad Revolyutsii
Contact: +7 495 788 43 43
________________________
Farsh
Fast Food / Burgers
If you're seeking to satisfy your burger cravings after visiting St Basil's Cathedral, head on over to Farsh, a burger chain that serves exceptionally tasty burgers at affordable prices. The secret to their burgers is the quality of their ingredients. They use black Angus marbled beef from the Bryansk region, and they make their own soft and tender buns.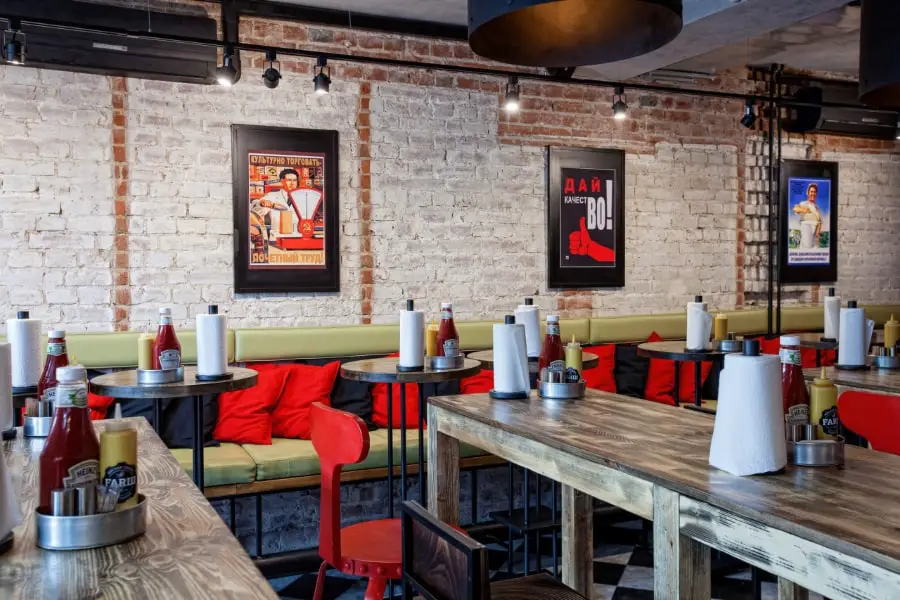 The interior of the restaurant features dark, trendy tones matched with bright red seats. They also have an open kitchen where you can watch in anticipation as the burger patties sizzling away on the grill top.
Price Range: burgers 300 – 630 RUB
Hours: Monday to Sunday 10:00 pm – 12:00am
Address: 12 Nikolskaya St
Nearest Metro Station: Lubyanka
Website: farshburger.ru
Contact: + 7 495 258 42 05
________________________
Restaurants near Gorky Park
Garage Café
Cafe/Fine Dining / European and Asian Cuisine
Artful cuisine and striking visual art coexist in this laidback yet sophisticated space inside the Garage Museum of Contemporary Art. Facing the landscaped greenery of Gorky Park, Garage Cafe is cosy and atmospheric, with light pouring in from large glass windows. If you're visiting during the warmer seasons, try to get a table on their outdoor terrace, with comfortable seating and premium views over the beautiful scenery of Moscow's largest expanse of green space.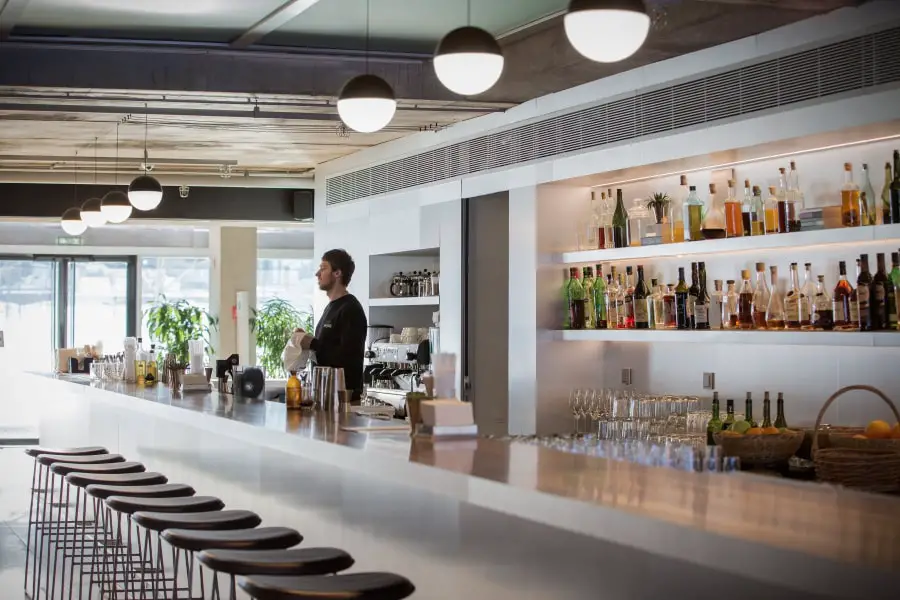 The kitchen crew are creative with their dishes, working from a menu that showcases their own unique interpretations of classic European and Asian dishes. Quality ingredients are a given, with a menu that changes to reflect the best local produce of the season. Expect warming, hearty dishes and a range of hot beverages in winter, and light, fresh meals and cooling fresh juices over summer.
Price Range: 400 – 1000 RUB per person
Hours: Monday to Sunday 11:00am – 10:00pm
Address: 9/32 Krymskiy Val
Nearest Metro Station: Oktabrskaya
Website: garagemca.org
Contact: +7 495 645 05 22
________________________
Ostrovok
Cafe / Fine dining restaurant / European
Sitting right next to the Golitsyn Pond within the grounds of Gorky Park, this cafe is a great place to sit and relax, away from the hustle and bustle of the metropolis. The interior design is simple and clean, with dark wooden desks, chairs and floor contrasting against the white wooden walls and ceiling.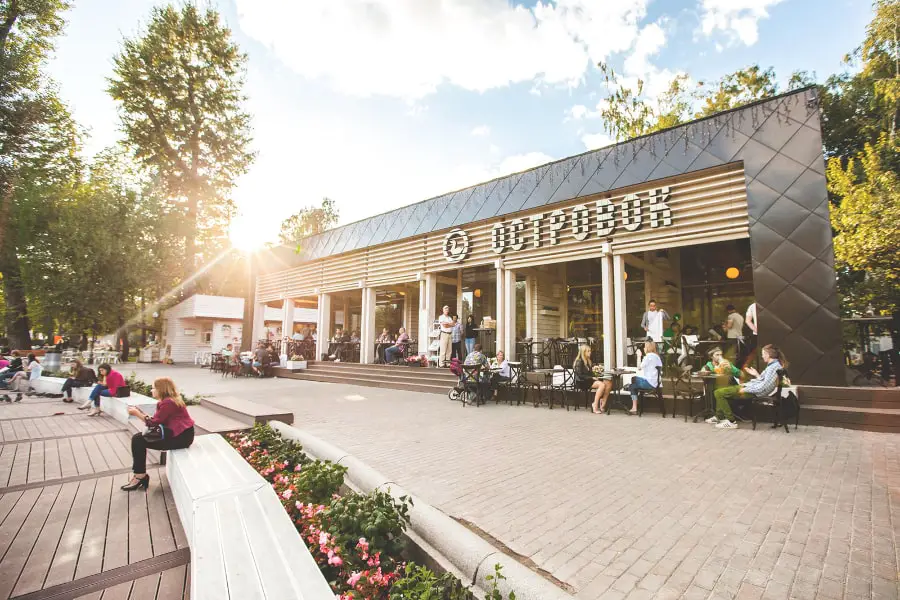 Their summer menu features a juicy fried pork neck, marbled beef steak, salmon steak and sea bass cooked on an open fire. They also have a variety of refreshments to keep you cool after a long, pleasant walk through the park.
Price Range: 600 – 850 RUB per person
Hours: Monday to Sunday 12:00pm – 11:00pm
Address: 9, Krymskiy Val, Park Gorkogo
Nearest Metro Station: Oktakrskaya
Website: cafe-ostrovok.ru Facebook
Contact: +7 495 783 04 06
________________________
Restaurants Near Cathedral of Christ The Saviour
Kukhmisterskaya Professora Pufa
Cafe / Russian
Just a few minutes' walk from the Cathedral of Christ the Saviour, you will find this cosy little gem. The interior design of the cafe is simple and trendy with an interesting collection of mechanical parts framed with glass in the wall.
Their menu features traditional Russian cuisine with a contemporary approach. Here you will find classic beef borsht made with fresh natural ingredients and lapsha (Russian noodle soup) to warm you up during cold weather as well as pelmeni, beef Stroganoff and much more. Many diners praise their breads including bukhanets and lamot.
Price Range: 300 – 700 RUB
Hours: Monday to Sunday 10:00am – 10:00pm
Address: 9/1 Volkhonka St
Nearest Metro Station: Kropotkinskaya
Website: professorpuf.ru
Contact: +7 916 054 43 05
________________________
Pelmeni
Mid-range restaurant / Russian
A firm favourite across Russia, pelmeni dumplings consist of a variety of delicious fillings wrapped in thin unleavened dough. Specialising in this Russian staple, Pelmeni serves handmade dumplings with a wide choice of fillings including Yakut style with pork, egg, cream and onion, Siberian style with pork and beef and Georgian style with pork and beef. They take pride in using natural products in throughout their extensive menu.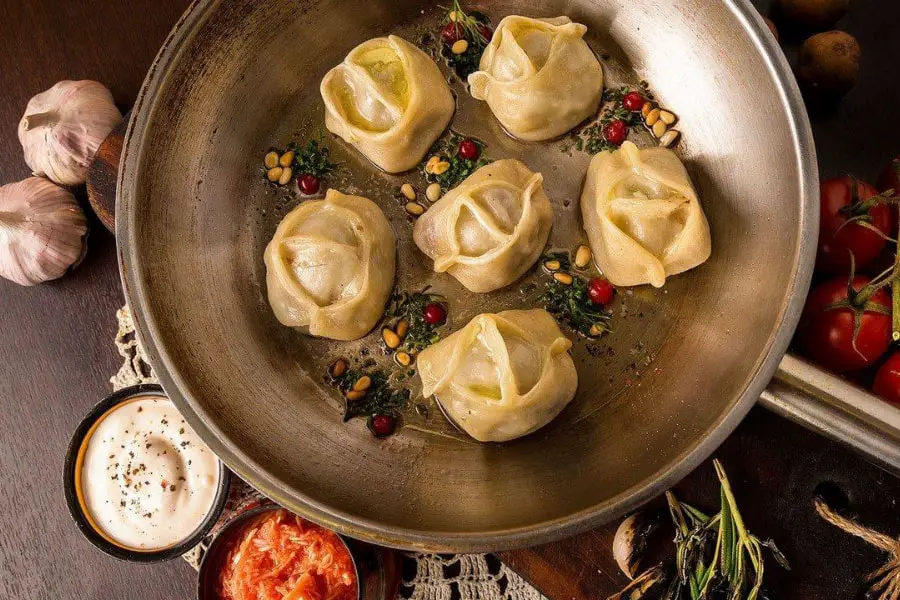 This restaurant also has a large selection of dessert for you to choose from including homemade currant cheesecake, Prague cake, apple strudel with ice cream and medovik (Russian honey cake.)
Price Range: 300- 700 RUB per person
Hours: Monday to Saturday 10:00am-11:00pm
Sunday: 10:00am – 10:00pm
Address: 6/7 Lenivka
Nearest Metro Station: Kropotkinskaya
Contact: +7 495 697 60 76
________________________
Restaurants Near Arbat Street
Varenichnaya No.1
Budget restaurant / Russian
As you walk down the cobblestone roads and admire the elegant classical statues of Arbat Street, Mosco's most popular tourist site, step into this restaurant where you meet traditional Russian gastronomy. Varenichnaya No.1 is a chain serving authentic Russian cuisine such as the typical chicken a la Kiev, vareniki (dumplings fried in butter) and lighter pelmeni meat and vegetable dumplings with variety of filling ingredients.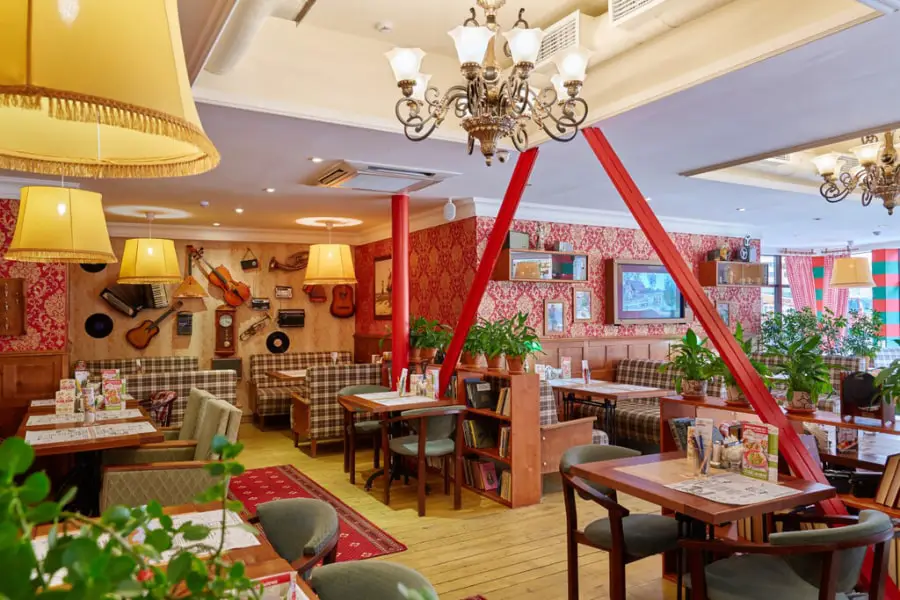 The restaurant emulates the Soviet times with antique furniture pieces, wooden bookshelves lined with vintage volumes, and retro TVs and radios. The waitresses are dressed in Soviet style, while music from the era plays in the background, perfectly completing the nostalgic, slightly quirky experience that's made Varenichnaya one of Moscow's best-known eateries among both locals and tourists.
Price Range: 200 – 500 RUB per person
Hours: Monday to Sunday 10:00am -12:00am
Address: 29 Arbat St
Nearest Metro Station: Smolenskaya
Website: varenichnaya.ru
Contact: +7 299 241 12 11
________________________
Pirosmani
Mid-range restaurant / Georgian
Promising authentically enjoyable Georgian food, Pirosmani is located in the bustling heart of Arbat Street. The restaurant buys ingredients and products every morning to ensure its meals are packed with flavour and freshness. The interiors are simple with subtle Georgian touches in the decor and artwork hanging from the walls.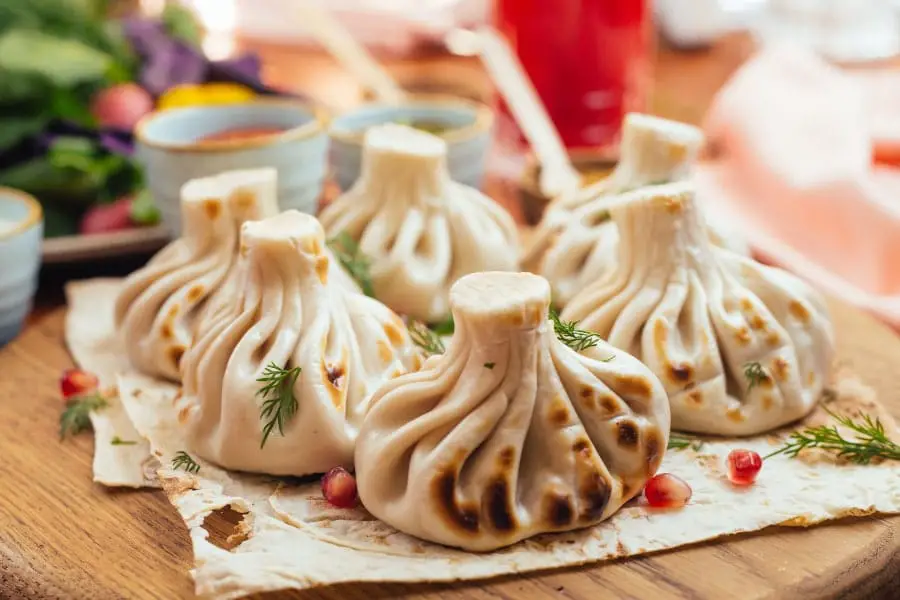 The menu serves traditional pkhali (a dish of chopped and minced vegetables with ground walnuts and herbs), satsivi (turkey and chicken put into walnut sauce) and lobio (a dish made with various kinds of beans as well as coriander, walnuts, garlic and onion). Combine these authentic Georgian dishes with a cosy and relaxed atmosphere, and you have a great spot to enjoy lunch or dinner with family and friends.
Price Range: 400 – 700 RUB per person
Hours: Monday to Sunday 12:00pm – 12:00am
Address: 25 Arbat St
Nearest Metro Station:  Arbatskaya
Contact: + 7 495 697 12 70
________________________
Restaurants Near Bolshoi Theatre
Ketch Up
Cafe/mid-range restaurant / International
Just a street behind Bolshoi Theatre is this cosmopolitan urban cafe featuring hints of industrial aesthetic thanks to exposed brickwork and worn-down pillars. Many young locals love the atmosphere, making it a trendy brunch or lunch spot during the day and place to enjoy the ambience of a trendy yet unpretentious bar at night.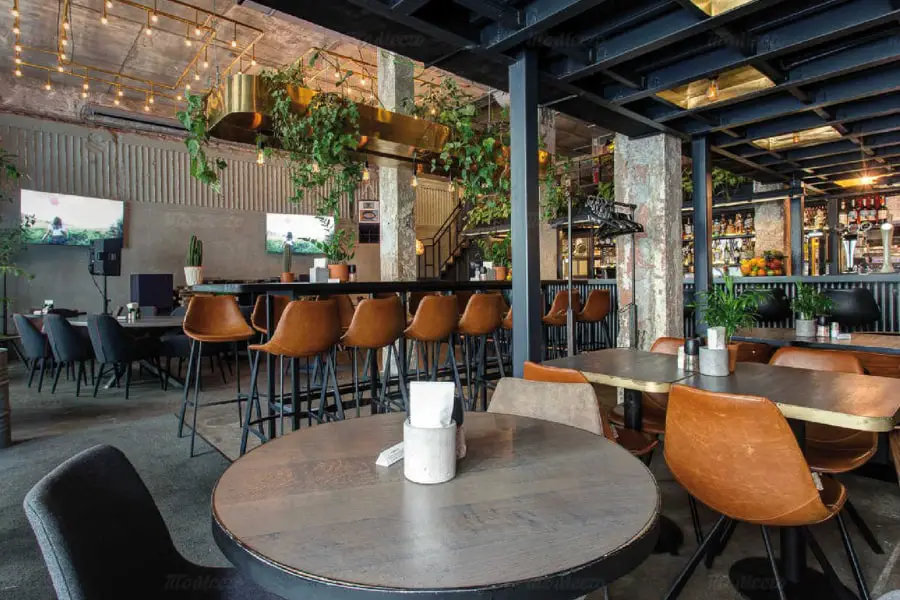 Here you will find various burgers such as the Mexican burger with guacamole, tomato salsa and jalapenos and the Italian burger with mozzarella, sun-dried tomatoes and olives, as well as their own signature Ketch Up burger. For a more substantial dinner meal, you can enjoy pork ribs, duck pastrami, Eastern squid with sautéed vegetables or their picanha steak mignon.
Price Range: 600 – 1000 RUB approx. per person for dinner
Hours: 24 Hours
Address: 6/3 Kuznetskiy Most
Nearest Metro Station: Kuznetsky Most
Website: msk.ketch-up.ru
Contact: +7 499 755 56 65
________________________
Vokrug Sveta
Food Market / International
If you want the option of trying a variety of international cuisines in one spot Vokrug Sveta has your cravings covered. This food market that serves freshly cooked dishes derived from 24 world cuisines, taking you on a gastronomic adventure. Despite being a food court, Vokrug Sveta's designers were able to create a stylishly contemporary space with a great ambience that draws you into the gourmet experience.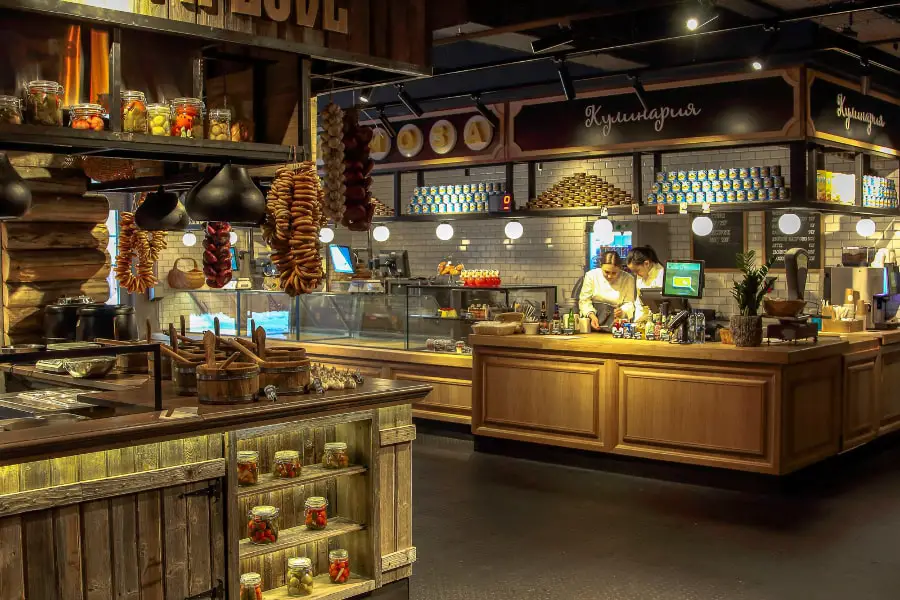 Here you can explore a mix of national cultures, traditional recipes and trendy culinary fusion dishes. Israeli for breakfast, Hawaiian poke for lunch, and at the end the day perhaps, a comforting Russian borsch or chicken Kiev. The combinations and choices are endless. The food is decently priced and served quickly. Simply place an order, take a buzzer and your food will be ready within minutes.
Price Range: 300 – 1000 RUB
Hours: Sunday to Thursday 11:00am – 11:30pm. Friday to Saturday 11:00am – 12:00am
Address: 10 Nikolskaya St
Nearest Metro Station: Teatralnaya, Ploschad Reolyutsii or Lubyanka
Contact: +7 495 967 77 77
________________________
Lepim I Varim
Budget restaurant / Russian
Lepim I Varim is famous for their pelmeni and to prove it, they make over 21,000 pelmeni every day. What's so special about their pelmeni compared to the hundreds of other dumpling joints in town? Their menu goes further than just the run-of-the-mill meat fillings.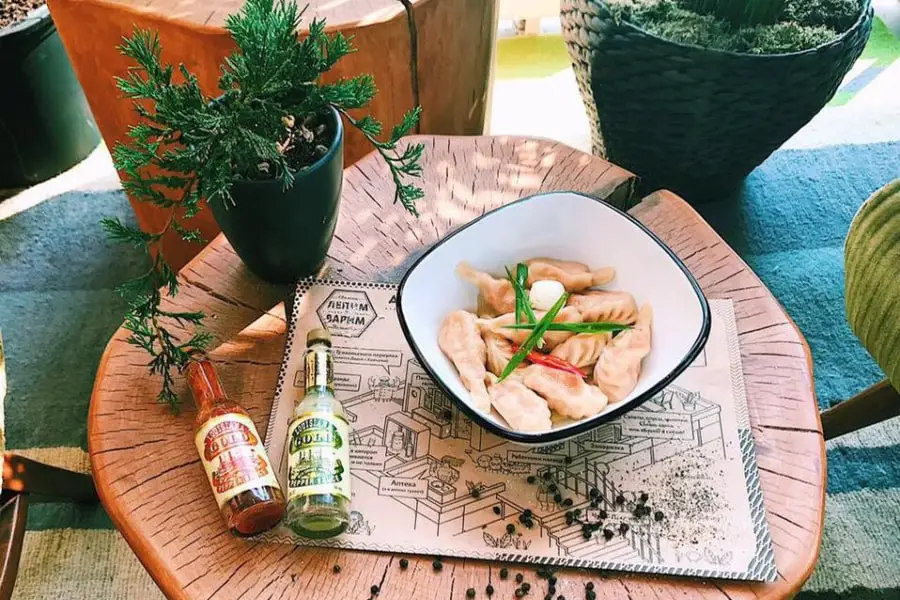 Choices range from the traditional to the totally unexpected. You can get everything from mashed potato, crab, lamb, salmon, beef, mushroom, chicken, cottage cheese and even cherry fillings, each encased in their own differently shaped or coloured dough surround. All their pelmeni are made in house behind a glass window where diners can watch while waiting for theirs. Lepim I Varin's interior carries a typical hipster aesthetic with a clean, minimalist style that's become especially appealing to young Muscovites.   
Price Range: 270 – 350 RUB per person
Hours: Monday to Sunday 10:00am – 11:00pm
Address: 9/1 Stoleshnikov Ln
Nearest Metro Station: Tverskaya
Contact: +7 985 688 96 06
________________________
Bolshoi
Another of Arkady Novikov's acclaimed Moscow eateries, Bolshoi Restaurant Moscow is named after the nearby Bolshoi Theatre, showing off suitably lavish décor and royal Russian cuisine. The plush dining room features dark wood tables and velvet and leather upholstered chairs. Live jazz accompanies diners in the evening, adding to this Moscow restaurant's ambience of upmarket romance.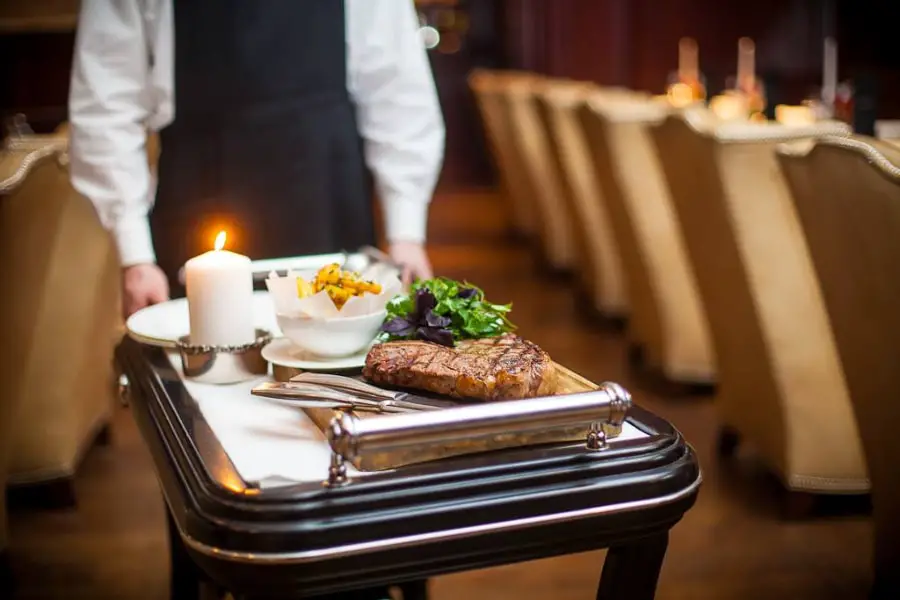 The kitchen presided over by awarded French chef Kamel Benamar, prepares luxurious Russian delicacies such as potato blinis with salmon and caviar, while more French-European influences come through in the gnocchi with lobster, grilled artichokes and truffle vinaigrette.
Price Range: Approx. 3,000 RUB per person (not including drinks). A prix-fix menu (perfect before a show at the Bolshoi Theatre) is approx. 1,500 RUB
Hours: Monday to Friday 8am – 12am, Saturday and Sunday 12pm – 12am
Address: Petrovka St., House 3/6, Structure 2 | Opposite the Bolshoi Theater
Nearest Metro Station: Teatralnaya or Okhotny Ryad
Website: novikovgroup.ru Facebook
Contact: +7 495 789-86-52
________________________
Restaurants Near VDNH Park
Moskovskoye Nebo
Fine dining restaurant / Classic and contemporary Russian
Within the grounds of VDNKH Park, you will find this modern restaurant with a luxurious neoclassical aesthetic. The first thing that will capture your attention is their gorgeous rotunda with a sculpture of a girl with grapes facing the front of the restaurant.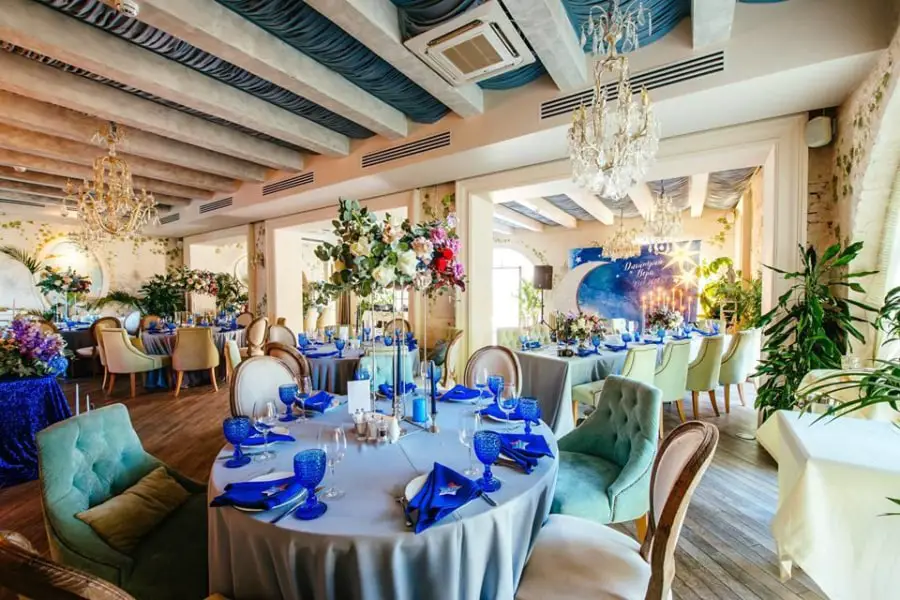 The restaurant's interior design draws inspiration from the Stalinist utopian spirit of VDNKH Park itself, without overdoing the Soviet nostalgia.
Their menu features Russian classics with contemporary twist such as borscht with smoked pork and chicken Kiev.
Price Range: 300 – 1000 RUB
Hours: Sunday to Thursday 12:00pm – 10:00 pm. Friday to Saturday 12:00pm -11:00pm
Address: 119 Mira Ave, bld. 422
Nearest Metro Station: VDNH (Ve-De-Yen-Kha)
Website: mosnebo-restoran.ru
Contact: + 7 499 650 00 31
________________________
Ottepel
Mid-range restaurant / European
The monumental colonnades of Ottepel restaurant's main hall pay tribute to the history of the 1956 VDNKH Park pavilion. With exposed brickwork, vast panoramic windows and reminders of that period preserved in every detail of the interior, Ottepel is a restaurant with a history.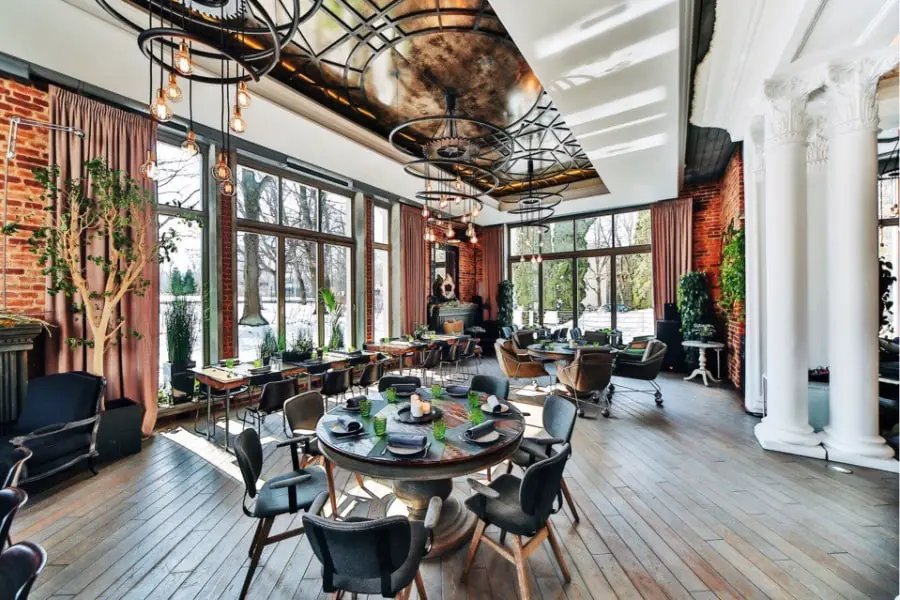 The menu features sophisticated variations on classic Soviet dishes, including the traditional cabbage soup made with calamari, and a refined take on the classic sosiska v teste (sausages in a pastry blanket) paired with bacon, fried onions and pickles.
Price Range: 500 – 700 RUB per person
Hours: Monday to Sunday 12:00pm to 10:00pm
Address: 119, Mira Ave, Bldg. 311
Nearest Metro Station: VDNH
Website: ottepel-restoran.ru
Contact: +7 499 650 00 28
________________________
Restaurants Near Bersenvskaya Naberezhnaya (Red October District)
Syrovarnya
Mid-range restaurant / Italian
Located in the formerly abandoned Badaevskiy Brewery complex (now a hipster hangout full of restaurants, bars, art galleries and boutique stores), Syrovarnya ("creamery") is dedicated almost exclusively to cheese lovers. Syrovarnya has its own cheese-making facility on-site, and customers can watch the cheese-making process through a special glass partition. Trained by Italian cheesemakers, Syrovarnya's staff specialise in eight different varieties, including mozzarella, Stracciatella, ricotta and burrata.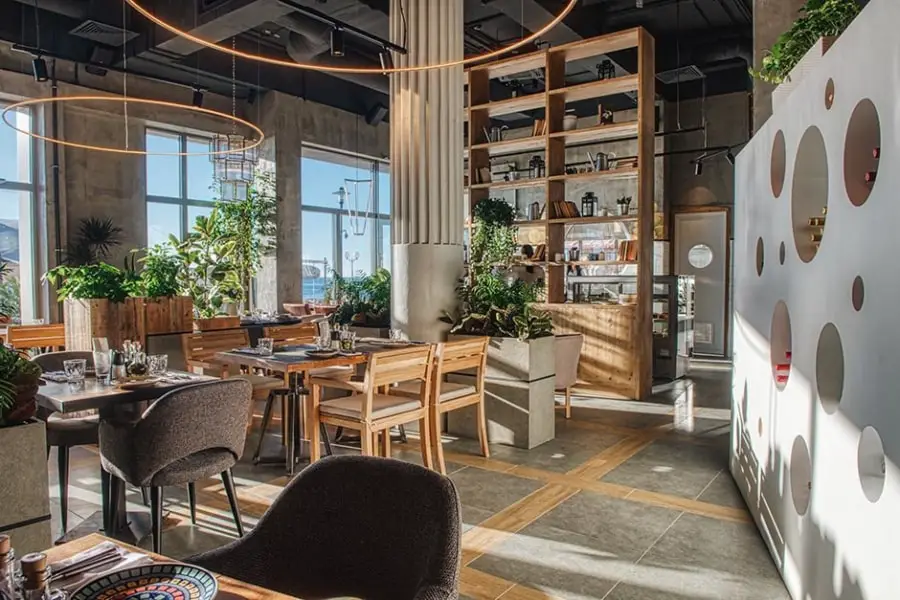 The cuisine is a mixture of Italian and Russian country-style cooking, avoiding anything too flash and allowing the cheese to be the star of most dishes. The oven-baked camembert for example, is perfect in its simplicity. Pizzas are always popular, baked inside a wood-fired oven. Fish and meat dishes are also on the menu, as well as desserts like ricotta tiramisu.
The dining room shows off more than a hint of industrial chic, retaining many of original features from its former factory days. A great spot for socialising, it offers several dishes designed to be shared, including one of Moscow's yummiest cheese platters.
Price Range: 600 – 1000 RUB per person
Hours: Sunday to Thursday 12:00pm -12:00am. Friday and Saturday 12:00pm to 1:00am
Address: 12 Kutuzovsky Prospekt, Bldg. 1
Nearest Metro Station: Kropotkinskaya
Contact: +7 495 803 24 01
________________________
Baba Marta
Mid-range restaurant / Bulgarian
There aren't too many restaurants in Moscow serving authentic Bulgarian food, but Baba Marta ("Grandma March") is about as authentic as it gets. Named after a mythical Bulgarian character whose arrival is said to bring an end to the bitter cold of winter, Baba Marta is a delightfully cosy, rustic space, with an atmospheric basement dining room livened up by colourful, folksy décor and lively traditional Bulgarian music.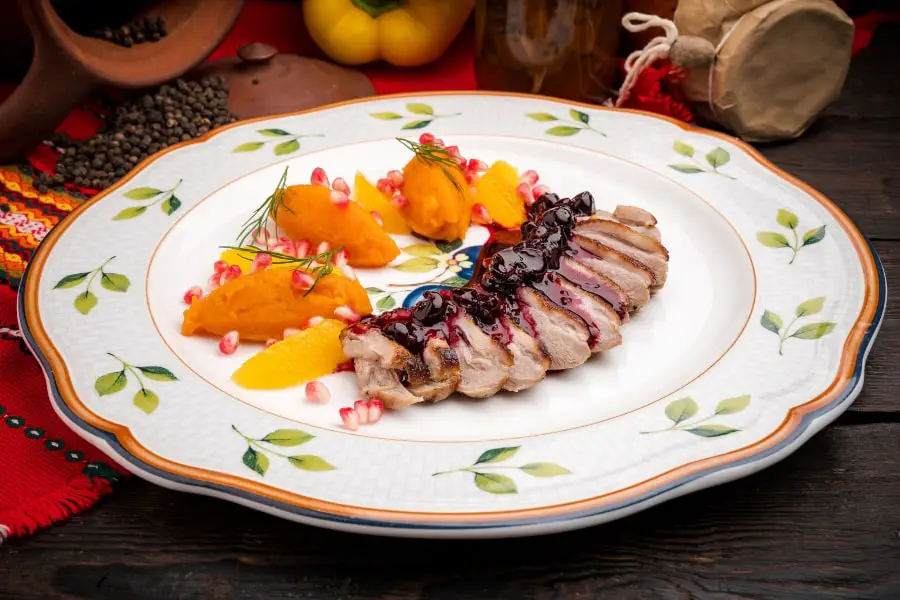 The food here remains rooted in tradition, consisting of beloved Bulgarian dishes made with various meats, root vegetables, cheeses and yoghurts. In addition to the meat-heavy dishes are classics like ljutenica, a vegetable relish made with grilled eggplants, sweet pepper, tomatoes, onion and garlic, and bannicai, a flaky, savoury pastry made with feta-like cheese.
Avoid the table wine and go for a bottle of sweet wine from Bulgaria, finishing the meal with a traditional Bulgarian herbal tea.
Price Range: 500 – 900 RUB per person
Hours: Sunday to Thursday 12:00pm – 11:00pm. Friday & Saturday 12:00pm to 2:00am  
Address: 8 Gogolevsky Blvd
Nearest Metro Station: Kropotkinskaya
Website: babamarta.ru
Contact: +7 495 232 92 09
________________________
Restaurants Near Sergiev Posad (Golden Ring)
Russkiy Dvorik
Mid-range restaurant / Russian
Sergiev Posad is a picturesque 15th century town on the fabled historic Golden Ring route. Just 74km northeast of Moscow, it makes a popular day trip from the city.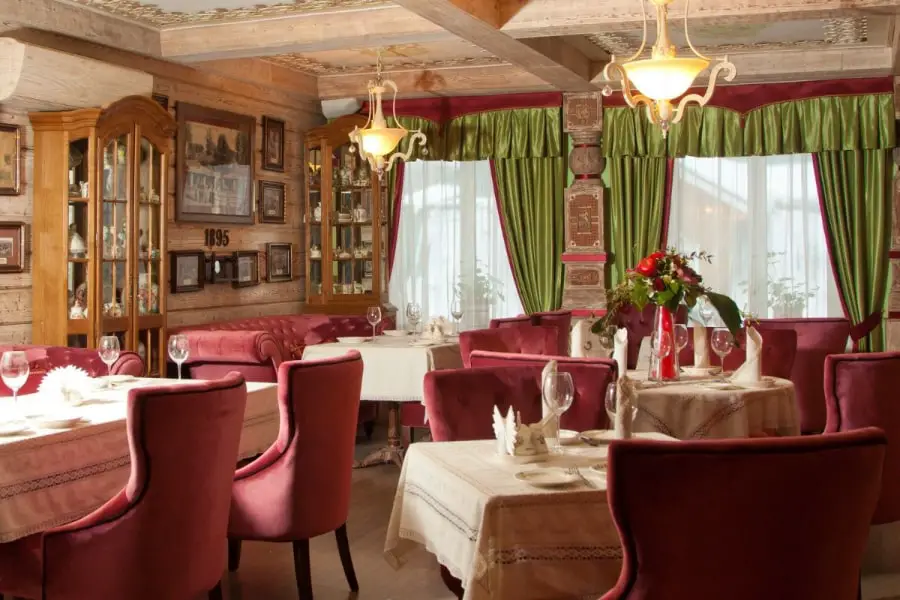 In a wooden cottage right across from the majestic Lavra monastery, Russkiy Dvorik attracts its fair share of tour groups, meaning service can be on the slow side during lunch hours. Still, even during peak times, the quirky décor and atmosphere make it worth the wait. The dining room has an endearing, slightly shabby elegance, recalling the faded grandeur of Tsarist Russia. The charmingly old-fashioned décor is complemented by waitstaff in traditional peasant costume.
Despite its popularity with the tourist set, Russkiy Dvorik is a very local experience, helped by a rather extensive menu of classic Russian fare such as vareniki (stuffed dumplings fried in butter) and golubtsi (meat cooked inside cabbage leaves).  There's an excellent selection of vodka available too – even the house vodka is a decent drop.
Price Range: 500 RUB per person approx.
Hours: Sunday to Thursday 8:00am – 10:30pm. Friday & Saturday 8:00am – 1:00am   
Address:  Krasnoi Armii Ave, 134/2, Sergiev Posad 141300
Website: rus-dvorik.ru
Contact: +7 496 540 51 14
________________________
Gostevaya Izba
Mid-range restaurant / Russian
Just a stone's throw from the walls of the Lavra monastery, Gostevaya is a quieter alternative to Russkiy Dvorik for those seeking traditional regional Russian cuisine. The restaurant is set in a long, low-ceilinged building with exposed timber beams, carved wooden benches and colourful stained-glass windows. In keeping with the town's beautifully preserved medieval atmosphere, the staff often dress in costume from the Middle Ages. In fact, the entire place is practically free of any 21st-century flashiness, making a meal at Gostevaya Izba a delightfully transportive experience.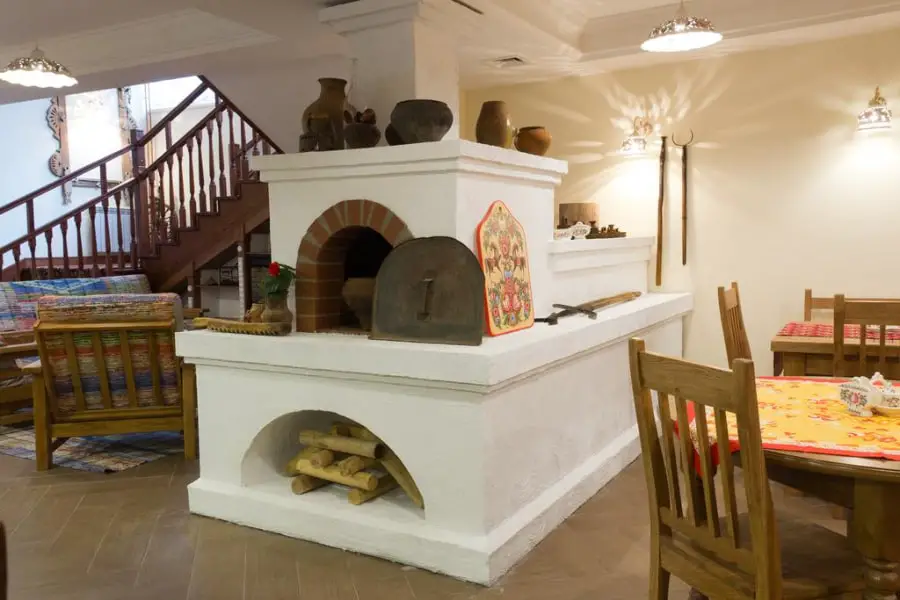 The menu comprises of a wide range of Russian dishes, many of which are prepared according to ancient monastic recipes. The apple-roasted duck breast with lingonberry is particularly luscious and highlights the time-tested skills of the kitchen staff. The restaurant serves wine and malt lemonade produced in the monastery's own brewery, as well as unique herbal beverages like fireweed tea. 
Price Range: 300 – 900 RUB per person  
Hours: Sunday to Monday 10:00am – 11:00pm
Address:  1 Aptekarskiy Ln, Sergiev Posad
Contact: +7 496 541 43 43
________________________
For tips on enjoying food in Russia, enjoy this video…
Related posts