Moscow's restaurant scene is booming with Russian dishes that are to die for. A city in the midst of a foodie revolution where almost anything goes, there is perhaps no dining scene in Europe as dynamic, exciting and adventurous as Moscow's. 
At long last, Moscow is being recognised as an international culinary destination. New eateries are popping up at an astounding rate, and first-time visitors can expect to feel a little overwhelmed when it comes to places to eat in Moscow.
This guide to eating out in Moscow covers some of the top restaurants in Moscow for any budget, from the top end of town to some of the city's tastiest cheap eats. There are plenty of excellent options here whether you're looking for breakfast, lunch or dinner in Moscow. We've focused mainly on Moscow restaurants serving Russian food but thrown in some best-in-class representations of other cuisines for some added variety. In this list, you'll find some of the most famous restaurants in Moscow, a few lesser-known gems and a few totally unique institutions which have become Moscow tourist attractions in their own right. Moscow's food prices vary wildly. It's easy to spend big in this town, but it's also easy to find extremely affordable eats if you know where to look. One thing is for sure though – no matter what your tastes or budget, in Moscow, you'll never go hungry for long.
Fine Dining Restaurants in Moscow
Café Pushkin
A Moscow institute is known for its impeccable fine dining Russian and French cuisine, the palatial Café Pushkin opened in 1999 and immediately attracted a loyal following among high society folk. Elaborately decorated to recreate the feel of a 19th-century aristocrat's manor, Pushkin has become equally popular with tourists keen to soak up the stately atmosphere of pre-Revolution Russia. The menu features sophisticated interpretations of definitive Russian cuisine, with a nod to classical French techniques. The kitchen's insistence on high-quality ingredients lifts well-known favourites to another level of complexity and refinement. The signature beef stroganoff consistently receives rave reviews, while the roasted rack of lamb is the ultimate in rich, meaty indulgence. Of course, a restaurant of this standing serves several varieties of caviar a selection of top-shelf vodkas fit for an emperor.
Despite its rather formal appearance, the Café Pushkin experience is utterly charming. The waiters dress like 19th-century servants and diners are treated like royalty, but not without a sense of fun and theatrics. Bookings well advance are recommended.
_________________
Price Range: 3-course dinner at approx. 3,500-4,000 RUB plus drinks (US $60-80)
Hours: Open 24 hours for breakfast, lunch, dinner and drinks
Address: 26A Tverskoy Boulevard
Nearest Metro Station: Tverskaya
Contact Details: cafe-pushkin.ru, +7 495 739-00-33 Facebook
White Rabbit
Consistently ranking in Restaurant Magazine's prestigious annual World 50 Best Restaurants list, White Rabbit is the first restaurant in Russia to receive such international acclaim. Its success (it secured 15th place on the list in 2018) is a sure sign of Moscow's ascendance as a global gastronomy destination.
White Rabbit's whimsical and immersive interiors are designed to evoke a sense of fantasy and wonder, with rabbits everywhere and antique rococo furniture straight out of a Wonderland tea party. On the 16th floor of the Smolenskiy Passazh shopping centre, White Rabbit's glass dome captures mesmerising 360-degree views, showcasing the awe-inspiring scale of the Russian capital.
Chef Vladimir Mukhin has dreamt up an inventive European menu employing seasonal ingredients from across Russia. Standout dishes from this luxury Moscow restaurant include rabbit and cabbage rolls with potato crisps and truffle, roast suckling pig and Black Sea oysters.
_________________
Price Range: 'Russian Evolution' tasting menu – 10,000 RUB per person
Hours: Mon-Wed and Sun 12pm – 12am; Thur-Sat 12pm – 2am
Address: 3 Smolenskaya Square, Smolensky Passazh Shopping Centre, 16th floor
Nearest Metro Station: Smolenskaya
Contact Details: whiterabbitmoscow.ru, +7 495 782-62-62
Turandot
One of the best and most luxurious restaurants in Moscow.  The Estate is designed in style of baroque, classicism and renaissance. The refine painting, jewel porcelain vases, moulding, genuine Gobelene tapestries, ancient clocks and fireplaces. Two workshops of wood engravers, painters, sculptors had been manufacturing the interior's details for six years. All here including carved lumps of modern authors' work is of museum importance.
The menu includes dishes from Japan, European, Chinese cuisines, and fusion cuisine, as well. Alan Yao, the only chief cook who is awarded with two stars of Mishlen, is responsible here for Asian food. The music corresponds to the institution: instrumental music (harp, violin, violoncello) sounds here every evening.
_________________
Price Range: Average check with no drinks RUB 4,000 (US $70)
Hours: Monday to Sunday 12 pm – 12 am
Address: 26/5 Tverskoi Bulvar
Nearest Metro Station: Tverskaya, Chekhovskaya
Contact Details: turandot-palace.ru,+7 (495) 739-0011
Chemodan
This Siberian restaurant is dark and traditional. The tables are lit by small lamps with tassels, while chandeliers contribute more to mood than illumination. Mournful music plays softly, the sound absorbed by the heavy tablecloths and all the soft furnishings. The menu is a treat for the adventurous. You might start with pate of polar partridge, then go for the sweet grilled meat of Altay yak with tomato and mustard sauce; or the gamey richness of minced meat of Sayan bear with cream-cowberry sauce and buckwheat.
_________________
Price Range: Average check RUB 4,500 (US $80)
Hours: Monday to Sunday 12 pm – 12 am
Address: 25 Gogolevsky Boulevard
Nearest Metro Station: Arbatskaya, Kropotninskaya
Contact Details: chemodan-msk.ru Ph +7 (495) 695-38-19
Grand Café Dr. Zhivago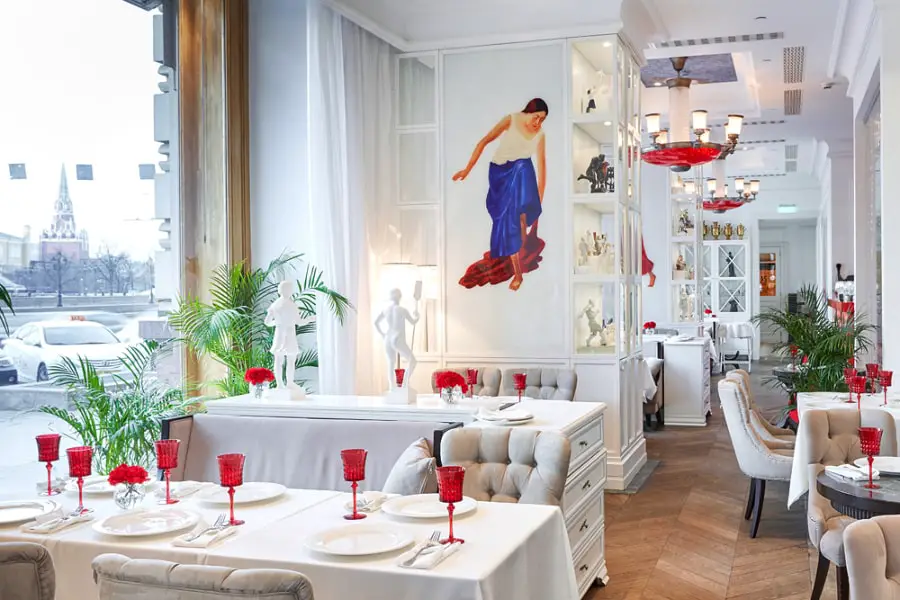 This ornate brasserie across from the Kremlin is Russian kitsch, with oversized statues, bright red chairs, white walls and colorful ceilings. It feels anachronistic, yet it's the creation of a modern restaurateur, Alexander Rappoport.
There's a lightness of touch in the dishes on a long menu celebrating Russian favorites from dumplings and pickled cabbage through to goose stew with cowberry. It's especially good for breakfast, which includes more than 20 egg dishes and about a dozen types of porridge.
_________________
Price Range: Average check RUB 2,000-2,500 (US $40)
Hours: Monday to Sunday 12 pm – 12 am
Address: 15/1 Mokhovaya Street
Nearest Metro Station: Teatralnaya
Contact Details: drzhivago.ru
Erwin RekaMoreOkean
Another project of Aleksandr Rappoport, a restaurant with a phenomenal variety of fish and seafood at the most reasonable prices. Ninety percent of the fish in the restaurant is caught in Russia (from 25 rivers and seas). The restaurant features a caviar and oyster bar. Slices of frozen nelma (Siberian white salmon) and sterlet, thaw in the mouth with a natural, revealing taste of fish. Here, you can try the legendary Sagudai (raw fish slices) of muksun is the traditional Russian version of the ceviche. The restaurant also offers a large variety of crabs and shrimps: king crab, snow crab, frog crab, blue king crab, spiky crab, hairy crab, Argentinian shrimp from the warm waters of the Atlantic ocean; Dock shrimp from the cold waters of the northern seas and others.
A branch of this restaurant – "Erwin Reka", is located directly on the board of the luxury yacht of the "Radisson Royal, Moscow" flotilla which daily cruises the Moscow River. The restaurant is open from noon to 1:00 am, and twice a day, at a scheduled time, travels along the Moscow river. The yacht-icebreaker leaves from the "Hotel Ukraine" pier regardless of the season and the weather: twice a day on weekdays (3.30pm and 8.00pm) and three times a day on weekends (12.00pm, 3.30pm, 8.00pm). Guests can enjoy not only the first-class fish and seafood dishes during a river cruise, but also relish picturesque views of the capital main sights: the famous high-rise hotel "Ukraine", the House of Government of the Russian Federation, the Novodevichy Monastery, the Moscow State University complex, the Luzhniki Stadium, Gorky Park, the Central House of Artists, the giant Monument to Peter the Great, the legendary House on the embankment, the gold-domed Cathedral of Christ the Savior, the Moscow Kremlin and the gingerbread-like St. Basil's Cathedral, the skyscraper on the Kotelnicheskaya embankment and the Zaryadye Park.
_________________
Price Range: Main dishes from RUB 960 to 5800 ($20-100), sets – from RUB 5100 to 21000 ($90-$350)
Hours: Monday to Sunday 12 pm – 12 am
Address: 2/1 Kutuzovsky Prospekt, Bldg. 2
Nearest Metro Station:
Contact Details: rekamoreokean.ru, +7-495-785-02-22
Wine & Crab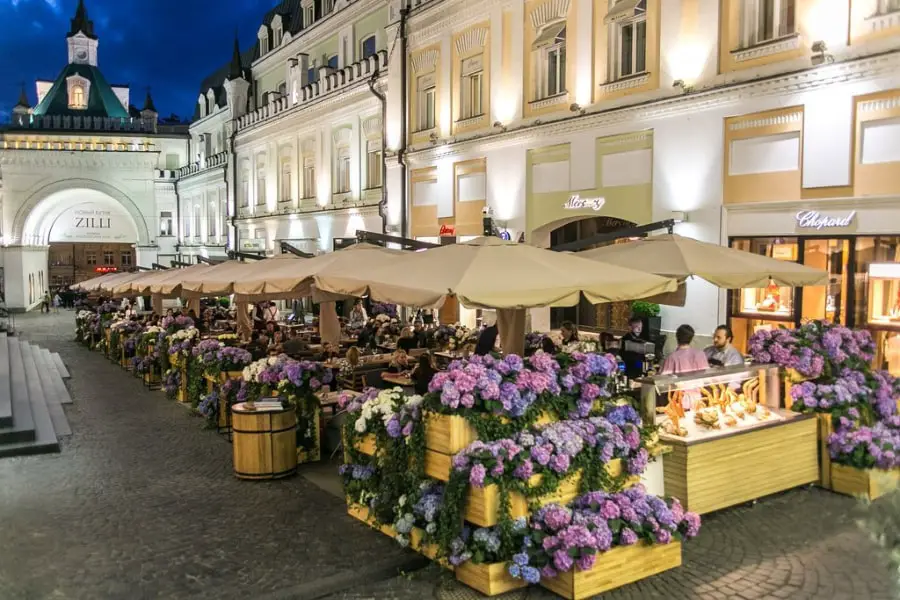 This fun restaurant is on the main pedestrianized shopping street linking Red Square and Lubyanka. You can see the crabs as you enter. There are about 10 varieties, including Kamchatka king crab and Horsehair crab.
_________________
Price Range: Monday Party set, RUB 6,150 ($95) for 1.5 kilos of crab and 1.5 liters or Prosecco.
Hours: Monday to Sunday 12 pm – 12 am
Address: 19-21 Nikolskaya Street
Nearest Metro Station: Lubyanka, Teatralnaya, Ploschad Revolutsii
Contact Details: winecrab.ru, +7 495 621-73-29
Beluga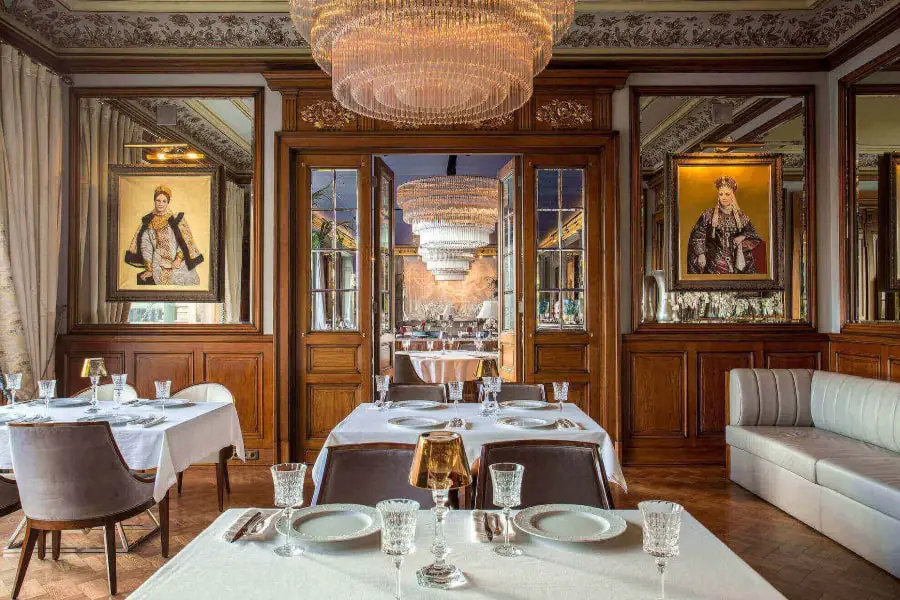 If you want to dine with the oligarchs and the politicians, Beluga is a great place. It's on the second floor of the Hotel National, which opened in 1903 and the restaurant's large windows have views of the Kremlin. (Grand Cafe Dr. Zhivago is downstairs.) This is one of Moscow's most famous luxury restaurants and just the place to invite your favorite big shot. Take your pick from two dozen varieties of caviar, washed down with a variety of vodkas as big as your pockets. It would be a shame to miss the Champagne, too.
_________________
Price Range: Average check RUB 3,500 (US $55)
Hours: Monday to Sunday 12 pm – 12 am
Address: 15/1 Mokhovaya Street
Nearest Metro Station: Teatralnaya, Ploschad Revolutsii
Contact Details: belugamoscow.ru, +7 (495) 901-03-36
Mid-Range Restaurants in Moscow
Sapiens Est Kitchen & Bar
The founding concept of this new gastronomic venue is companionship, which you can go there for at any time. In the morning Sapiens prepares fabulous breakfasts, in the afternoon a-la carte lunches, and in the evening guests can enjoy signature cocktails and musical rhythms from top DJs. The menu includes modern European dishes and the best examples of Pan-Asian cuisine.
_________________
Price Range: Average check RUB 1,200-1,700 (US $18-$25)
Hours: Mon-Thur, Sun 12pm–12am; Fri-Sat 12pm–6am
Address: Pushechnaya St, 4, building 1
Nearest Metro Station: Kuzneysky Most, Lubyanka
Contact Details: sapiens-est.ru, +7 925 229-94-45
Lavka-Lavka Farm to Table
Located within walking distance from the Bolshoi Theatre, Farm Restaurant Lavka-Lavka is the place of a new Russian cuisine. All the ingredients are delivered from local farmers and the dishes are cooked in a simple yet sophisticated way. The menu is an interesting twist on traditional Russian food: you can try such unique specialties as meat tartar and deer heart. 
The restaurant itself is beautifully decorated, the staff is really nice and there is also a nice feature: a menu lists the name of the farmer who supplied the ingredients for the dishes. Each guest has a chance not only to try delicious meals with an original recipe but also to reconnect with the great tradition of Russian cuisine.
_________________
Price Range: Average check USD $30-$40
Hours: Mon 6pm–12am; Tue-Sun 12pm–12am
Address: Petrovka St, 21, building 2
Nearest Metro Station: Chekhovskaya, Tverskaya, Trubnaya
Contact Details: lavkalavka.rest, +7 495 621 20 36
Ottepel
The exquisite interior of 1956, picturesque views, author's kitchen – the team of the restaurant Ottepel is inviting you to appreciate design of the reconstructed historical pavilion and enjoy ingenious dishes.
Staff wear Mondrian-inspired aprons and the menu is innovative — the restaurant specializes in upgrading well-known, simple Soviet dishes into high-end cuisine. Traditional Russian cabbage soup "shchi" (420 rubles) counts calamari among its ingredients while the ubiquitous cold soup "okroshka" (360 rubles) features salty pastrami. Another trending item is the "koryushka" served with potatoes (380 rubles). The smelt fish originates from the Baltic sea and is immensely popular in St. Petersburg. If you seek a filling meal, try chicken in Georgian "satsivi" sauce with fried polenta and cheese (610 rubles).
It's an innovative throwback to the Soviet era, and perfectly at home in the ramblingly grandiose exhibition park of VDNH.
_________________
Price Range: Average check USD $30-$40
Hours: 12pm–10pm
Address: Mira St, 119, building 311
Nearest Metro Station: VDNH, Botanichesky Sad
Contact Details: ottepel-restoran.ru, +7 495 748-61-02
Mari-Vanna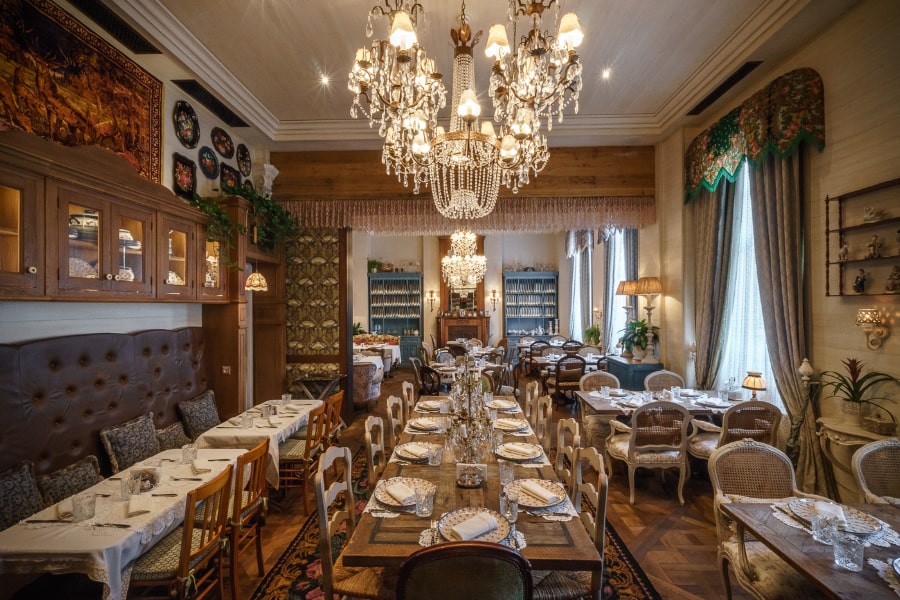 Homey dining room for traditional Russian delicacies, decorated with standard lamps, bookcases and old photos on the wall. Its traditional Russian living room decoration and some Russian old school music playing in the background really gives you this "lovely Russian babushka" vibe which is part of the fun.
Portions are quite big and the price is reasonable. The menu itself is really interesting for tourists. Try out these traditional soviet Russian dishes: homemade cakes, borscht, Bird's milk dessert. This is the right place to enjoy the delicious authentic meal, attentive service, and excellent ambiance! A great bonus for cat lovers: A resident cat Benjamin will stroll around now and then.
_________________
Price Range: Average check USD $25-$30
Hours: 10am–10:30pm
Address: Spiridonievsky st 10A, level 1
Nearest Metro Station: Pushkinskaya, Tverskaya
Contact Details: marivanna.ru/msk, +7 495 650-65-00
Uhvat
The word uhvat refers to a long-handled wooden utensil used to slide food in and out of a pechka, a wood-fired oven found in many Russian houses until the late 19th century. Uhvat is one of the restaurants leading the resurgence in traditional Slavic cooking, with slow-cooked dishes such as pumpkin kashas (a type of porridge) with honey and linden dressing (£3.50), baked roe with pickled bramble (£14) schchi soups with fermented cabbage and chichelindas, an old recipe for pate, here made with ox tail (£5). Don't leave without tasting toplyonoe moloko, a thick creamy dessert made by baking milk for several hours. The pechka oven features in many Russian fairytales – the Baba Yaga witch shoves children into ovens – and takes the centre stage at Uhvat. Daily rituals, such as using goose feathers to dust out the ashes, enhance the magical atmosphere.
_________________
Price Range: Average check USD $30-$40
Hours: 12pm–12am
Address: Rodchelskaya St 15, building 41
Nearest Metro Station: Krasnopresnenskaya
Contact Details: uhvat.restaurant, +7 977 125-51-77
Art Rukav
Art Rukav (Rukav means sleeve) is a big platform where the free spirit of art and creativity reigns. There are art workshops, a gallery and a restaurant under the same roof. Rukav was named after the surname of the Russian sculptor Alexander Rukavishnikov.
Immersion in the world of art begins from the very first entrance through the massive decorated door. In the cloakroom you get checks in the form of drops, bright red ladders harmonize with dark sofas… There is even a pipe-shaped slide! The place is really unique and is dramatically different from the usual places to eat. During lunches you will surely be attracted by the details in decorating: to the stylized ware, for example, or an unusual sculpture next to your chair.
_________________
Price Range: Average check USD $30-$40
Hours: 12pm–12am
Address: 59 Zemlyanoy Val, Building 2
Nearest Metro Station: Taganskaya, Chkalovskaya
Contact Details: art-rukav.ru, +7 (499) 271 88 74
Megobari Wine Bar & Restaurant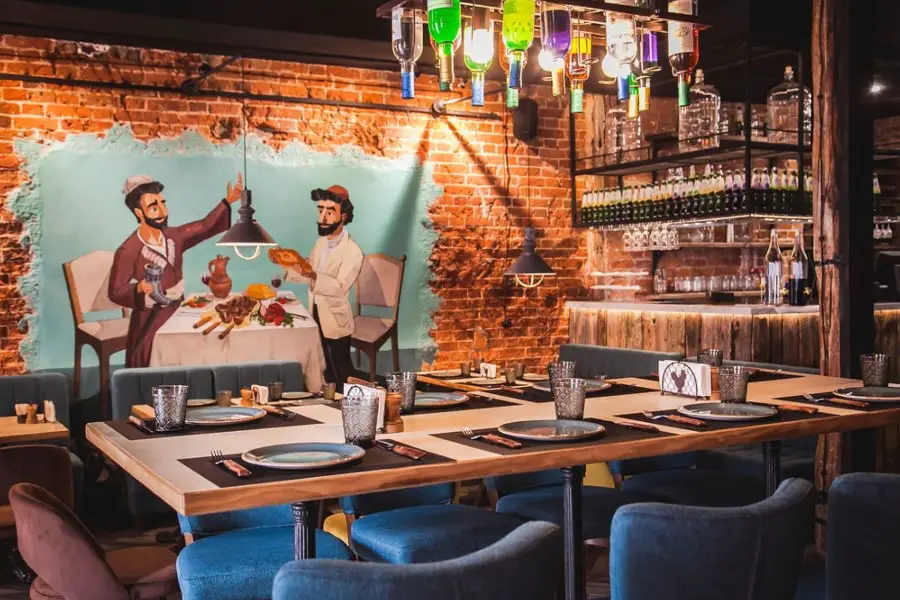 Megobari comes from Georgian and means as much as friend. This place brings the authentic Georgian dinning experience directly to Moscow and offers an eclectic variety of Georgian dishes including hand-made baked goods, meat stews, kebabs platters, as well as a wide variety of wines from the mountains of Georgia.
_________________
Price Range: average check USD $20-$35
Hours: Mon-Thur, Sun 12pm-11pm, Fri-Sat 12pm-12am
Address: Maroseika 15
Nearest Metro Station: Kitay-Gorod
Contact Details: megobari.wine, +7 (905) 700-40-07
Quick bites and budget restaurants in Moscow
Lepim i Varim
Lepim i Varim is legendary for boasting some of the most incredible pelmeni in town. These beautiful, hand-sculpted parcels of deliciousness consist of an outer pocket of unleavened dough, wrapped around a filling of ground meat, boiled and served piping hot. Lepim i Varim make everything from scratch and you can watch the pelmeni masters at work in the open kitchen while you queue up at the counter.
Traditional Siberian pelmeni are stuffed with mildly spiced pork and beef. In addition to the classics, Lepim's have invented several original pelmeni creations. There's an extravagant Kamchatka king crab, an Italian inspired chicken, parmesan and basil, and several vegetarian options including mashed potato and fried onion.
_________________
Price Range: Classic pelmeni 270 RUB (standard serve), 350 RUB (large serve), US $6-$10
Hours: Monday to Sunday 11am – 12am
Address: Stoleshnikov Ln, 9, Buidling 1
Nearest Metro Station: Teatralnaya or Okhotny Ryad
Contact Details: lepimivarim.ru, +7 499 399-31-23
Stolovaya No. 57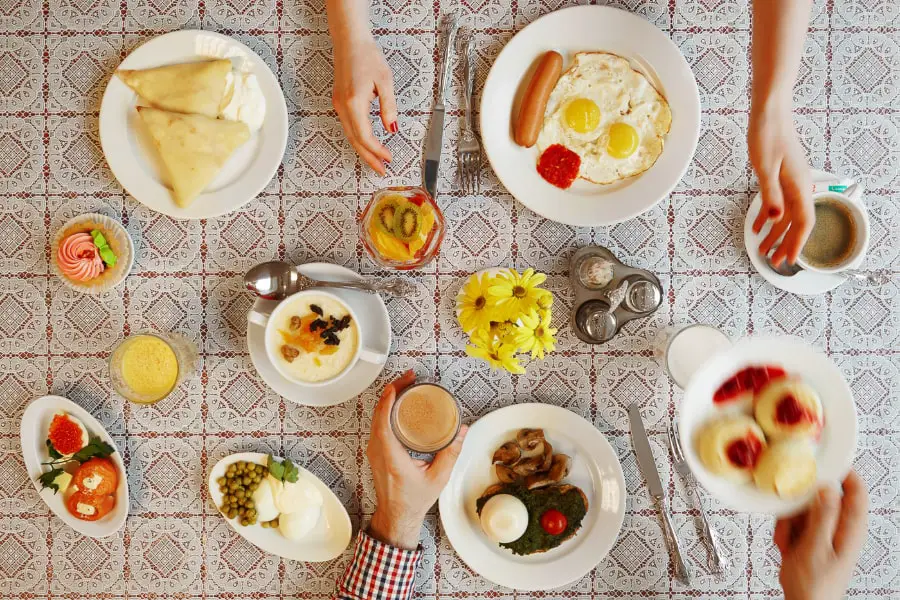 You might not expect to find an economy-priced cafeteria inside the stately walls of GUM, an enormous shopping centre on the Red Square specialising in luxury brands. But it seems no Muscovite (wealthy fashionistas and penny-pinching students alike) can resist cheap, simple and delicious Russian comfort fare, dished out in a quaint, Soviet-style "stolovaya" (a self-service, canteen-style eatery).
Stolovaya No. 57 serves the Russian equivalent of a home-cooked meal in a standard Russian family. Salads are super-popular here, including the mayonnaise-heavy Oliver salad and shuba ("Herring in a Fur Coat") a layered salad of pickled herring, eggs, beets, carrots and potatoes in a creamy dressing. Also on the menu are beef stroganoff, chicken kiev and chebureki (a deep-fried, meat-filled pastry turnover).
_________________
Price Range: Mains 150 – 400 RUB, US $3-$10
Hours: Sunday to Saturday 10am – 10pm
Address: Krasnaya Sq., 3 | Inside GUM, level 3 
Nearest Metro Station: Teatralnaya or Okhotny Ryad
Contact Details: gum.ru/cafe/stolovaya-57, +7 495 620-31-29
5+2 Cafe
The newly opened vegan restaurant run by gastro-enthusiasts who have collected a minimalistic menu from a variety of cuisines, self-described as "smart casual." You can see everything being cooked right in front of you in the open kitchen.
_________________
Price Range: Mains 450-600 RUB
Hours: Sunday to Saturday 10am – 10pm
Address: 15/1 Tsvetnoy Blvd | "Tsvetnoy" Shopping Centre, 5th floor
Nearest Metro Station: Tsvetnoy Bulvar, Trubnaya
Contact Details: 5plus2cafe.ru, +7 995 301-64-48
Grechka Lab
The 1914 building — home of Moscow merchant Ivan Mikhailovich Korovin, and thereafter a bakery — was converted into a bright and airy café, contemporary bakery and brunch spot in the nation's cosmopolitan capital. Flowers placed around the windows are a nod to wheat fields ('grechka' translates to buckwheat), whilst considered seating and textured walls evoke a sense of nostalgia.
Enjoy healthy soups, mains and salads, and try tasty éclairs, "syrniki" and cheesecakes.
_________________
Price Range: Average check 450-600 RUB, US $6-$8
Hours: Sunday to Saturday 8am – 11pm
Address: Pushechnaya St 7/5c2
Nearest Metro Station: Kuznetsky Most, Lubyanka, Teatralnaya
Contact Details: grechkalab.ru, +7 495 921-02-01
Vai Me!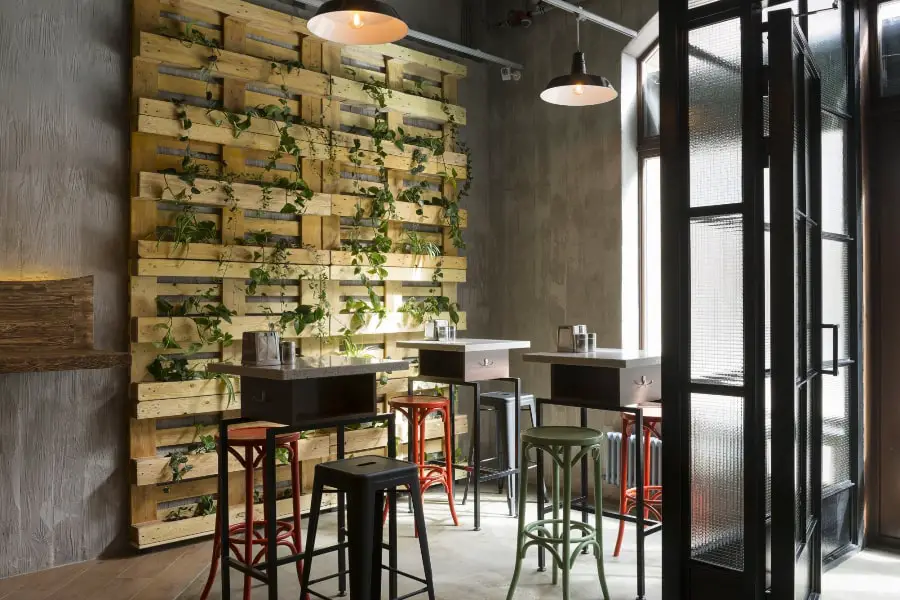 If you're looking for a place that offers quick, cost-effective and flavoursome meals and snacks near Tretyakov Gallery, check out Vai Me!, a Georgian cafe chain with a fast-casual dining style. It has a self-service format with buzzers to let you know when your food is ready, so you don't need to wait for your food at the checkout.
Despite the low prices, there are a variety of amazingly authentic Georgian dishes on offer. Muscovites love Georgian cuisine, and here they serve Moscow favourites like khinkali (Georgian dumplings), khachapuri (cheese-filled bread) and satsivi (chicken in walnut sauce).
_________________
Price Range: Average check RUB 350-600, US $5-$8
Hours: Monday to Sunday 10:00am – 11:00pm
Address: 8 Pyatniskiy St, Section 1
Nearest Metro Station: Novokuznetskaya
Contact Details: vaimecafe.com, +7 499 646 02 20
Fresh Cafe
This Canadian restaurant and juice bar is on a mission to prove that vegetarian dining can be filling, exciting and varied and does not necessarily need to involve stereotypical joss sticks, Indian tapestries and variations on the lentil. Interior-wise it's as fresh as they come, all clean minimalist lines, favouring industrial materials and rough edges over cuddly pictures of ethnic tribes. On the food front, Fresh gets full marks for providing an experience that both vegetarians and meat-eaters can salivate over – huge wraps bursting with scrumptious goodies and noodles bowls brimming with both delicate and fiery Asian flavours are just some of the long list of hits.
_________________
Price Range: Average check RUB 1,500, US $20
Hours: Monday to Sunday 10:00am – 11:00pm
Address: Bolshaya Dmitrovka 11, building 1A
Nearest Metro Station: Okhotny Ryad, Teatralnaya, Pushkinskaya
Contact Details: freshrestaurant.ru, +7 965 278-90-89, +7 495 641-89-81
Marketplace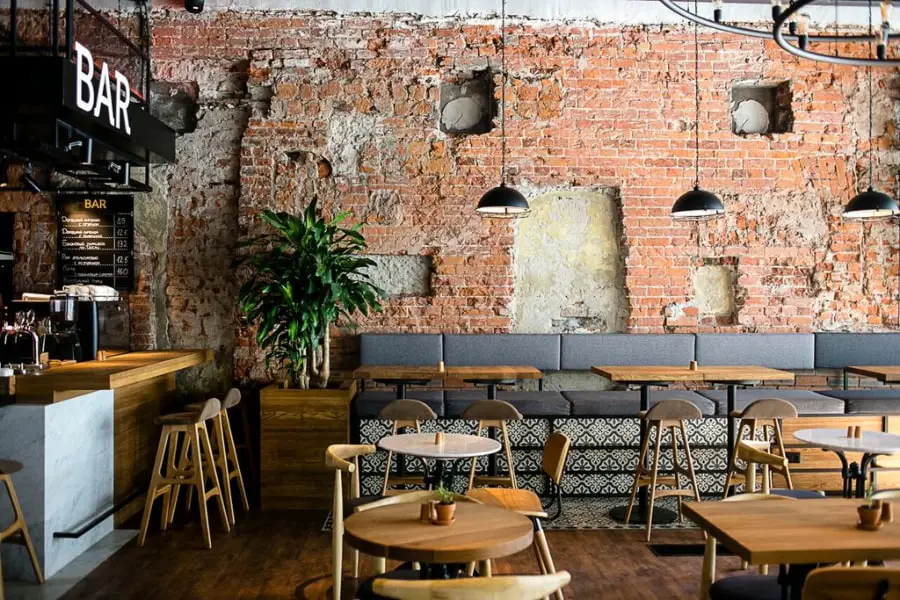 Part fresh produce market, part restaurant, Marketplace's chic, minimalist design, open kitchen and well-priced, vegetarian-friendly international menu keep the atmosphere buzzingly energetic.
You can be sure the ingredients are fresh and everything is cooked in front of you while you wait. Once your meal arrives, retreat to the bright, stylish dining room or kick back with a beer in a courtyard full of potted plants and colourful metal chairs. There are sandwiches and shashlik for a substantial snack or salads for the health-conscious (minus the typical heavy Russian dressing). Also on offer are Asian wok stir-fries and a variety of pasta. For a sweet snack, pastries are baked on-site, ready to pair with a cappuccino or milkshake.
_________________
Price Range: Sandwiches approx. 220 RUB, mains approx. 300-500 RUB
Hours: Sun-Thur 8am – 11pm, Fri-Sat 8am – 1am
Address: 13 Myasnitskaya ST
Nearest Metro Station: Chiste Prudy or Lubyanka
Contact Details: market-place.me, +7 929 577-73-77
Shuk Food Mall
You find yourself in a lively, happy crowd, tucking into huge portions of fantastic Israeli food, and nothing can convince that you're not actually in the middle of a Tel Aviv shuk. Tucked into a cozy side street in central Moscow, this place is fantastic. The atmosphere is simply delightful – and so is the food.
_________________
Price Range: Average check 700 RUB
Hours: Every day 8am – 11pm
Address: 7 Veskovskiy Ln
Nearest Metro Station: Novoslobodskaya, Mendeleevskaya
Contact Details: +7 495 966-25-01
DEPO Food Mall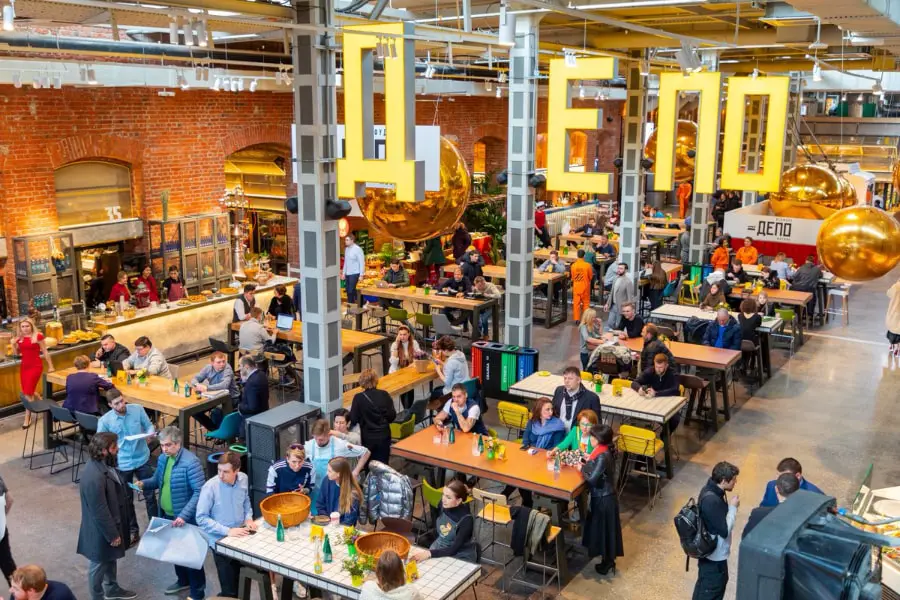 Depo (which means 'depot' in Russian) food mall opened in Moscow in February 2019 on the premises of a former tram depot. Built between 1874 and 1910 in the industrial neo-Gothic style, the red-brick Miussky tram depot is considered an important architectural monument.
Depo houses a small farmer's market, with fruit, vegetables, cheese and meat, as well as the largest food court in Moscow (and, allegedly, in the whole of Europe) with more than 70 stalls, where one can sample food from all over the world – from China to Thailand and from Mexico to Morocco. The food mall also regularly hosts live concerts, DJ sets, workshops and public lectures.
Apart from the main building, which contains the market and the food mall, there are several proper restaurants on the premises of the former depot, including Kraby Kutaby (Crabs and Qutabs) by one of Moscow's leading restaurateurs, Alexander Rappaport.
_________________
Price Range: vide range
Hours: Mon-Thu, Sun 10am – 11pm; Fri-Sat 10am-2am
Address: 20 Lesnaya, Building 3
Nearest Metro Station: Novoslobodskaya, Mendeleevskaya, Belorusskaya
Contact Details: depomoscow.ru, +7 495 788-88-10, +7 495 788-88-33
If these sound like music to your ears (or more fittingly, tickles your tastebuds) then check out some of our guided Russia tours for a one-stop ticket to discovering even more about the Moscow food scene. Check out the video below to see some delicious food you could find in Moscow:
Related posts