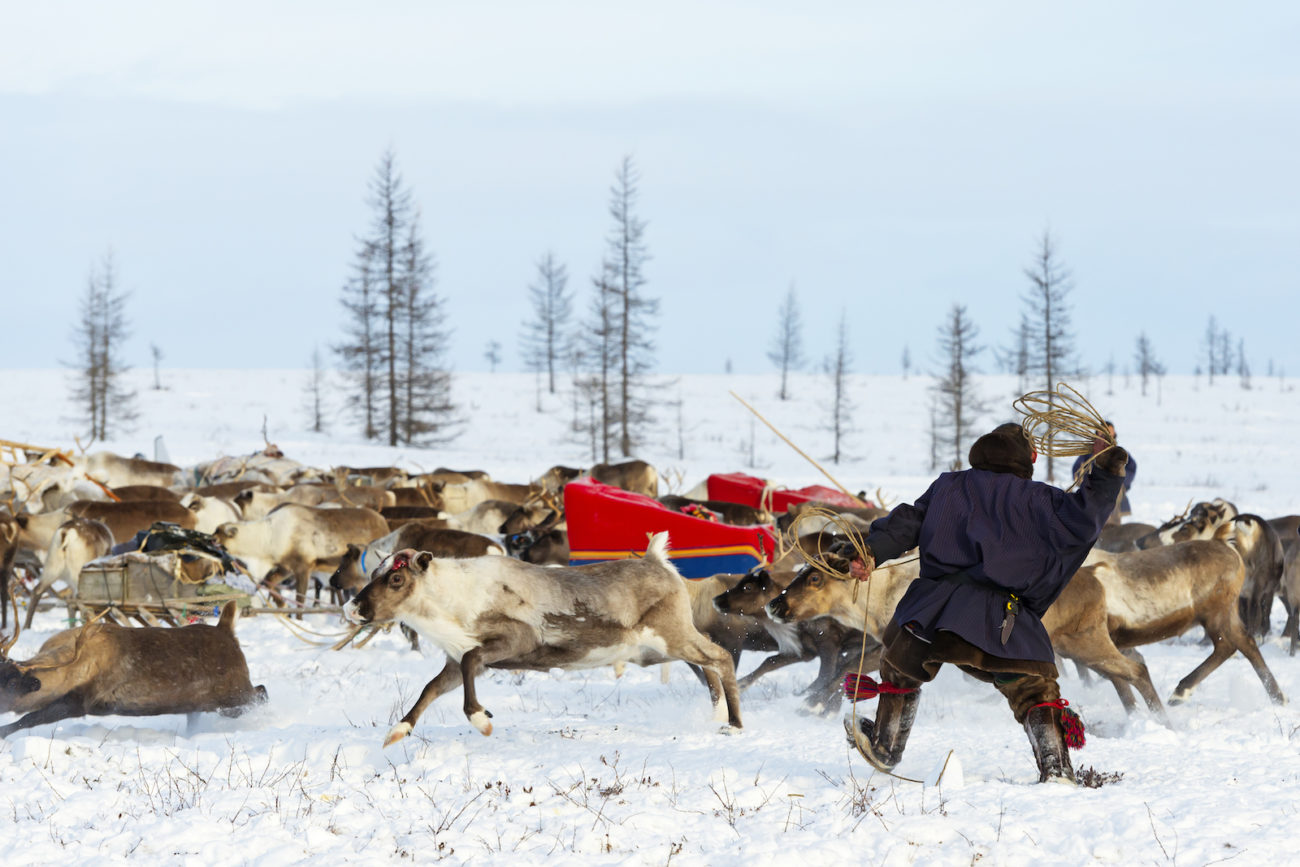 As the world gets smaller, there's a desire to travel further – and there are few places as enchantingly far away as the Yamal Peninsula. This cultural tour transports you deep into Siberia's isolated Arctic region. 'Yamal' means 'edge of the world' in the language of the indigenous Nenets. The Nenets of Yamal carve out a unique way of life, seemingly at the limits of human tolerance. Each spring, the Nenets migrate from winter pastures on the Russian mainland to the summer pastures in the Arctic Circle, a one-way journey of up to 1,000km. This is your chance to experience a small part of this epic journey alongside these extraordinarily resilient people. This is a remarkable extraordinary opportunity to get to know one of the world's last true nomadic reindeer herders through their eyes.
Reindeer Migration TRIP HIGHLIGHTS:
Salekhard is the only city in the world located right at the Polar Circle. Among the highlights on our tour of the city is the Shemanovskiy Yamal-Nenets District Museum, which includes an exhibition on mammoth remains found in the region
From Salekhard, we'll board an all-terrain vehicle for a drive for up to six hours over the frozen surface of the River Ob to Yar-Sale village. The river is the only way to access the village – either by boat in summer or by driving the ice in winter
One of the most celebrated events on the Mongolian calendar, Naadam Festival is the Mongol version of the Olympic Games and a source of deep national pride. Railway cruising on the Trans-Siberian Railway from Mongolia to Russia (or vice versa) is a fantastic way to absorb the rich culture of the Naadam Festival and the cinematic landscape of both countries. Our exclusive Trans-Mongolian Express tour through Russia and Central Asia combines first-class customer service and a romantic room with a constantly changing view from the Mongolian steppes to the Siberian taiga. On a private trip travelling aboard the luxurious Golden Eagle train, we'll make numerous stops along the route, providing a memorable exploration of the cultures, customs and cuisine of each unique region we visit.
TRANS-MONGOLIAN & NAADAM FESTIVAL TOUR HIGHLIGHTS:
Nadaam Festival: For three days, Mongolians don traditional dress and celebrate games and sports derived from Mongolia's proud warrior tradition. Witness the primal thrill of outdoor wrestling, impossible archery contests and horse racing across the vast Mongolian grasslands
The Siberian city of Ulan-Ude lies at the crossroads of East and West, harbouring a unique Buryat Buddhist culture. It's also a stronghold of the last of the Russian Old Believers, who we'll meet on a village visit to discover the unique history and traditions of these proud, welcoming and deeply religious people