Once you've stepped foot in the Moscow Metro, you will see that not only does it make travelling in Moscow and the rest of Russia a breeze, but famous Russian artists and architects have transformed the everyday subway into an underground palace and an art tour.
Moscow metro travel tips
In the most unexpected of places, the sublime blend of history, art, and technology will make travelling the Moscow Metro stations one of your most memorable experiences. If you want to get the most out of its breathtaking array of artwork and architecture, you've come to the right place. This article will also walk through how to navigate the train lines step-by-step to banish any nerves you had about travelling the unfamiliar Moscow city in 2018.
Where I can get a Moscow Metro map
Russia's Moscow Metro is decentralized and each train line (colour coded accordingly) can be operated independently – say goodbye to the train outages and emergency repairs that disrupt the whole system and, consequentially, your travel itinerary. Moscow's reliable metro lines are here to transform what you know as public transport. Click here for the English copy of the Moscow Metro map – alternatively, you can find a print copy in the Subway itself.
Tip for the best travel experience: click here for Moscow Metro's interactive map in Russian that calculates your route and does the planning for you.
How do I buy and use Moscow Metro tickets?
You can find tickets inside the subway from a ticket booth (marked KACCA) or a ticket machine, both in English and Russian. Costs are cheap and affordable – a single trip is just 55 Rubles (USD $1) regardless of its length. Moreover, individual ticket purchases are not necessary as you can share tickets with companions. Methods of purchase, fares and prices are available on the Metro News site here. 
Tip for the best travel experience: we recommend purchasing tickets in large batches to avoid excess waiting time. It is also wise to have cash with you – cards aren't always accepted.
How do I navigate Moscow Metro stations?
Not only are all announcements and signs made in both English and Russian, but the metro staff are trained in the English language (as reported by RUSSKIY MIR). To make your trip even easier, take note whether the announcements are spoken in a man's or woman's voice. On the maroon-coloured train line, a man's voice announces stops travelling in a clockwise direction, whereas a woman's voice announces stops travelling counterclockwise.
Tip for the best travel experience: Try and avoid rush hour – the Moscow Metro transports roughly nine million people each day, making it difficult to read station names through the crowds from inside the train.
List of Moscow Metro stations that will make your trip unforgettable
Travelling in the Moscow Metro is travelling in a time machine: with each station, you step into a new era. Every station is shaped uniquely by surrounding historical events, Soviet ideology, and the subway's dark link to the Soviet dictator Josef Stalin. If our article on 15 Reasons to Visit Moscow wasn't enough, here's more. Whilst there are more stations to be added beyond this list, these are sure to give you a peek into the Moscow Metro's significance.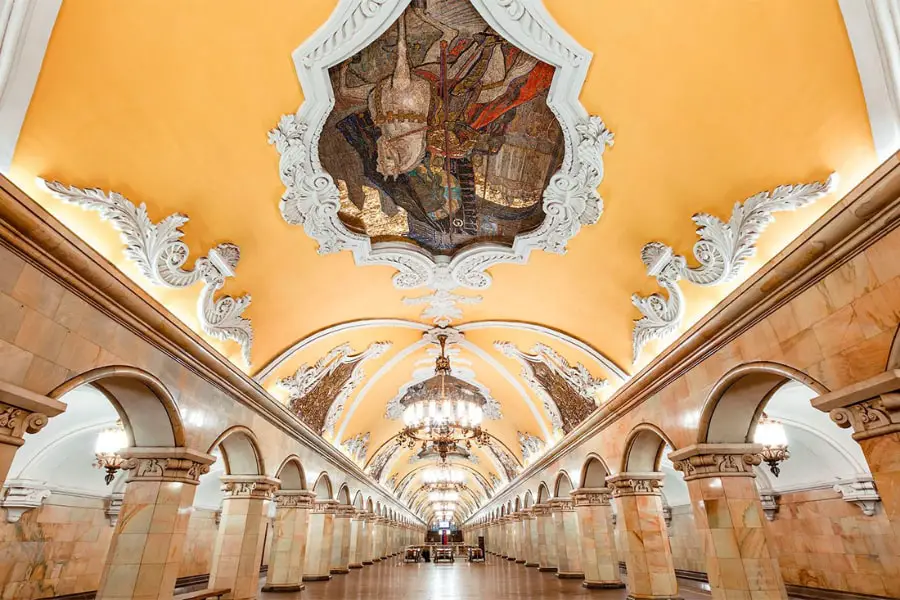 1. Komsomolskaya Station (Комсомо́льская)
From the 1930's: Journey Russia's Era of Socialism
This Moscow Metro station was one of the crowning achievements of the Soviet Union during this time, where Stalin's vision of glorious underground palaces came to life. This 1930's Baroque-themed metro station, the gateway to Moscow, doubles as one of the world's largest underground museums. Decorated by Soviet artists, Pavel Korin's Large ceiling mosaics of great military leaders show off the high point of Stalinist Empire Style. These designs embody notions of Svetloe budushchee (a radiant future) and svet (radiance or brilliance). Interestingly, the British engineers recruited to construct the Moscow subway in the 30's were arrested by Stalin for spying, amid fears they knew too much about the city's layout- today, the subway is a triumph every traveller should experience.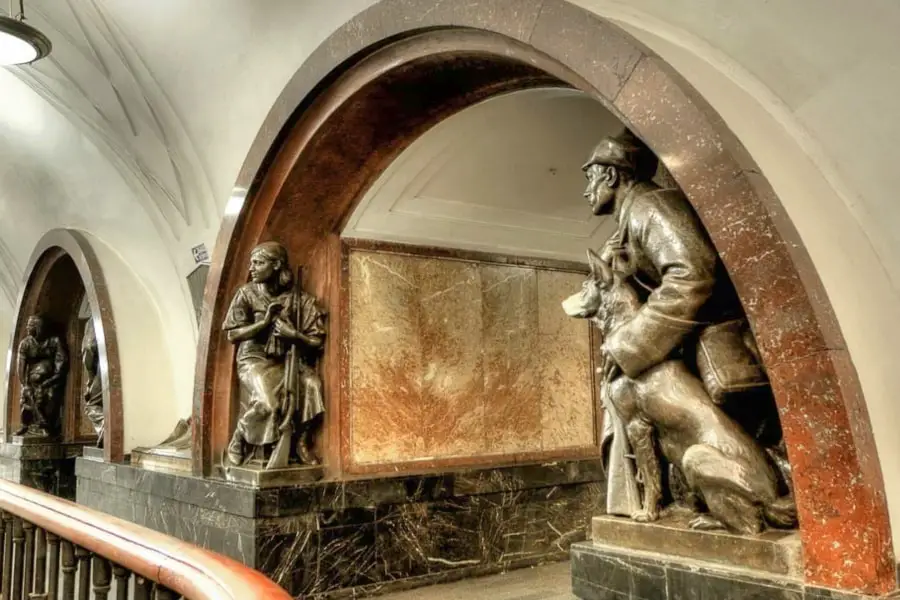 2. Ploshchad Revolyutsii Station (Пло́щадь Револю́ции)
Travel into the 1930's with this socialist-inspired metro space named after Revolution Square, under which it is located. Here, you are transported into another era that once celebrated the glory of socialism in a capitalist world. The arches that line Ploshchad are flanked by 76 socialist-realism sculptures, depicting those from the era of the Soviet Union. These life-size statues include farmers, soldiers, industrial workers, athletes and students among others. Many visitors flock to the frontier guard with a dog- a statue whose nose is rubbed for good luck.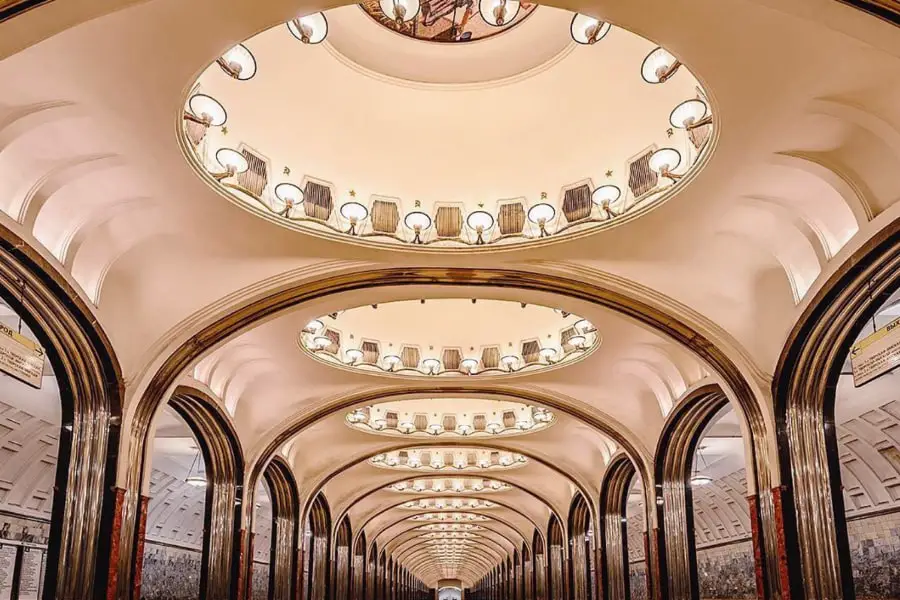 3. Mayakovskaya Station (Маяковская)
From the 1940's: Sheltering the Second World War
Built in 1938, this subway station became significant in the 1940's for its contribution to World War II and is one of the most famous metro stations in the world. During the war, the station became a designated air-raid shelter. It also functioned as a command-post for Moscow's anti-aircraft regiment, where Stalin took residence within its walls. Whilst Nazis bombed the city above, Stalin celebrated the anniversary of the Bolshevik revolution in the confines of Mayakovskaya metro station. As well as streamlined columns, marble walls and floors fit for royalty, it is adorned with 34 ceiling mosaics depicting Alexander Deyneka's theme "24-Hour Soviet Sky." If you look up, you'll see the lines from a famous poem that inspired this themeб Vladimir Mayakovsky's "Moscow Sky".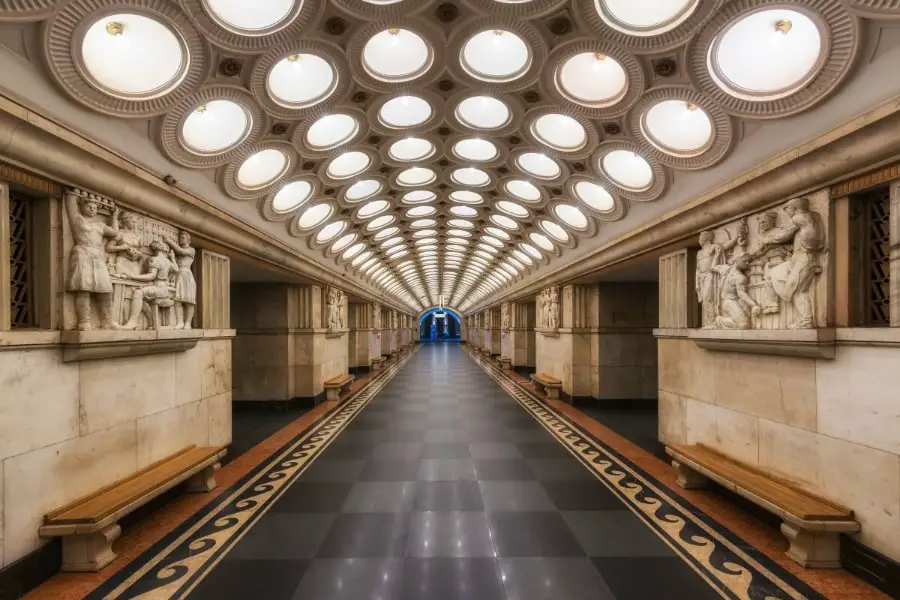 4. Elektrozavodskaya Station (Электрозаводская)
Named after the nearby electric light bulb factory, Elektrozavodskaya opened during World War II in 1944. Rows of incandescent lamps blanket the ceiling to bath its visitors in gold light. The station, like many others, takes on the appearance of an artificial underground sun with high ceilings, beautiful marble walls, and iridescent lights. This pre-war design of Art-Deco inspired Stalinist architecture was halted during WWII following the death of its artist, Vladimir Shchuko. It was completed by another architect who, in remembrance of their soldiers, adorned its walls with bas-reliefs documenting the struggle of war.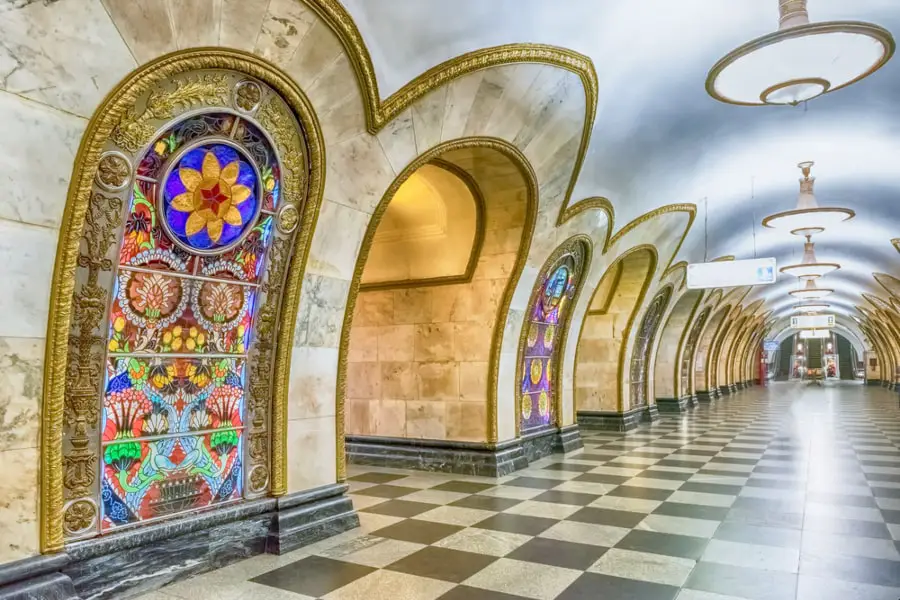 5. Novoslobodskaya Station (Новослобо́дская)
From the 1950's: Travel Russia in Stalin's image
The ceremonial 1950's Cathedral-like station is adorned with 32 magnificent stained-glass panels, decorated by Latvian artists. In honour of the Soviet fighting men the mosaics, bas-reliefs and cast bronze portraits capture soldiers of the Red Army and Russian war heroes. The station is transformed with huge pylons in which the panels are set in, giving the impression of an underground crypt. Here, pylons dissolve into arches to create a graceful passageway that travellers can escape through into another underwater world. Its ornate mosaic titled "Peace throughout the World" at the end of the platform is a must-see and breathtaking wonder.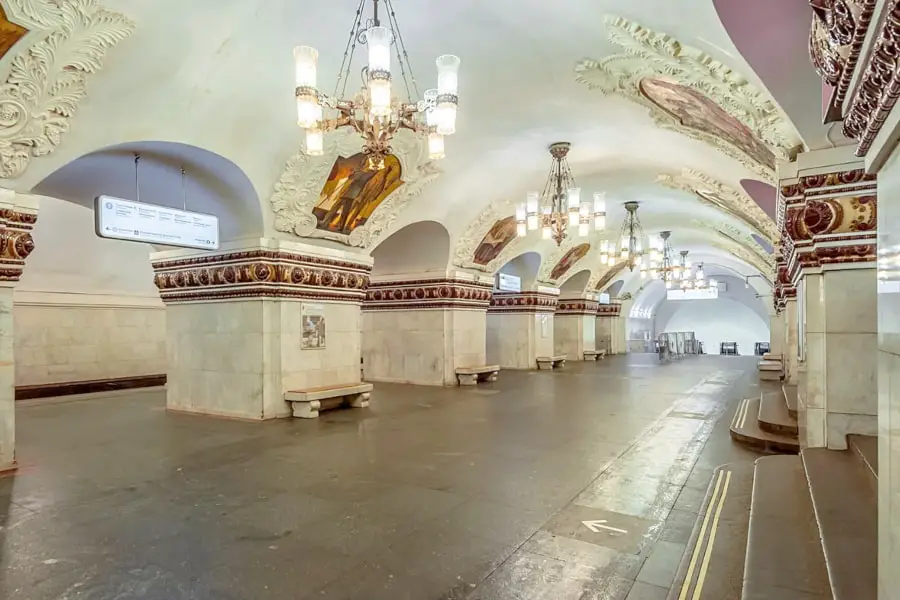 6. Krasnopresnenskaya Station (Краснопре́сненская)
Travel back to the flamboyance of the 1950's with Krasnopresnenskaya. This Moscow Metro station as part of the Circle Line stations was designed by Soviet architects in the peak of Stalin empire style. The station is found in the Presnya district where the Moscow Uprising of 1905 was held. In memory of the Russian Revolution, the station depicts artwork commemorating this era as well as Neoclassical and Empire-style motifs. Statues of Vladimir Lenin and Joseph Stalin situated at the end of the platform have since been removed following Stalin's dethroning.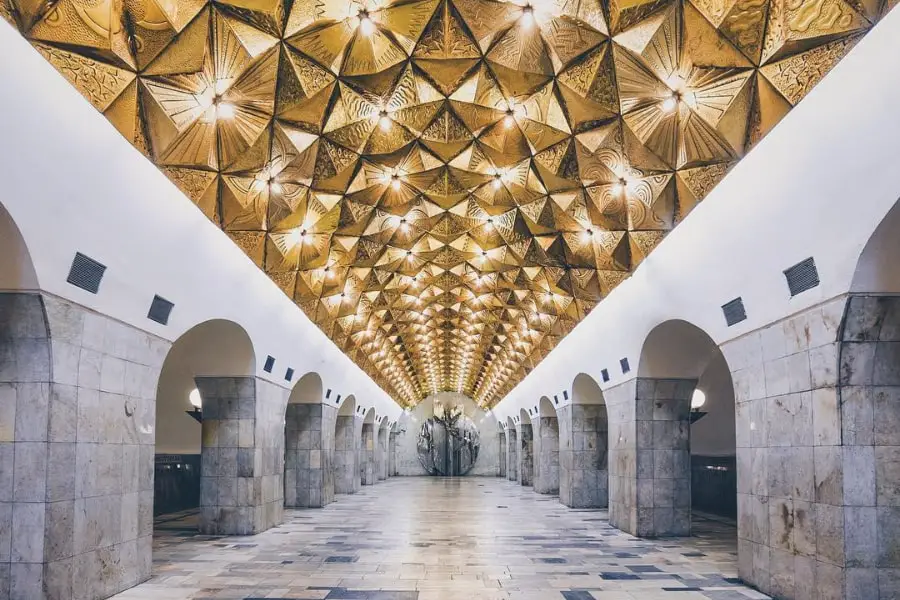 7. Aviamotornaya Station (Авиамото́рная)
From the 1960's onwards: Discover the Era of Stalin's Dethronement
After being in the magnificent stations of Stalin's reign, visiting those constructed in the 1960's onwards will feel like entering a whole new world. This is the era of the cult of Stalin personality's dethronement, where the Russian public fought against excessive decorations. Following the government's declaration to "eradicate luxury in designing and building", stations with sheer, plain and ordinary designs are introduced. Aviamotornaya transforms luxury to simplicity in a modernist style, with geometric designs. Light, marble columns hold up an exquisite bronze ceiling with numerous decorations detailing the main constellations as well as sun rays and night stars. This station is dedicated to aircraft engine designers, following a theme of aviation and flying. At the end of the central hallway is a metal sculpture depicting Icarus flying over ascending airflows.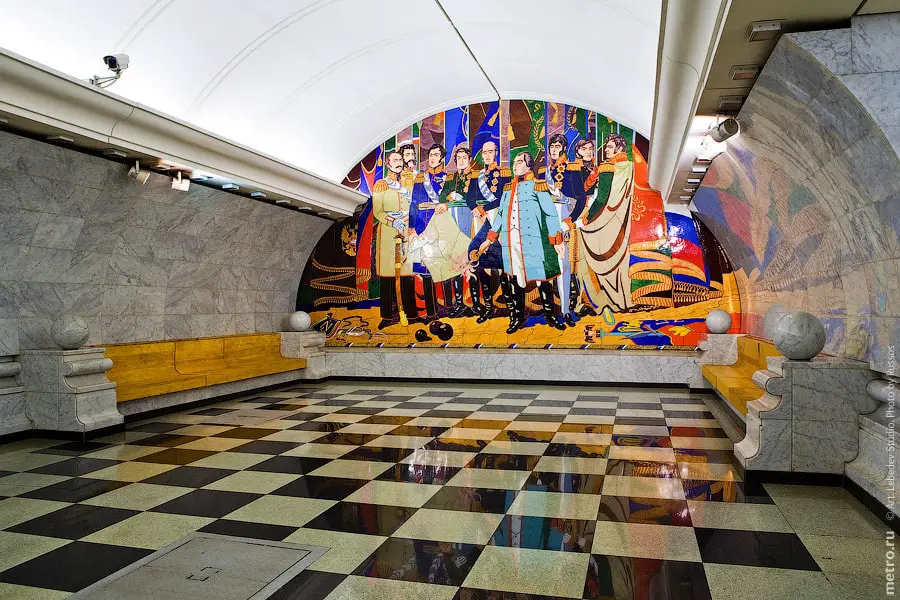 8. Park Pobedy Station (Парк Победы)
This 2003 Moscow Metro station, whose style is more reminiscent of the modern day, celebrates through its design the historical great victories of the Russian people from Napoleon's War of 1812 to World War II. Consisting of a southern and northern hall to celebrate both victories, it takes on a modernized approach with famous designs from the Soviet and Russian artist Zurab Tsereteli. Park Pobedy lies 84 meters underground, being Moscow Metro's deepest treasure (one of the deepest stations in the world). If that wasn't enough, you'll also encounter the world's longest escalator at 126 meters long.
A Note to Remember…
The Moscow Metro is a gem that gets more beautiful as it ages, with roughly 40 stations listed as heritage sites. Its service excels wildly beyond what is typically expected for the average metro station. Besides providing transport to any location in Moscow through an underground palace, its reliable, fast, easy-to-use and hassle-free service is sure to give you peace of mind when trekking unfamiliar terrain. Russia has treasures awaiting you in the most unlikely of places. Don't miss out on this hidden gem of a subway system, adorned with some of the world's most magnificent art.
Here's a short video recorded by BBC featuring the Metro's punctuality and extravagance:
Related posts