Craving a one-of-a-kind, awe-inspiring trip to a place of ancient histories, visually spectacular, and spiritual marvels? The Kazan Travel Guide has everything you need to get just that.
Kazan is the capital of the Tatarstan Republic, also known as Russia's third capital. Just an hour-and-a-half flight away from Moscow, this beautiful and thriving metropolis has a centuries-old history. Founded in 1005, Kazan is one of Russia's oldest cities (older than Moscow) with sites and architecture reminiscent of its glorious 12th-century reign by the river Kazanka. The multiethnic region is famous for the harmonious co-existence of many different religions, whose sculpted sacred sites are some of the world's most beautiful buildings. You'll find a sublime fusion of Tatar and Russian culture in this city, creating a glorious melting pot of different cultures. Whilst predominantly Muslim, you will find all religious backgrounds within the republic. Discover how easy it is to be entranced by the captivating Kazan – it is even worth making a detour on the Trans-Siberian Railway for.
This Kazan Travel Guide will help you plan everything down to preferred months of travel according to seasonal highlights, main attractions, meals from our pick of Tatar cuisine delicacies, methods of transport, and activities from morning until noon.
Why travel to Russia's Kazan?
Kazan Kremlin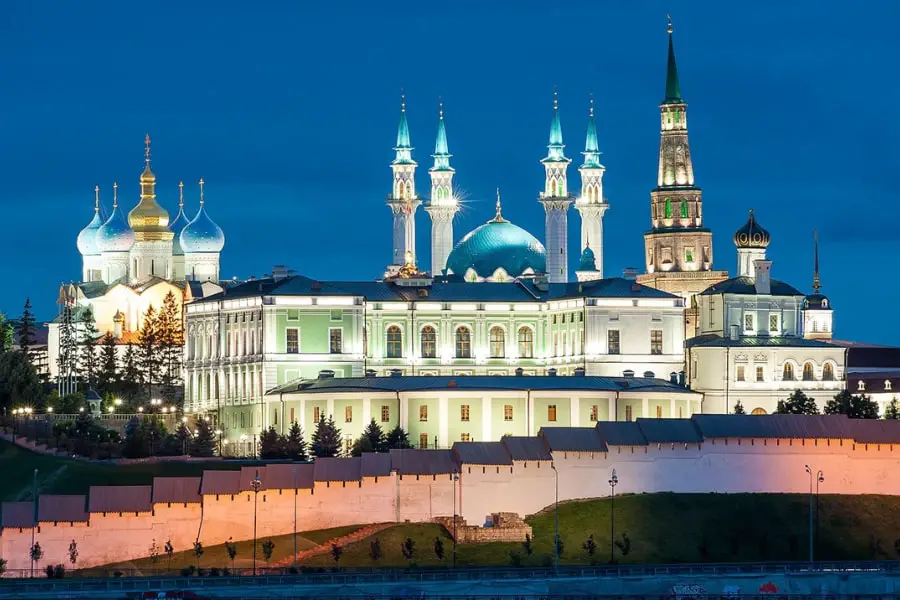 This UNESCO listed fortified citadel is the most familiar landmark of Kazan. Kazan Kremlin is full of cozy parks, picturesque streets, delectable foods, and beautiful sites. Take a tour through the only surviving Tatar fortress in Russia and lose yourself in its Middle Ages era splendor with this heritage-listed site. Many of the Kremlin's architectural wonders are sculpted by the famous Postnik Yakovlev and Ivan Shirjay, recruited by the Tzar. Kazan Kremlin is also home to the Söyembikä Tower and museums, where Kazan's extensive history and legends take centre-stage. Many also flock to the multi-faith place of worship for its glorious sculpted sacred sites such as Kul Sharif Mosque.
Söyembikä Tower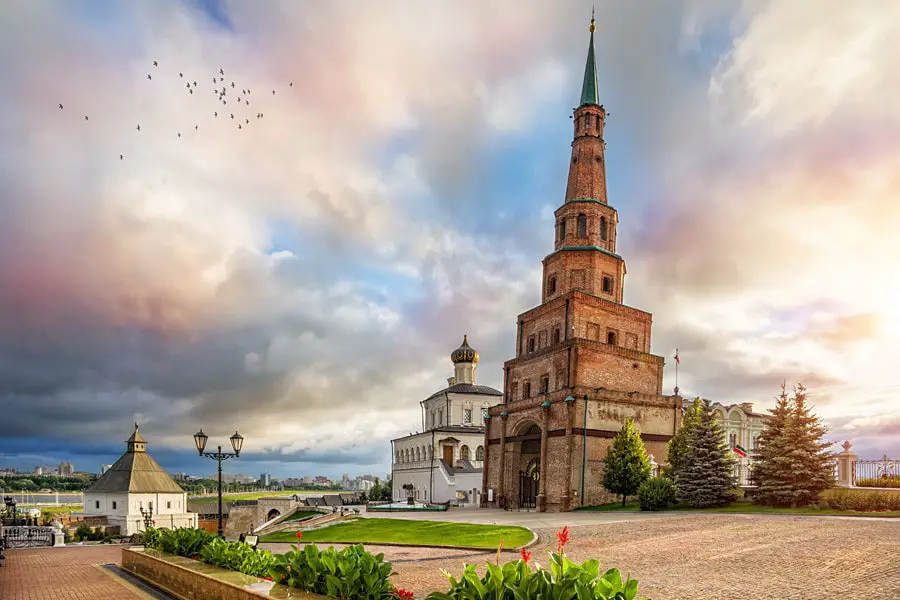 Kazan's tiered tower of Soyembika, also known as the leaning tower or 'Khan's Mosque' is the highlight of Kazan Kremlin. Its construction is recorded by scholars to date back as far as the 16th century, whose age-old history is expressed in some of its majestic colonial architecture. The colours are stunning in summer, and even in winter, the snow creates a fairytale-like scene. Once inside, you should pay attention to the haram carpet and elaborate details on the ceiling. Romantic and mystic legends surround the tower and the only woman to rule the Kazan Khanate for which it's named after. It is said to be the same tower that led the beautiful Princess Syuyumbike to her death, built for her by Ivan the Terrible who seized Kazan in 1552 and then demanded they wed. Others tell a different history of a Soyembika forcibly detained here by Muscovite forces, before being taken to Kasimov where she died. For those interested in its story, be wary of self-nominated guides- the official Kazan guides are a purchase worth making. Despite its tragic history, many locals believe if you touch the tower and make a wish it will come true.
Kul Sharif Mosque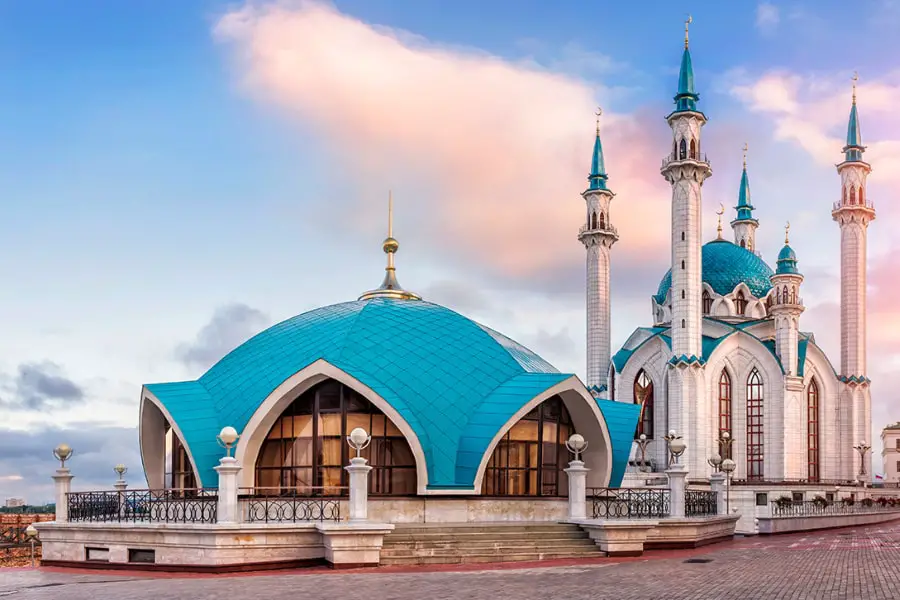 The Kul Sharif Mosque is Kazan Kremlin's main mosque and one of the city's most beautiful buildings. You will hardly be able to take your eyes off this one-of-a-kind structure. This attraction is not just for Muslims. It is open to all Kazan's travellers, but it is preferred that women have their hair covered during their visit. The Kul Sharif Mosque takes the place of a former mosque conquered by Ivan the Terrible in 1552. From outside, the majestic lotus-flowered dome landmark sits atop a hill overlooking Kazan. Inside, it's fitted with a modern yet classical interior where you can pray with the names of 99 gods inscribed on ceilings and window glass. On the ground floor is a Museum of Islam, where a tour in English may be available if there's an English-speaking docent on shift. Otherwise, there are booklets in English that explain the whole exhibit. Whilst everything is free to all visitors, they ask you pay 3 rubles for shoe slip-covers to help keep its floors clean. It is recommended you go in the morning to avoid a queue to visit the Kul Sharif Mosque, boasting a reputation as one of the best mosques in the world.
Temple of All Religions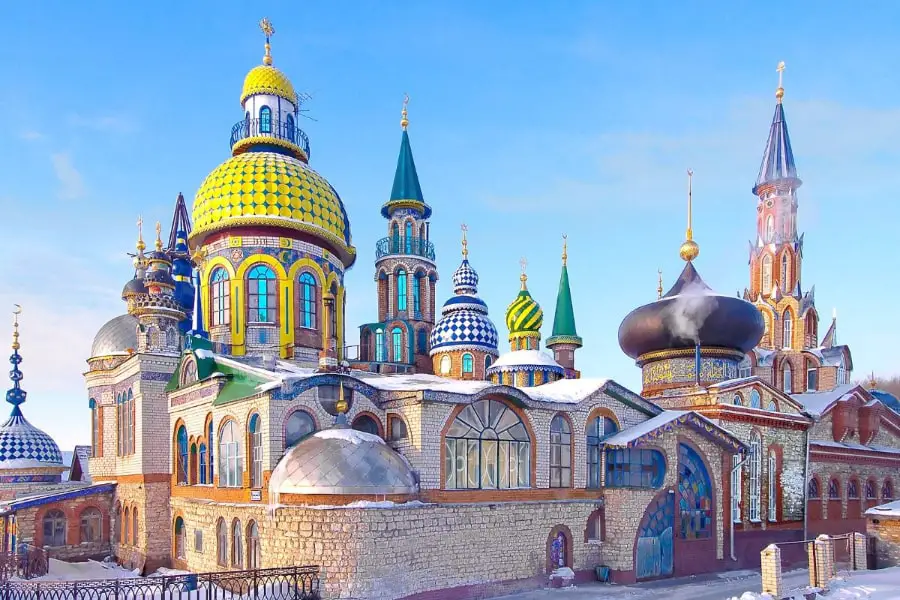 For those interested in the spiritual marvels of Russia, it is also recommended you see the Temple of all Religions located along the Volga river of Kazan. This is under construction, so it's not a must-see, but worth the visit if you have time to kill before taking a train or bus. It boasts 16 towers all for various different religions- a stunning sight to behold from the outside.
Baumana street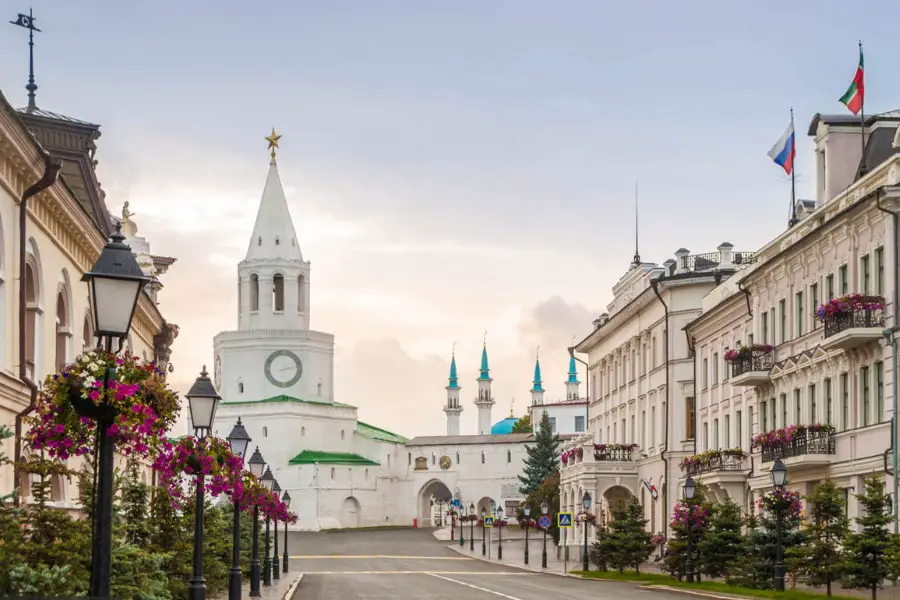 The Baumana Street is the main tourist and pedestrian zone between the Kremlin and Tokai Square. Tatarstan restaurants, stalls of street painters, boutiques, souvenir shops, fountains that fulfil wishes and kiosks are just a few of its gems that are ready to assure your every need and charm your socks off. Monuments and fountains make for a perfect photo backdrop, with statuary ranging from a bronze carriage of Catherine II to the "thick lazy Cat of Kazan", a tribute to its feline protectors who fended off mice. Whilst mingling with the locals, the rich chimes of Kazan's bell tower help bring the vibrant Arbat to life. Baumana street's historical attractions include houses of the 19th century, a monument to Feodor Chaliapin, and a Russian baroque style Epiphany cathedral. For opportunists seeking for the perfect Russian souvenir, Baumana street is the place to buy everything: Matryoshka dolls, Tatar folk costumes, and one particular favourite of tourists is the Tatar national male headwear "Tubeteika". This is a street that never sleeps- when the sun sets, it becomes a hub for nightlife.
Palace of Farmers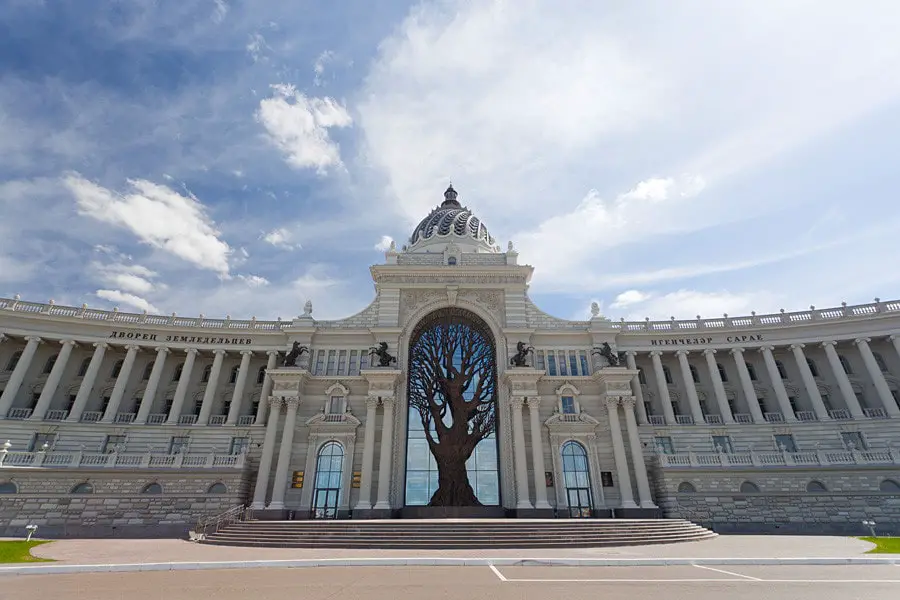 The Palace of Farmers is a vast and regal building like something out of a fairytale. Despite being a recent addition to Kazan's collection of ancient sites, it looks to be built well over a century ago. This eclectic architectural piece boasts elements of Classicism style, the Second Empire, and the Belle Epoque. A magnificent, 65-foot tall bronze tree sculpture grows in the archway of the palace's façade- a sight that makes for a mesmerizing photo backdrop. This is a governmental building related to agriculture, so the interior is not accessible. However, it's worthwhile just to see its magnificently sculpted exterior. Located adjacent to the Kremlin and Kazan river embankment, the Farmer's Palace makes for beguiling scenery for your riverside stroll. Manicured gardens out front create a serene, relaxing space in the summer sunshine, the site's most popular season. When the sun sets, the Palace of Farmers comes alive with an array of spectacular light displays.
Raifa Monastery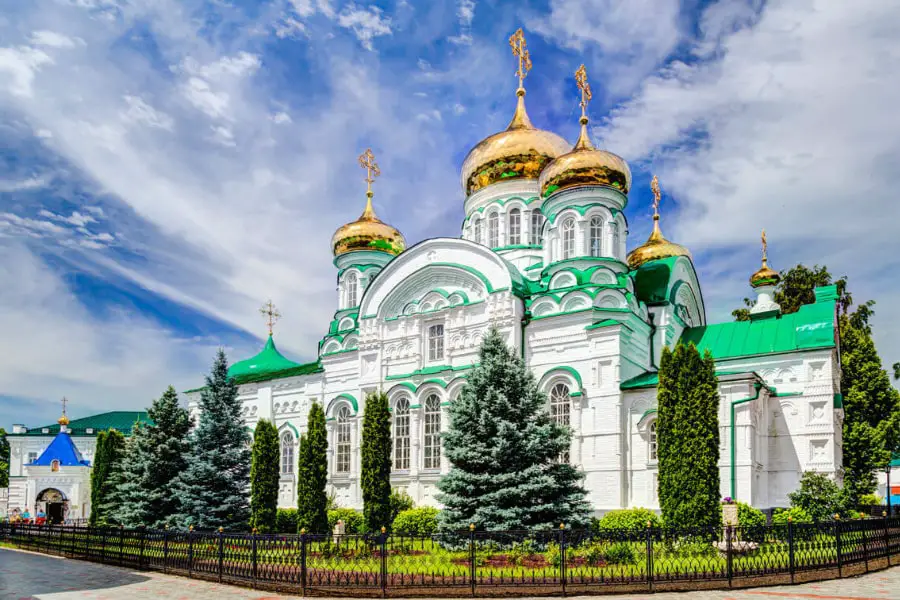 Whilst known as one of the largest monasteries in Russia, Raifa Monastery had humble beginnings as a place of solitude where monastic followers could dedicate themselves to God. Found in a serene location by Sumy Lakes in a lush pine forest, this centuries-old site has been rebuilt time and time again. Its history tells of temple destruction, brutal plundering, arson, and has once made a home for juvenile delinquents. The history behind the monastery's name is no exception to this trail of tragedies. In fact, the hermitage was established and named in memory of holy fathers tortured in Sinai and Raithu. Abandoned for over half a century, the ruins have been given new life with well doted on additions. This includes the Holy Trinity Cathedral, the Cathedral of God's Mother of Georgia, the Church of the Ss Reverend Fathers and bell tower, with beautiful onion-domed architecture and intricate iconography. It's free to wander monastery grounds, where small shops and cafes populate the area. Arrive at this stunning rural monastery via a 40-minute drive from Kazan (with some free parking available), bus tour, or a scenic boat trip.
Sviyazhsk Island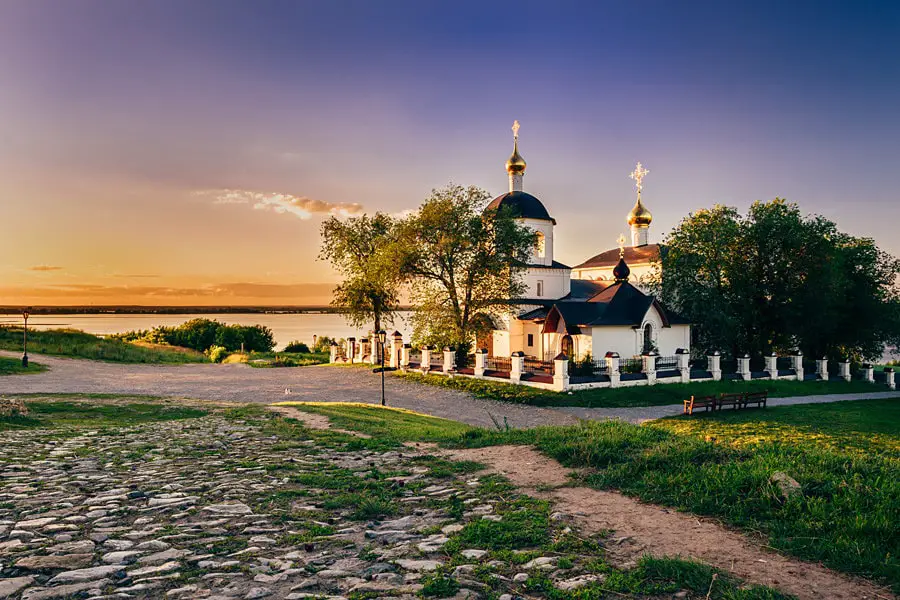 Sviyazhsk Island, or "Conqueror City", began as a fortress for Ivan the Terrible in 1551 when Kazan was an unassailable fortress. Frozen in time, visiting the Island is like going through a time machine with no fewer than 37 cultural-historical monuments. Its religious marvels are a must-see. Trinity Church is the last of its kind in Sviyazhsk- a wooden structure dating back to the time of Ivan the Terrible. Axe marks made by Yaroslavl carpenters can still be seen. The Dormition Cathedral boasts a glorious collection of 16th-century frescos. Its most famed is St Christopher with a horse's head- a fresco that tells the story of a saint so handsome he pleaded to God for ugliness, to avoid unwanted attention from women. However, these monasteries have seen their fair share of horrors- the Soviet political repression saw them turn into prisons, concentration camps, and psychiatric hospitals. A local museum, Sviyazhsk State Museum of History and Architecture, is no stranger to these horrors. Here, inmates and prisoners were executed and their belongings are still on display in abandoned cells inside. A monument to the victims of political repression forms a two-meter-tall marble slab on the island.
The Ancient City of Bolgar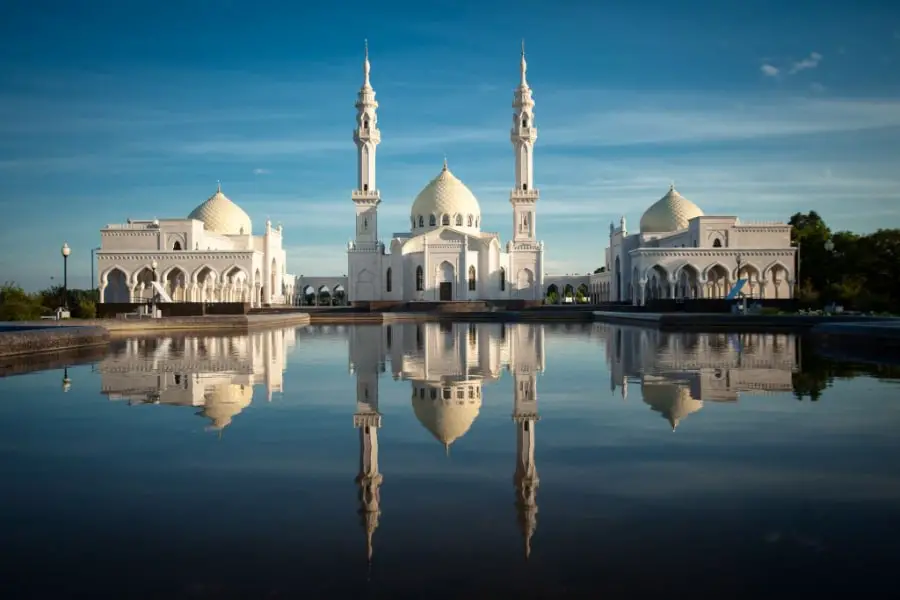 Not far from Kazan, Russia's mysterious Muslim City, Bolgar, dates back to the 7th and 15th centuries. With such a powerful history, this Eurasian metropolis is one of Russia's first UNESCO listed sites. It's served as the capital of the Mongol Golden Horde, ruled by the founder of the Timurids Empire, and even the Prince of Moscow. A 1969 excavation for the State Historical and Architectural Museum and Reserve saw the city turned into a huge open-air museum.  Stone citadels, mosques, and tombs are some of its jaw-dropping remains from its glory days. Other attractions include the Khan's palace, White Mosque, the hidden healing well of Gabdrakhman, a 700-year-old burial chamber for Bolgar nobility, and an interactive bread museum. The city of Bolgar has great religious significance, once the center of Islamic civilization in Europe. Here, you can find the largest printed Kora in the world weighing at 500kg. Bolgar remains a sacred pilgrimage destination to Tatar Muslims. The city of Bolgar is a three hours' drive from Kazan along the scenic route of the river Volga.
Kazan from a boat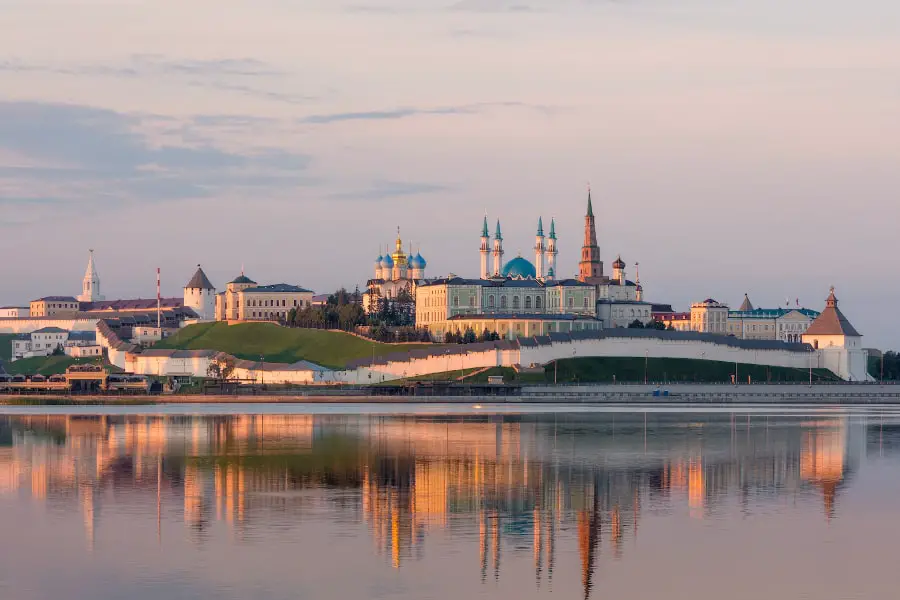 Kazan's river station is flocked to by tourists eager to experience the scenic water route along the city's shores. Travelling through Kazan with a Volga River boat trip is filled with incredible landscapes and jaw-dropping scenes. Gorgeous views of some of the city's beloved icons include the Kazan Kremlin, whose structure sparkles like a jewel in the sun in all its Russian glory. The comfortable steam-ships on the rivers and lakes of Russia depart a few times a day to make for regular service (12:00, 15:00, and 19:00 on most days). Two-hour boat trips without stops, with a guided tour along Kazan's coast. A total of 9 dams choke the river and halt its waters to a standstill- a glistening, magical scene that is a magnet for artists, writers and explorers. By its shores, the Volga river is a favourite for camping, relaxing, fishing, and swimming.
Kazan Cuisine Guide: A Foodie's Haven
Kazan is the central home of Russia's Tatar cuisine, boasting many restaurants and cafes that have earned its keep in the hearts of foodies across the globe. This Kazan Travel Guide will convince you why this is a haven for Russian and eastern cuisine.
Museum of Chak-Chak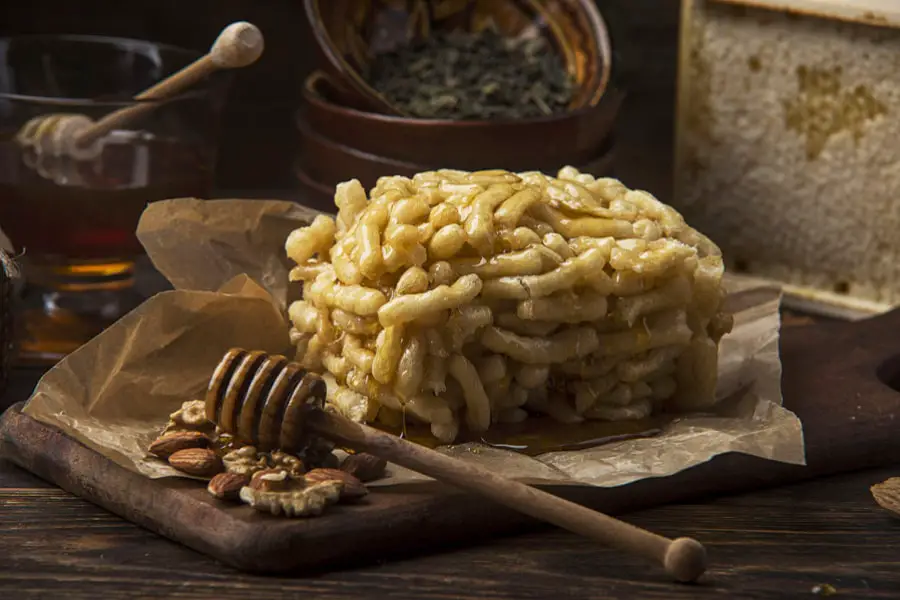 The Museum of Chak-Chak (Çäkçäk) is named after the mouth-watering honey-baked balls of doughy goodness, a delicacy served at celebrations and festivities. This museum-turned food establishment is dedicated to traditional Tatar foods and drinks, particularly their national sweet foods. Bashkir dishes, chak-chak, bursak, and kak-tosh made from almonds are some of the recipes derived from Tatar enlightener kayum nasyri. These are only some of the most popular must-try dishes that cannot go unsampled. Here, guests drink tea and sample desserts whilst guides tell stories of the ancient Tatar people's way of life, tradition and customs. If you want to learn the secret to cooking the perfect Tatar dish, this is the place to be.
Dom Tatarskoi Kulinarii (restaurant)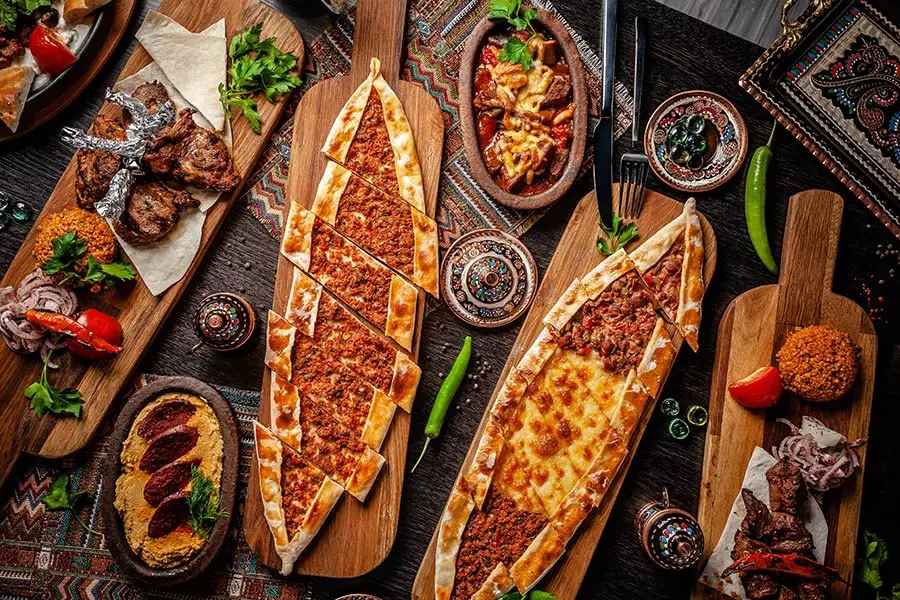 Dom Tatarskoi Kulinarii, or House of Tatar Cuisine, is one of the oldest national restaurants that has earnt its place in the heart of foodies from across the globe. Its dishes are based on Yunus Akhmetzyanov's time-tested recipes and traditions – a beloved local guardian of traditional Tatar cuisine. Here you can find confectionary like Tatar sweets, and authentic dishes such as:
Echpochmak: These are triangle-shaped pastries stuffed with mince and potatoes. A small hole remains at the top of the stuffed and folded dough. Halfway through the oven baking process, the pastries are filled with a spoonful of broth, ensuring that the meat (stuffed raw) is moist and tender.
Gubadiya: Layered pie which contains cottage cheese or quark, minced beef or lamb and boiled egg, which is combined with raisins or mixed dried fruits (such as figs, prunes and apricots). This filling is then covered with melted butter before being baked into a mouthwatering dessert.
Kazylyk: Originating from Tatar nomadic culture, this dish is a horse meat sausage which has been traditionally cured by air-drying in the sun and wind. It is often spiced with coriander or cumin, served in thin slices with pickled sliced onions
Talkysh kaleve: This intricate dessert involves honey and sugar spun into a stringy fairy-floss which is then moulded into miniature cones and coated with a powder of melted butter and flour
Manti: Tatar dumplings made from either spiced lamb, beef or horse meat, which can be mixed with pumpkin or squash depending on the region. They can be boiled or steamed in their own juices, typically served with butter, sour cream, onion sauce or red pepper powder.
In the evenings, your wining and dining with this Bauman street food will be accompanied by live music and the opportunity for master classes about preparing national dishes.
Kazan Travel Guide: Summer Highlights
Months & Temperature
 June, July, August: +24 – +27 C
Summer is by far the most popular and most frequented time of year to trek to Russia's glorious Kazan city. The bustling, sunny and comfortable seasons of June, July and August are some of the best months to travel here. July is its hottest month at an average of 27 degrees- the perfect time to bask by the mesmerising Volga River.
Festivals
The Sabantuy Tatar National Festival in June is jam-packed with competitions, sports events, dances, feasts, and music. This holiday hallmarks the end of spring crop planting and draws crowds of up to 40,000 in Kazan's village of Mirny. Competitions of sportsmanship draw contenders near and far, both amateur and professional, in games like the egg-and-spoon race, sack races, horse races, and wrestling matches. Contenders for the more professional scenes like wrestling can earn prizes varying from home electronics to cars. The wrestling champion is declared 'Batyr' and lifts an overweight ram onto his (or her) shoulders for the cheering crowd. This festival is a marvel to behold, especially witnessing it for the very first time.
Similar to this: See also International handicraft festival 'Spasskaya Yarmarka' in August, Elabuga city
Kazan Travel Guide: Winter Highlights
Months & Temperature
 November, December, January, February – 0 to -10 C
For those far-reaching globetrotters, here is your chance for a true white Christmas- Kazan in Winter gets especially chilly in November, December, January, and February, the coldest months to travel. In November and December, there is a high chance of snow. Besides public holidays, winter outings mean fewer crowds, fewer queues and a more serene, quiet atmosphere.
Festivals
The Nardugan Pagan Holiday Festival is popular in Kazan as an annual celebration honouring the winter solace. According to the ancient Tatar calendar, the birth of the Sun is December 22. This begins weeklong festivities and celebrations acknowledging the awakening of nature and the beauty of life. Dancing, traditional costumes, theatrical performances, Tatar baker's delicacies, and fortune tellers are part of the joyous festivities.
For those creative art buffs interested in the sophisticated art forms of ballet and opera, see Kazan's Shalyapin International Opera Festival (February), and the International Festival of Classical Ballet, Rudolf Nureyev Dance Festival (May).
Kazan Travel Guide: How to Get There
Kazan International Airport
Kazan's international airport in the Laishevsky district is the only one in Russia that secured a win in the World Airport Awards of 2018. It's equipped with paid and free parking, medical facilities, free Wi-Fi, shops, cafés and restaurants, a post office and more whilst being English friendly. The train terminal of inner-city travel is located within the airport. Find out more about travel options via the air through the Russian Official Kazan Aero site, Aeroflot Airlines, or plan your trip with Google Flights.
Railway station
For visitors travelling to Kazan from within Russia, the Russian railway is connected to the city's two main stations: Kazan-Passazhirskaya and Vosstanie-Passazhirskaja station. Trains from the Russian cities Moscow, Yekaterinburg, Nizhniy Novgorod, St. Petersburg, Novosibirsk and Adler pass by these stations. The railway stations are fitted to meet your every need, supplying luggage storage, baby changing facilities, tourist info desks, ATMs, cafes and more.
Trans-Siberian Railway
Kazan is one of the top must-see stops on the Trans-Siberian Railway. The traditional Russian Trans-Siberian Railway route stretches from Moscow to Vladivostok, and has Kazan as one of its main stops. Even if you weren't planning on visiting Kazan but will be making your way through the Trans-Siberian Railway, this is a detour you won't regret making. Kazan is a 1000-year-old ancient city, still full of life, and the perfect place to lose yourself in (but not too lost, because their diverse transport system will be sure to get you back on track).
Enjoy a short Kazan city tour via this entertaining video:
Related posts