Visiting Olkhon Island is just like traveling back in time, a journey back to nature. I will never forget my trip to Olkhon Island because in many ways it cleansed my soul. Olkhon Island is located in the middle of the worlds largest and the deepest freshwater lake, Lake Baikal is aptly named "Reach Sea" (in the native Buryat Tongue).
My story starts as I step off the ferry (which transports you from the mainland to Olkhon island) into an untouched land, unpaved open roads, temperamental electricity and friendly faces. I felt so at ease with the calm atmosphere and beauty, perplexed by this place that barely gets a mention in travel guidebooks. A place that other travellers pass over because it's too far out of the way, a place that I would otherwise keep secret forever. My days were filled with exploration, as guides and maps were few and far between. This was not a problem as what stretched before was a breathtaking and incomparable beauty. My base for adventure was Khuzhir, the main village on Olkhon Island. I found myself going for walks, long strolls that would loop the hills and the empty streets, just to get a glimpse of the endless water views.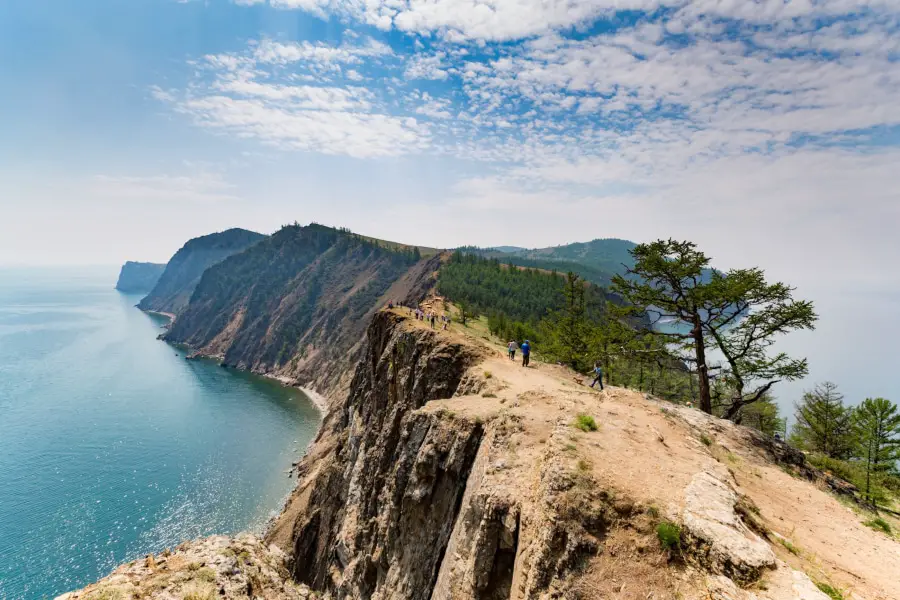 Olkhon Island is a place that time has forgotten, where iPhones and MacBooks should never be seen. This is a place of raw, natural beauty. Enough about me and the rambles from my head, because I want to share with you 4 reasons to tick off Olkhon island from your travel bucket list.
1. Olkhon Island enjoys unbelievable panoramic landscapes
Olkhon Island is home to spectacular landscapes, which are second to none. It is especially true for the northern region of Olkhon Island, where you will see the majestic and unforgettable panoramic views of the endless sea below (Lake Baikal). It is the ideal spot for nature lovers and landscape photographers alike. Here you will find untouched wildlife, virgin forests and jaw-dropping landscapes.
Shaman Rock
You may have seen it in pictures but the sight of Shaman Rock in real life is one to behold. Standing tall at the edge of the west coast of the island is the ninth most sacred places in Asia. If you are a photographer or just like taking beautiful snaps, this place is a must-visit.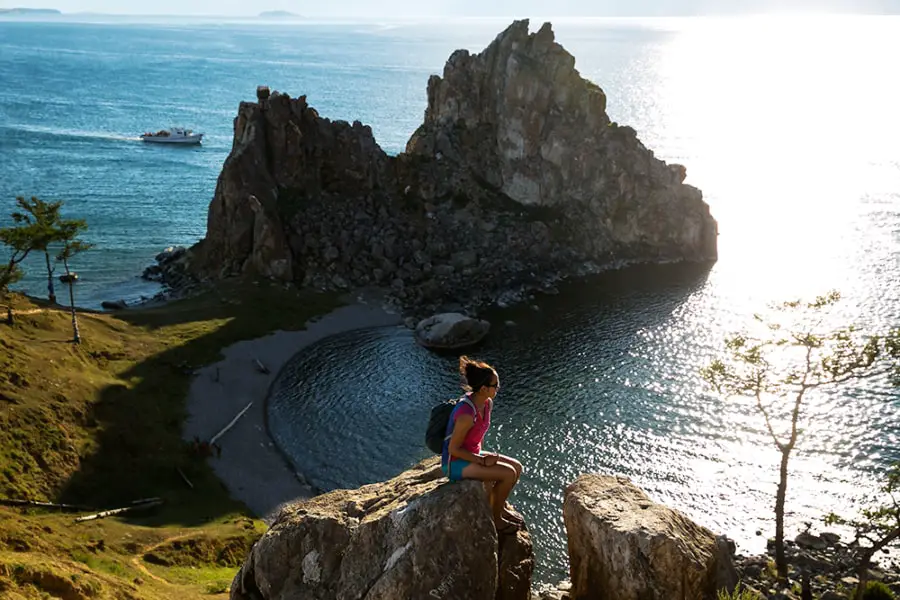 Cape Khoboy
If you have one spare day and I guarantee you do, you must visit Cape Khoboy. This is the northernmost point of Olkhon Island, Cape Khoboy captures the best of the best in terms of landscapes and picturesque views. The endless blue lake makes the peninsula stretch on forever feeding the soul. Home to beautiful red cliff faces and crystal beaches, seagulls and if you're lucky, even Baikal seals. From the earliest times, Cape Khoboy was considered to be a sacred place and served for performing religious rites. This magic and intimidating beauty of this place will excite your spiritual emotions.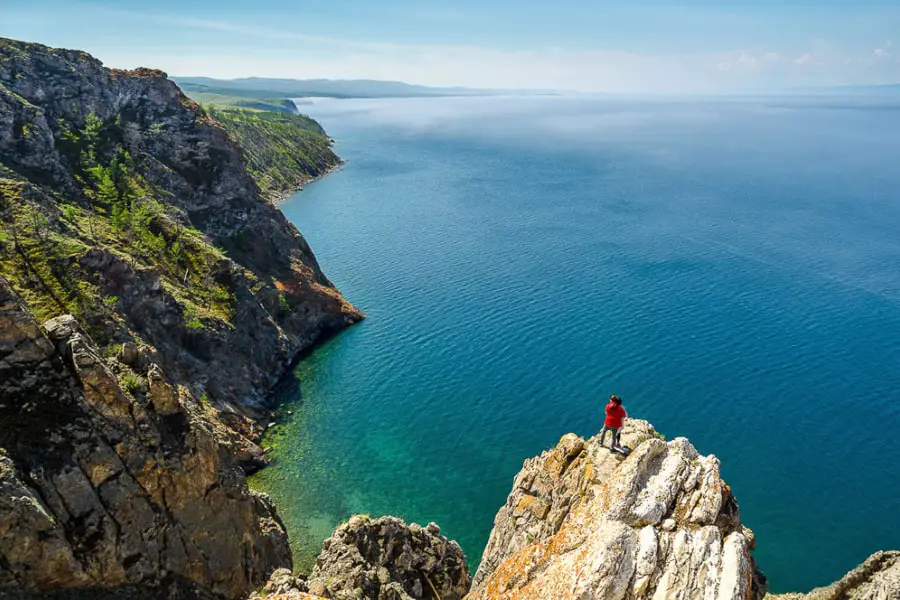 2. It's a spiritual journey
Olkhon Island is the place to go on Lake Baikal both for Russian and foreign tourists seeking to dig deeper into their own spirituality. Home to the Buryats of ancient Mongolian origins; it is a spiritual epicenter for Shamanism and Buddhism.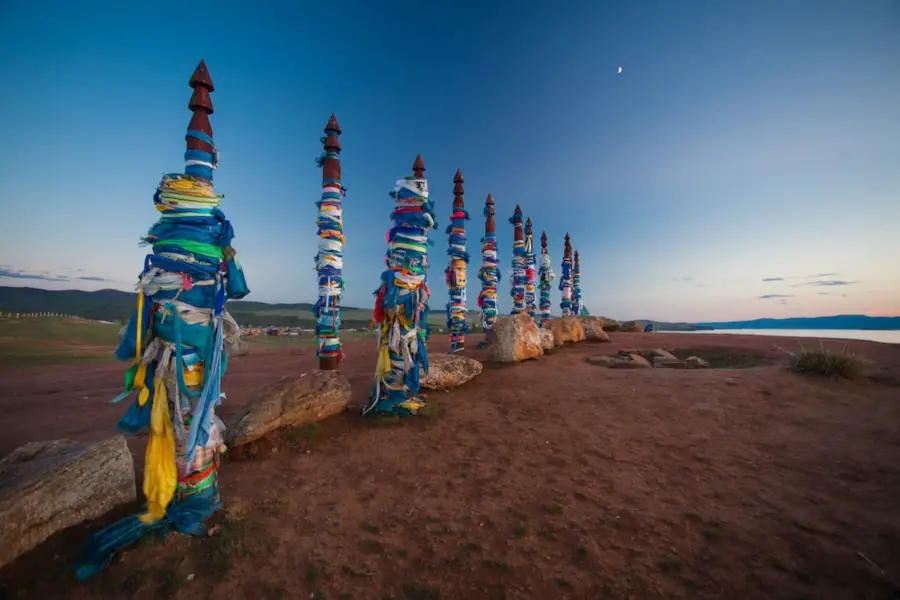 This expression of spirituality manifests itself in the form of pray flags or ribbons that I found wrapping trees, poles and stones around the island. The legend says that the winds carry spirits that read your prays and wishes, that is why they are always placed on the highest point available.
Stupa of Enlightenment on nearby Ogoy island
An eight-metre-high Buddhist stupa of Enlightenment was raised at the highest spot of Ogoy islet in 2005. A Buddhist stupa is an object of worship and means "a support for gifts".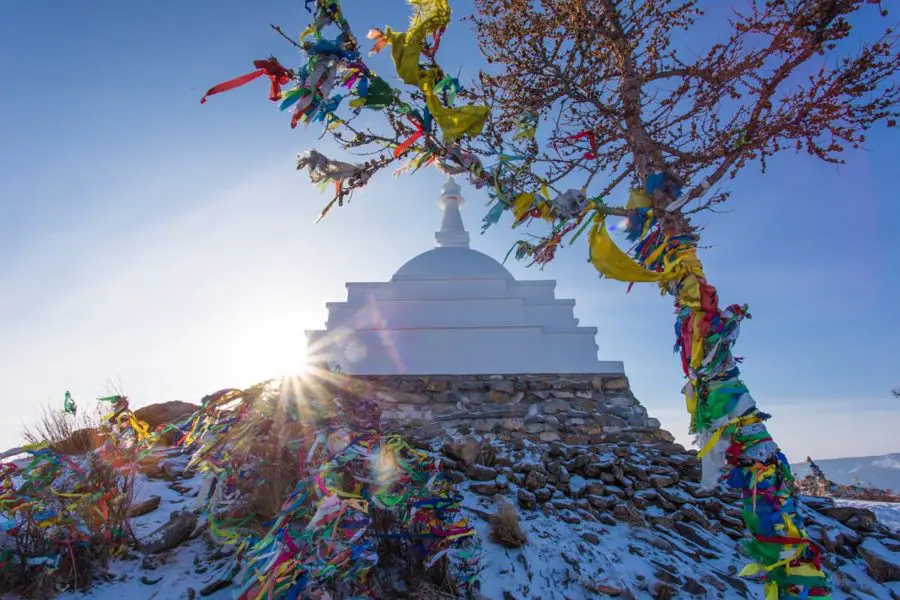 This holy place will reach within the depths of your consciousness in such a way that the modern world no longer affects your being. The stupa of enlightenment symbolizes in the modern interpretation the goal of the Buddhist path. This goal is to understand one's own mind. It is the place where love is expressed with remarkable power; where you can obtain harmony with the environment. This harmony is experienced by being surrounded with the living power of nature.
Meet the shaman of Olkhon Island
By traveling to Baikal you can witness the shamanic rituals in their purest form, see the 'Sacred places" full of gifts for the Spirits and meet a real Shaman in person. Some locals on Olkhon island simply have their own beliefs and Shaman is a part of their lives as a doctor or priest is part of our everyday life.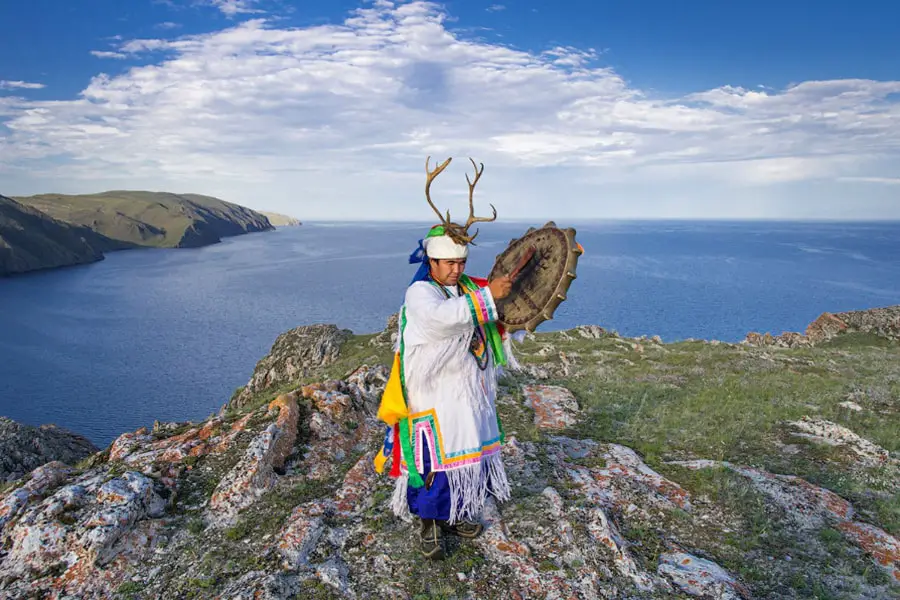 In late July, the island becomes home to an annual gathering of shamans. They arrive from Ulan-Ude, all over the Altai Region and Mongolia to perform their rites, which involve long drumming sessions to put them in a trance, sprinkling stones with the milk brandy and putting colored ribbons on trees. This is worth seeing at least once.
Olkhon is widely believed to be endowed with magic powers to draw tourists back. No one knows the secret but dozens of tourists come to the island for a second – or even a third – time.
3. Travel back in time
Khuzhir – the local "capital"
Khuzhir is the main village on Olkhon Island. There are only a few thousands of inhabitants, making it a peaceful place. It is located close to the shores of Lake Baikal where the ferry docks and the adventure starts.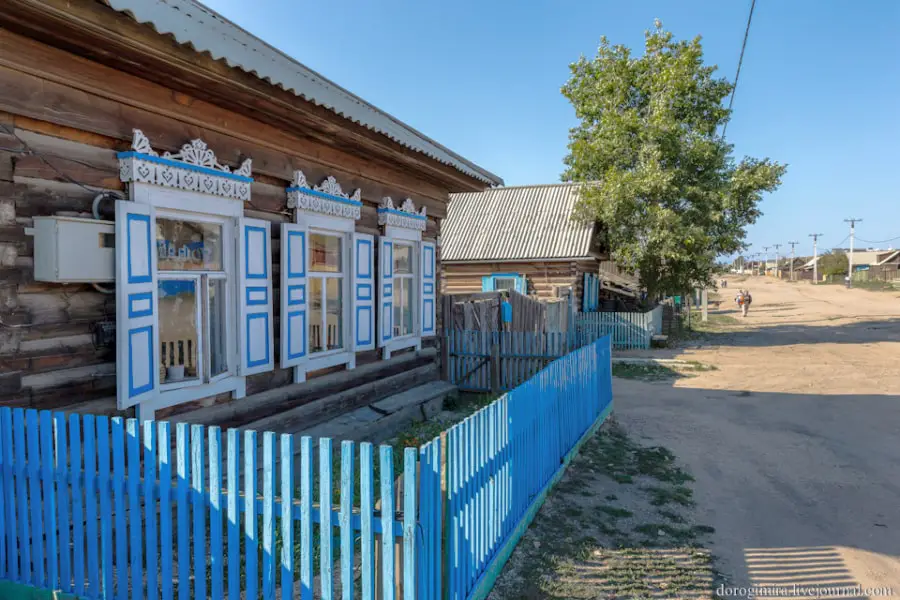 Khuzhir is where you can find food, drink, accommodation and festivities. Some locals offer vegetables for sale straight from their garden. Every Sunday there's a market on the main street, where local people sell handmade items and fresh food.
In 2005, Khuzhir was finally wired for electricity. Since then, tourists have been flocking to the town, giving locals a chance to make some extra money by renting out rooms and bicycles. The streets of Khuzhir are now as often filled with Russian as they are with French, German and English.
Buryat village
You will learn the peculiarities of past and present life of the local Buryat people and their traditions. You will see their traditional housing, furniture, their everyday and holiday clothing, traditional dancing and singing in the Buryat language. You will also be treated to traditional dairy dishes of the Buryat people.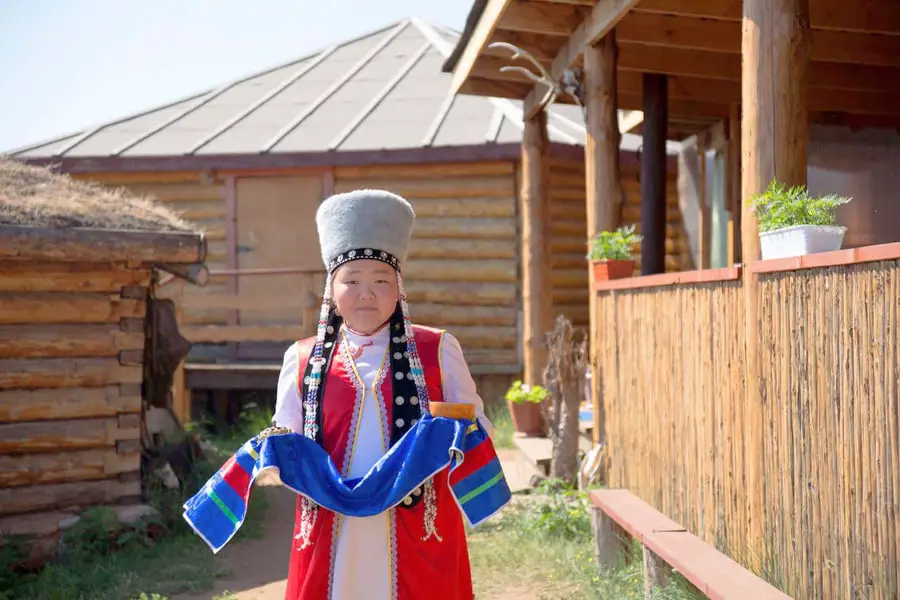 4. Enjoy active adventures in pristine nature
Horse riding along pristine beaches of Olkhon Island
Nothing beats a nice hike by foot, but since the island is so huge, therefore horse riding is a common way of transportation. An incomparable way to see and do everything the island has to offer.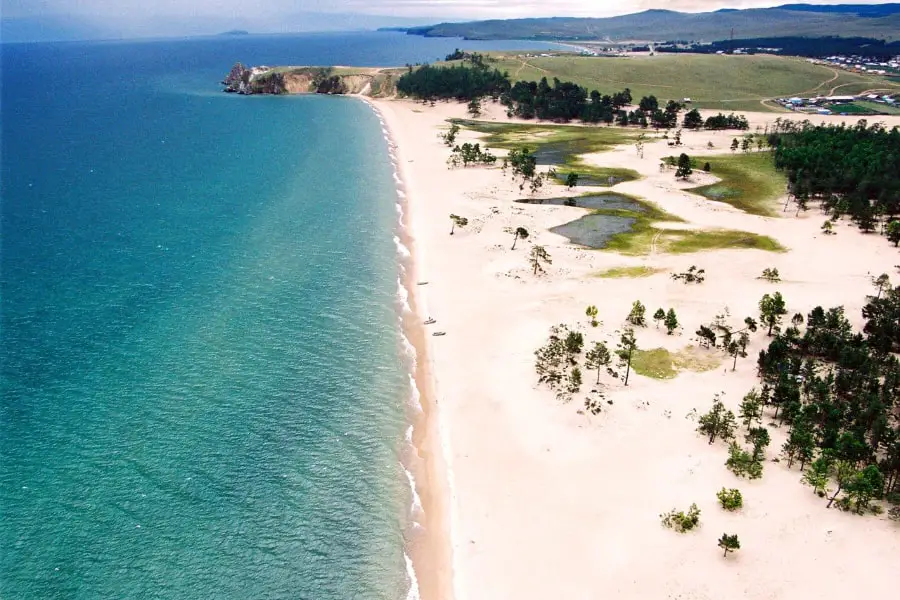 By leaving cars and conventional transport behind you feel a greater sense of immersion to the culture of Olkhon Island. Pristine sandy beaches surround the island, in particular, north of the Shaman Rock. The bays are quite shallow, and in the summer it stays nice and sunny. The waters are cooler then what we are used to and they are clean enough to drink. So take some time out to lay on the beach, have a dip and take a picnic as in summer months the temperature easily reaches above 25 C (77 F).
Kayak or bike around Olkhon Island shores
The best way to experience the whole island is to do it by bike or kayak. Due to the size of the island and the experiences to be had all over, there are different modes of transport that amplify the experience.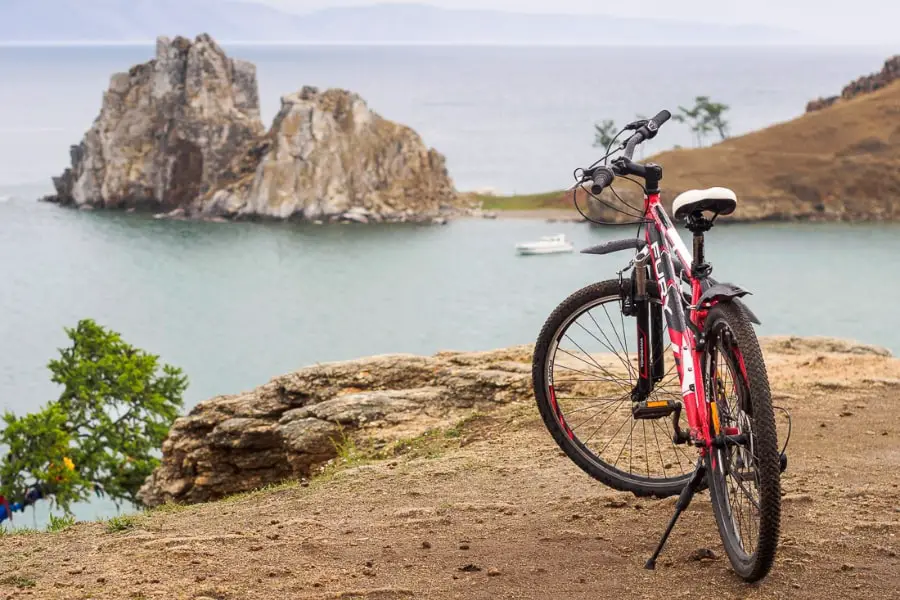 Bikes are very common on Olkhon Island as the unsealed roads and isolation of the island make for a bike-friendly environment. Bikes can be rented at Khuzhir averaging $10 a day.
A popular bike route from Khuzhir goes almost all the way across the steppe to the Kurykan Wall. Olkhon has over a hundred archaeological monuments: burial grounds, sites of ancient towns and ruins of ancient walls, including the Kurykan Wall on the Khorgoi Cape in the south of the island. Scientists are still undecided whether its purpose was to protect the locals from nomadic tribes or for offerings and sacrifices.
How to get to Olkhon Island
The journey from Irkutsk takes some 6-7 hours including a ride on a minibus (paved road till the lake), then getting on a ferry and continuing on bumpy off-road on the island.
Another option is to get to Olkhon by a regular fast boat, but it operates just a couple of days a week, so this option may be not very suitable if you have just a few days in the area. The navigation starts in mid-June and lasts till the end of August, usually, the fast boat travels from Irkutsk and Listvyanka to Olkhon on Wednesdays and Saturdays, the cruise takes around 5 hours and 30 minutes.
Olkhon island accommodation
Olkhon Island is still a somewhat isolated destination. Therefore, the accommodation offer is still developing. Some hotels don't have constant power or warm water. Our recommendations are:
For information about tours on Olkhon Island and Lake Baikal, feel free to get in touch.
Call us: +61 2 9388 9816
Email us: [email protected]
Related posts