Thinking of travelling to or within Russia but undecided on which destination to go? This Russia Travel Destination guide shares tips and highlights of the best locations to vacation in Russia.
The world's largest nation has it all – fast-paced, cosmopolitan cities with eye-popping architecture, quaint historic rural villages, mountain ranges, ancient volcanic landscapes, lakes, rivers and forests. From magnificent stretches of coastline to snow-swept tundra to semi-arid desert, no other country can challenge, surprise, inspire and delight visitors with incredible diversity quite like Russia. If you're planning for the perfect holiday get-a-way to Russia whether it be independent, a guided trip, as part of a group tour or a Russia travel package, this Russia Destination Guide is for you.
Best way to use this Russia Travel Destination Guide: use the Table of Contents below to click on a topic most relevant to you.
The Russia travel destination guide is your travel companion
1. Top 9 must-visit Russia travel destinations: This Guide will arm you with invaluable traveller's insights into the most amazing regions of Russia and what each of them has to offer every traveller.
2. Practical tips for each region: This guide summarises everything from practical travel advice on sightseeing highlights, what to see and experience, to practical information for your ideal trip like the best time to go and how to go, whether you're coming from overseas by air or travelling overland within Russia.
3. Personalised travel destinations for all: Whether you're a hardcore historian, architecture admirer, nature and wildlife lover, off-the-beaten-track adventurer or a traveller seeking authentic connections with local people, this is your go-to Russia Destination Guide to a one-of-a-kind experience.
Wherever your interests lie, the Russia travel advice and tips within this guide will reveal in vivid detail which regions in Russia will best fulfil your travel aspirations. Read on and start planning the Russian vacation of your dreams!
Destination #1: Moscow
A modern mega-city of some 13 million souls and bursting at the seams with possibilities, Moscow is a city like no other. It's exciting, chaotic and constantly on the move. Ugly, beautiful, glamorous, cool and confident, with surprising warmth and hospitality beneath a stern, business-like façade.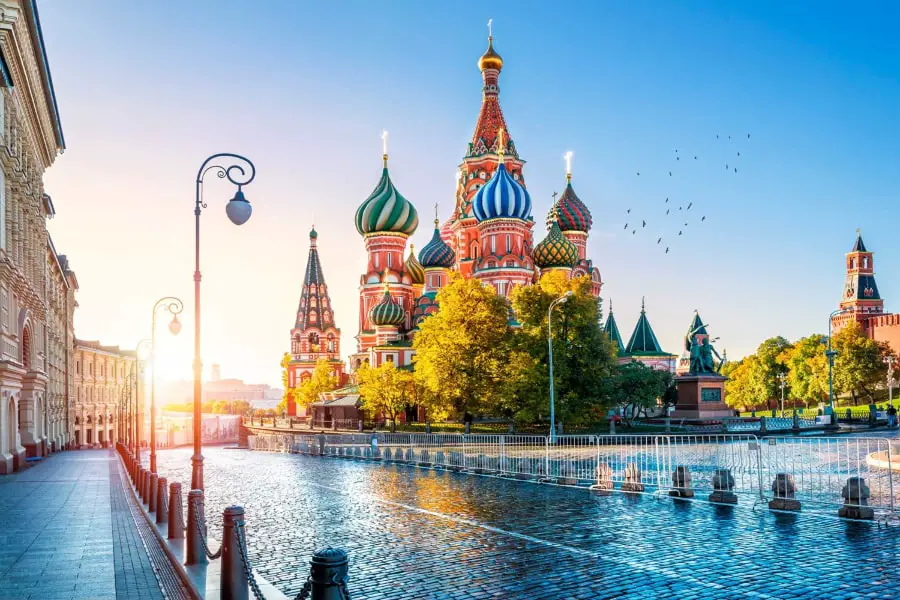 A visit to Moscow is an endlessly surprising journey to sights unseen and tastes unsampled. Whims and indulgences are catered to wholeheartedly, whether your desires lie in the steamy pleasures of a traditional Russian sauna, evenings sipping vodka and champagne in an exclusive nightclub, gourmet feasting in a high-class restaurant or simply taking in the atmosphere of the city's famous public parks and squares and watching the world go by. Moscow's architectural splendour is legendary but seeing it for yourself will fill you with a sense of awe and wonder that no picture can recreate.
Born from an imperial past, yet an enduring symbol of Soviet Russia, Moscow is a city between two worlds. Unique to any other city you'd find in this Russia Destination Guide, Moscow's art and architecture reflect a crossroad position astride the Eastern and Western worlds and revels in the centuries of comings and goings of great minds that have called this captivating and engrossing metropolis home.
Moscow is full of history and intrigue – a spiritual and political hub and billionaire playground with a youthful, cosmopolitan culture stirring just beneath the surface. Visit Moscow and decide for yourself what this dynamic city means to you.
Why visit Moscow?
To understand Russia, first, you need to visit Moscow. The city dates back at least 900 years, and there's a real sense of being transported through time as you stroll the ever-changing streets and districts, showcasing mind-bogglingly intricate 18th-century neo-classicalism and Soviet-era concrete monoliths, through to constructivism's quirky Russian avant-garde and gleaming contemporary glass skyscrapers. Moscow is all about culture – architecture, history, food, arts, music and nightlife. In a city this size, there's something to cater to every taste, no matter how eclectic. Dive into the rabbit hole of Moscow's endlessly engrossing history with visits to the Imperial palaces where mighty rulers rose and fell from power and revolutions were born. Visit magnificent cathedrals, state-of-the-art museums and world-class art galleries.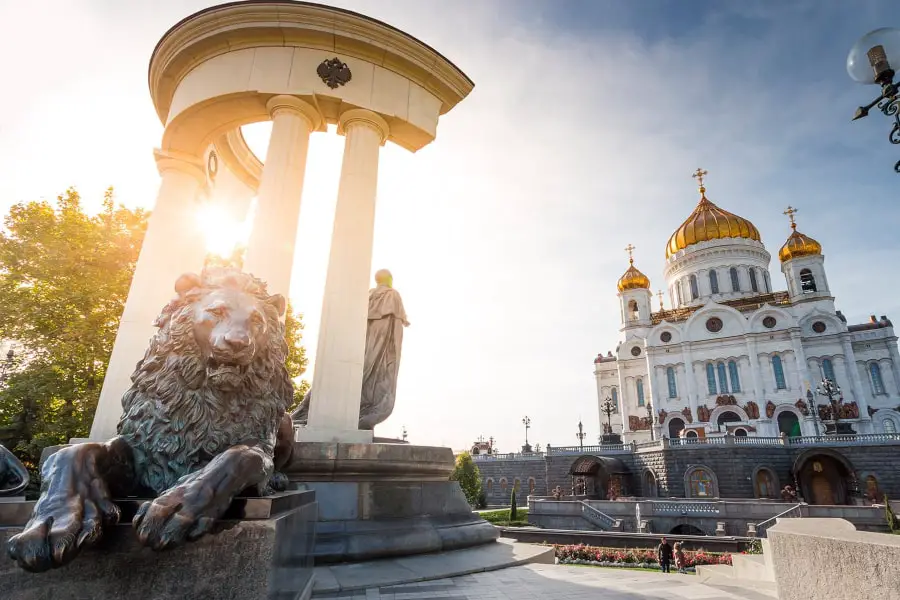 Moscow shines in the evening, with nightly music, ballet and opera performances in its majestic theatres and concert halls. In recent years, Moscow has become a hub of gastronomy thanks to a new breed of local and international chefs. Yes, Moscow has its fair share of fancy fine dining restaurants and hipster cafes, but you'll still find street snacks in abundance and homely, traditional Russian fare served in well-loved, hole-in-the-wall eateries.
If you've come to Moscow keen to party, you're in luck. Moscow's nightlife scene rivals almost any major international city. The label "city that never sleeps" isn't always warranted, but in Moscow, it's the truth. There's after-dark fun to be had every day of the week, with various nightlife districts home to mega dance warehouses, atmospheric underground clubs, friendly local pubs, jazz lounges, rock venues, performance art spaces and the best bar-crawling action this side of London.
Weather in Moscow and when to go
The peak season to travel to Moscow is in Summer between June and August, where temperatures usually hover around a pleasant 20 degrees Celsius. While summers are slightly rainier than other seasons in Moscow, downfalls tend to be fairly heavy but short-lived.
However, for Russia Destination Guide readers keen to avoid higher prices that come with booking accommodation in the summer, you might try the shoulder seasons of spring and early autumn. Late spring (April and May) provide more sunshine and less rainfall, while in autumn, the city's parks are filled with flowering trees and colourful leaves.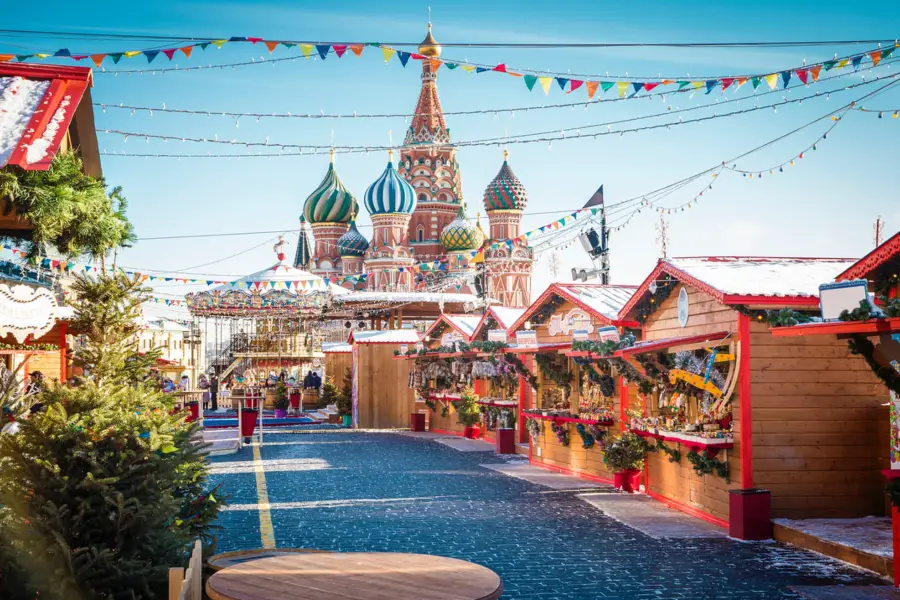 The depths of mid-winter are undoubtedly cold, but a winter visit is an adventure that will give you a true insight into Moscow life – both its hardships and its great beauty. Furs and vodka keep the locals warm and the snow-filled streets are postcard picturesque. With layers of shimmering show blanketing the roofs of Moscow's grand palaces, parts of the city are transformed into a fairy-tale wonderland. The Christmas lights, traditional winter markets and News Years celebrations offer sights and sounds and an atmosphere to be savoured.
Highlights of Moscow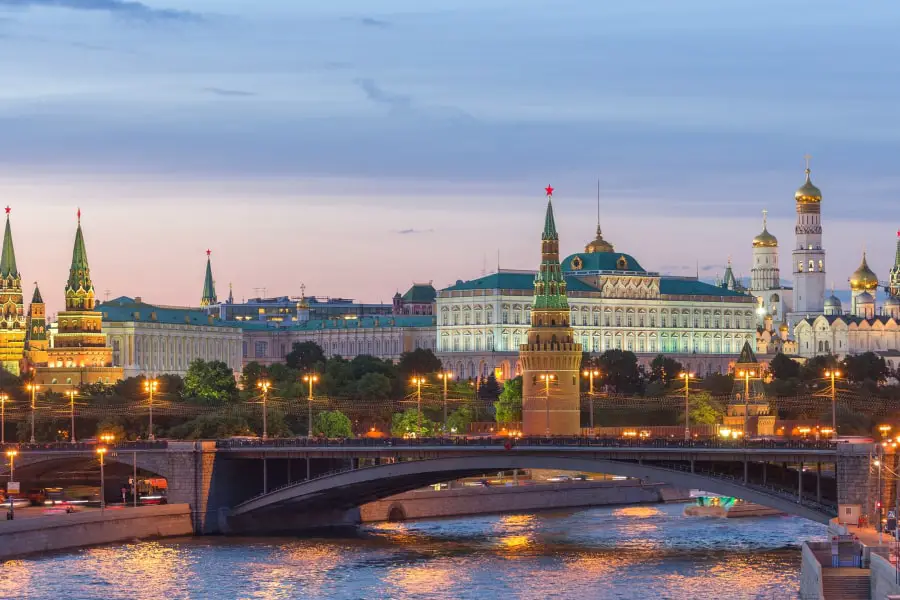 The Kremlin
No place better represents the triumphs and turmoil of Russia's past than the Kremlin. Built between the 14th and 17th centuries, it served first as the Imperial Residence of the Tsars and later as the headquarters of the Russian presidents. Within the imposing walls of the Kremlin are a plethora of classic buildings, each as stunning as the next. Wander past the Kremlin Palace, the neoclassical Senate Building, the 40-tonne Tsar Cannon and the 200-tonne Tsar Bell, the Armoury Museum, Cathedral Square and others.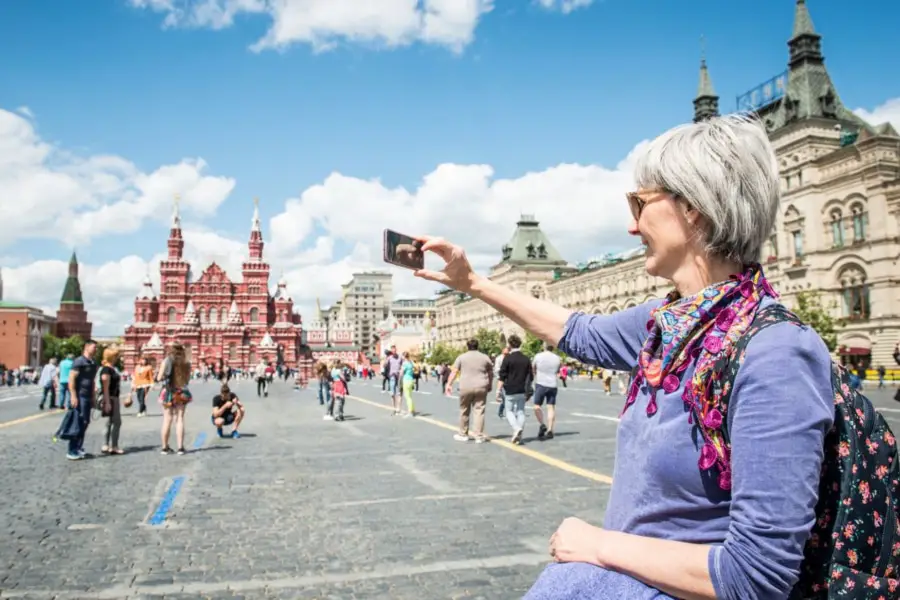 The Red Square
Along the eastern side of the Kremlin Wall is the vast cobblestoned expanse of the Red Square. Although it's been the scene of countless displays of military might, parades and protests since the 15th century, it's traditionally been a place of trade and social gatherings/ Today thousands flock to the square to celebrate official state events, be photographed in front of famous monuments or simply soak up its historic splendour.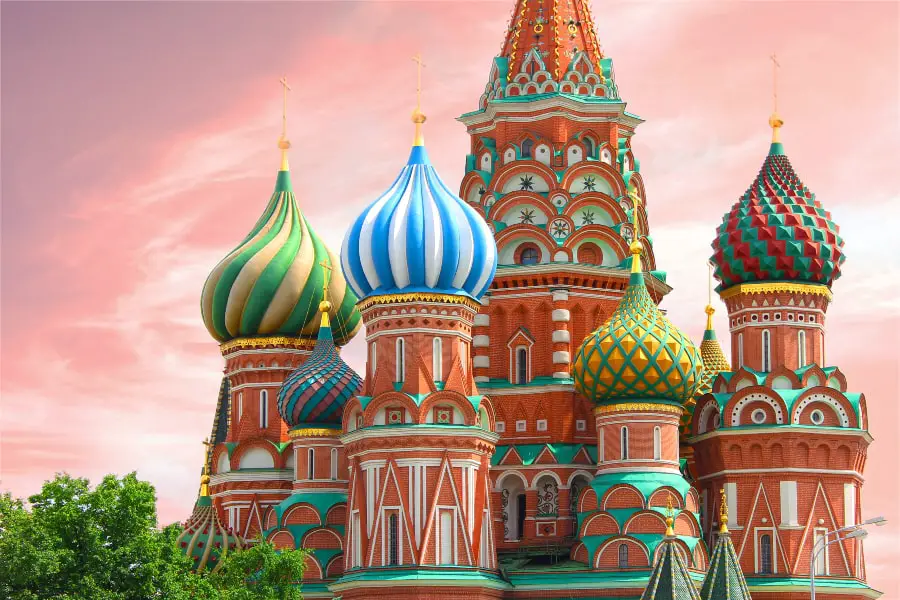 St Basil's Cathedral
Located in Red Square is one of Russia's most iconic buildings, with its vibrant rainbow-painted, onion-shaped domes. The cathedral was commissioned by Ivan the Terrible in 1552 to mark the capture of Kazan from the Mongol forces. According to legend, Ivan was so enamoured by architect Postnik Yakovlev's design that he had him blinded so that he would never be able to design anything as fantastical again! If the cathedral is open, it's possible to visit the interior, richly decorated and well worth an explore.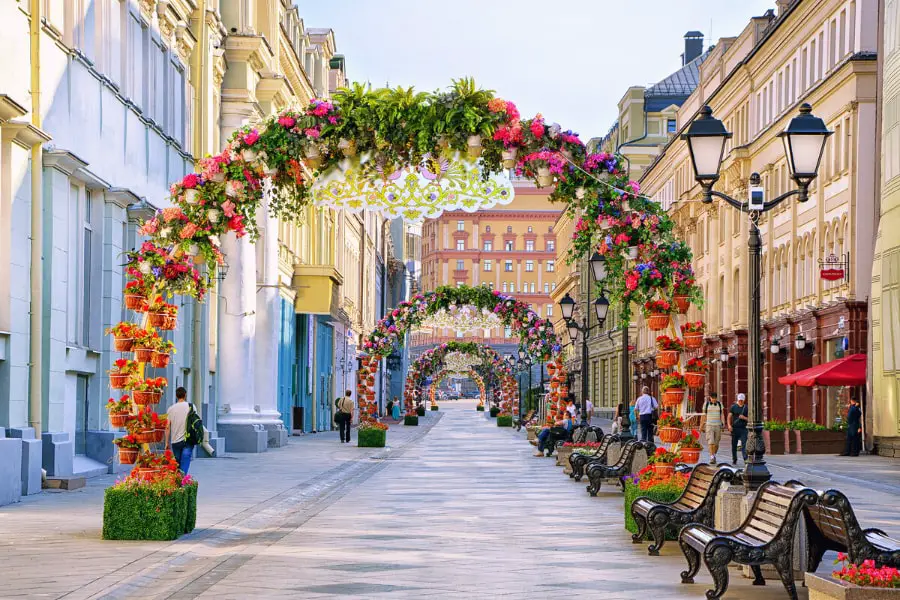 Arbat Street
In the heart of downtown Moscow, Arbat is Moscow's oldest pedestrian street. The cobblestone roads and classical statues are reminders of its elegant past, but today the area caters mostly for the tourist crowd, with rows of souvenir shops and restaurants and cafes of varying quality. Still, it's a must-visit attraction with a lively atmosphere. Street performers and musicians ply the street day and night, and you can often watch traditional Russian craft-makers at work.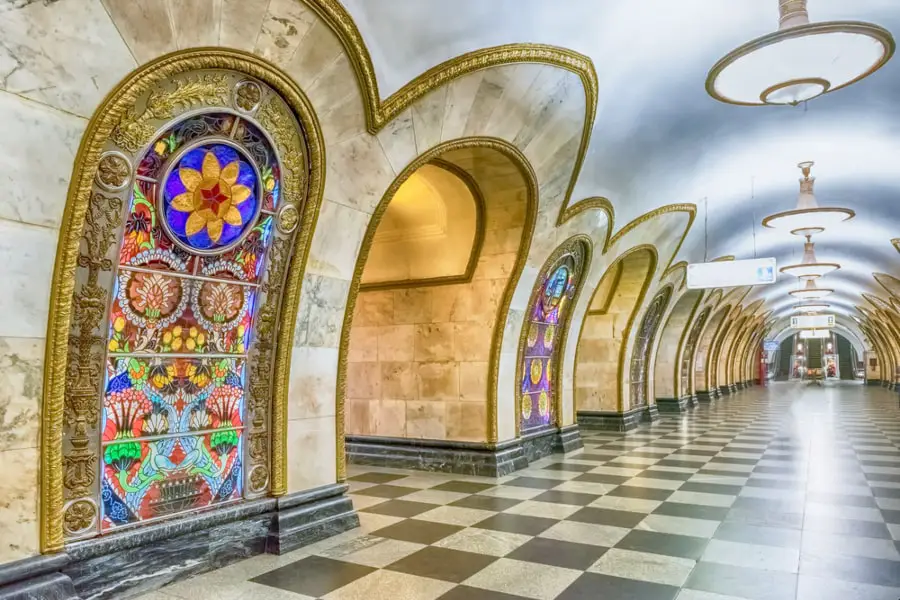 The Moscow Metro
Apart from being one of the largest and oldest underground railway systems in the world, and a fantastic, cheap way to get around Moscow, the metro is a tourist attraction in its own right, thanks to its spectacularly decorated underground stations. The stations have been described as underground art museums, home to fantastic sculptures, murals and striking architectural elements from stained glass panels to mosaic marble floors.
Bolshoi Theatre
A historic theatre in the centre of Moscow, renowned for its world-class ballet and opera performances. An evening at the Bolshoi Theatre is one of Moscow's most romantic after-hours options and the theatre offers a range of Russian and foreign works throughout the week. Equally as spectacular as the theatre's performances is the rich, lavish interior of the six-level auditorium. No matter what performance you take in on this historic stage, the experience is sure to make you feel like royalty, at least for a couple of hours.
How to Get to Moscow
Travel by plane:
The are four major airports in Moscow – Domodedovo, Sheremetyevo, Vnukovo and Zhukovsky. The majority of international flights go in and out of Sheremetyevo (most of the major international airlines and Russian airline Aeroflot). Domodedovo Airport is the main hub for Swiss Airlines, Air Malta, British Airways, Emirates, China Eastern, Singapore Airlines, Thai Airways and most of the Central Asian airlines. Most domestic flights also operate out of Domodedovo and Sheremetyevo, with a few departing from Vnukovo (UtAir, Vladivostok Avia, flights to North Caucasus), as well as German Wings flights to and from Germany.
To get to the centre of Moscow from the airports, the Aeroexpress train is the fast and easy way, especially during Moscow's notorious morning and afternoon rush hours. The trip to the city clocks in at around 35 to 40 minutes. Outside of peak times, taxis take an average of 1 hour to reach the city centre, while a private transfer or shuttle is the most comfortable option to arrive directly to your hotel.
Travel by train:
Russia overland travellers from Europe can also reach Moscow by train. Train travel is often less cost-effective compared with flying (at least within Europe) and provides a totally unique experience with the ability to stopover in various European cities along the way.
Direct trains to Moscow depart from Paris, Berlin, Warsaw, Amsterdam and Kiev. The Paris-Moscow Express runs once a week all year and is the most glamorous and comfortable option. The train traverses through four countries (France, Germany, Poland and Belarus) before pulling in at Moscow's long-distance Belrussky train station after a journey of just under 40 hours. Another classy option popular among tourists is the Berlin-Moscow Swift train. Departing twice a week (Sundays and Mondays) from East Berlin station, it takes a little over 20 hours to cover the 1,896km between the German capital and Moscow.
Destination #2: Saint Petersburg
The former capital of the Russian Empire, the city that Peter the Great founded in 1703 is today a decidedly more laidback city compared with the frenetic pace of Moscow. Explore the highlights of this living museum, where the city centre of Saint Petersburg (also known simply as 'Peter') consists of one colossal architectural masterpiece after another.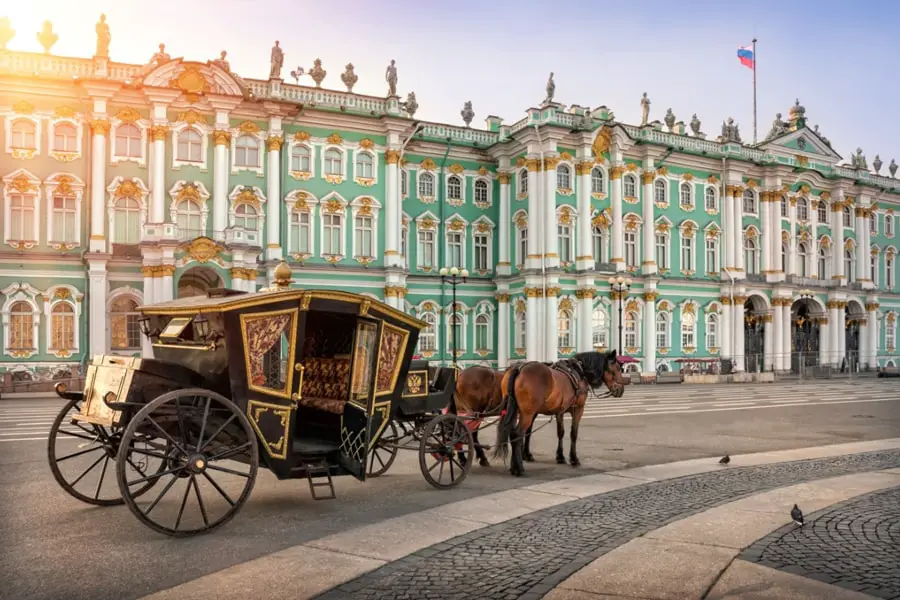 Peter the Great transformed a tract of swampland on the Neva River delta into what would be regarded as one of the world's most beautiful cities, reflecting the cultural and artistic prowess of Imperial Russia and a sophisticated European influence inspired by the likes of London, Paris and Vienna.
At the same time, St Petersburg is a thriving, modern metropolis with a population of over five million. Just as it originally attracted architects, poets, painters, composers and revolutionaries, today young creatives flock to St Petersburg's lively streets, artistic hubs, galleries and performance venues, many of them housed in the shells of crumbling old-world mansions and derelict palaces, providing a youthful, edgy and energetic counterpoint to the city's stately ornamental façade.
Why visit St Petersburg?
Moscow may be the seat of Russia's political power, but St Petersburg is the country's cultural capital. There are many reasons the Russia Destination Guide has to make visiting St. Petersburg a must. Not just for its numerous palaces, churches and museums, but also its theatres and concert halls, its contemporary art hubs and its flourishing live music and bar scene.
St Petersburg is renowned for its illustrious architecture, home to the magnificent Palace Square and Peterhof Palace, the Russian equivalent of Versailles. It also boasts one of the world's greatest museums in the imposing State Hermitage complex. The entire historic city centre is a designated UNESCO World Heritage site.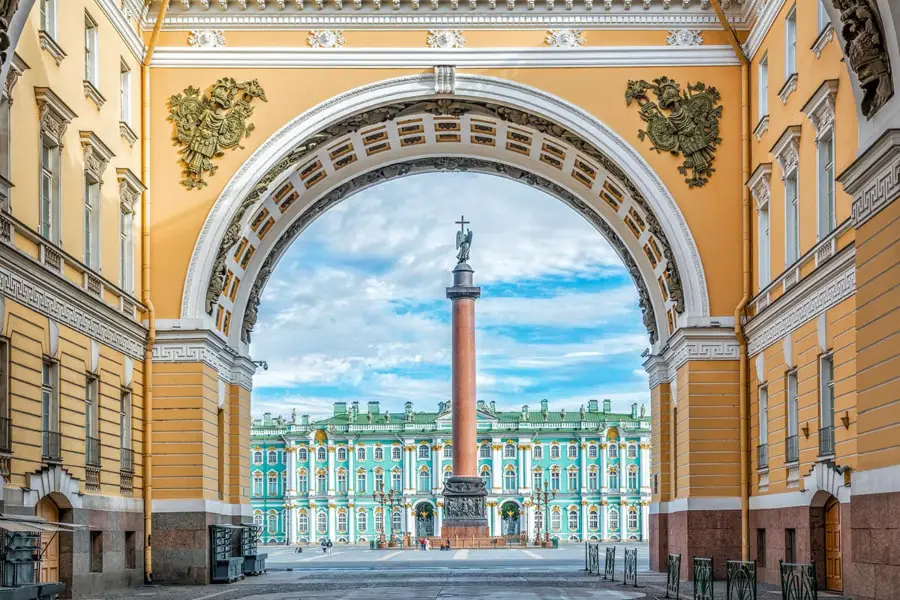 Known as the "Venice of the North" for its numerous rivers and canals, Russia's most romantic city is famous for its beautiful drawbridges. The Palace Bridge is drawn every night in front of crowds of tourists and has become one of the most recognisable symbols of the city. History fans will be enraptured by St Petersburg's perfectly preserved monuments to Tsarist extravagance, and the many sites and landmarks which played an integral role in the Russian Revolutions and both World Wars.
The city's epic White Nights are the intoxicating summer weeks between late May and early June when night never falls and the streets and parks are alive with all-night revellers, open-air concerts and dusky evenings that transform almost unnoticeably into the morning.
Weather in St Petersburg and when to go
Despite being the northernmost metropolis in the world, St Petersburg's proximity to the Gulf of Finland blesses the city with a maritime climate, making it far less chilly than much of Russia over winter, with temperatures rarely dipping below -7°C even in the coldest month of January.
Summers are usually pleasantly warm, with the occasional spell of hot, humid weather. Mid-summer (between late May and mid-June) is also the time of the legendary St Petersburg White Nights when the sun never completely sets and the evenings are alive with a festive atmosphere and concerts and performances take place nightly around the city.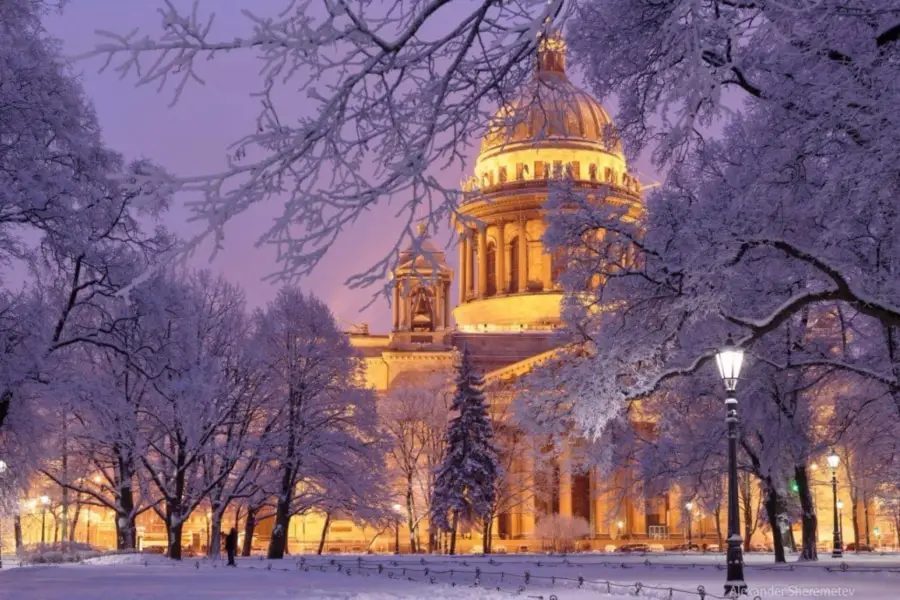 A good amount of snow over winter in St Petersburg is always a given. During winter, the city is arguably at its most beautiful. The streets are relaxed and uncrowded, the Neva River becomes a wilderness of ice and shiny white snowflakes cover buildings and monuments set against a backdrop of bare trees covered in crystalline frost. In winter many parks are converted into ice skating rinks and skiing is possible outside of the city. Theatre life is very much alive over the winter months, with performances of the Nutcracker being a special Christmas favourite.
Here's a Russia Destination Guide tip: If you find yourself in St Petersburg over New Years, the best way to celebrate in this destination with the locals is to head down to Palace Square. You can join in the countdown for the fireworks display before warming up at one of the many bars, clubs and hotels holding parties.
Highlights of St Petersburg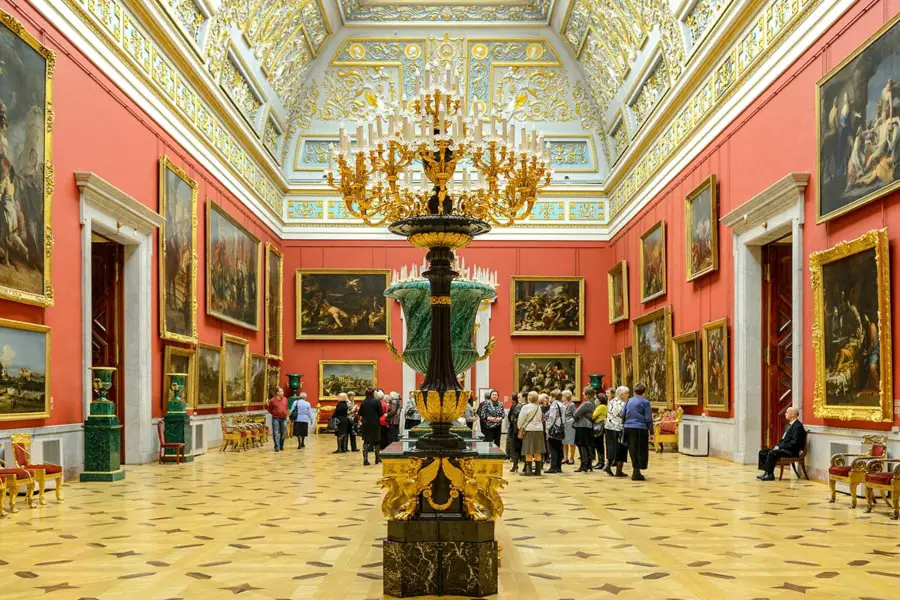 The State Hermitage Museum
The Hermitage is undoubtedly the jewel in St Petersburg's cultural crown. One of the world's greatest collections of ancient and modern art, only the Louvre in Paris and Prado in Madrid rival the Hermitage in terms of worldwide cultural importance. The museum houses some three million individual artworks and artefacts, from Egyptian antiquities to 19th and 20th-century modern art. The Hermitage comprises six individual buildings including Winter Palace, with its stunning white-columned facade and gallery rooms.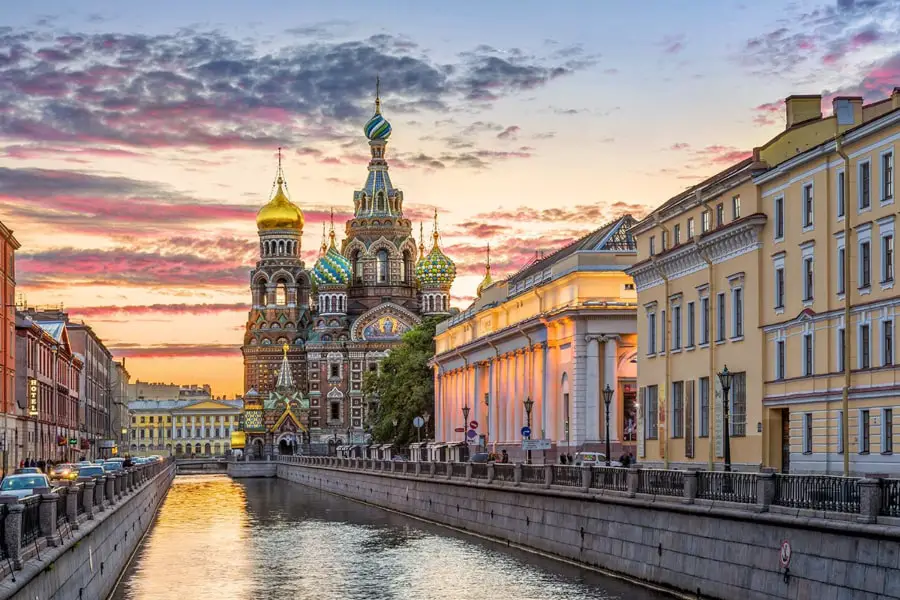 Church of the Saviour on Spilled Blood
One of St Petersburg's most iconic sights is this extraordinarily decorated church marking the site where Tsar Alexander met his untimely death at the hands of bomb-wielding revolutionaries. Although it bears a resemblance to Moscow's 16th St Basil's Cathedral, with its intricate mosaics and multi-coloured onion domes, the church is just over a hundred years old.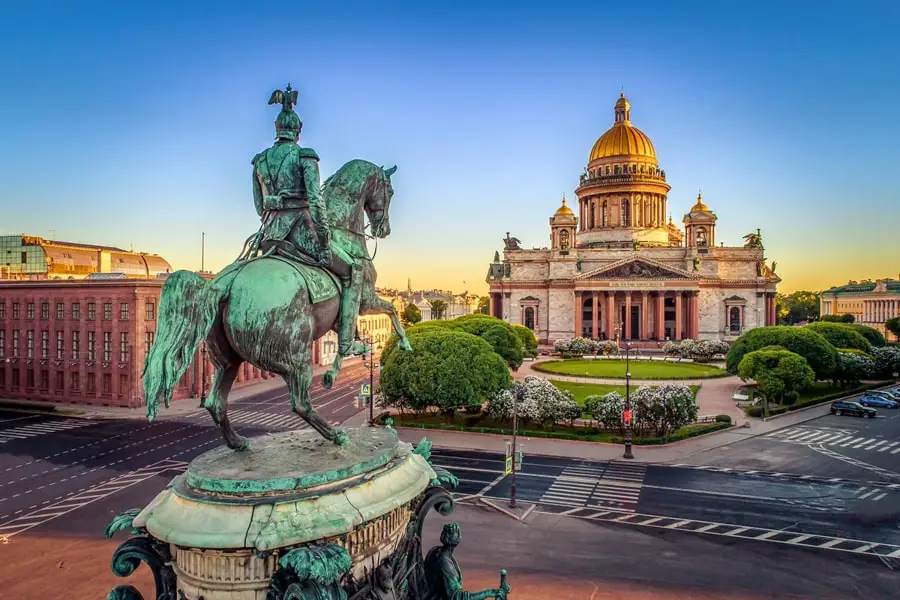 St Issacs Cathedral
St Petersburg is home to countless cathedrals, most conceived in the baroque and neoclassical styles. St Issacs Cathedral is the largest cathedral in St Petersburg, identifiable by its gold-illuminated dome and twelve statues of angels. The cathedral's history tells an intriguing story of conflict and dissent. The anti-religious Soviet government denounced the Cathedral and converted it into a museum of atheism. In 1937 it was converted into a museum of art, and religious activities resumed in 1990.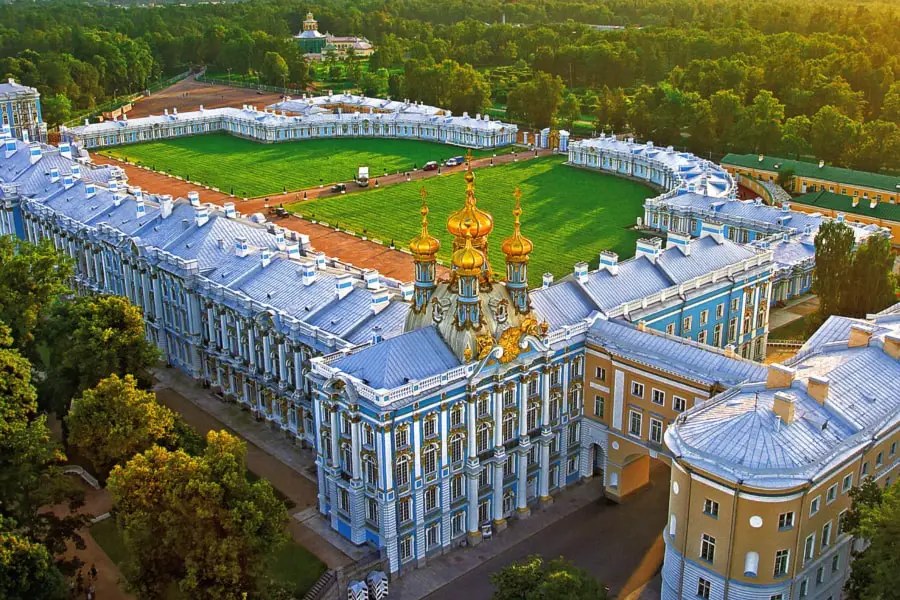 Tsarkoye Selo
This grand Imperial estate is located in the handsome town of Pushkin, 25km south of St Petersburg. Amid exquisite parks and gardens, you'll find the baroque Catherine Palace, a luxurious summer sanctuary surrounded by acres of gardens where remarkable structures like the Marble Bridge, the Dutch Admiralty and the Creaking Pagoda were constructed for her amusement. The estate is also home to Alexander Palace. A fine example of neoclassic architecture, its tumultuous history paints a fascinating portrait of the Romanov family.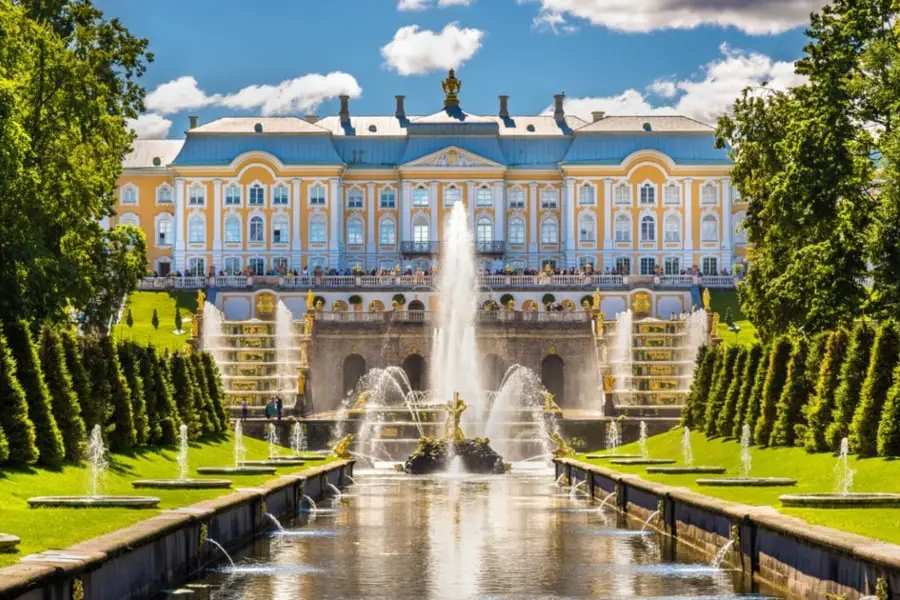 Peterhof Palace
With its exquisitely manicured gardens, magnificent fountains and gold sculptures, Peter the Great modelled his sumptuous summer palace on the Baltic Sea on Versailles. It's living rooms, bedrooms, ballrooms and ceremonial rooms are all extraordinarily beautiful. Peter's daughter, Empress Elizabeth later extended the park and ordered the construction of the 22km Grand Cascade, featuring a total of three waterfalls, 64 fountains and 37 gilt statues.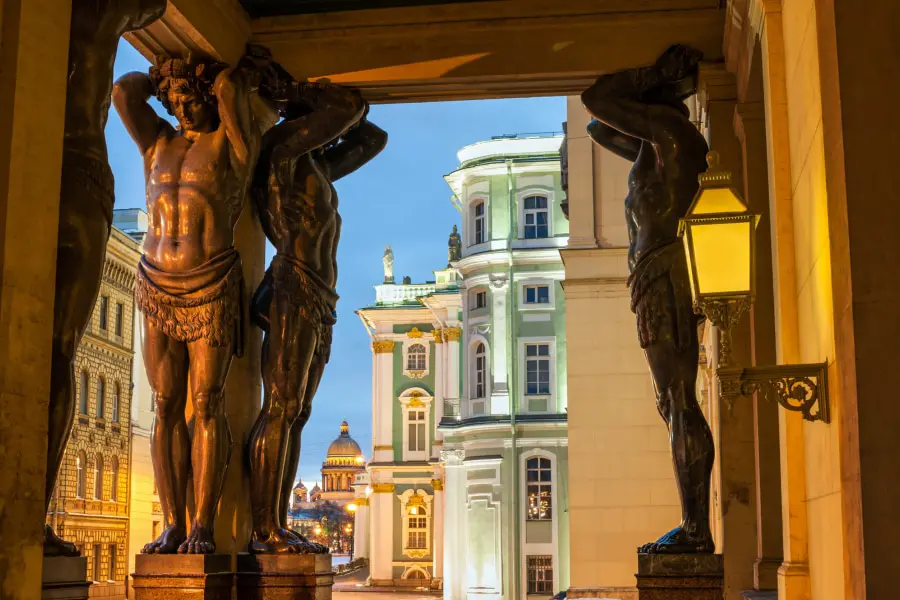 Nevsky Prospect
St Petersburg's high street is a 4.5km long royal avenue lined with stately mansions and palaces as well as countless shops, luxury hotels and Gostiny Dyor, the city's largest department store. Walking the length of the avenue during the day and again at night is highly recommended by the Russia destination guide to take in the atmosphere of this living piece of history and its captivating mixture of old and new.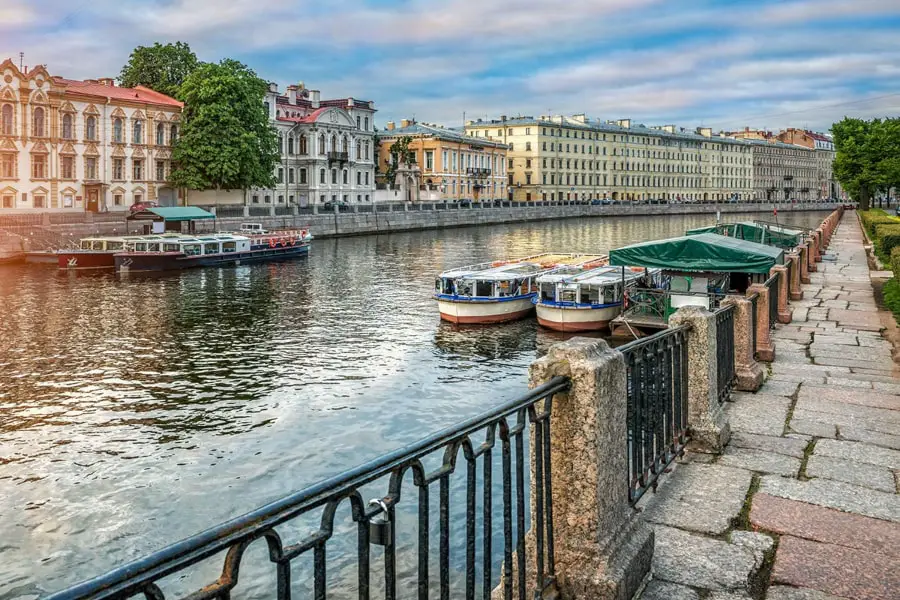 Bridges and canals of St Petersburg
A relaxing canal tour is a must-do activity, allowing you to see the sites of St Petersburg and its surrounding suburbs from an entirely different perceptive. A city made up of 42 islands across the Lena River delta, St Petersburg is crisscrossed by 300km of artificial canals, flowing beneath a network of over 800 bridges.
How to get to St Petersburg
Travel by plane:
The distance between Moscow and St Petersburg is approximately 700km, making either flying or train travel excellent for travelling between the cities. There are numerous flights per day and the flight time is around 1.5 hours. However, you'll have to factor in the time need to get to and from the airports, which are located on the city outskirts.
Most overseas visitors first touchdown in Moscow and then connect to St Petersburg. There are also direct flights to St Petersburg's Pulvoko Airport from many international destinations, mostly in Europe, including Paris, London, Brussels, Amsterdam, Zurich, Frankfurt, Prague, Helsinki and Stockholm. Direct flights also operate from Shanghai, Beijing, Doha, Dubai and Istanbul and many other international hubs.
Travel by train:
From Moscow, overland options include daytime high-speed trains such as the Sapsan, which whisks you from Moscow to St Petersburg in about four hours. Ticket prices vary but at the time of writing this Russia destination guide, expect to pay around US $70 for an economy seat. Business-class costs around twice as much and first-class around twice again.
There are also several overnight train services travelling between the two cities. The journey takes around 8 to 9 hours and offers the benefit of saving you a night's accommodation. A bunk in a third-class sleeper carriage is around 2,000 rubles (US $30), while a first-class cabin on the luxury Red Arrow train will set you back around 8,800 rubles (US $134)
Train tickets can be purchased at the station, but to be safe, you can purchase them online up to 90 days in advance from RZD, the official website of Russian Railways.
Destination #3: The Golden Ring
The Golden Ring is renowned as the most popular overland tourist trail through the charming provincial cities of central Russia, and thus certainly deserves a spot in the Russia destination guide's list. The 740km circular route passes through a collection of small cities northeast of Moscow that counts among Russia's oldest medieval townships. Despite their modest size, many of the Golden Ring's cities played a vital role in shaping the country's history. Its oldest settlements can be traced back to at least the 10th century.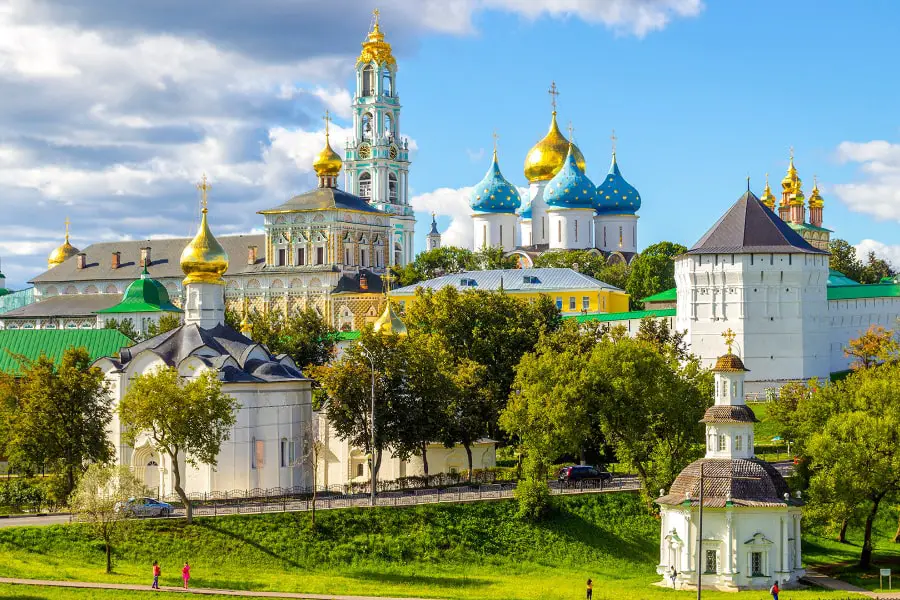 Scattered across a postcard-perfect landscape of rolling hills, flower blanketed meadows, rivers and streams, the cities of the Golden Ring were considered political backwaters by the time Soviet industrialisation took hold, escaping much of the urban progress that rapidly engulfed Moscow and its surroundings. Consequently, many locals still lead a largely traditional existence, living in tight-knit communities where the ancestral izba (wooden farmhouse) is the centre of daily life.
Today, the region remains remarkably untouched by urbanisation. Surrounded by rolling hills and verdant meadows, these lands are a throwback a rural Russia that has changed little for generations. Many of the towns were instrumental in the rise of the Orthodox church, as evidenced by the abundance of magnificent cathedral spires and domes. Apart from their religious significance, these proud towns have staunchly preserved their time-honoured traditions, folk art and cuisine.
Why visit the Golden Ring of Russia?
Wandering the tranquil, cobblestone streets of the ancient Golden Ring towns feels like genuinely stepping back in time. Virtually every city on the circuit is a living museum, made up of ancient forts, towering monasteries, imposing palaces and magnificent cathedrals. Several of the Golden Ring towns are home to UNESCO World Heritage-listed treasures, including the medieval White Monuments of Suzdal and Vladimir and the historic centre of Yaroslavl.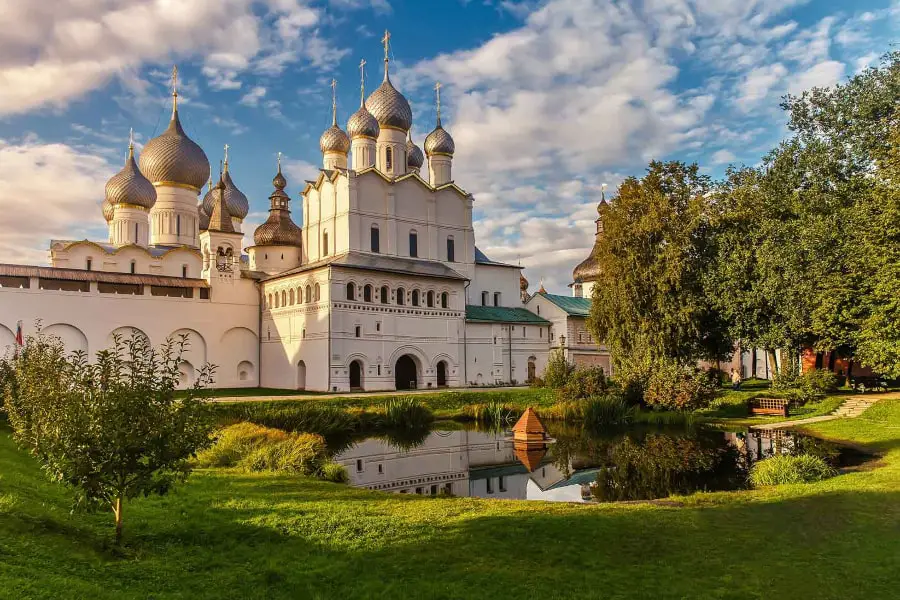 Readers of the Russia Destination Guide who are admirers of classic architecture or perhaps history buffs will adore these destinations. Those hoping for an intimate insight into the places, people and events that shaped the complex, deep-rooted history that shaped Imperial and Soviet Russia will find the sights and stories of the Golden Ring region a fascinating and enthralling experience. You can feel the history in the air, among the perfectly preserved medieval wooden houses and the grand fortress and kremlins built in times where these cities wielded substantial political and religious power. Instrumental in the rise of the Russian Orthodox Church, across the centuries, many of these strategic settlements found themselves battling ruthless Mongol invasions, rebellious Tatar sieges and a string of Tsarist scandals.
Due to its proximity to Moscow, the Golden Ring is a popular side-trip for visitors to the Russian capital. The gorgeous countryside and laidback pace of the towns provide a welcome respite from the frenetic atmosphere of Moscow, well worth a diversion of at least a couple of days (hardcore history fans will ideally need a week or more to see most of the region's highlights).
Weather in the Golden Ring and when to go
With this Russia Destination Guide, you can plan the perfect date of arrival with these tips. The Golden Ring is truly a year-round destination, with each season bringing a new and beautiful palette of colour to the rural countryside. Visitor numbers peak with the warm summer months (June to August) when the skies are a vivid blue, making for a particularly great backdrop against the domes and cupolas of the region's many churches and cathedrals. In spring (April through to May) the meadows come alive with flowers while in the short autumn months (September to October) the scenery takes on the rich hues of red, orange and yellow. The freezing temperatures of the winter months (November to March) often bring a thick blanket of snow that creates a dreamy wonderland with lakes and rivers frozen over, perfect for ice skating.
Highlights of the Golden Ring of Russia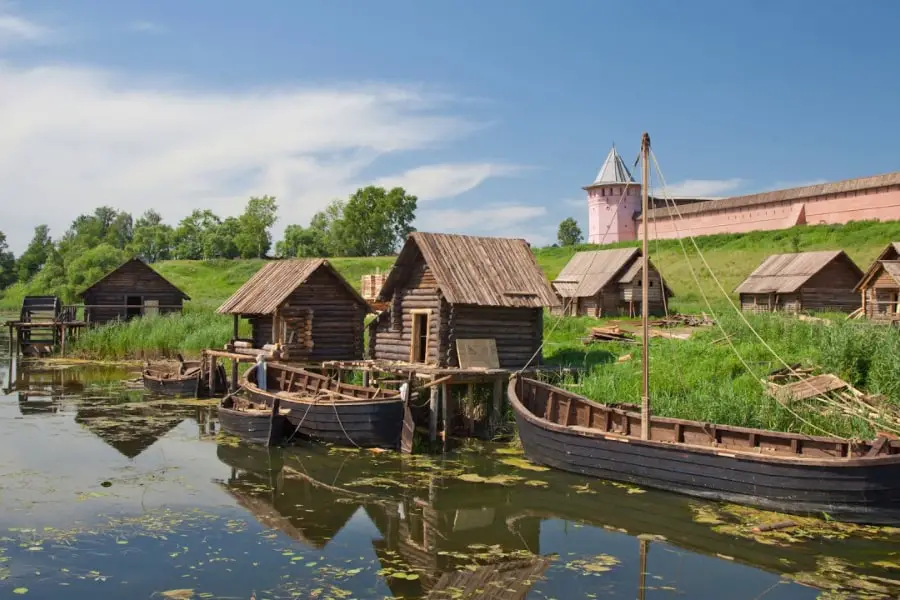 Suzdal
The most picturesque stop on the Golden Ring circuit, 1,000-year-old Suzdal appears like a scene from a Russian storybook. It's quiet laneways, cobblestone plazas and medieval churches have inspired artists and poets for centuries. With many of residents living in colourful wooden houses, and classic horse-drawn buggies still a fixture of its quiet streets, Suzdal has managed to retain a tranquil, rural atmosphere, giving you an impression of how much of Russia might have looked centuries ago.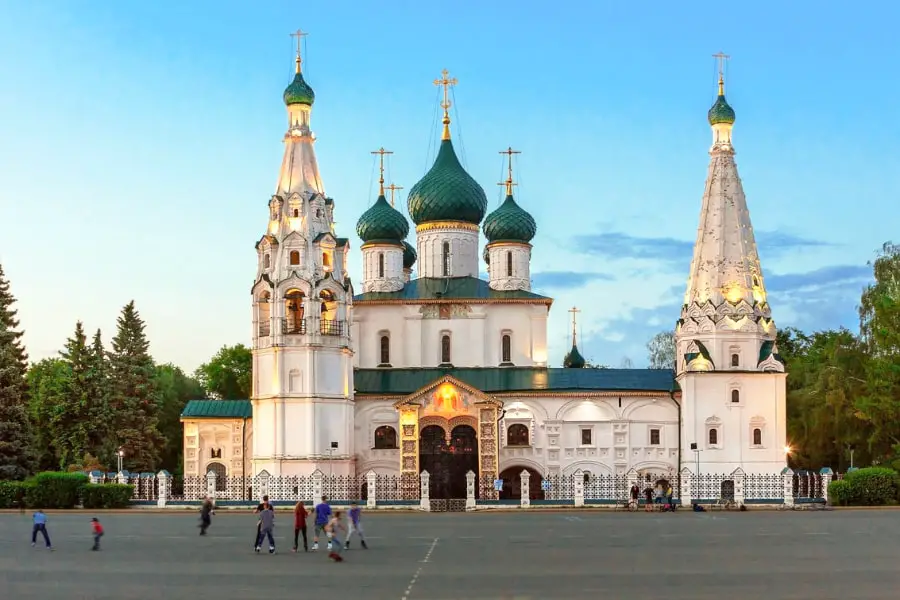 Yaroslavl
Explore Yaroslavl, the first Christian city on the Volga River and the subject of epic poems and heroic prose for centuries. Many of Russia's greatest craftsmen, stonemasons, painters and sculptors came together to create this city of magnificent churches and monuments, dating back to the 1100s. The Monastery of the Transfiguration of the Saviour is one of the richest and most fortified monasteries. Here's a Russa destination guide tip for you: A bird's-eye view of Yaroslavl and its rivers can be had by climbing up to the top of the cathedral's bell town.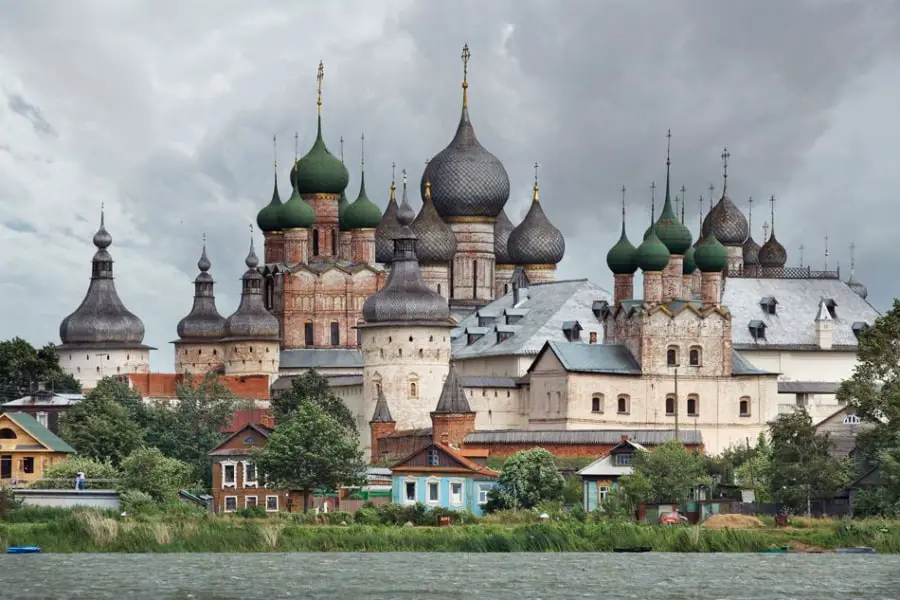 Rostov
The oldest town in the Golden Ring and is also one of its most architecturally impressive, rich in elegantly restored monuments dating from the 12th to the 17th century. Today, a sleepy, village-like atmosphere hovers over the town, bringing a quiet stillness to the evenings that only breaks with the crowing of the cockerels at first like. The supremely photogenic Rostov Kremlin features walls of delicate pink, enclosing a number of extraordinary 17th-century buildings including the domed Assumption Cathedral and the St John the Divine Gateway Church.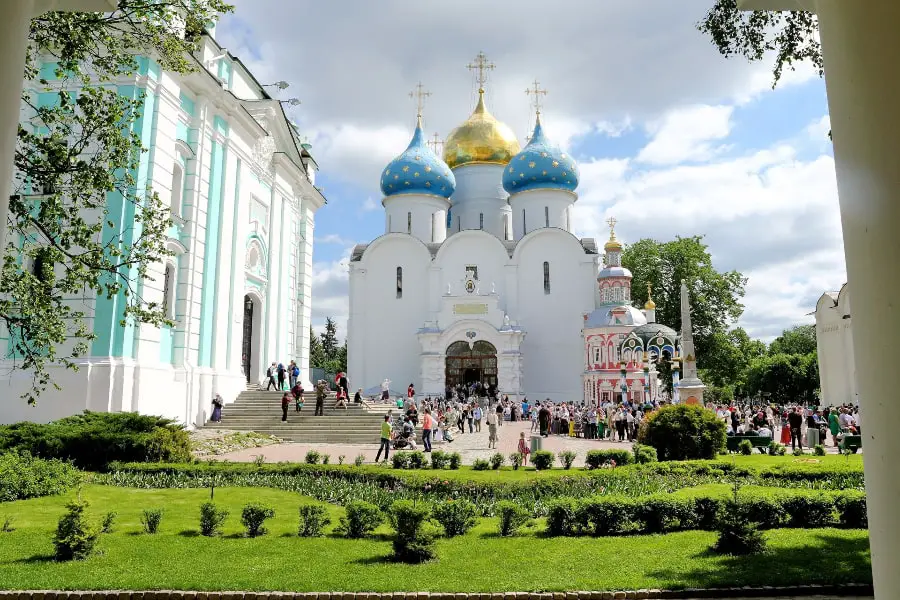 Sergiev Posad
The Russia destination guide presents to you Sergiev Posad – one of the most important spiritual centres of the Orthodox Church sometimes referred to as the 'Russian Vatican'. This is because of its city-wide scattering of magnificent white-walled churches with contrasting blue and gold cupolas – the colour scheme most strongly associated with the perception of Russian divinity. Founded in 1340 by the country's most revered saint, St Sergius of Radonezh, Sergiev Posad is one of Russia's holiest destinations, attracting devoted pilgrims since the 14th century.
How to get to the Golden Ring 
Moscow is the logical starting point for excursions into the Golden Ring region. This small group or private tour is popular among foreign visitors as it allows you to cover the most ground in the shortest amount of time. On a customised tour, you can choose your pitstops and overnight stays depending on which cities most strike your interests. This Russia Destination Guide will assist you in picking the right experience for you.
Day tours that operate out of Moscow and will hit up one or two of the closest towns from the capital (typically Sergiev Posad, or Suzdal, sometimes combined with Vladimir) but to truly appreciate the variety of the Golden Ring cities the languid beauty of its, a multi-day day tour is highly recommended. If you only have a limited amount of time, a tour encompassing an overnight stay and two-day detour from Moscow in the region's most beguiling town of Suzdal is highly recommended.
It's also possible to visit some of the major cities on the Golden Ring route via train, although not every popular destination on the route is serviced by a train station. A popular rail loop from Moscow allows for direct stops in Rostov, Yaroslavl, Ivanovo and Vladimir.
Destination #4: Lake Baikal
An ancient lake so vast in size it's referred to as Siberia's "inland sea", the deepest point of Lake Baikal is an abyssal 1,637m, making this 30 million-year-old body of water the deepest lake in the world. Incredibly, 20% of the world's entire freshwater supply is contained within Lake Baikal. The crescent-shaped lake extends for 636km from north to south and contains 27, mostly uninhabited islands. The vast Baikal region is home to several indigenous cultures, including the ethnic Buryat people who practice a unique form of Buddhism blended with ancient shamanistic rites and religious beliefs. Traditional villages are dotted along the lake's shore, interspersed with taiga forest and rocky steppe terrain. The national park surrounding Baikal harbour diverse array of wildlife, and the lake's waters are home to the Nerpa, the beloved freshwater Baikal seal.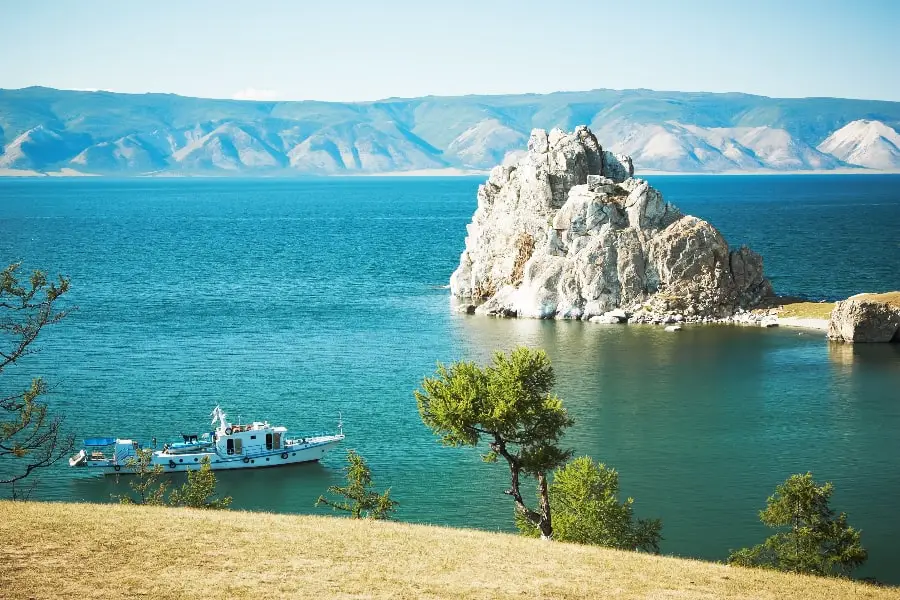 With its mirror-clear blue water and enthralling natural beauty, Lake Baikal is considered Siberia's premier attraction and is recognised by UNESCO as one of Russia's 28 World Heritage Sites. It will certainly enchant any Russia destination guide reader planning a trip to Russia.
Why visit Lake Baikal?
Lake Baikal offers something for every traveller. Readers of the Russia destination guide attracted to laidback summer cruise vacationers, who are adventure sports enthusiasts and culture buffs keen to discover will love this destination. The blend of European, Turkic and Mongol influences are found in the region's languages, customs, cuisine and traditional ways of living.
With a surface that freezes solid between early January and late May, the ice covering Lake Baikal can be up to a metre thick, giving winter visitors the chance to experience unique activities such as ice driving, snowmobiling, ice fishing and ice rafting (river rafting on an actual chunk of Baikal ice). Lovers of landscape photography are drawn to Lake Baikal's mystical frozen caves and shimmering ice floes. Summer is the season for Russia destination guide readers interested in multi-day cruises and epic kayaking expeditions to hidden coves and pristine beaches.
Weather in Lake Baikal and when to go
Lake Baikal has a maritime climate which is typically much milder than the rest of Siberia. The vast majority of visitors to Baikal arrive in the summer months, with peak season hitting between June and mid-August. Summer days in Baikal are typically warm and pleasant. Sunbathing and swimming are possible, although water temperatures of 15 degrees or below usually keep swim sessions bracingly short! Boating season starts with the break-up of pack ice in late June and can last until September, although cruise tours are generally offered in July and August.
Autumn falls between the end of August and October and is usually the rainiest time of year. Still, this Russia Destination Guide recommends this season's exquisite autumn scenery for photographers looking to capture the red and gold flora of the forests and the moody, sometimes dramatically windy and stormy weather.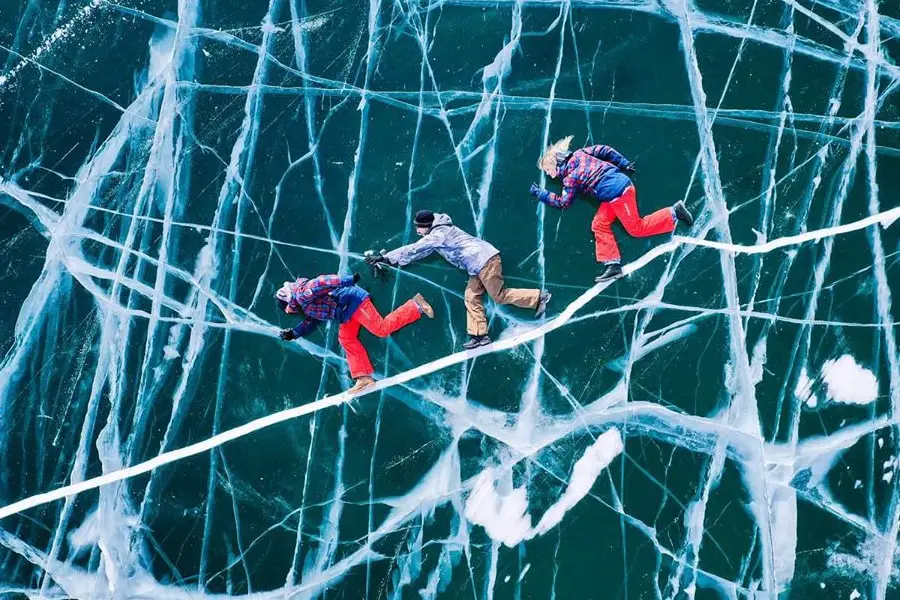 The lake freezes over between January and May. Baikal is arguably at its most enchantingly beautiful over the winter period. The extreme transparency of the lake's solid surface allows you to peer beneath the ice and into the inky, unfrozen depths below. The ice caves and glittering hummocks are at their most impressive in March, when the ice is at its thickest and winter sports enthusiasts take to the lake for skating, biking, 4WDing and ice-hole fishing.
Highlights of Lake Baikal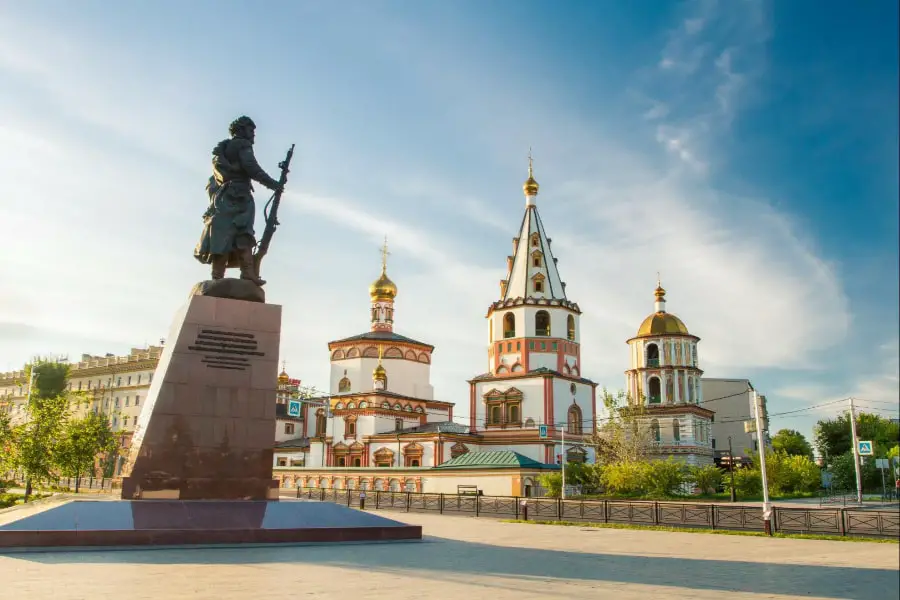 Irkutsk
For most tourists reading the Russia destination guide, the unofficial regional capital of Irkutsk is the gateway to Lake Baikal, which lies 70km to the east. With a population of about 600,000, Irkutsk is a compact and friendly city, well worth a visit for its charming traditional wooden architecture, 18th-century churches and local history and art museums.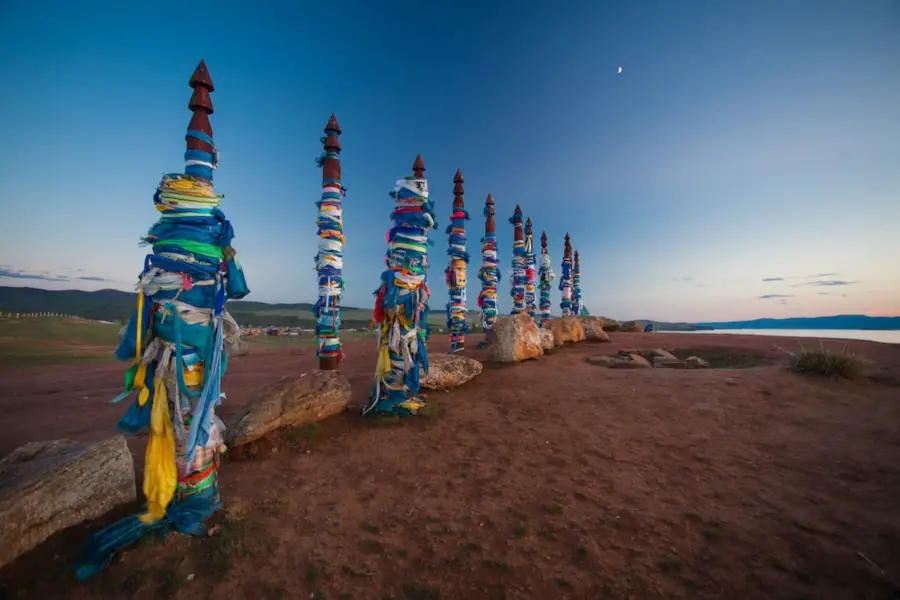 Olkhon Island
Beautiful, rugged Olkhon is the most populated of Baikal's islands, consisting of a scattering of tiny villages, occupied mainly by indigenous Buryat communities. The middle of the island, one of the highlights of this Russia destination guide journey, is a green sanctuary of Siberian taiga forest. Its majestic coast is made up of the rocky steppe, white sand beaches and soaring cliffs providing perfect vantage points for witnessing spectacular sunsets across the shimmering surface of the lake.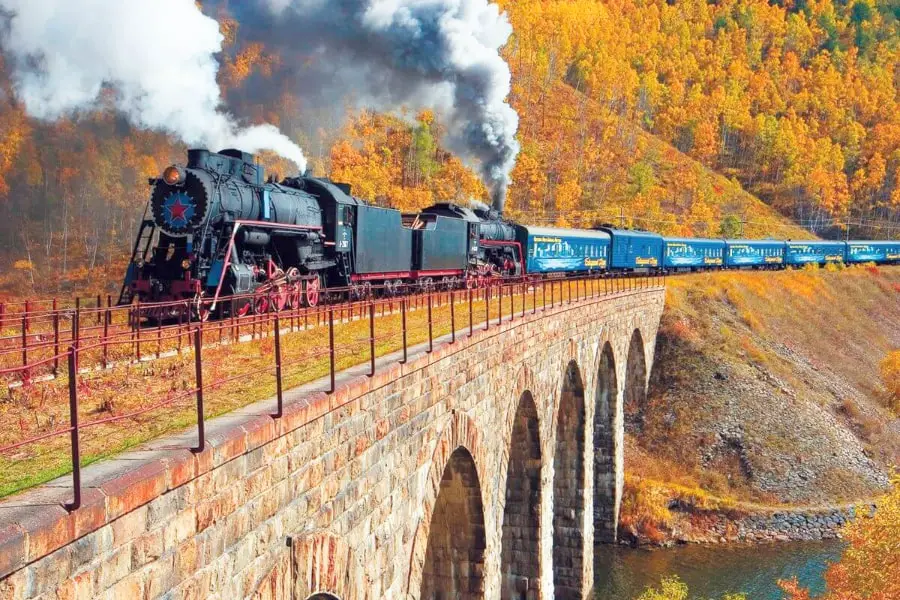 Circum-Baikal Railway
The Circum-Baikal railway is a short, picturesque stretch of railway running between Slyuduanka and Port Baikal, along with the southern tip of Lake Baikal. A steam train trip along the Circum-Baikal make a great day trip, passing through tunnels and bridges that serve to highlight the sheer feat of engineering that first made the journey possible in the early 1900s.
Baikal Nature Reserve
On a wild, southeastern stretch of Baikal's coastline, the desolate mountains of the Khmer Daban Range descend steeply to the rocky shores of the lake. The park preserves subalpine meadows and tundra, and deep within the taiga forests, Siberian brown bear, lynx, otter, wolverine and golden eagle.
How to get to Lake Baikal 
Travel by plane:
The city of Irkutsk is considered the main tourist gateway to Lake Baikal for Russia destination guide travellers. Although it's about 65km from the lake itself, it hosts an airport with several flights a day arriving from Moscow (around 7 hours). There are also regular flights from the major Russian cities, including St Petersburg, Yekaterinburg, Novosibirsk and Krasnoyarsk. Regular international flights are operated from Beijing and occasional flights from Bangkok, Hong Kong and seasonally, twice a week from Seoul. For the western shore of Lake Baikal, the closest airport is Ulan-Ude. It's a smaller airport, serviced by flights from Moscow and the larger Siberian airports, as well as flights from Beijing.
Travel by train via the Trans-Siberian Railway:
If time isn't a limiting factor for you, the Russia Destination Guide will go through a far more interesting way to reach Lake Baikal. This is via the Trans-Siberian Railway. If you're taking the east-west route from Moscow, the train journey from Moscow to Irkutsk takes about three to four days. To reach Lake Baikal from the Irkutsk railway station, you'll need to make your way by public transport to the main bus station in town, where buses regularly depart for Listvyanka.
Destination #5: Kamchatka
Once considered an inaccessible "edge of the world" location, only visited by the hardiest of adventure travellers, today Russia's Kamchatka Peninsula is gaining a reputation as one of Russia's most remarkable tourist destinations. Make no mistake, Kamchatka is remote – with no road or railways connecting it to the outside world, the only practical access into this pristine wilderness is by air, and the only way to travel long distances inside this refreshingly undeveloped region is by 4WD or helicopter.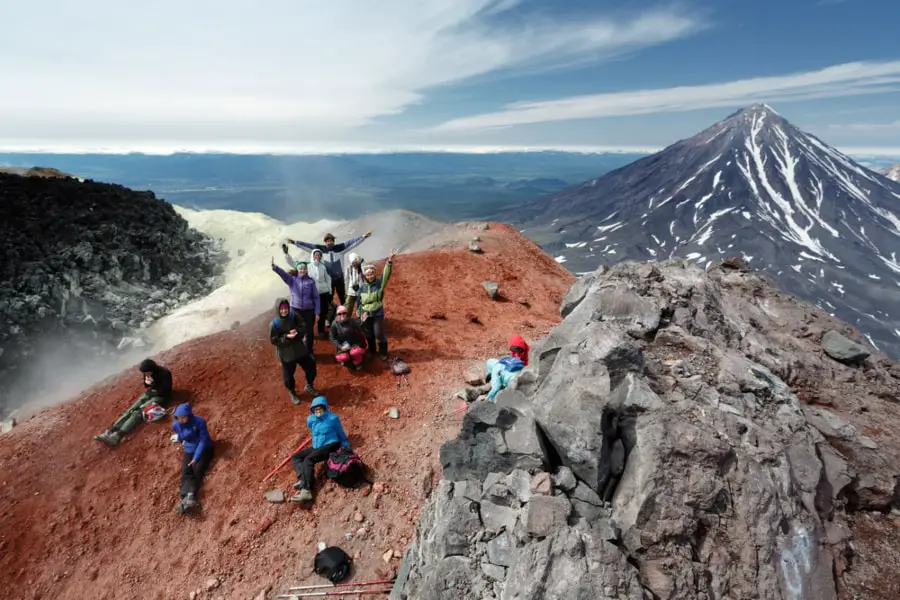 For this Russia Destination Guide readers keen to get closer to nature, this is a trip worth making. Located at the northernmost edge of the "Pacific Ring of Fire", the Kamchatka Peninsula juts out dramatically from the northeastern tip of Russia. Thirty active volcanoes are scattered across the peninsula, including Klyuchevskaya Sopka, the largest in the Northern Hemisphere. Equally as stunning are, the 90 geysers and numerous hot springs that make up the 6km Geyser Valley. The second largest concentration of geysers on earth, this natural gem remains a virtually untouched region of raw geothermal power. Getting to Kamchatka is half the journey, but once you arrive, the raw beauty of this far-flung region will floor you.
Why visit Kamchatka?
For lovers of wildlife, challenging hiking and rugged natural scenery, Kamchatka is paradise on earth. If your idea of the ultimate adventure is scaling an active volcano, coming within metres of wild brown bears, or exploring some of the most remote and wildlife-rich coasts on earth, Kamchatka should be at the very top of your bucket list. Active travellers seeking unique physical challenges where few tourists have gone before should visit in winter for action-packed tours, or in summer for incredible backcountry sea kayaking and camping expeditions, tracing Kamchatka's dramatic coastline, paddling beneath the shadows of volcanoes and riding the swirling Pacific surf.
Weather in Kamchatka and when to visit
Kamchatka stretches across several climatic zones. Central Kamchatka's climate is mild and continental. The alpine valleys are characterised by frosty winters and hot, humid summers, while the coast experiences a temperate, marine climate. The summer and autumn months (June through to October) are by far the most popular when max temperatures range from 15°C to 30°C but a growing trend in winter sports means Kamchatka receives visitors year-round.
Kamchatka's famous brown bears hibernate during the long, snowy winter, so you'll need to visit between late July and mid-September to be able to spot them. Swimming and kayaking in Avacha Bay is possible during the summer months, and the fly fishing season is between May and October. Kamchatka's ski resorts and off-piste mountain slopes attract hardcore snow junkies from January through to May.
Highlights of Kamchatka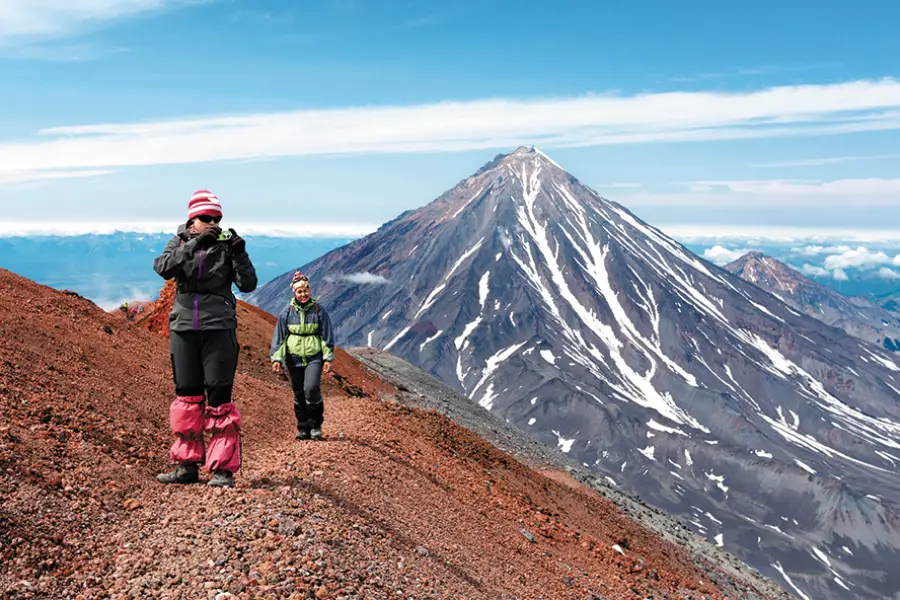 Volcanoes of the Pacific Ring of Fire
Kamchatka earns a deserving place as one of the most outstanding volcanic regions of the world, with a high density of active volcanoes. Rugged volcanic peaks interspersed with lush valleys, desolate lava-spewing plains and ancient glaciers form a dynamic landscaped with a strange, almost otherworldly sense of beauty. Nineteen active volcanoes are included in the within the six groups of UNESCO World Heritage-listed sites of Kamchatka. Travellers who fancy themselves as mountain trekkers can easily walk to the bases of some impressive mountains.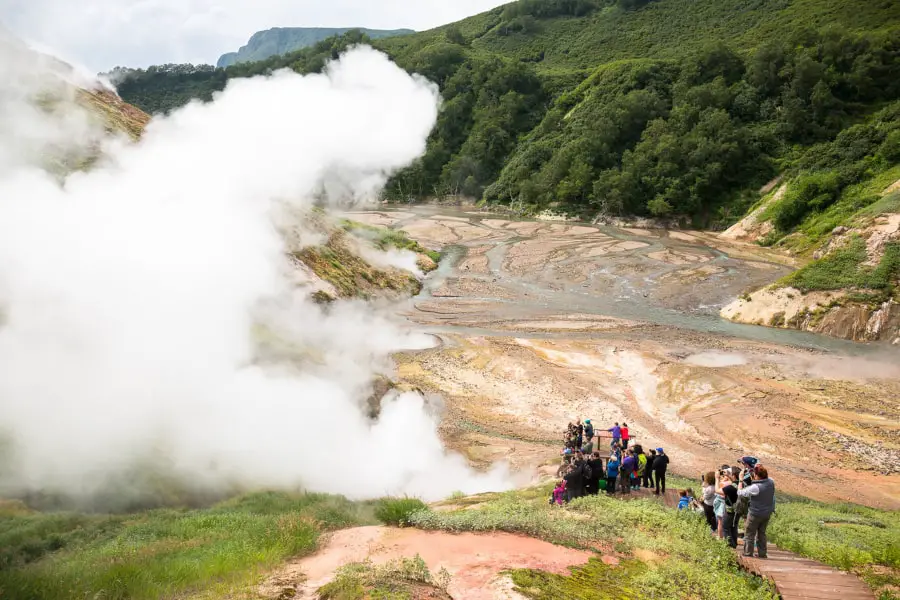 Valley of Geysers
Seething, steaming and periodically expelling huge volumes of hot water in a spectacular jet, geysers are a remarkable natural phenomenon. Kamchatka's Geyser Valley is home to the second largest concentration of geysers on earth, scattered across a 6km basin with the Martian-like volcanic scenery. Due to their remote location, the geysers can only be accessed by helicopter. Once inside the valley, local guides and wooden walkways provide a safe passageway past some of the largest and most spectacular geysers.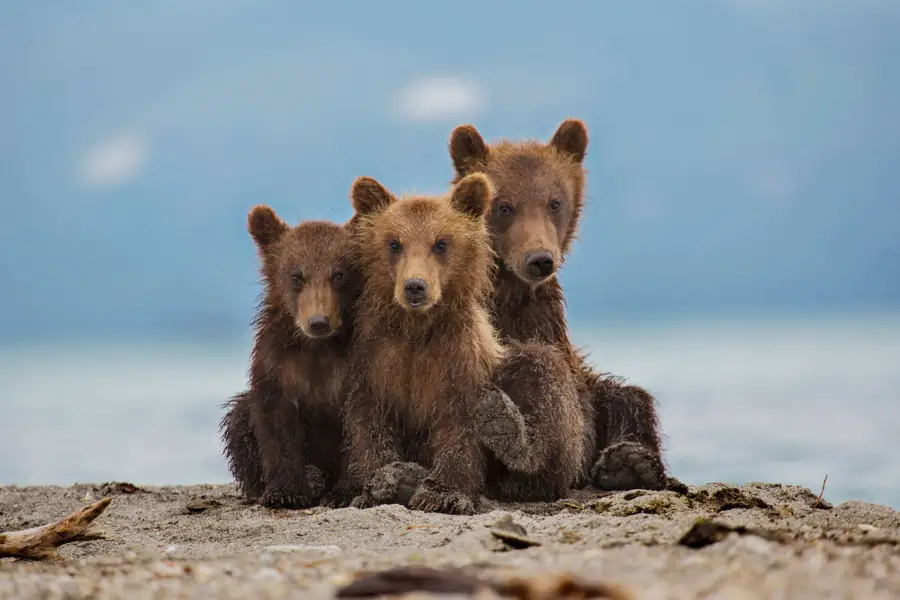 The Brown Bears of Kamchatka
The Kamchatka brown bear, one of the largest subspecies of brown bear in the world. The region's well-preserved wilderness has created a safe sanctuary for one of the most concentrated brown bear populations in the world, meaning summer sightings of these impressive animals are virtually guaranteed. During late July to mid-September, Kuril Lake hosts Kamchatka's largest salmon spawning event, attracting about 2 million fish each season. Tourists, escorted by rangers can observe the bears as they swim, play and fish for salmon.
Kamchatka's Pacific Coast
Vast, rugged and largely uninhabited, Kamchatka boasts one of the most isolated stretches of coastline in the world. The region's capital, Petropavlovsk-Kamchatsky, is situated beside the calm waters of Avacha Bay, under the shadow of the three Petropavlovsk volcanoes. Beyond Avacha are thousands of kilometres of rocky coastline. The most conspicuous residents here are seals, giant Stellar sea lions, orcas, whales and sea eagles.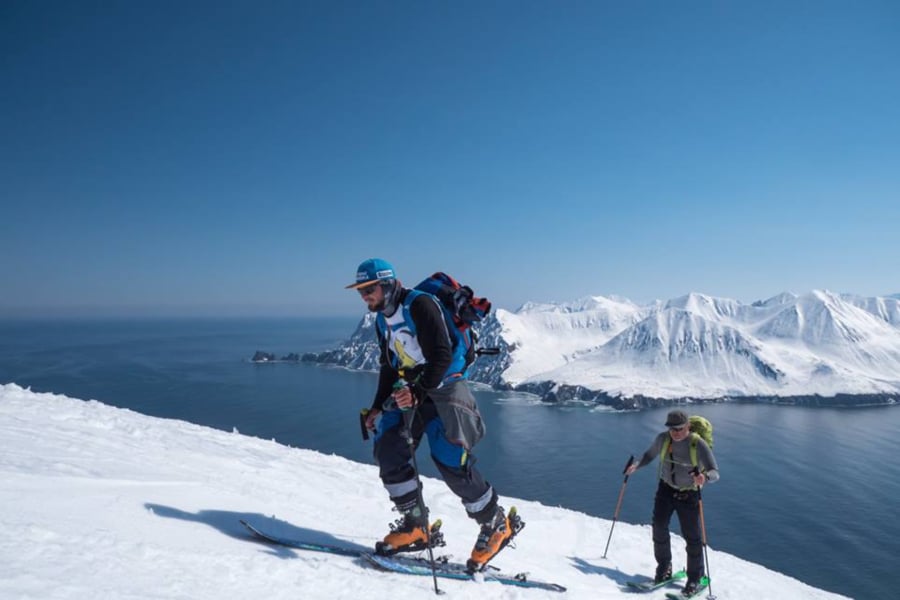 Heli-Skiing in Kamchatka
For experienced skiers and snowboarders with a taste for the extreme, heli-skiing the untouched volcanic slopes of Kamchatka will be a wild winter adventure that's virtually unrivalled. The experience starts with an incredible flight over the untamed peaks of the peninsula in a Russian chopper – the ultimate chairlift! Then, touchdown in the middle of nowhere and prepare for the free ride of a lifetime. Kamchatka is the only place on earth where it's possible to ski down active volcanoes, and even to ski into the crater, with active steam vents smoking around you!
How to get to Kamchatka
Travel by plane:
Sandwiched between sub-Arctic Russia and the Pacific Ocean, Kamchatka has no overland routes leading into the region. There are no regular passenger ferries to anywhere in Kamchatka, so the only practical way for travellers to arrive is by air. You can find the airport located 20km from Petropavlovsk-Kamchatsky in the village of Yelizovo. There are daily flights from Moscow (nine hours), and several flights a week from St Petersburg, Khabarovsk, Novosibirsk, Vladivostok and Beijing. In the peak summer season, there are occasional flights from Anchorage, Alaska and Tokyo, Japan.
Destination #6: Karelia
Karelia exudes an air of magic unlike anywhere else in Russia. Encompassing vast tracts of untouched wilderness, the far northwestern republic is covered in dense forests, idyllic lakes and waterfalls, fertile hills and barren steppe country. Iconic animal species now extremely rare in much of Europe – bears, wolves, wolverine, lynx, reindeer, moose and otter roam freely along the Russian frontier.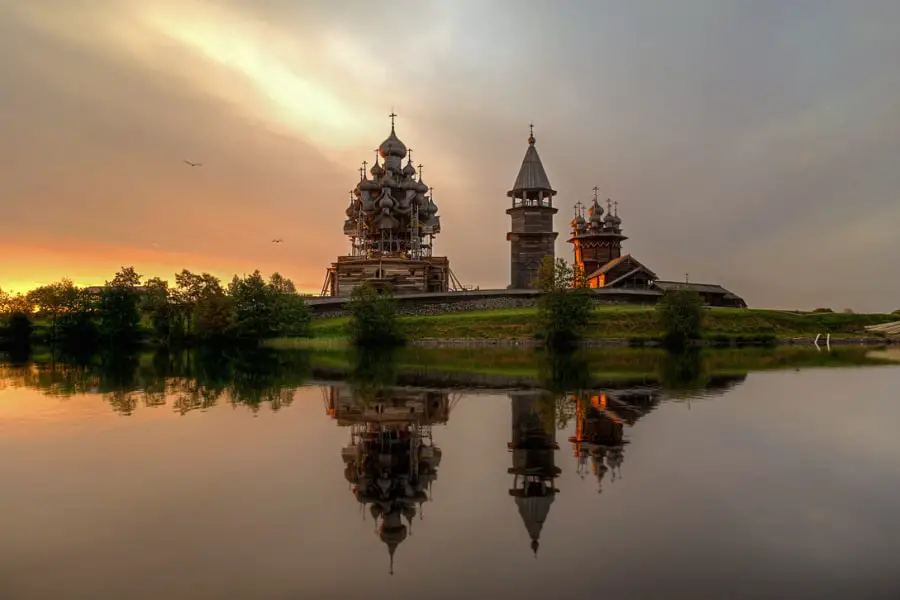 Bordered by Finland and the White Sea, Karelia is not just a far-flung no-mans land but a living museum of human history. Inhabited by Scandinavian peoples for 6,000 years and intermittently contested by Finnish, Swedish, and Russian forces over centuries, Karelia, despite having much of its territory ceded to the Soviet Union in 1939, the region still retains a strong cultural connection with eastern Finland. Distinctly Karelian culture lives on in the peasant traditions of poetry, music and folk ceremonies that reinforce the people's bond with the land and sea. 
Why visit Karelia?
This Russia Destination Guide will present to you some of the highlights and high points of this magnificent destination. Easily accessible from Moscow and St Petersburg, and blessed with extraordinary natural beauty, a unique culture unlike anywhere else in Russia and some of the best-preserved traditional wooden architecture in the country, Karelia slowly starting to appear on the radar of international travellers.
The region offers a fantastic mix of nature, outdoor adventure and cultural discovery, from the prehistoric petroglyphs near the White Sea Coast to the republic's most famous attraction, the World Heritage-listed Kizhi Pogost, an open-air museum in the middle of a lake, dedicated to fine 17th ad 18th-century wooden architecture.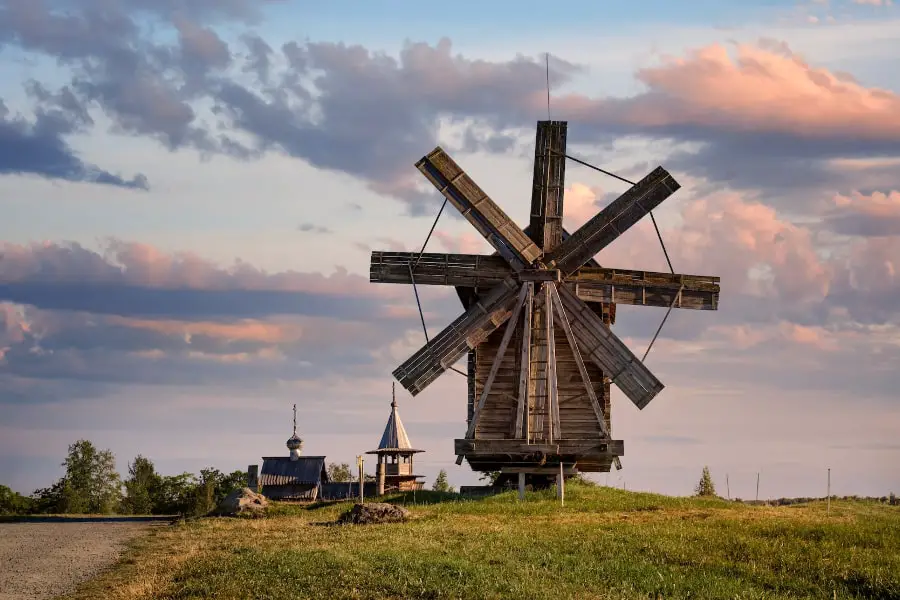 Karelia is an equally enchanting eco-tourism destination for Russia destination guide readers, home to the primordial forests of Kivach Nature Reserve, and Ruskeala Mountain Park, a former marble quarry that has been naturally transformed over time into a magnificent flooded canyon, carved from a unique and harmonious fusion of the natural and the man-made.
Karelia's rivers, lakes and streams allow off-the-grid kayaking, fishing and camping for weeks. In winter, the woods become an enchanting playground for dog sledding, snowmobiling and cross-country skiing.
Weather in Karelia and when to visit
Generally speaking, Karelia has a continental climate zone, with typically much milder winters in contrast to other northern regions near the Arctic. However, Karelia's climate has a reputation for being unpredictable, so no matter which season Russia Destination Guide traveller's trips coincides with, be prepared for practically any weather.
The short summer period from June to mid-August is modestly warm, but this time of the year welcomes the most visitors to Karelia since it enjoys the sunniest days by far. By the peak of July, the famous 'midnight sun' visits northern Karelia, and shines almost around the clock. Expect maximum daytime temperatures of between 16 and 21°C. Karelia's relatively mild temperatures make it one of the most comfortable destinations for experiencing winter in the Arctic zone. The Russia Destination Guide implores you to explore the ethereal taiga forests and fairytale wooden houses which look especially magical against a snowy winter backdrop. The snowy landscapes are perfect for enjoying favourite local sports such as snowmobiling, skiing and dog-sledding. Its proximity to the Arctic Circle means that the skies above Northern Karelia are sometimes graced with an appearance from the Northern Lights.
Highlights of Karelia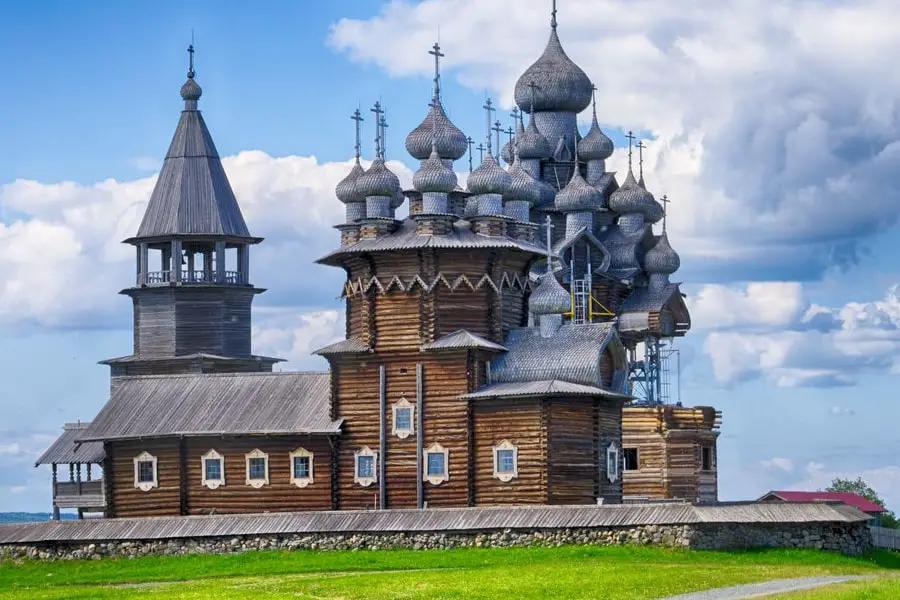 Kizhi
One of the largest open-air museums in Russia has been built on the island of Kizhi in the middle of Lake Onega. Kizhi is immediately recognisable thanks to the iconic Transfiguration Church. This masterpiece of timber architecture features five tiers of 22 wooden domes, built in 1714 without the use of a single nail. The pine walls and domes of the church change colour as the day progresses. The Kizhi State Museum is home to dozens of 18th and 19th-century log buildings, some furnished in period style, moved here from Karelian villages during the Soviet era.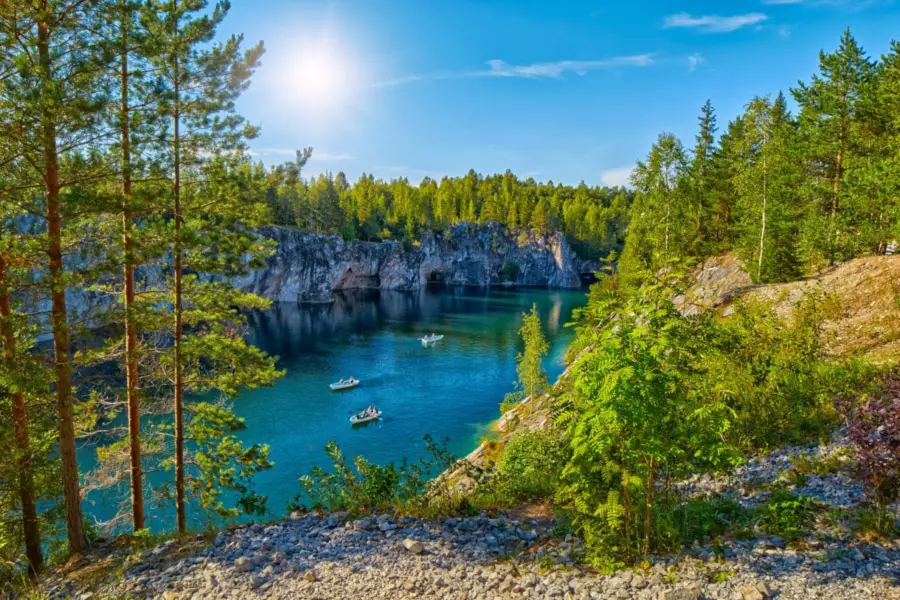 Ruskeala mountain park
Ruskeala was formerly a marble quarry, mined by the Swedes, Finns and Russians for around three centuries. The 109-metre wide canyon now stretches for 456 metres and its sides are riddled with caves and grottoes. Tall pines sprout from the tops of the canyon walls and the groundwater has become a river of deep emerald green, creating a truly beautiful union of the natural and the man-made. The canyon can be traversed by boat, and some of the caves and mine shafts can be explored with a professional guide.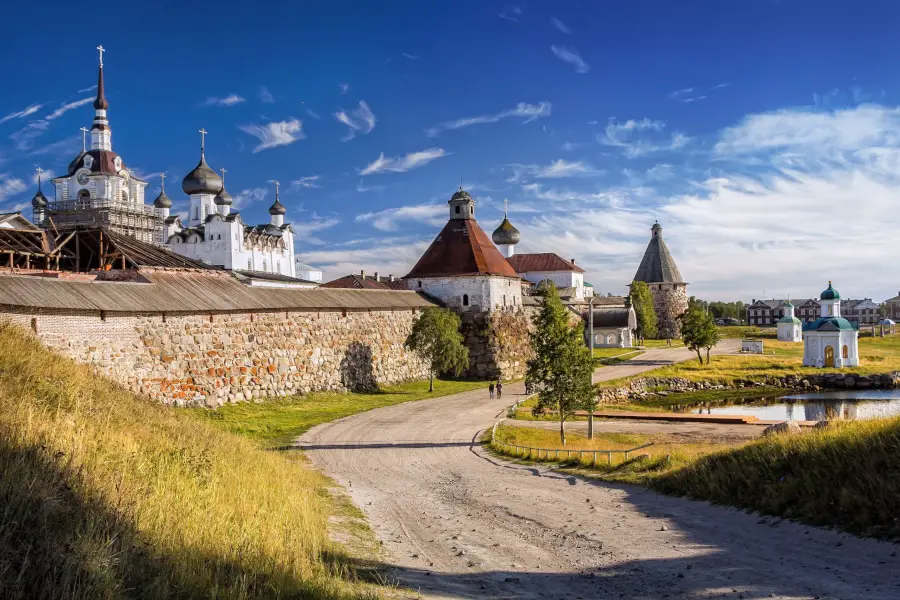 Solovetsky Islands
The Solovetsky Islands, is a place that many travellers fantasise about visiting when in Russia but few actually ever end up doing so. Located in the Onega Bay of the White Sea, the archipelago is made up of 6 main islands and many smaller ones. The largest island is the Bolshoy Solovetsky and it is home to the main monastery, which dominates the rural idyll of Solovetsky Village, the islands' main settlement.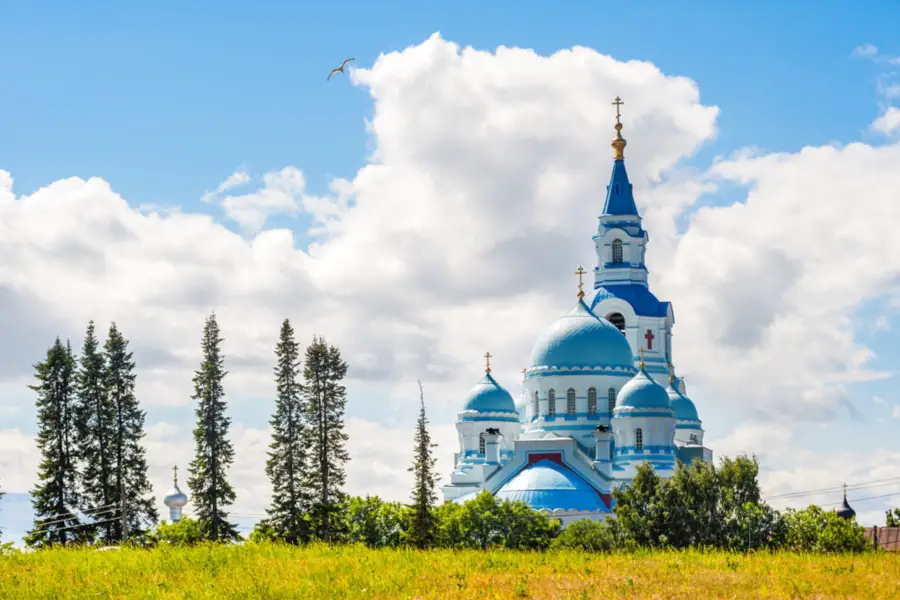 Valaam Island
As one of the most popular Orthodox tourist destinations, the main attraction that draws visitors to its shores is the 14th century Transfiguration Monastery. It is a monumental structure that sits on top of the high hill, making it visible from many locations on the island. In the past, the monastery had been subjected to numerous accounts of destruction and devastation from fires and invasions. Now, the gardens, a bakery, vegetable patches and a farm, rolling prairies and granite cliffs with around 200 Orthodox monks living within its walls permanently.
How to get to Karelia
Travel by plane:
For Russia Destination Readers travelling within Russia itself, S7 Airlines fly between four and five times a week from Moscow (Domodedovo) to the Karelian capital of Petrozavodsk (approximately 1 hour and 45 minutes). The timetable changes regularly so keep an eye out on S7's flight schedule. Petrozavodsk is a small airport about 12km out of town. Taxis or private transfers are the preferred means of getting into the city. Once you arrive at the Petrozavodsk airport, it is about a 12km drive to the city centre. Pre-arranged private transfers are typically the preferred methods of transportation to get to town.
Travel by train:
There are several trains per week, both daytime and overnight departing from St Petersburg to Petrozavodsk (7 hours) or day trains (4 hours). Trains from Moscow to Petrozavodsk run daily, an overnight journey of around 16 hours. The twice-weekly train to Murmansk (capital of Kola Peninsula) also makes a stop in Petrozavodsk.
Travel by bus:
A bus service connects Petrozavodsk to Joensuu in Finland (Thursdays to Sundays) and takes around 4 hours and 40 minutes. There are also bus services to Petrozavodsk from St Petersburg, which takes between 5 and 6 hours and is an extremely cheap way to travel between the two cities.
Destination #7: Kola Peninsula
Pierced by the snow-dusted pines of the taiga forest in the south and blanketed by an endless expanse of tundra in the north, the Kola Peninsula is the quintessential Russian Arctic destination. Inhabited by reindeer-herding nomads and bound by the White and Barents Seas (plied by only the strongest of nuclear ice-breaker ships), this remote region is the stuff of romance and legend. Situated almost entirely above the Arctic Circle, between mid-May and July, daylight lasts a full 24 hours, bathing the peninsula in the dazzling light of the unsetting midnight sun. Conversely, for two months over winter, the Kola Peninsula is blanketed by the polar night, when the sky is only lit by the appearance of the mesmerising Aurora Borealis.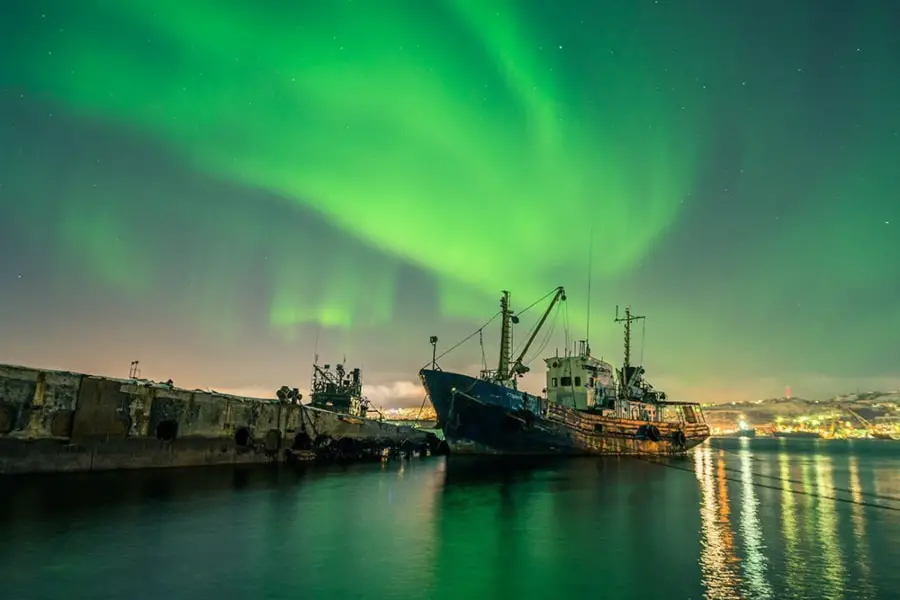 A land of jewel-like lakes and crystal clear rivers, unexplored mountain ranges and wildlife-rich Arctic coastline, Kola's vast grasslands are subject to visiting grazing reindeer in their thousands over the summer months. Many of the indigenous Sami, who also inhabit northern Scandinavia, still live on to a semi-nomadic way of life, depending on reindeer herding for their livelihood, traversing the tundra on husky-drawn sleds and holding on to their own ancient customs, language and traditions.
Not all of Kola is untouched by modern development. The capital Murmansk, with a population of over 300,000, is the largest city north of the Arctic Circle, and despite its industrial port town feel, is a remarkably lively town, with bars and restaurants and interesting Naval history.
Why visit the Kola Peninsula?
Still very much a frontier tourist destination, Kola is a place for travellers seeking unusual and extreme environments and boundless Arctic wilderness. For those Russian Destination Guide readers keen on winter sports, Kola offers some of the Arctic region's best cross-country skiing, and the opportunity to go snowmobiling in the taiga. For hardcore history buffs, the peninsula is also a hunting ground for Soviet-era ruins including a haunting submarine graveyard near the Russian naval base at Olenya Bay.
Between the months of September and April, the city of Murmansk receives an influx of visitors hoping to catch the cosmic dance of the Northern Lights above the city rooftops and the hills, forests and snowfields surrounding the town.
Weather in the Kola Peninsula and when to go
Despite its extreme northern location, Kola enjoys one of the mildest climates of any region above the Arctic Circle, thanks to the influence of the warm Atlantic currents. This has helped make Kola an attractive destination for Northern Lights tourism between the autumn and late winter months of September and April.
The coldest month is January, with an average temperature of about -10°C in the Murmansk region. July is the warmest month, with temperatures between 12 and 20°C. From early December till late January, the sun is hidden beneath the horizon day and night, with artificial light the only means of illuminating the infamous polar night. The season of the polar day is from late May to late July when bright sunshine persists regardless of the time of day.
Highlights of the Kola Peninsula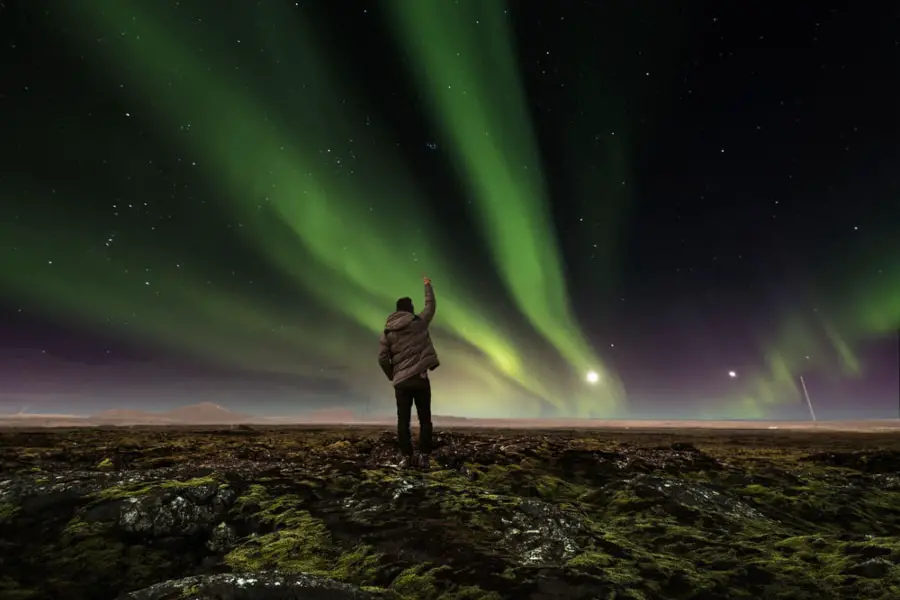 The Northern Lights in the Kola Peninsula
Known as the best place in the Russian Arctic for a chance to witness the breathtaking spectacle of the Aurora Borealis or Northern Lights, Murmansk and its surrounds have become one of the world's premier destinations for observing and photographing this bewitching natural phenomenon. Although their appearance is unpredictable, the lights can be sighted between late August and April, with September to April considered the best months for maximising your chances.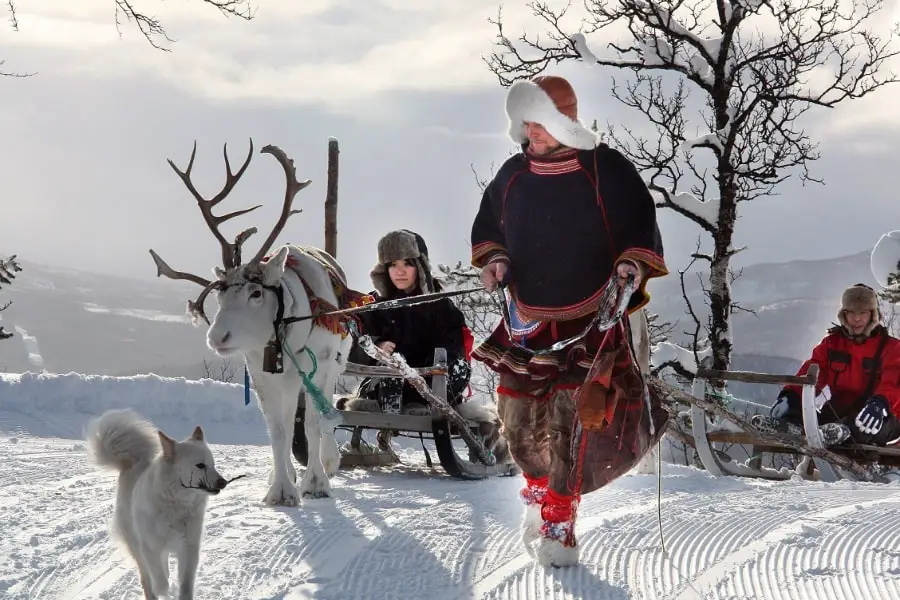 Nomadic Saami culture
The Sami (or Saami) are also the most prominent indigenous group in Lapland, Scandinavia. So distant is their language and way of life from the rest of Russia the Sami-dominated parts of Kola are usually referred to as Lapland. With a local guide, it's possible to visit a traditional Sami settlement where many traditional dwellings are still in use. You may be invited to test your reindeer lassoing skills, commandeer your own troupe of sled-pulling huskies and taste authentic Lappish cuisines such as Arctic fish soup and berry pie.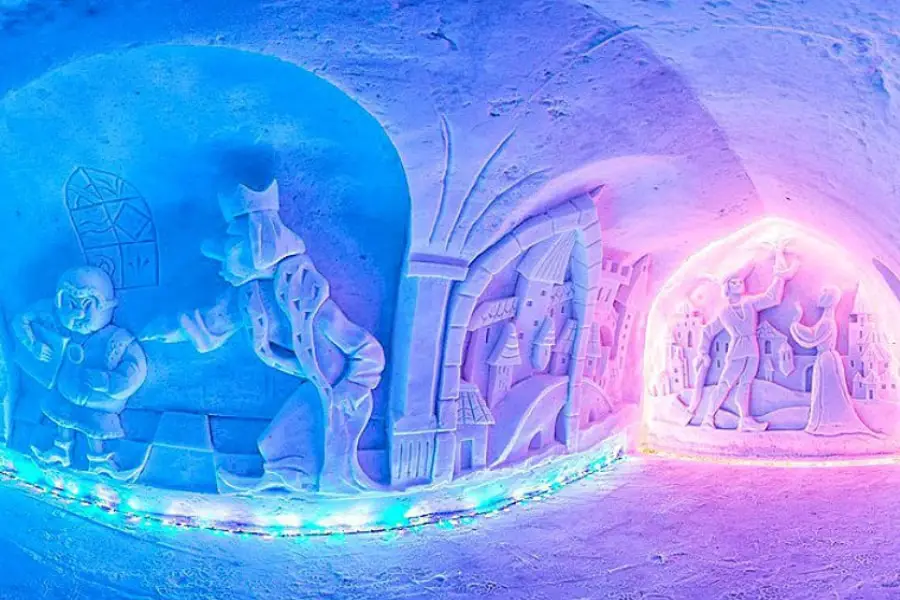 Snow Village
The Snow Village is an ambitious tourism project featuring ornately decorated buildings, sculptures, labyrinthine tunnels and intricately patterned rooms, painstakingly constructed almost entirely out of ice and snow. Drop in at the ice bar, watch a film at the snow cinema, check out the ice sculpture gallery or stroll through the enchanting "village" where you'll encounter fairy tale characters, mythical snow maidens and perhaps even Santa Klaus himself.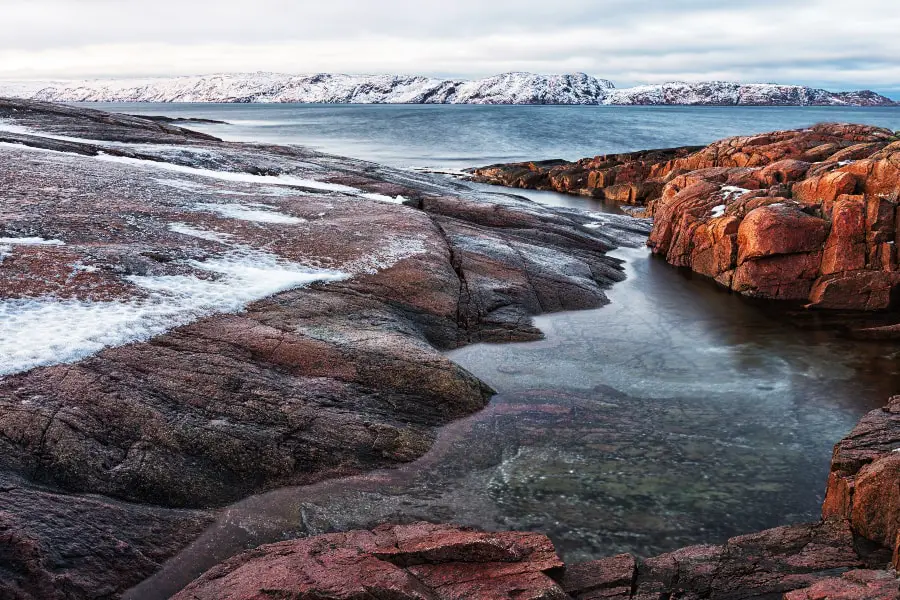 Teriberka Village
Teriberka is an old village, located on the Barents Sea coast. The way to the village takes travellers through the tundra with splendid sceneries on their way. Teriberka village is an authentic place and you will be impressed by arctic nature, village life and almost destroyed households Soviet Union period, cemetery old wooden ships and the famous breathtaking view of the Arctic ocean.
How to get to the Kola Peninsula
Travel by plane:
Because of its extreme isolation, flying is by far the most practical way to get into the Kola Peninsula. There are multiple flights every day from Moscow to Murmansk (2 and a half hours) as well as daily flights from St Petersburg (2 hours).
Travel by train:
Murmansk can be reached from several cities in north-west Russia by train. Moscow is 35-40 hours away and Saint Petersburg 27-30 hours, depending on the class of train. The Arktika (Арктика) train is the fastest option, with private first-class carriages and a restaurant on board. All long-distance trains make stop-overs in cities such as Kandalaksha and Petrozavodsk on their way.
Destination #8: Yamal
Once considered a virtually inaccessible "edge of the world" location, only visited by the hardiest of adventure travellers, Yamal is one of the last refuges of Siberia's nomadic reindeer herders, custodians of a land of vast plains that stretch from the Polar Ural Mountains to the Kara Sea in the Arctic Ocean. While large-scale reindeer herding is slowly disappearing throughout Russia and the Arctic, Yamal's remoteness has been key to the preservation of this ancient way of life practised by the indigenous Nenets. Even so, the discovery of immense oil and gas resources in the peninsula will mean the Nenets culture is becoming increasingly under pressure from modern industrial development.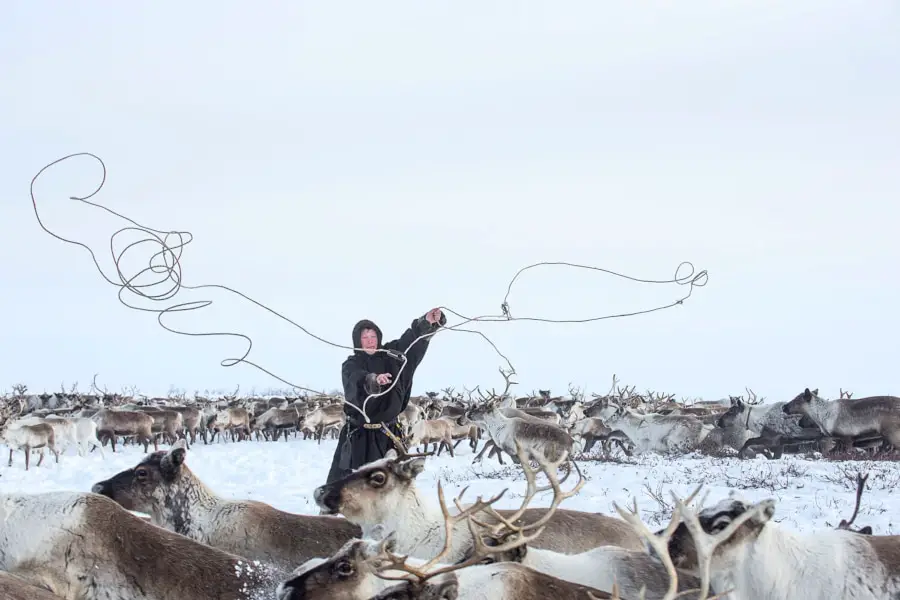 With much of its territory above the Arctic Circle, Yamal means 'edge of the world' in the language of its indigenous people. Its administrative centre, the historic town of Salekhard (population 43,000) straddles the Arctic Circle. The Yamal Peninsula was considered so inhospitable that Stalin built his prison camps here. And yet a rich, colourful and resilient culture and ancient shamanistic religion have managed to survive here.
To survive Yamal's extreme climate, the Nenets migrate with herds of up to 10,000 strong from their winter pastures in the southern taiga, north to their summer grazing lands near the Arctic Ocean. Crossing the frozen Ob, the world's fifth-largest river is just part of a journey which can span over 1,000km, one way, making it one of the longest annual human migration routes in the world.
Why visit Yamal?
Very few foreigners have set foot on the Yamal Peninsula. There are no roads from outside into the area, and outsiders (both Russians and foreigners) must apply for a visitors permit at least two months ahead. Due to the challenging logistics of visiting Yamal, a guided tour is highly recommended.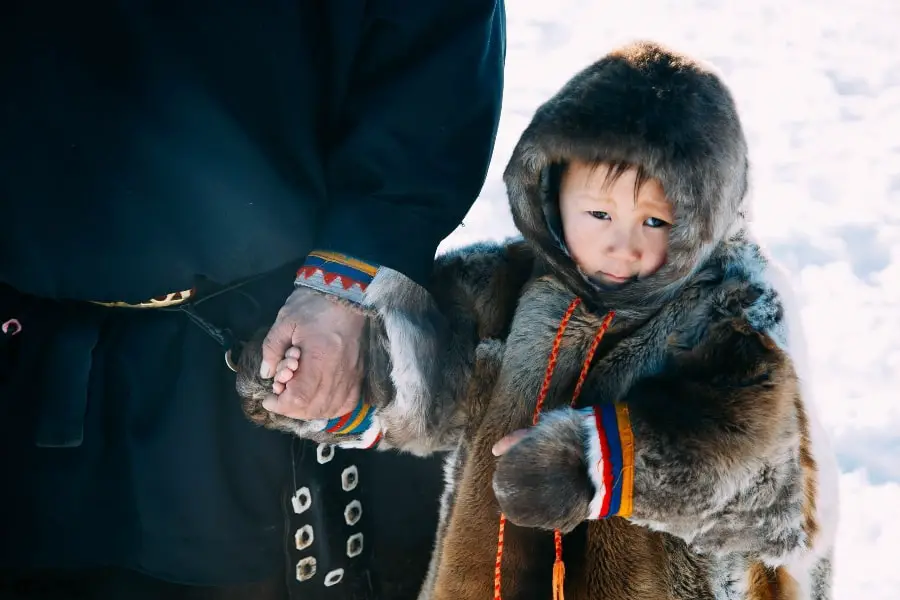 The Russia Destination Guide presents to you the single most compelling reason to make this difficult journey to Yamal. Here, you can submerge yourself in a culturally immersive experience like no other. During the reindeer migration season, you will have the once-in-a-lifetime opportunity to live amongst the indigenous Nenets of Yamal, sleeping in their summer tented camps, working with reindeer and following them on part of their migration on wooden sleds through the snowy taiga forest. The highlight of the year for visitors to Yamal is the annual Reindeer Herder's Festival, the most important event on the Nenets calendar which showcases all manner of reindeer-related physical challenges.
Weather in Yamal and when to go
Most of the Yamal territory is located within the northern part of the West Siberian Plain, and a small part of the eastern slope of the Ural Mountains. The climate of this region is characterised by long, harsh and winters of up to eight months, and short summers with strong winds and relatively light snow cover.
Summer temperatures hover around 5 to 25°C but the wind chill factor still makes warm clothing outside a must. In deepest winter, out on the tundra, temperatures of a staggering -50°C are common. Clothing and exposure protection suitable for extreme cold is an absolute must for surviving Yamal in the winter time. The Nenets wear heavy coats, hats and boots fashioned from reindeer skin, and while living with them in their tents, guests are highly advised to do the same.
Highlights of Yamal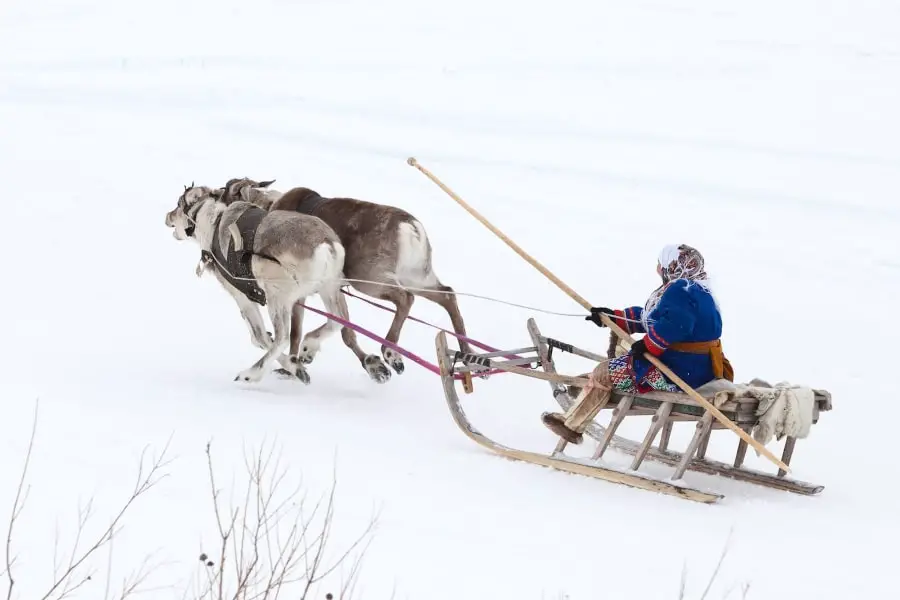 Reindeer Migration with Nenets
Travel with the Nenets on one leg of their annual migration – it's one of the most unforgettable and incomparable cultural experiences on earth! Each spring, the Nenets migrate from winter pastures on the Russian mainland to the summer pastures in the Arctic Circle, a one-way journey of up to 1,000km. This is a remarkable extraordinary opportunity to get to know one of the world's last true nomadic reindeer herders through their eyes.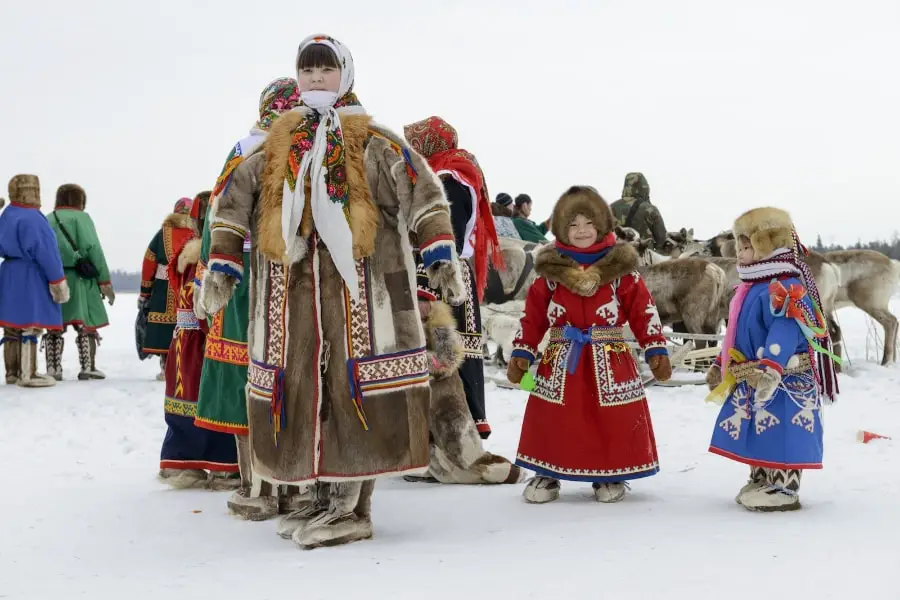 Reindeer Herder's Festival in Yamal
The Reindeer Herder's Festival is a one-day holiday, celebrated in late March or early April in Yamal. For the nomadic Nenets people, a festival day is a major event, which offers a chance to meet with friends and compete in contests of physical skill and a variety of other competitions. It has also become an event in which the Nenets are able to share with the world a rarely-glimpsed slice of their culture, which has remained relatively unchanged for centuries. Visits to the festival combined with a stay in a traditional nomad camp can be arranged by a specialist tour company.
How to get to Yamal
Travel by plane:
The Arctic city of Salekhard is the gateway to the rest of Yamal. There are direct flights from Moscow and St Petersburg (both around 3 hours) and also from Ekaterinburg (1.5 hours) on Yamal Airlines. Salekhard Airport is about 7km from the city centre.
Travel by train:
Fancy a ride on the real, modern-day Polar Express? The train named the "Polar Arrow" was launched in 2013 and makes the 3,550km journey from Moscow, cutting through the Ural Mountains, hauling through Asia and Siberia and crossing the Arctic Circle to reach Labytnangi (the closest station to Salekhard) some 43 to 46 hours later. Taxis from Labytanangi will take you to Salekhard's town centre in less than half an hour.
Destination #9: Altai Republic
The Altai Republic is, in a word, "diverse." A mountainous region whose borders touch the semi-deserts of Mongolia and the vast Kazakh plains, Altai has one the most varied climates in Siberia. Still largely undiscovered, Altai now supports a growing, community-based eco-tourism industry. As well as being an incredible hike and ski destination, Altai offers the unique opportunity to immerse yourself in the traditions of the mountain-worshipping Altay people, whose ancient culture reflects Altai's location at the crossroads of both Europe and East and Central Asia.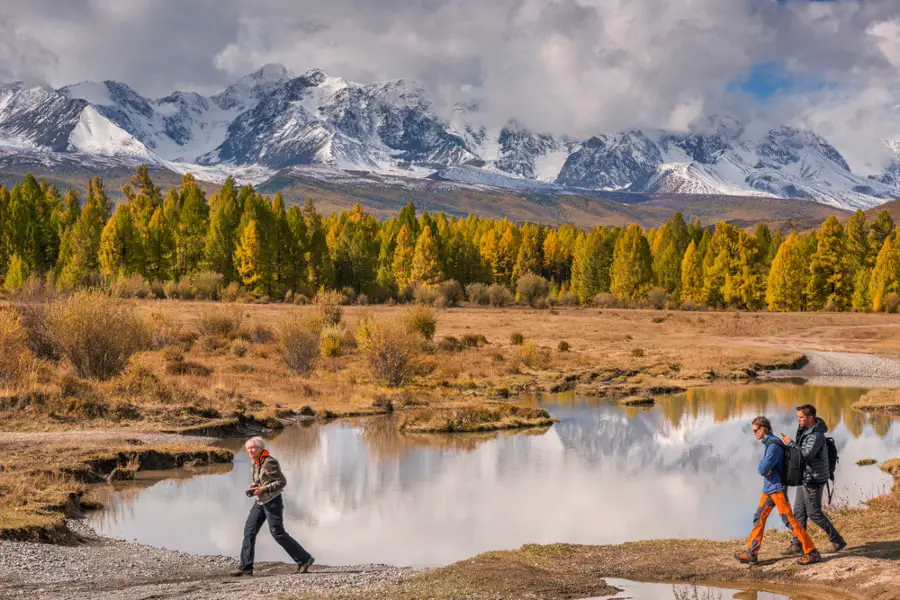 Altai is impossibly scenic – watch the scenery slide by as it rolls from rocky steppes to the high desert to impenetrable taiga forest. Colours shift, fields lay in hushed snowfall or blossom in spring. Everything changes here, with only one exception – Altai's majestic mountain peaks. Home to the UNESCO World Heritage Site "The Golden Mountains of Altai", the Altai Mountain Range is a refuge for some of the world's rarest animal species. In the raw, rugged beauty of this long-forgotten wilderness, you can hike for miles in complete solitude. Go fishing in the pristine tributaries of the Katun and Chemal Rivers, search for snow leopard prints in the hills, explore vast underground cave complexes or get your fix of winter sports action in one of the region's burgeoning boutique ski resorts. 
Why travel to Altai?
Blessed with unforgettable mountain scenery – eternally snow-capped alpine peaks, broad green valleys, rocky canyons and mighty glaciers – Altai cements its place in the Russia destination guide as the ultimate hiking destination. Altai has an enormous amount to offer lovers of landscape, nature and wildlife photography. Despite being a relatively unknown 'adventure' destination, Altai's trekking routes offer something for hikers of all levels of experience, from easy jaunts in the foothills and meadowlands to hardcore, high-altitude multi-day and multi-week treks straddling the mountain ranges that straddle the Mongolian, Chinese and Kazaz borders. Altai's hiking trails are endless and reaching the summit of one of the high peaks is of the most rewarding things to do in the Altai region.
Weather in Altai and when to go  
The Altai Republic has three main climatic zones – warm and humid continental, subarctic and cold semi-arid, making it essentially a year-round destination. Being located far from the oceans, the lands of the Altai Ranges heat up considerably in summer and cool rapidly in winter, making late spring and summer the ideal season for mountain trekking and camping.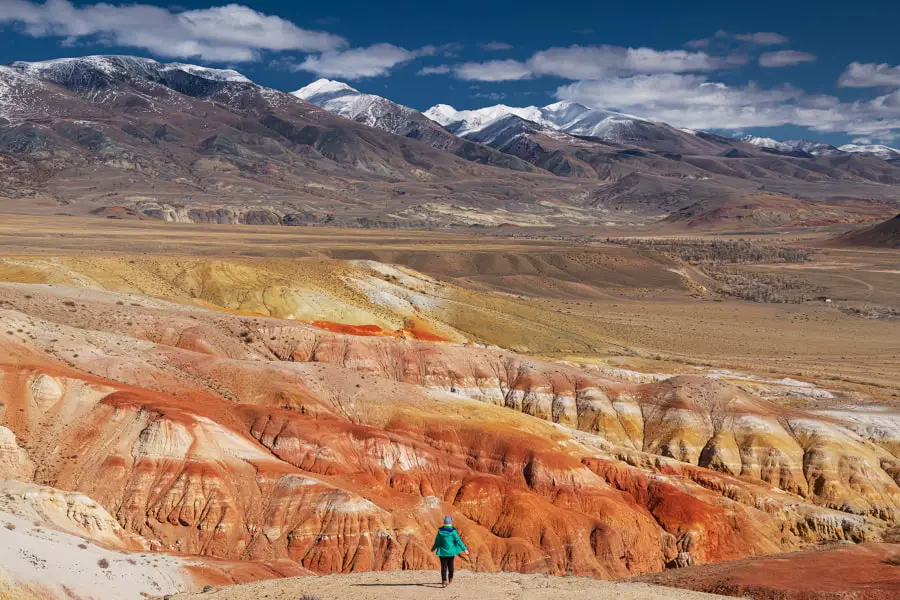 Summer is peak whitewater rafting season in Altai. The Russia destination guide recommendation is to visit around the end of August where you may witness or participate in the White Water Siberia Forum, a sensational event that attracts professional rafters from around the world attempting to conquer the incredibly wild rapids and of the majestic Chuya River.
Highlights of Altai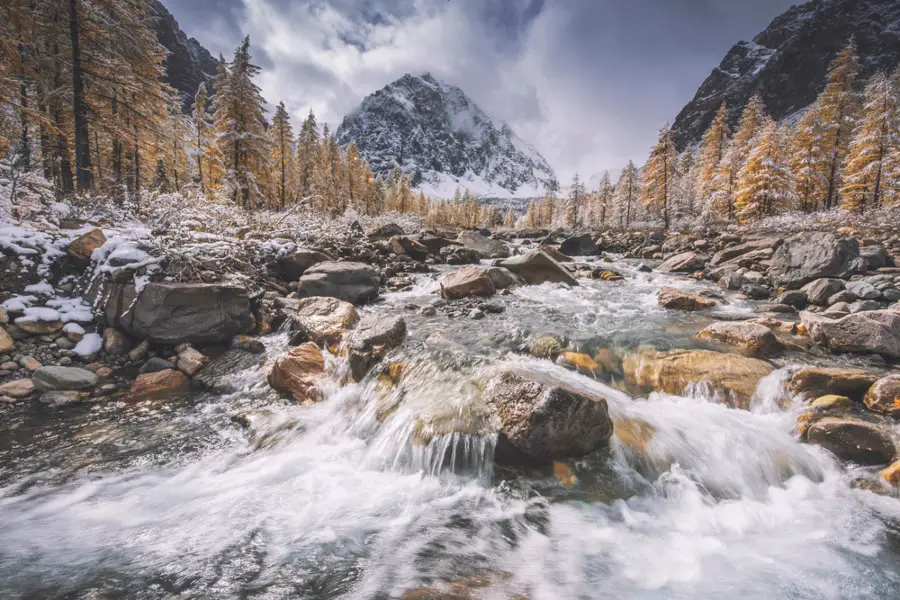 The Golden Mountains of Altai
The Golden Mountains of Altai is a UNESCO World Heritage site forming the major mountain range in Western Siberia and the source of its greatest rivers – the Ob and the Irtysh. The region harbours the most diverse vegetation and microclimatic zones in central Siberia, from steppe to dense mix forest and high alpine vegetation. The dramatic Altai ranges are home to nearly 700 animal species, including the mountain ram, reindeer and the endangered snow leopard. Stunning Mount Belukha is the highest peak in Siberia at a cloud-piercing 4,506m.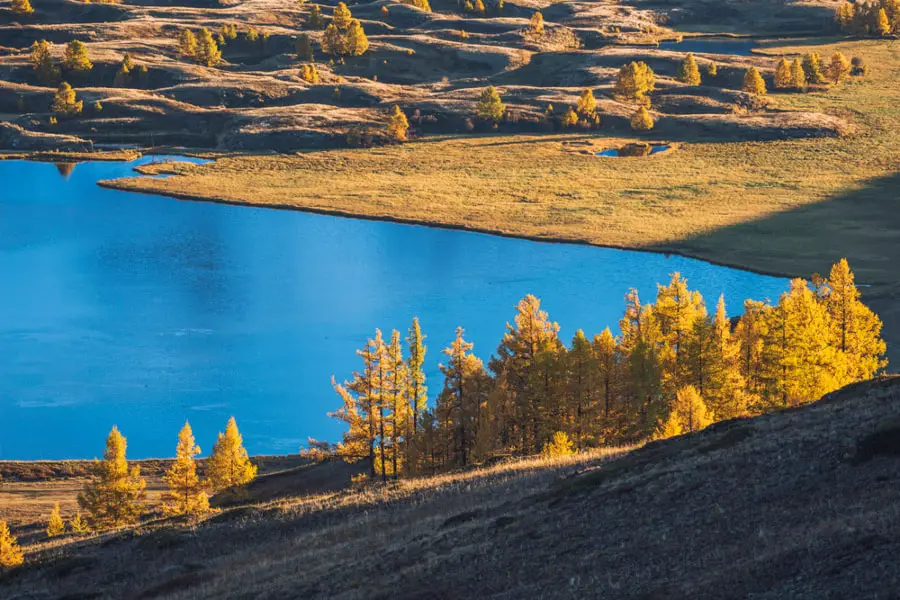 Lake Teletskoye – The Golden Lake
Lake Teletskoye or Altyn-Köl, which means "Golden Lake" is the world's second deepest freshwater body after Lake Baikal (up to 325m at its deepest point). A dazzlingly transparent aquamarine sometimes referred to as "Baikal's Little Brother", the lake spans 233 square kilometres and is surrounded by the alpine meadows, forests and the jagged, rocky peaks of the Altai mountain ranges.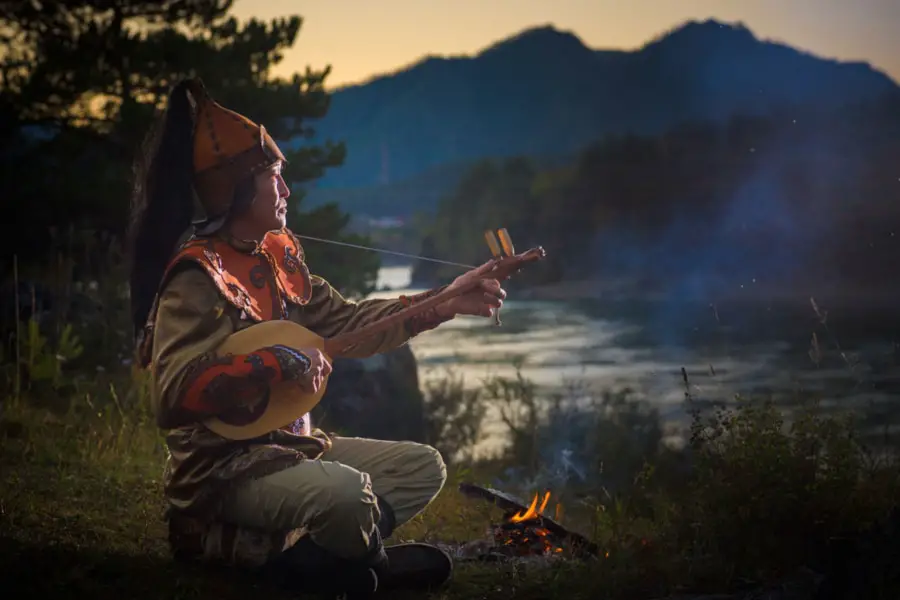 The Indigenous Cultures of Altai
Altai is home to 5 million people speaking 40 languages. The indigenous population includes the various ethnic groups of the Alati people, descendants of the Turkic tribes with ancient cultural links to the Mongols. Among the most famous Altai ancestral traditions is throat singing. The style of throat singing or 'overtone singing', (as it sounds as though the vocalist is singing two notes in separate frequencies at the same time) performed in Altai is unique to certain cultures in Siberia and Mongolia.
How to get to Altai   
Travel by plane:
For Russia Destination Guide readers travelling within Russia, there are two main options for reaching the Altai Mountains by air. From Moscow, you can take a direct flight to Gorno-Altaysk, the capital of the Altai Republic. S7 Airlines runs about two flights a week (check the schedule for seasonal changes to the timetable) with a flight time of about 4 hours and 4 minutes.
Flights also operate several times a week from Moscow to Barnaul (just over 4 hours flight time), capital of the neighbouring Altai Territory and a larger and more developed city than Gorno-Altaysk, from where you can take public transport or rent a car for the three-hour drive to Gorno-Altaysk
Although it is not part of the Altai Republic, lying 447km from the Altai capital of Gorno-Altaysk, Novosibirsk is one the most popular jumping-off points for trips into rural Altai. As the largest city in Siberia, Novosibirsk is well serviced by air, with daily flights to and from all the major Russian cities and some international flights from Frankfurts, Hannover, Beijing, Seoul and Tel Aviv. The largest local airport it Tolmachovo Airport, located 20km west of the city centre by taxi, hotel shuttle bus or private transfer.
Travel by train:
The Trans-Siberian Railway from Moscow passes through Novosibirsk, and travellers can disembark the train here before continuing their 5 and a half to 6-hour journey to Gorno-Altaksy by road.
Travel by bus:
From Novosibirsk or Baurnal, the cheapest way to get into Gorno-Altaysk is by bus. There are around 4 to 5 trips per day from Novosibirsk, while buses depart from Baurnal roughly every 2 hours.
We hope this Russia destination guide was informative and useful to you. Feel free to get in touch with our team for more information on options to travel to Russia.
[email protected]
Ph: +61 93889816
Related posts