Have you ever wondered what rural life beyond Russia's bustling major cities is like? Or have you simply wanted to escape to the more quiet, pleasant outskirts beyond its capital hubs? 
This article will take you through a riveting journey across the vast lands of Russian soil…from its sprawling rustic countrysides dotted with beautiful fairy-tale cottages and quaint terrace houses…to its magnificent architectural structures and breathtaking natural splendours. It's no secret that Russia is the home of rich, diverse cultures and adventurous expeditions, yet there are so many hidden layers underneath its national fabric that still need to be unravelled.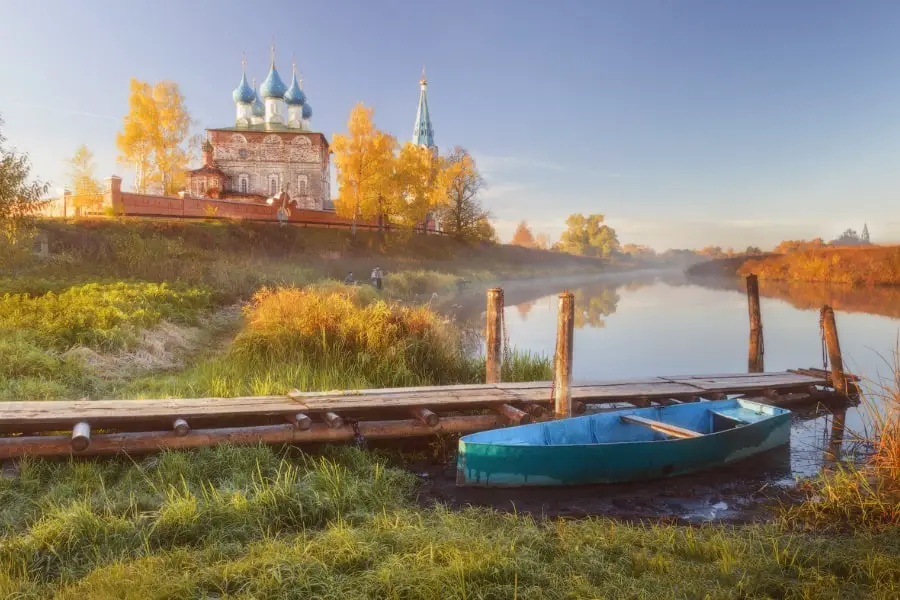 Contrary to popular belief, Russia's rural regions have plenty to offer for your travelling desires, including exquisite mouth-watering cuisines and unique cultural activities such as railway voyages, opera concerts and theatres, dog-sledding and traditional folklore. You'll also be given an insightful look into the resilient livelihoods of rural locals and indigenous tribes across different Russian regions. 
Before we dive in, we should have an understanding of how Russia's past has shaped the various lives of its citizens today.
History of Russian Rural Life
Ever since the Soviet Era, an archipelago of tiny, isolated rural villages and state farms were the building blocks of Russian society. Today, many of them have become ghost towns and have risked losing their way of life across generations. 
In Russia, rural villages and countryside regions have many state industrial farms that specialised in the production of raw materials such as potatoes and beetroot seeds. Like many industries, agriculture was collectivised.  Many of these communities had at least 200 workers and their families, who operated within their own local administrations and Communist Party organisations. These traditional self-governing communes are known as obschina. Each worker typically had their own houses and garden plots to alleviate economic catastrophes such as famine.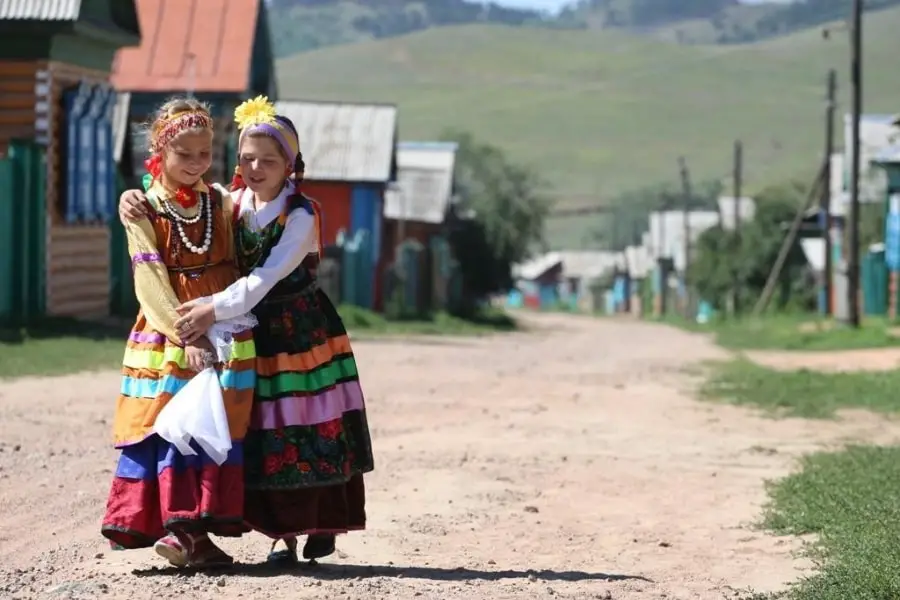 When the USSR was dissolved, workers were no longer restricted to their designated work conditions. This caused an exodus of youth and eventually middle-aged people, who fled to the cities in a rapid wave of urbanisation. Now, these Soviet farm communities are lost and slowly withering away, with various abandoned buildings, empty streets and destroyed grain silos. It is estimated that 35,000 rural communities have less than 10 inhabitants. However, many Russians still have close ties with nature and continue to grow food in a thriving dacha culture.
It is important that these communities and their rural heritage are preserved, especially since they form such an integral part of the country's national identity and cultural relevance. While there are still lingering social and economic problems, Russia's countryside possesses an intimate, tranquil beauty that is rarely seen in the major capitals, exploding with a vast array of intriguing historical significance.
Most Beautiful Russian Villages
Karelia – Kinerma
Found in the Karelian Republic, Kinerma is a beautiful ancient village which has preserved its traditional way of life. The village is full of welcoming farmers and artisans, who are keen to share their knowledge about Karelian dishes and local customs.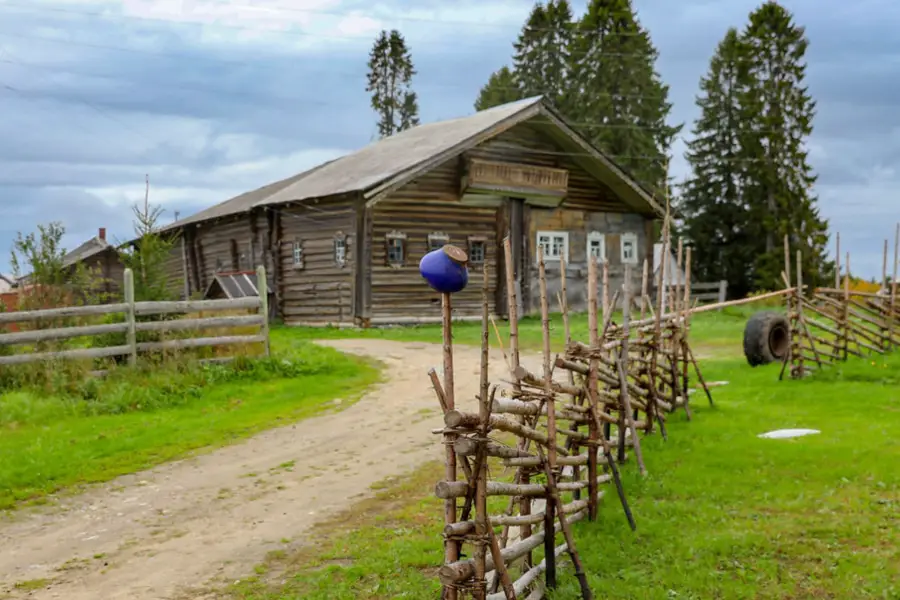 In Kinerma, visitors can find a wooden 18th-century chapel, complete with a surviving iconostasis, and an old cemetery. There are wooden residential buildings which are recognised as architectural monuments, alongside open-air museums that evoke the development of folk architecture in Southwest Karelia of XIX-XX centuries.
The Centre of Rural Tourism, also known as the 'Guest House Kinerma' helps to organise accommodation in the historic village. It receives thousands of tourists each year, providing rustic dining rooms and steam baths in black banyas. It even delivers masterclasses on traditional Karelian cuisine, along with workshops on ritual dolls and baking wickets.
Karelia – Mandrogi
Located in thick forest on the Svir River — halfway between bustling St Petersburg and the lonely island of Kizhi, famous for its towering, onion-top churches — Mandrogi was bombed out of existence by the Germans in World War II.
The war left it a burnt ruin, but after the Soviet Union fell, a group of Russian investors bought the land and invited the best of the region's woodworkers to use their creativity and traditional skills to restore the town to its former glory. Between 1996 and 1999 the traditional buildings were restored, and today the settlement is called Upper Mandrogi (Verkhny Mandrogi).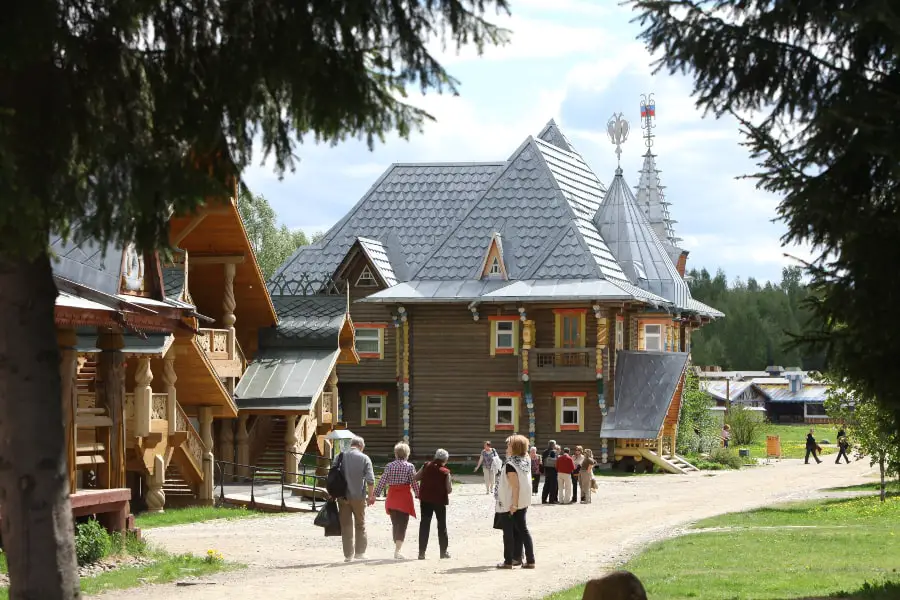 Passengers traveling between St. Petersburg and Moscow on a Russia river cruise along the most popular waterway route usually explore the streets and the local museums, each featuring a different aspect of Russian culture and folk life.
Yaroslavl Region – Vyatskoye
Vyatskoye is an intriguing old merchant village located in the Yaroslavl Region (around 300 kilometres from Moscow). It has around 1500 inhabitants and perfectly preserved buildings from the 18th and 19th centuries. Over time, the village has transformed into a historical and cultural complex with several museums, hotels, restaurants and entertainment venues (cinema and concert hall).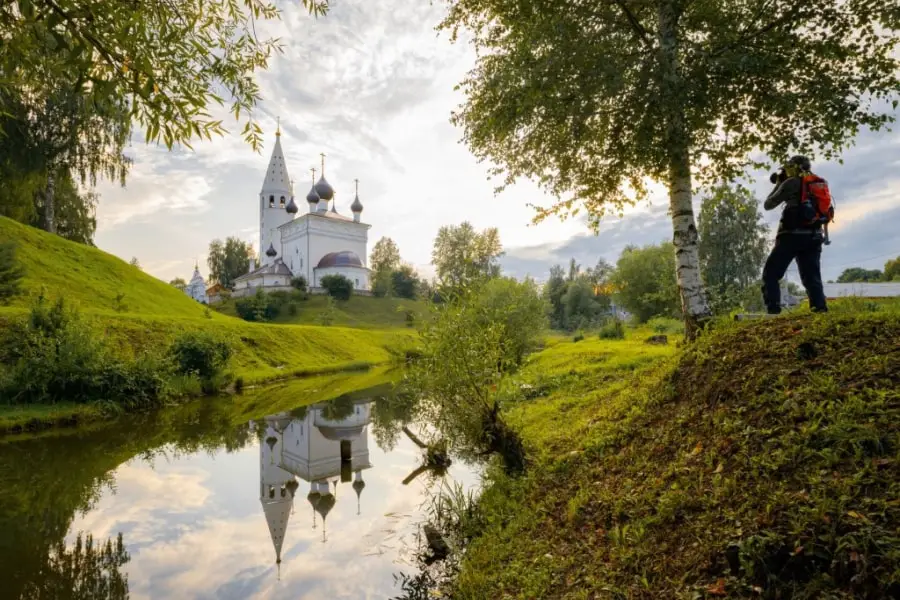 Not so long ago in the 1990s, Vyatskoye was a local collective farm which provided local employment. Yet this collapsed and the village gradually fell into decay, with residents migrating to improved economic conditions in other regions. With restoration initiatives and property investments, the village was replenished, becoming the scenic historic site we know today.
Nowadays, the village is scattered with little churches and wondrous natural landscapes, coupled with the reconstruction of merchants' households into local museums, attracting nearly 100,000 people every year. These unique museums often contain rare exhibits, such as egg boilers and toasters that were used during the Russian Empire.
Arkhangelsk Region – Kimzha
The Old Believer village of Kimzha in the Arkhangelsk Region remains one of the most fascinating places in the Russian Arctic. Every house is a captivating monument of northern wooden architecture, with many of them being over 100 years old.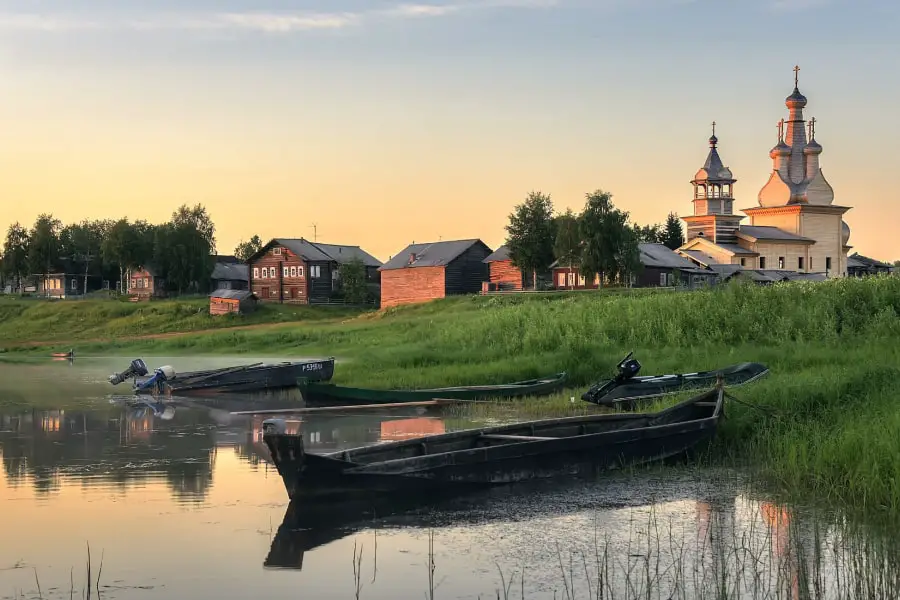 The Arctic village was founded in the early XVI century from Pinega, and since then it has flourished with 100 inhabitants and 71 historical buildings, including the five-domed wooden hip-roof Odygitriya Church. It is rooted with deep Paganism, old belief and orthodoxy, with many people honouring sacred customs and traditions. There have been no cemeteries remaining since 1951, and votive crosses are displayed near houses.
Kimzha resembles an animated museum of wooden architecture, riddled with children playing in the courtyards and the local villagers engaging in various activities such as river fishing, gathering berries and hunting in the woods. Reminiscent of rural fairytale cottages, visitors can smell gingerbread cookies and smoke trails drifting from chimneys.
Arkhangelsk Region, Kenozero National Park – Vershinino village
Kenozero National Park is an outstanding North-European cultural landscape which has preserved the traditions and ancient forms of folk art, agriculture and use of natural resources. The cultural and natural heritage of Kenozero has, throughout many centuries, avoided periods of mass destruction and preserved its historical integrity and authenticity.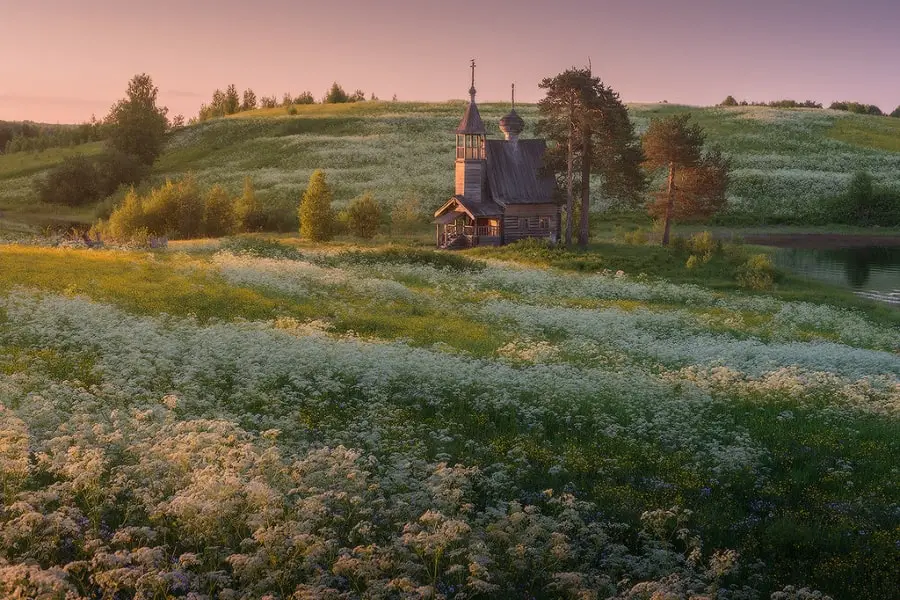 The park is situated among the northern forests and lakes of the Arkhangelsk Region and named after the largest lake in the region – Lake Kenozero. Upon arriving in the village of Vershinino, located in the centre of the park, you will be immediately greeted with its symbol: the wooden St Nicholas' Chapel which stands on the highest point of the village.
The best way to see the villages and the nature of the Kenozero National Pak region is to book an excursion by boat.
Staraya Ladoga
This is not just one of the most beautiful villages in Russia, but also one of the oldest! It was founded back in the middle of the 8th century, and the 9th century stone fortress, as well as St. George's Church and the Assumption Cathedral of the mid-12th century have all survived to this day. It is believed that, in the olden days, Staraya (Old) Ladoga was the capital of ancient Rus.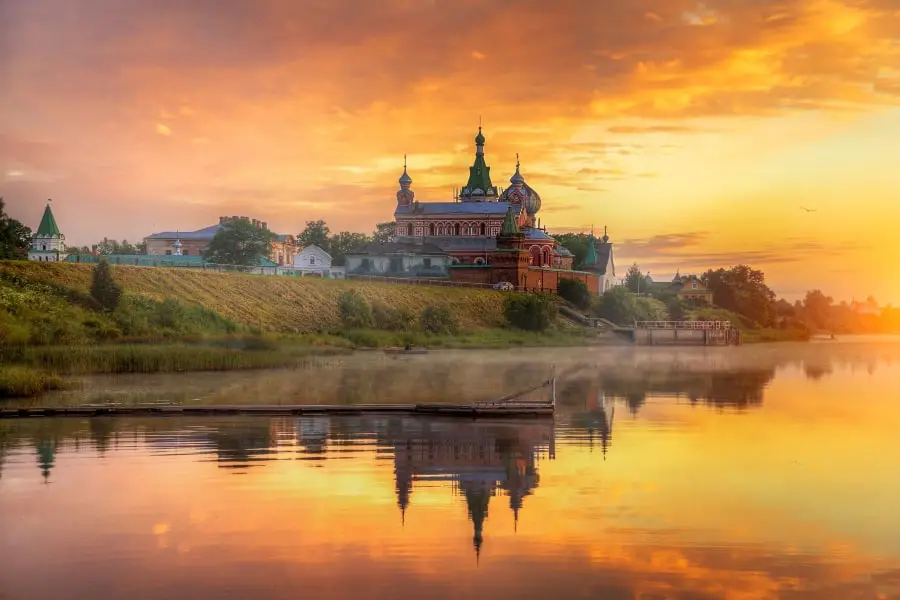 Buryatia – Bolshoi Kunalei
Buryatia, for the most part, is a region inhabited by Buddhists, but not far from Ulan-Ude, there is an old village of "Old Believers". Its first 200 settlers founded it in 1765 and their descendants, now numbering over a thousand people, have preserved a rural way of life. The wooden houses of local residents are particularly impressive: Bright and decorated with contrasting carved windows and doors, surrounded by unusual decorative features.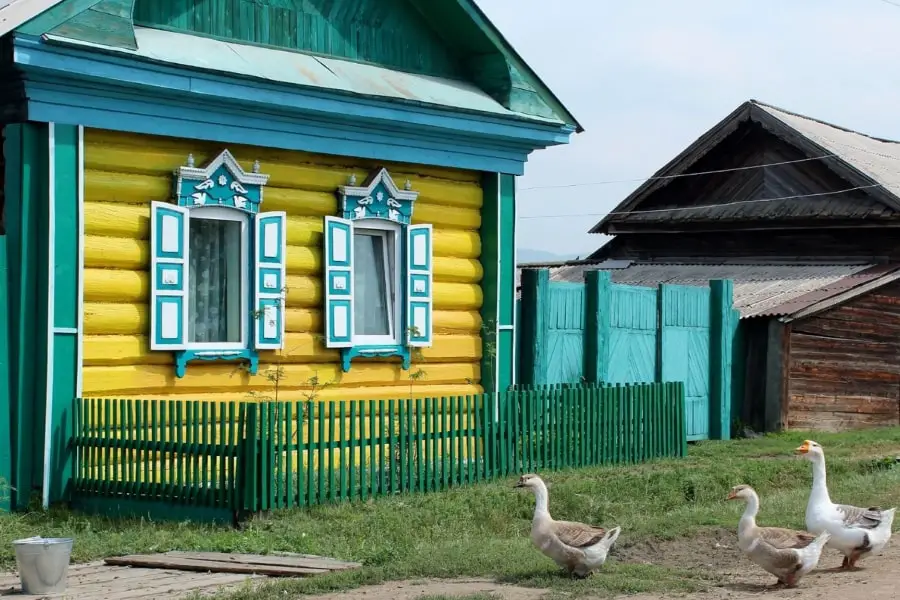 Kamchatka – Esso
Located 6500 kilometres from Moscow, Esso is a charming village surrounded by the wilderness of Kamchatka's ancient volcanoes and hot springs. Nestling snugly in a valley of green mountains, it is home to many indigenous Russian people, including the Itelmens, the Evenks and Koryaks.
Esso is a worthwhile place to visit, brimming with the vivid cultures of indigenous peoples and their quaint wooden cottages, lush gardens and fertile soil, winding gravelly roads and thriving wildlife.
Best Way to Experience Rural Russia
Trans-Siberian Railway 
The Trans-Siberian Railway is a great way to explore Russia's splendid rural villages, architectural masterpieces and breath-taking natural landscapes.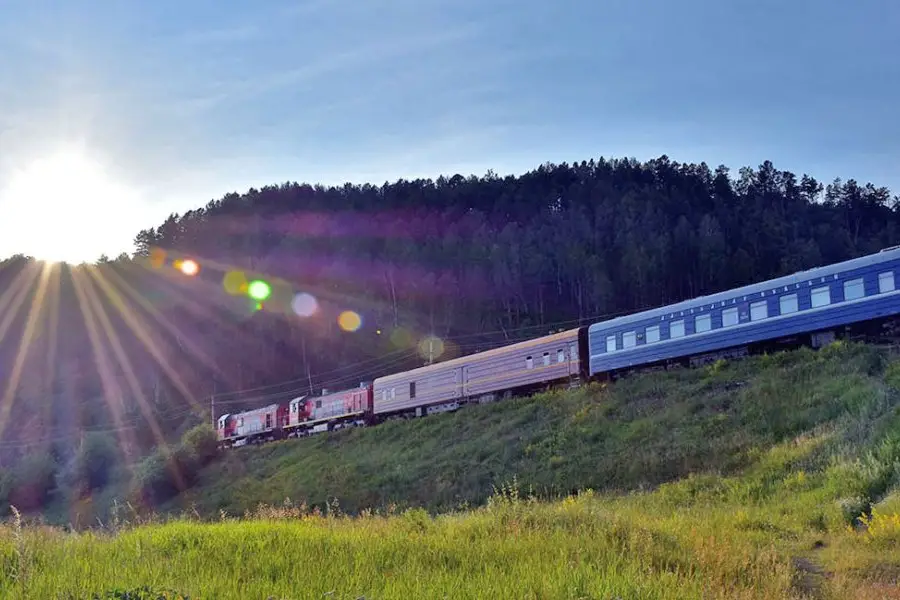 Spanning an incredible length of 9288 kilometres, it is known for being the longest continuous rail journey on Earth, stretching across the entirety of Russia from Moscow to Vladivostok (largest Russian city in the Far East). In fact, a trip on the Trans-Siberian Express will cover 8 different time zones, 87 towns/cities and 16 major rivers in Russia over the span of a week! Travellers can embark on an epic journey that will take them across the glimmering cityscape of the major capitals Moscow and St Petersburg, rural fairytale villages and rustic countryside towns, along with the untamed wilderness of Krasnoyarsk forests and the Ural Mountains.
Other notable stops include the jaw-dropping Altai Golden Mountains, the ancient freshwater Lake Baikal, the colourful Buddhist temples and monasteries of Ulan-Ude and the hauntingly beautiful Tsarist monuments of Yekaterinburg.  
Volga River Cruise 
Russia's most significant river voyages are the Volga River Cruise, which features the main panoramic attractions of Moscow and picturesque countryside towns of lower Volga. Travellers will be able to marvel at classic onion-domed churches and imposing medieval fortresses.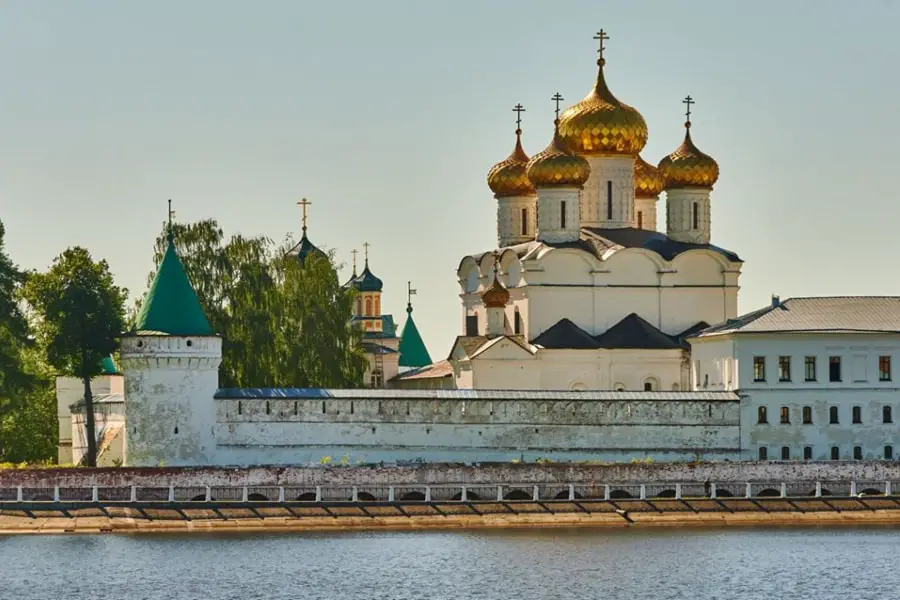 The Volga River is the epicentre of Russia's major settlements, providing a vast, interconnected network of cultural, agricultural and industrial ties to the largest population centres. Sailing the Volga River will mean taking a spectacular glimpse at Russia's beautiful yet hidden rural landscapes, archaic city infrastructure and scenic historic villages bristling with a lively celebration of Russian culture, folklore, art, history and cuisine.
Location hotspots include the magnificent town of Uglich with its brightly painted Kremlin perching along the shore. Yaroslavl is another ancient city found in Russia's Golden Ring which holds neoclassical buildings, including its infamous Spassky Monastery which holds incredibly intricate artistry.  
Cuisine of Rural Russia
Siberia and Russian Arctic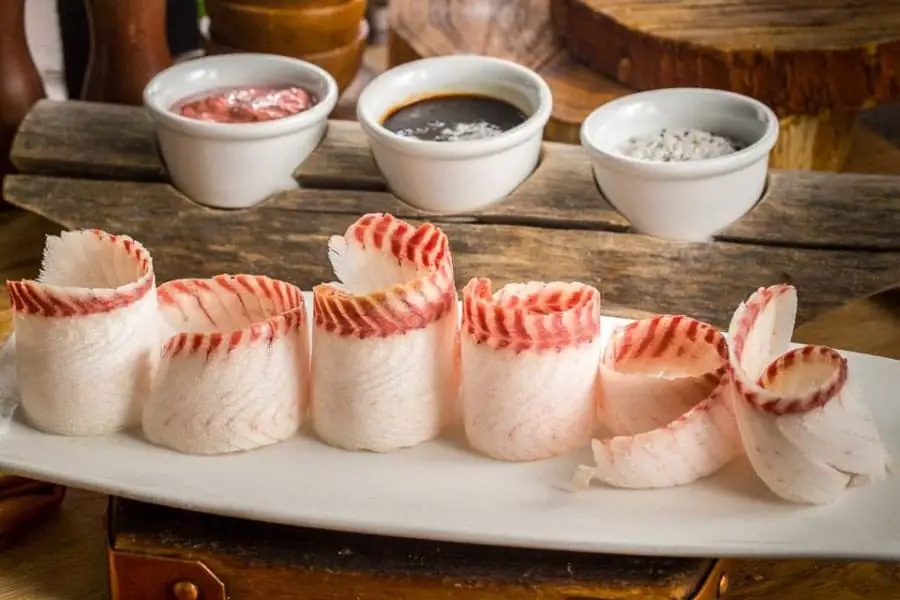 Uha (fish soup): Typical Yamal dish where fish is cut up into many pieces and immersed in cold water. Fish heads are boiled in a cauldron until they turn a blueish-grey colour. It is usually served immediately in a mug. 
Malosol: This dish is derived from just-caught Muksun, which is a type of whitefish found in Siberian Arctic waters. The secret recipe of this dish is to quickly cut the fish into very delicate slices so that the fish remains slightly frozen. After the fish has been gutted and cleaned, it is sprinkled with salt and left for 3-4 hours, 
Stroganina: Simple Yamal delicacy which is prepared from frozen white salmon. The back and abdomen of the fish is sliced into strips that run from the tail to head, then vertical incisions are made. It is usually served immediately in non-metallic frozen plates (or cold bowls) with salt and black pepper powder. 
Reindeer meat: Nenets rely on reindeer as a vital food source for their everyday livelihoods. Reindeers are freshly butchered and are usually eaten raw. Nenets may also choose to drink the blood of the deer
Kulebyaka: A rich flaky pastry filled with a delicious mixture of salmon, cabbage and mushrooms, which is then rolled up and baked. It is typically served hot or cold in thick slices, lathered with extra butter and sour cream.
Karelia and Russian North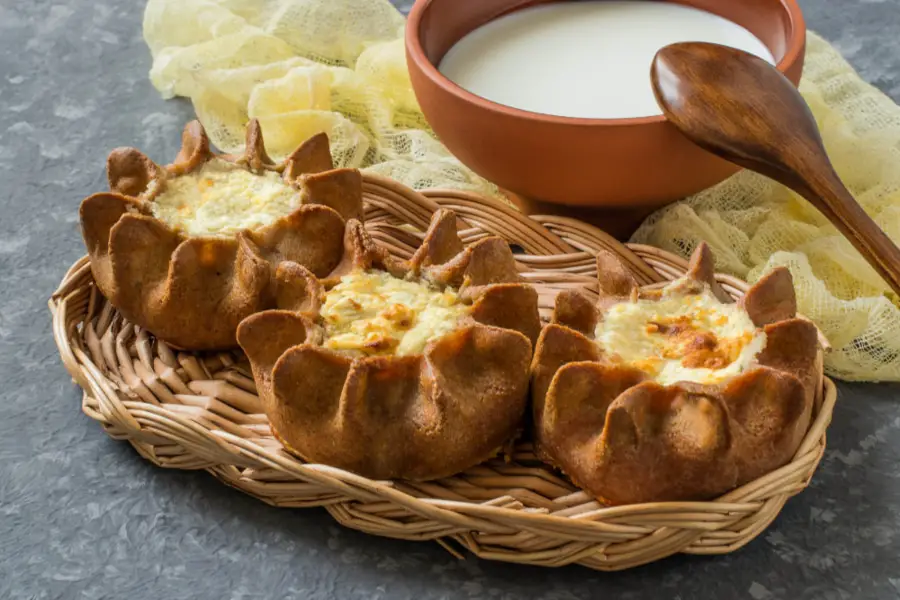 Kalitki: This appetizer dish is a small open pie made of rye flour dough and filled with various ingredients such millet kasha, potatoes, berries, rice, tvorog (similar to unsalted cottage cheese) or fish. Other northern pies include the Finnish bread 'rieska' and 'svatelny pirog' (a pie made from unique batter)
Karjalanpaisti (Karelian hot pot/stew): Traditional braised meat stew which usually contains a combination of pork and beef, or elk and lamb. This dish is usually seasoned with black peppercorns, salt, allspice and bayleaf. Common vegetables such as carrots, onion and root vegetables are also added 
Callalaatiko: Karelian fish roast stewed with potatoes in cream and sprinkled with grated cheese
Karelian soups: One type of soup is Kalakhetto, which is typically prepared with milk and pike-perch (or whitefish and cod). Meanwhile, Lohikeitto is a calorie-heavy soup made with fatty salmon and cream. Maimarokka is a stew containing a mixture of dry fish, onions and potatoes. Meat and mushroom-based soups are quite popular in this region 
Onega fish and meats: Karelia's biggest lake – the Onega – contains a diverse array of fish, including lavaret, sterlet, lake salmon and trout. Dishes can range from traditional baked lavaret (or alternatively baked in rye dough) or marinated Northern salmon. Meat dishes usually contain game meat such as venison and elk. 
Altai, Russian South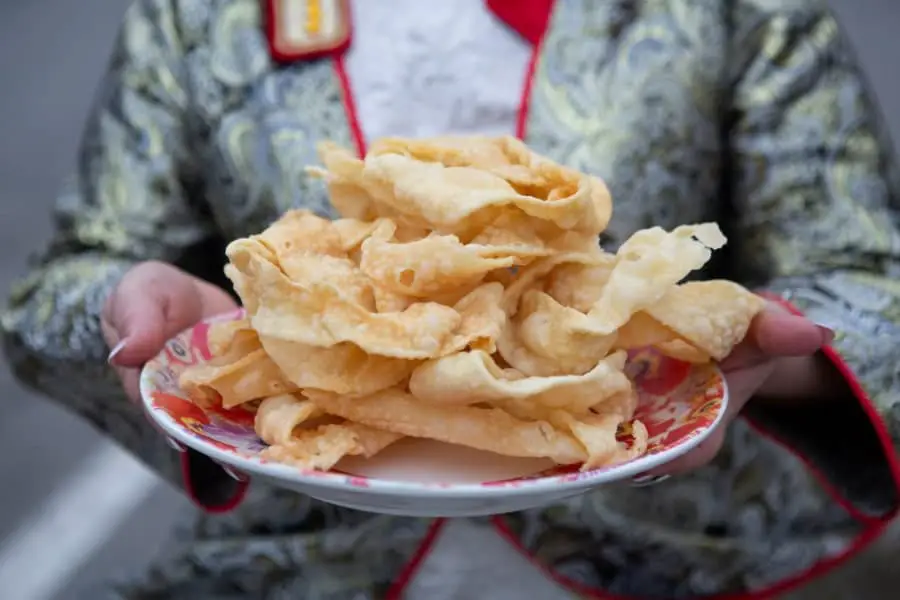 Kocho: This is an Altai soup which includes boiled meat (lamb, horse or beef on bone) and barley groats. Like most Altai cuisine, there is little seasoning or spices – only salt and flakes of dried wild onion are sprinkled onto the creamy textured meat broth
Kaimak (Altai sour cream): Rich and thick fermented dairy which is like a hybrid of sour cream, sweet cottage cheese and butter. It is prepared with boiled milk which settles for one day in a cool place, allowing cream and foam to collect. The cream is added to many Altai dishes including fresh salads. The remaining skimmed milk can be used to make soups and 'chegen', which is a light and fizzy yoghurt-based drink
Kan (Altai blood sausage): A local delicacy prepared from the fresh blood of a ram. Before the ram's blood is cooked, many ingredients are added to it: milk, lamb fat, chopped wild onions, garlic and salt. These are all thoroughly stirred, giving the mixture a pinkish hue which is then cooked inside pre-prepared guts that have been cleaned and turned inside-out
Kurut: This is an Altai cheese, which is often made by local dwellers of the Altai mountains, along with various nomadic peoples of Central Asia. Made from the boiled fermented milk 'chegen', the cheese is very hard and tastes salty, providing a unique burst of flavour. 
Tatar Cuisine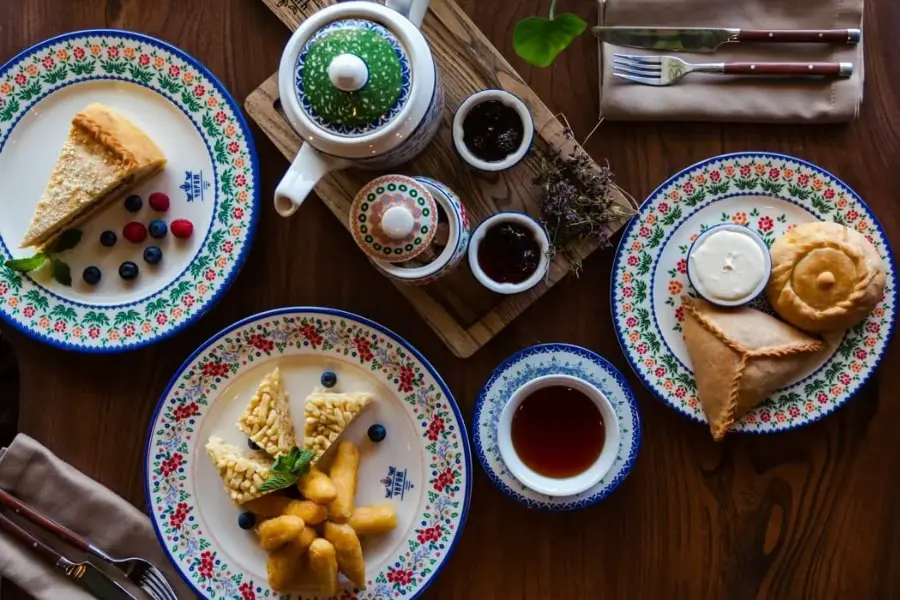 Echpochmak: These are triangle-shaped pastries stuffed with mince and potatoes. A small hole remains at the top of the stuffed and folded dough. Halfway through the oven baking process, the pastries are filled with a spoonful of broth, ensuring that the meat (stuffed raw) is moist and tender.
Gubadiya: Layered pie which contains cottage cheese or quark, minced beef or lamb and boiled egg, which is combined with raisins or mixed dried fruits (such as figs, prunes and apricots). This filling is then covered with melted butter before being baked into a mouthwatering dessert.
Kazylyk: Originating from Tatar nomadic culture, this dish is a horse meat sausage which has been traditionally cured by air-drying in the sun and wind. It is often spiced with coriander or cumin, served in thin slices with pickled sliced onions
Talkysh kaleve: This intricate dessert involves honey and sugar spun into a stringy fairy-floss which is then moulded into miniature cones and coated with a powder of melted butter and flour
Manti: Tatar dumplings made from either spiced lamb, beef or horse meat, which can be mixed with pumpkin or squash depending on the region. They can be boiled or steamed in their own juices, typically served with butter, sour cream, onion sauce or red pepper powder.
So what are you waiting for? Embark on an epic journey across Rural Russia, where the hidden gems and marvellous sights are awaiting your arrival!
Related posts